MarvelBet Welcome Bonus
Welcome Bonus is available for both sports and casino gamblers. You can get a 100% welcome bonus up to 5000 rupees. To avail this you have to deposit the minimum amount of Rs. 500. It is the same for sports and the casino. MarvelBet bookmaker gives you 7 days validity to avail this bonus after it is activated. To get the MarvelBet Sports Bonus and MarvelBet Online Casino Bonus first you have to register at the bookmaker's site or mobile app.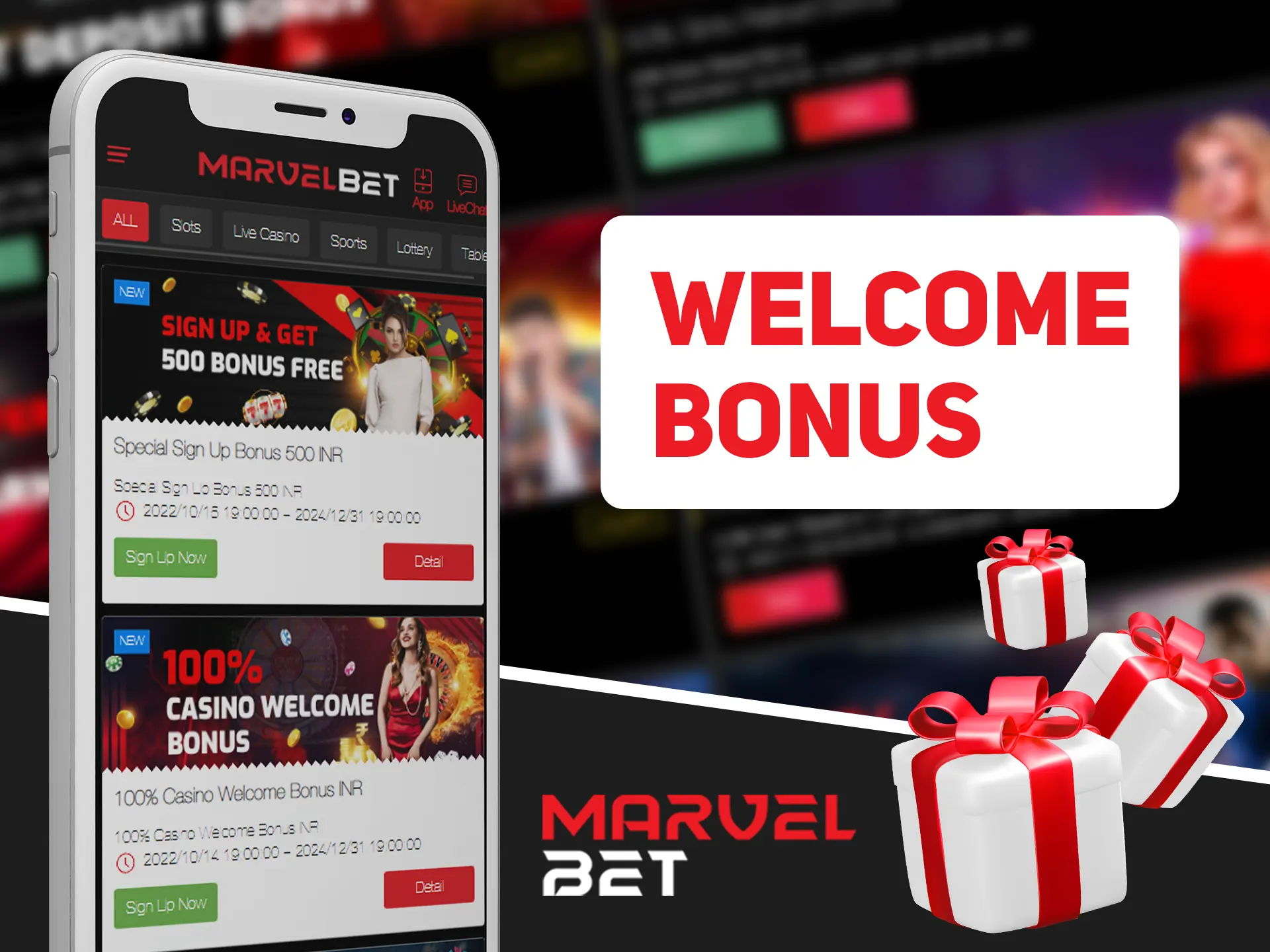 How to Get MarvelBet Welcome Bonus
Like any other bookmaker MarvelBet also has some conditions and a particular process to get the welcome bonus. As we discussed earlier that MarvelBet fills your account with +100% to your deposit amount and up to 5000 INR, So it doesn't means that you a sports enthusiast or a casino lover you are eligible for the same if you meet the conditions: Here are the key terms for a welcome bonus:
The Welcome bonus is only available for the new users who have just registered.
One user can avail the welcome bonus only one time.
The minimum deposit amount is INR 500
The Bonus expires after the 7 days of activation
The odds of each bet must be between 1.80 and 3.50 in which both winning and losing bets will be counted in wagering.
This promotion cannot be used in conjunction with any other promotional offer.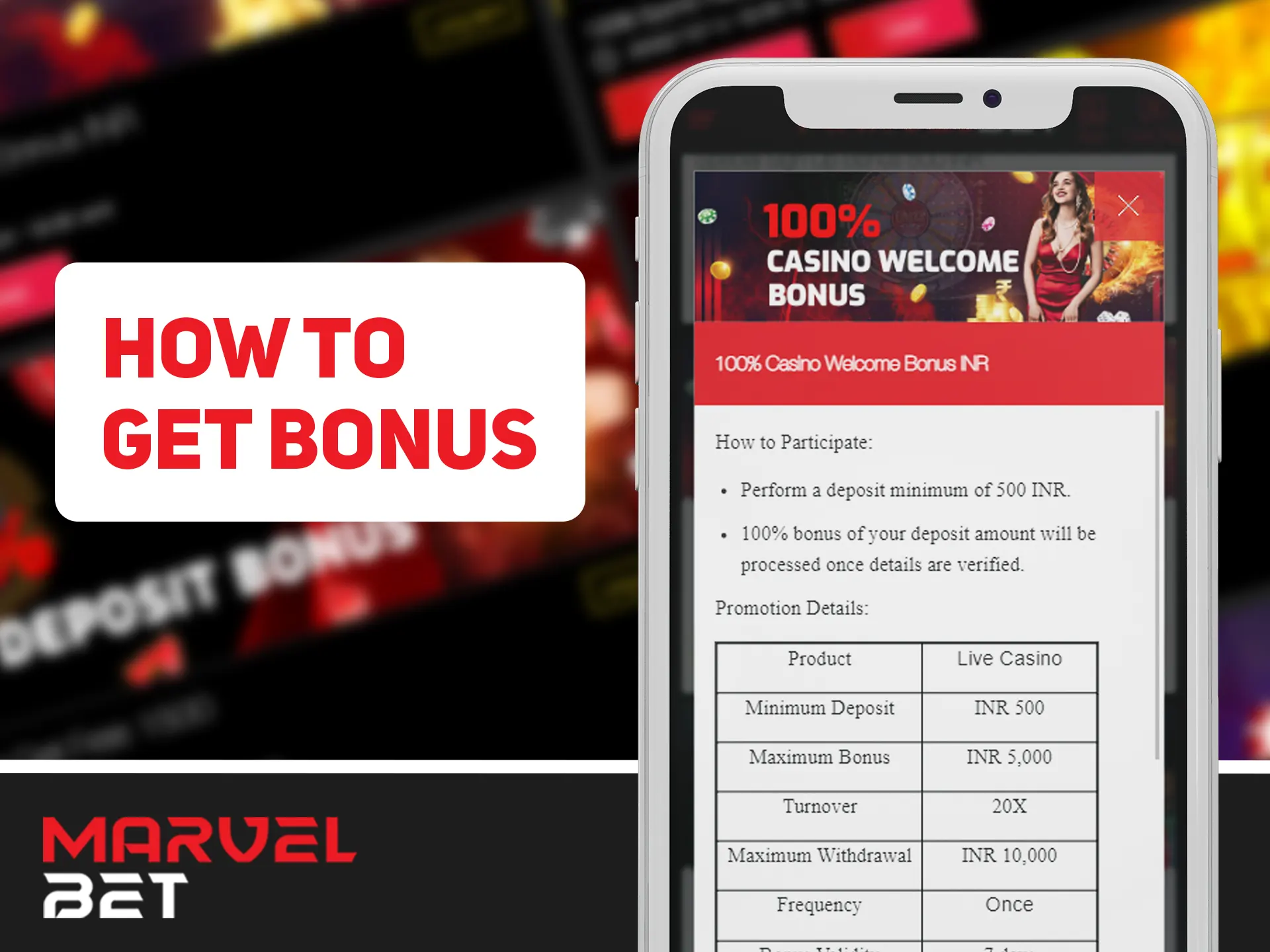 How to Win Back the MarvelBet Welcome Bonus?
To take the benefit of MarvelBet welcome bonus there are some other but simple requirements that you have to fulfill. Here we will discuss them so read the full article to know about the welcome bonus at MarvelBet betting site.
First register at MarvelBet betting site or mobile app
Fill your account with a minimum 500 INR.
After the successful verification of your account 100% welcome bonus will be credited to your account.
The maximum bonus you can get is 5000 INR.
To withdraw this amount the gambler has to fulfill the wagering requirement as the wagering turn over should be 20 times of bonus amount.
These conditions should be met within 7 days of the bonus activation.
Sports bonus turnover will be excluded from Cricket Match Odds, and Bookmaker Market.
The odds of each bet must be between 1.80 and 3.50 in which both winning and losing bets will be counted in wagering.
You can withdraw a maximum 10,000 INR at once.
You cannot join this bonus with any other promotional offer.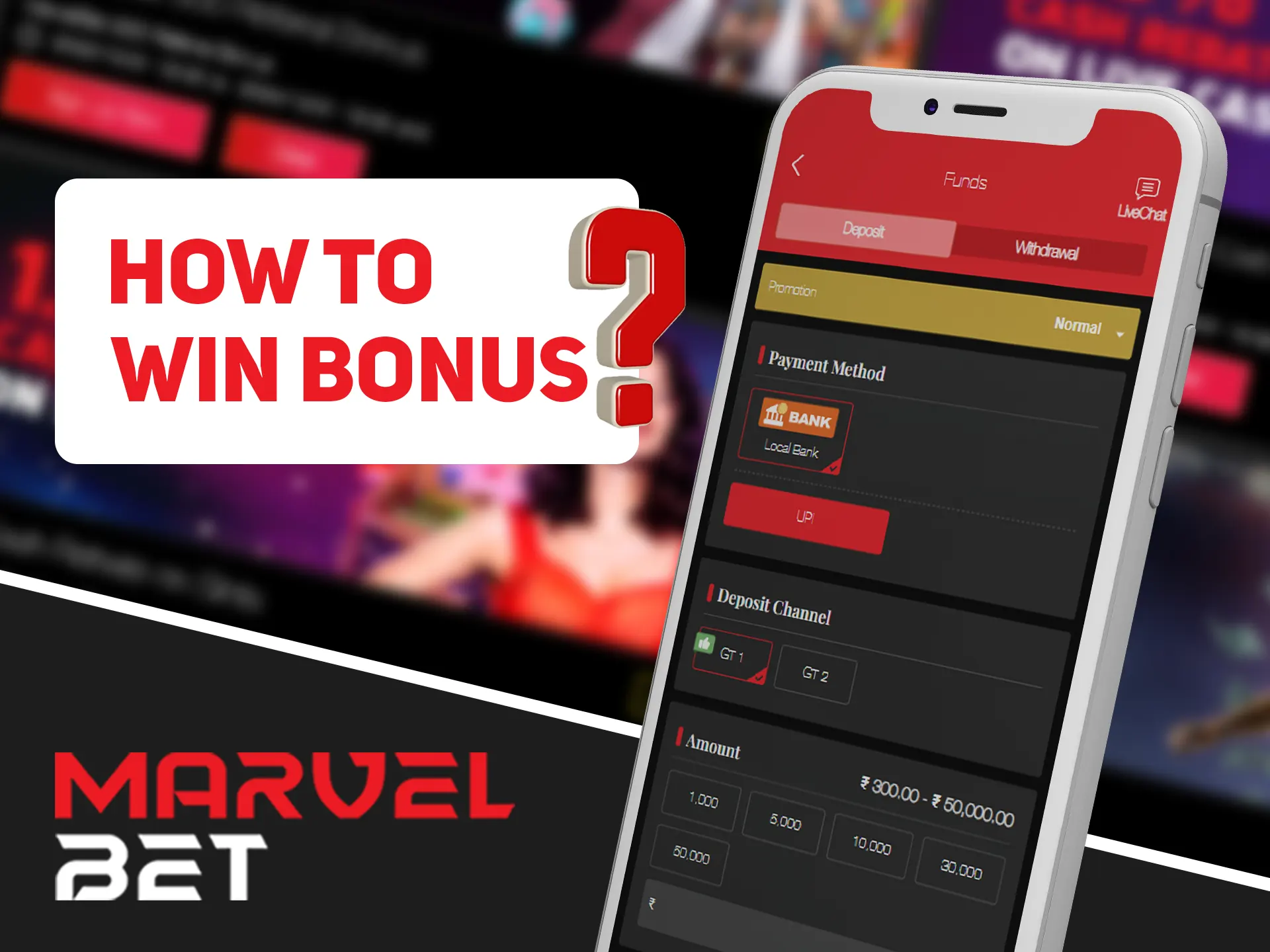 MarvelBet Bonuses Terms and Conditions
MarvelBet is a legal and trustworthy online betting site that gives many bonuses and promotions to their registered users. There are some additional terms and conditions to benefit from the MarvelBet Bonus. Here is a list of all these:-
Welcome bonus on Casino is eligible for all Live Casino games, EVO platform is not included in this.
In order to get the welcome bonus you should deposit at least 500 INR.
Welcome bonus can be maximum of Rs. 5,000.
Wagering condition should be met within 7 days after its activation and in case of early termination, only the remaining deposited amount shall be returned and subject to additional 10% penalty charges.
Maximum withdrawal limit is 10,000 INR.
To withdraw the bonus amount wagering turnover should be 20 times of bonus.
Cricket Match Odds are not included in this wagering.
This wagering is applicable only on odds between 1.80 and 3.50.
One user can get the welcome bonus only single. Multiple accounts are not allowed as this will be considered as fraudulent activity.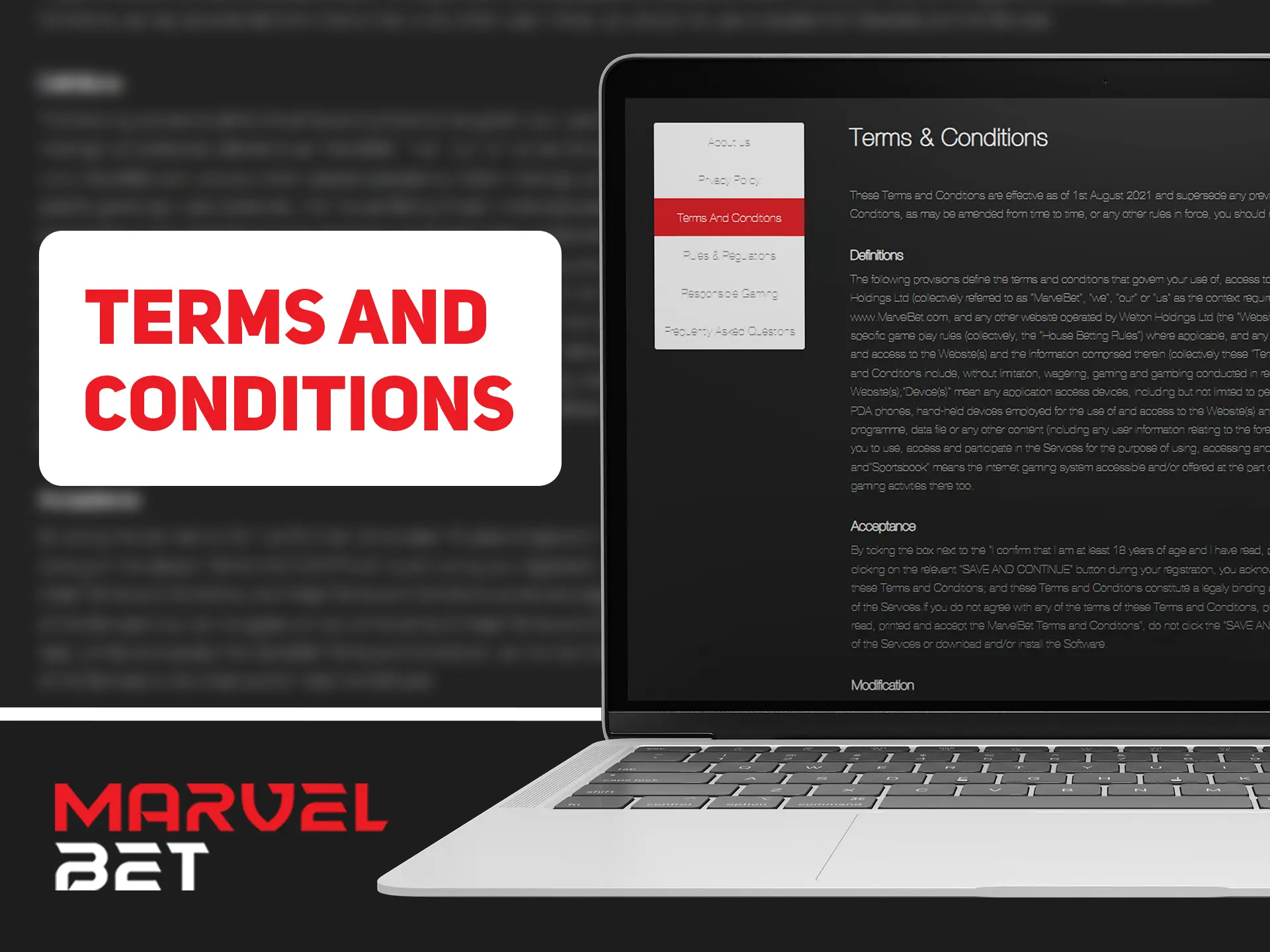 Other Types of Bonuses and Promotions at MarvelBet
Except Welcome Bonus MarvelBet gives its users many additional bonuses which are based on their betting spend and on the game that they are playing. MarvelBet bookmaker gives a 300% first deposit bonus which is applicable on slots. This promotion is eligible for JDB Slots and Fishing only. This bonus remains active till 30 days after the activation. Company will give you 0.09% cash rebate on live casinos as well. Rebate is given based on 0.9% of the total amount wagered during the period of the promotion and this Rebate will be credited automatically daily before 12:00 PM Indian time.
On the slots like MG, RT, SG, JILI, JDB, PG and PT punters have a chance to get a 1.2% cash rebate also. The promotion has a daily frequency and starts every day at 9:30 PM IST. One more promotion consists of 5% weekly cashback in which Cashback from 50 rupees to INR 5,00,000 will be credited every Monday. This is applicable on Sports, Live Casino, Slots and Lottery. This promotion of weekly frequency starts every Sunday at 9:30 PM IST.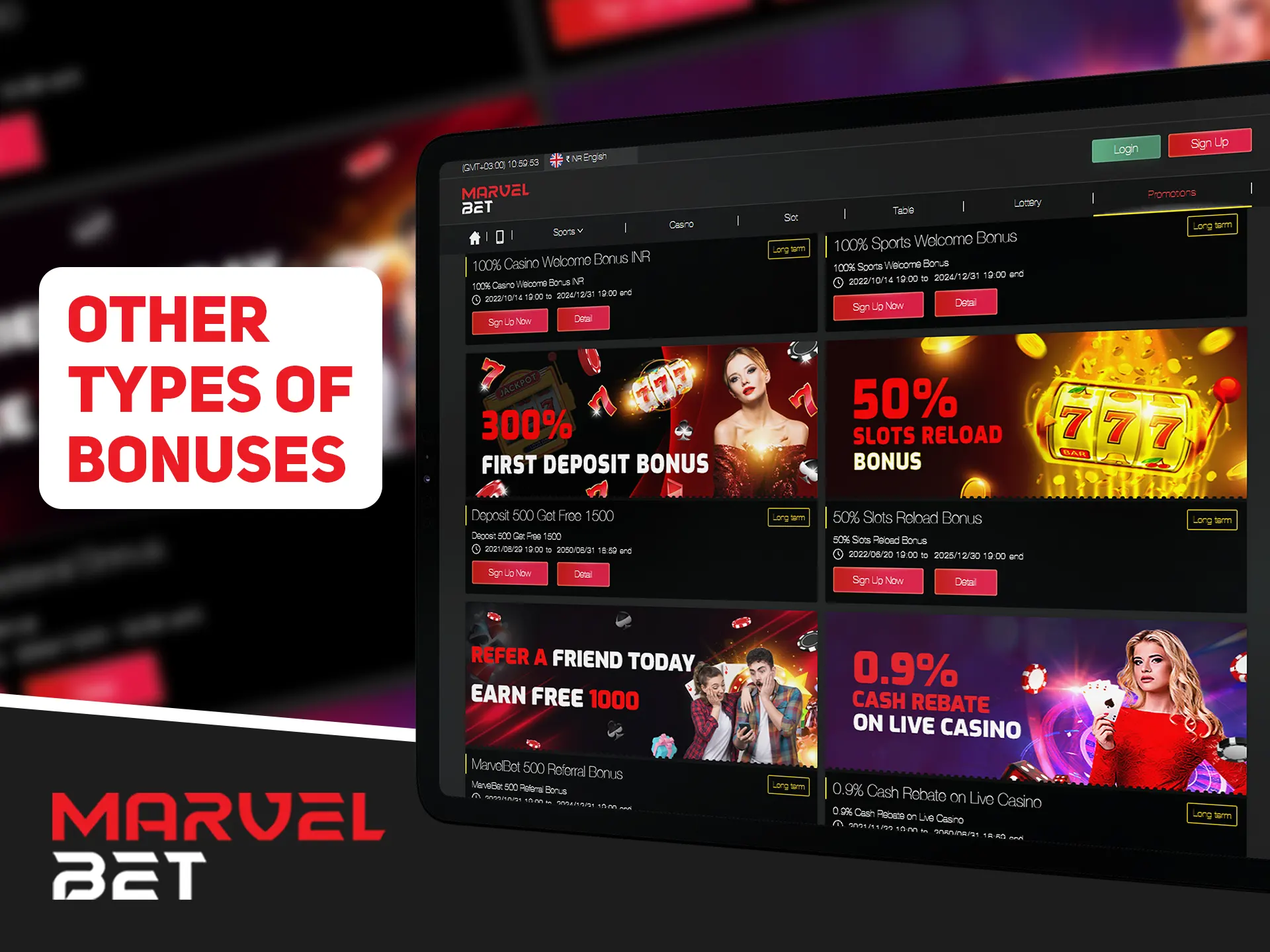 Bonuses and Promotions at the MarvelBet App
MarvelBet has its user-friendly android mobile app as well which can be downloaded at MarvelBet official website. The bonuses that we have discussed above are also available on MarvelBet mobile App. There is no change in the Bonuses and Promotions at the desktop version and mobile version of MarvelBet bookie.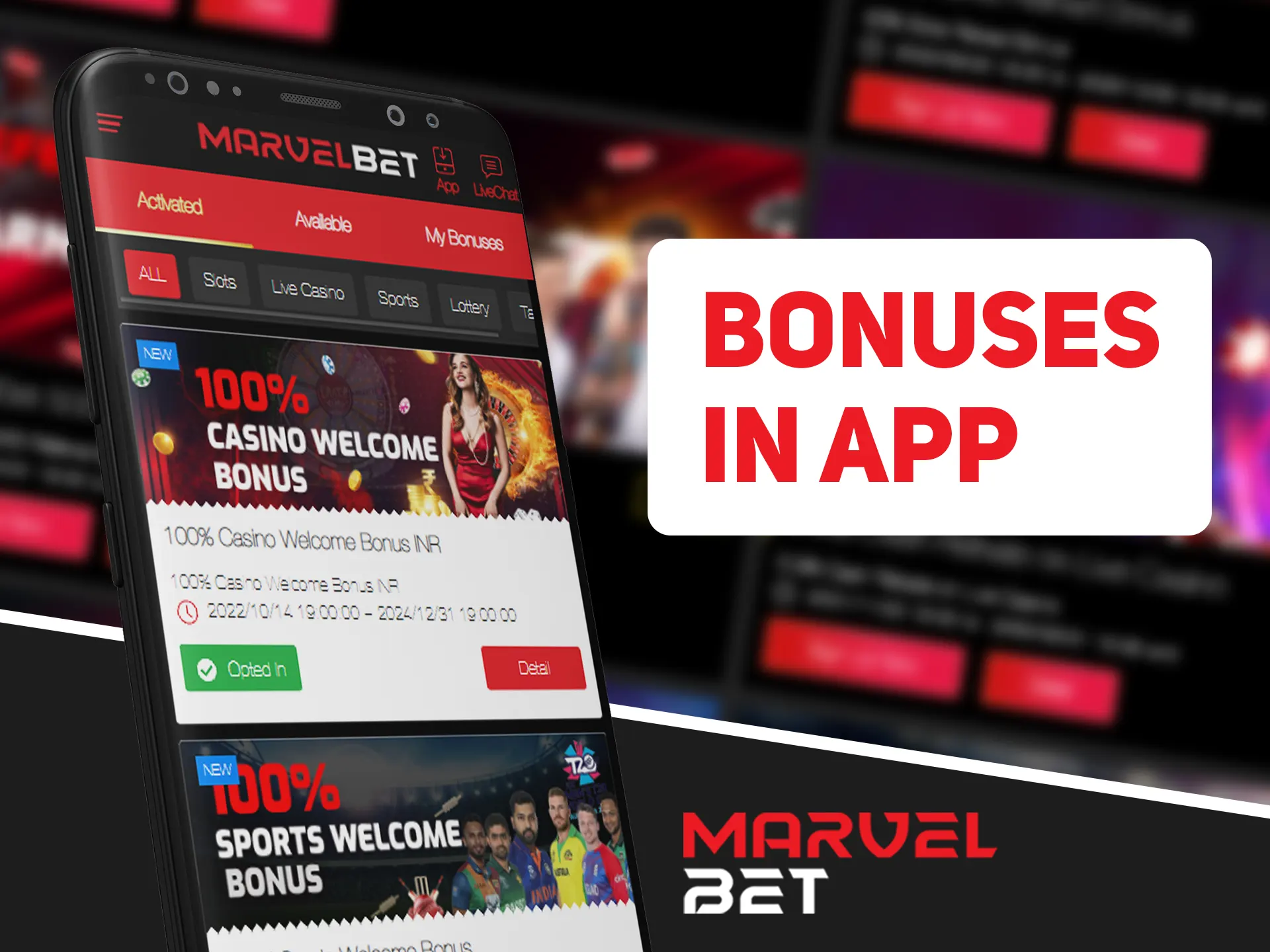 FAQ
Is it safe to use MarvelBet bonuses?
Yes, It is safe and secure to use MarvelBet bonuses. MarvelBet is a trustworthy bookie which has a Curacao Licence.
Are mentioned bonuses the only ones on the MarvelBet?
These are the exclusive bonuses and promotions of MarvelBet and only available at MarvelBet's office website and mobile app.
Can I cancel the bonus if I change my mind?
Yes, You can contact Customer Service at any time to cancel your active bonus and promotion at MarvelBet.
Can I place bets with the bonus money?
After completing the wagering conditions you can use the bonus money for the bets.
Do MarvelBet bonuses update?
MarvelBet changes and updates bonuses from time to time. You can get the latest information on updated bonuses on the bookie's official website.
Do I have to do anything to get the welcome MarvelBet bonus?
To avail the MarvelBet welcome bonus you have to fill your account with a minimum of INR 500.
Updated: