MostBet App Review
Mostbet app is an earning app made with care for its indian users. The app is very comfortable to use, since it is made in a simple style, and anyone will be able to understand where to find the sport they want to bet on or contact the support team if they have any issues. But to bring you up to speed on the merits of the app, we have prepared an information table for you:
| | |
| --- | --- |
| Application version | 1.5 |
| App weight | 60 MB |
| Mostbet Apk file weight | 19 MB |
| Supported operating systems | Android, iOS |
| Download conditions | Free |
| Access to broadcasts | Broadcasts are available |
| Access to sports betting | Sports betting is available, including cricket betting |
| Support in the app | Yes, there is 24/7 support |
| Hindi supported | Hindi language is available in the application interface |
| Support in Hindi | Yes |
| INR support | Yes |
Mostbet App Screenshots
Let's quickly run over the Mostbet online app. Here are the screenshots of it.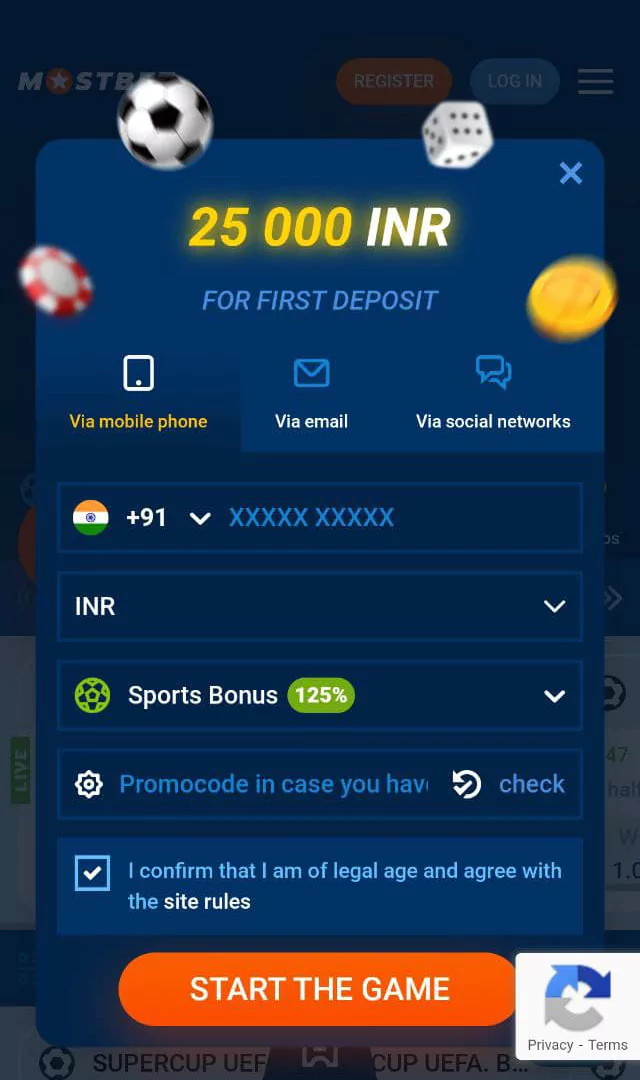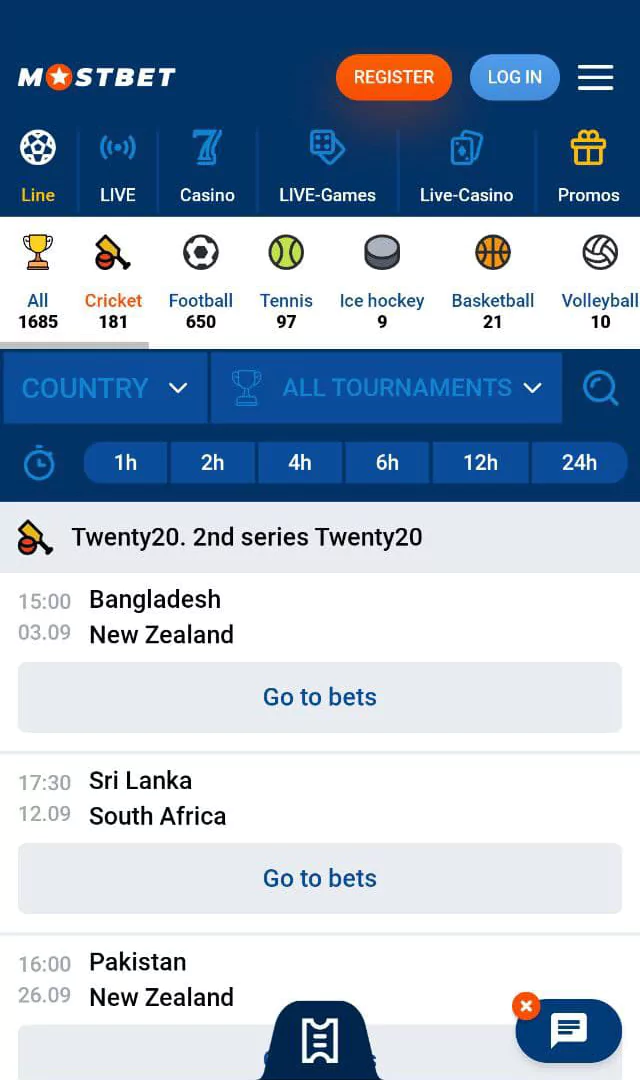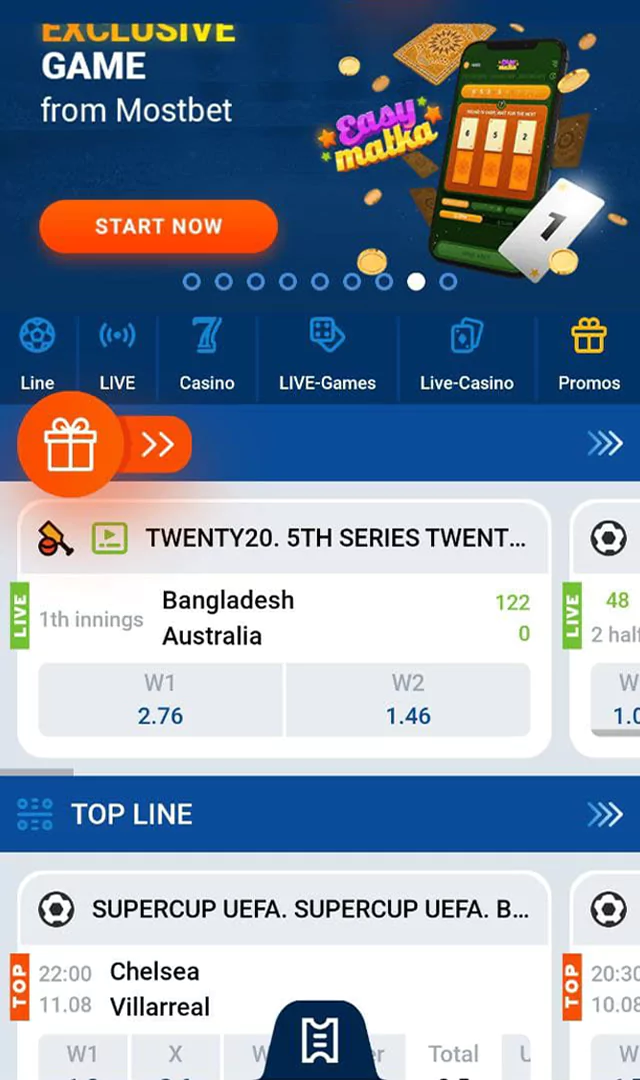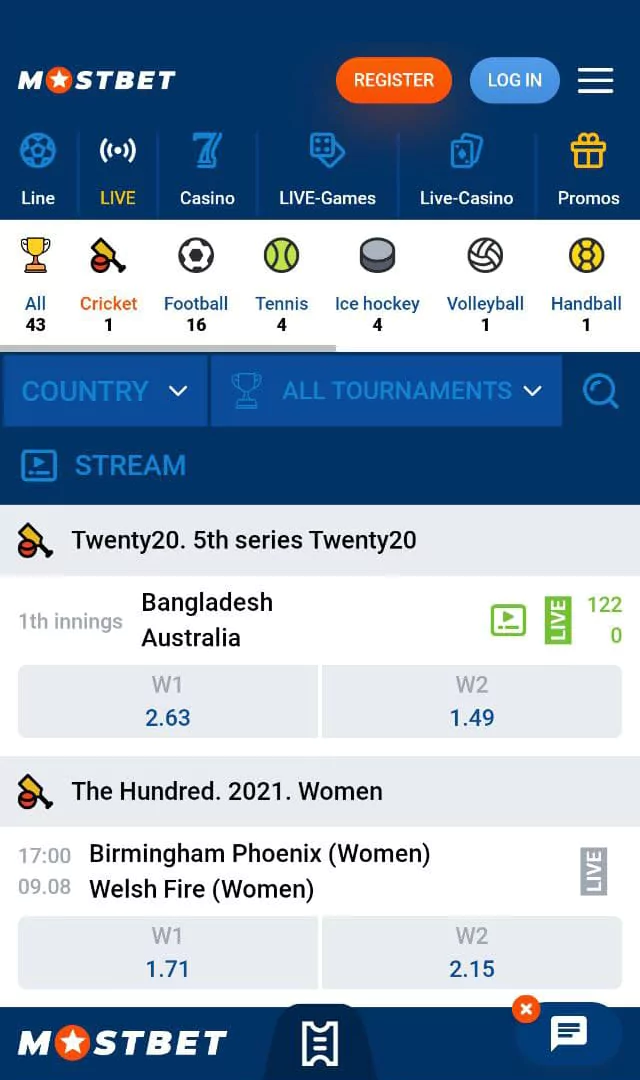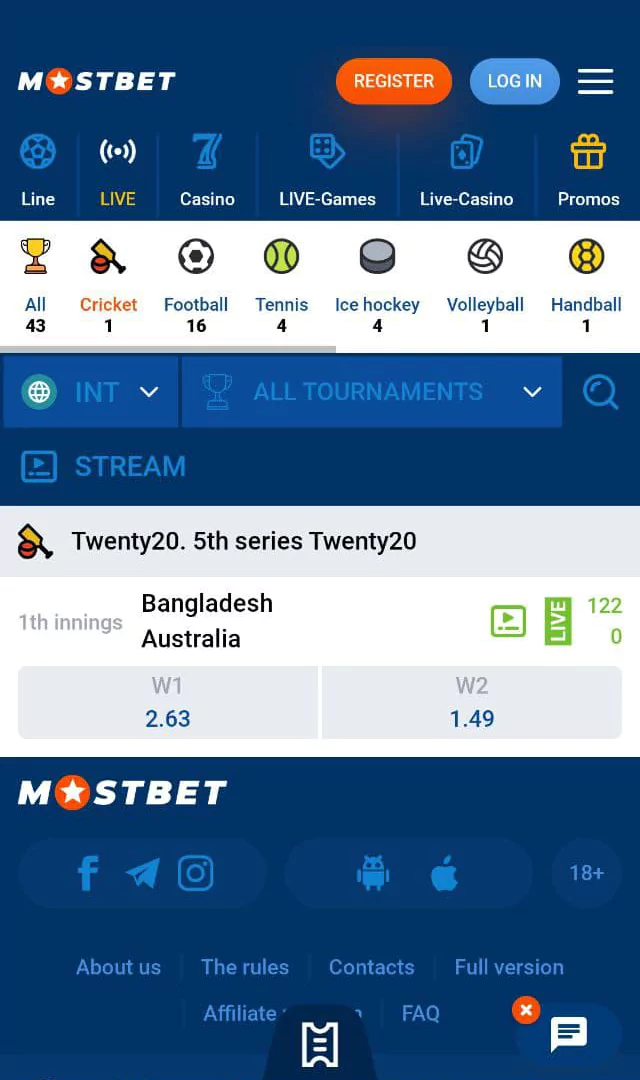 If you have just opened the app, you'll be presented with the top line match and a top live match, as well as be able to register by pressing the "Register" button. However, on the top left corner of the screen, there's a menu button, and if you press it, you'll see the "Sign in" button, promotions, bonuses, and tournaments, as well as Sports, Casino, Live Casino, Live Games, Fast Games, V-Sport, E-Sport, Toto and Poker. Last, but not least, you'll see the FAQ button, where you may find answers to questions of your interest, and the Support button, where you can contact the support team if you have any issues or unanswered questions.
MostBet App Pros and Cons
Like every other app, Mostbet also has its pros and cons. Let's quickly run over them.
| Pros | Cons |
| --- | --- |
| Full cash out | No horse racing |
| Fast markets | No player specials |
| 24/7 support | No Bet Builder |
| Multiple currencies available | |
| Many payment methods | |
| App earn money | |
| Supports Hindi | |
As you can see, the Mostbet app has a lot more pros than cons, because apps are always much more convenient than you might think. Especially since cricket betting apps were very selective in our rating.
MostBet Apk Download Free for Android
Surely when you see a bookmaker asking you to download its app, you immediately go to Play Market to find it there. But MostBet took care of players' convenience and allowed you to download the app only from their official site. You don't have to waste your time trying to find the app on Play Market.
1

Open Official Website of the Company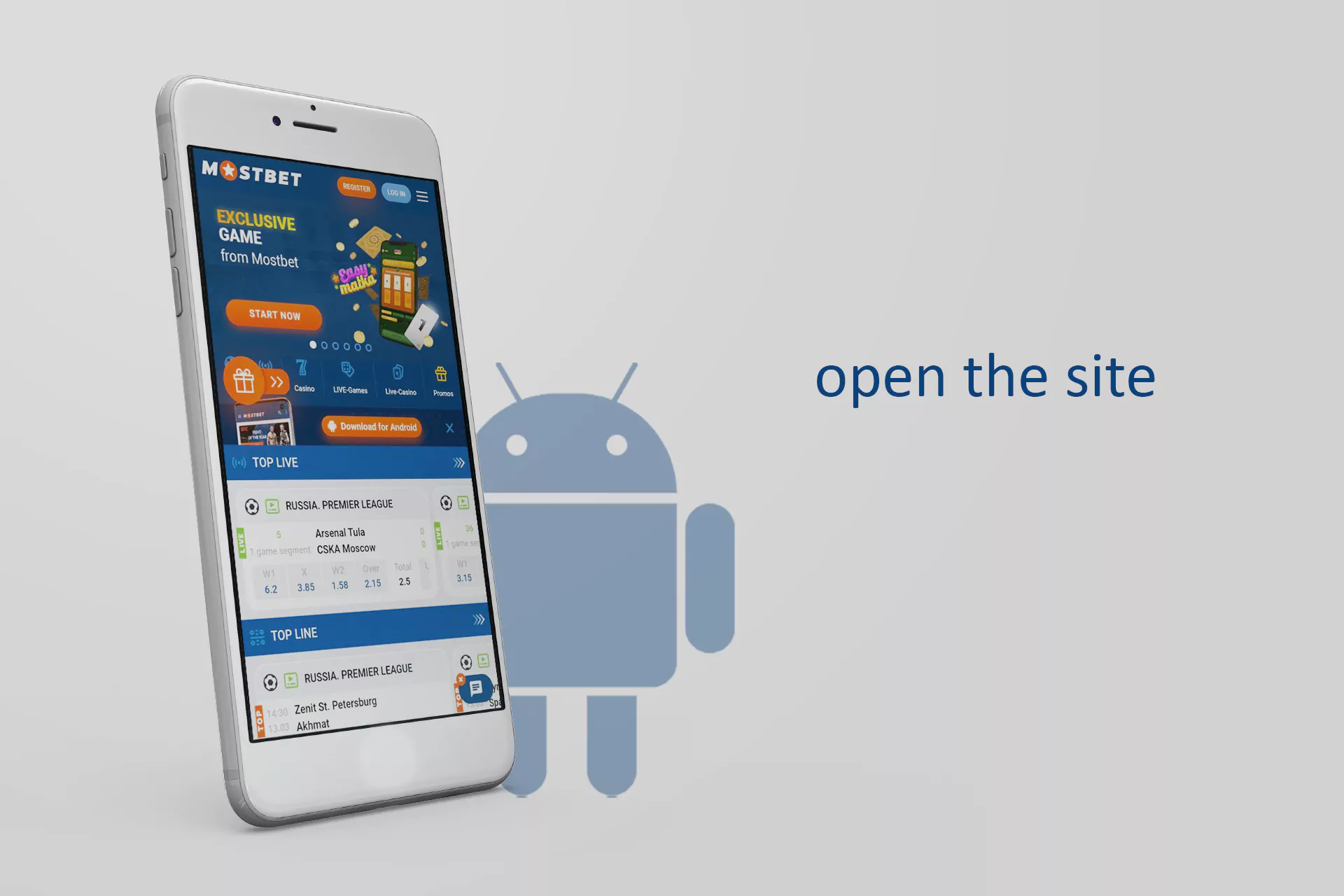 2

Download the MostBet Apk

Open the app page. Download the apk-file that will be there. Click the button that will download the file for Android, or open the menu and select the desired item in the upper right corner. Or go stright to the download by our link.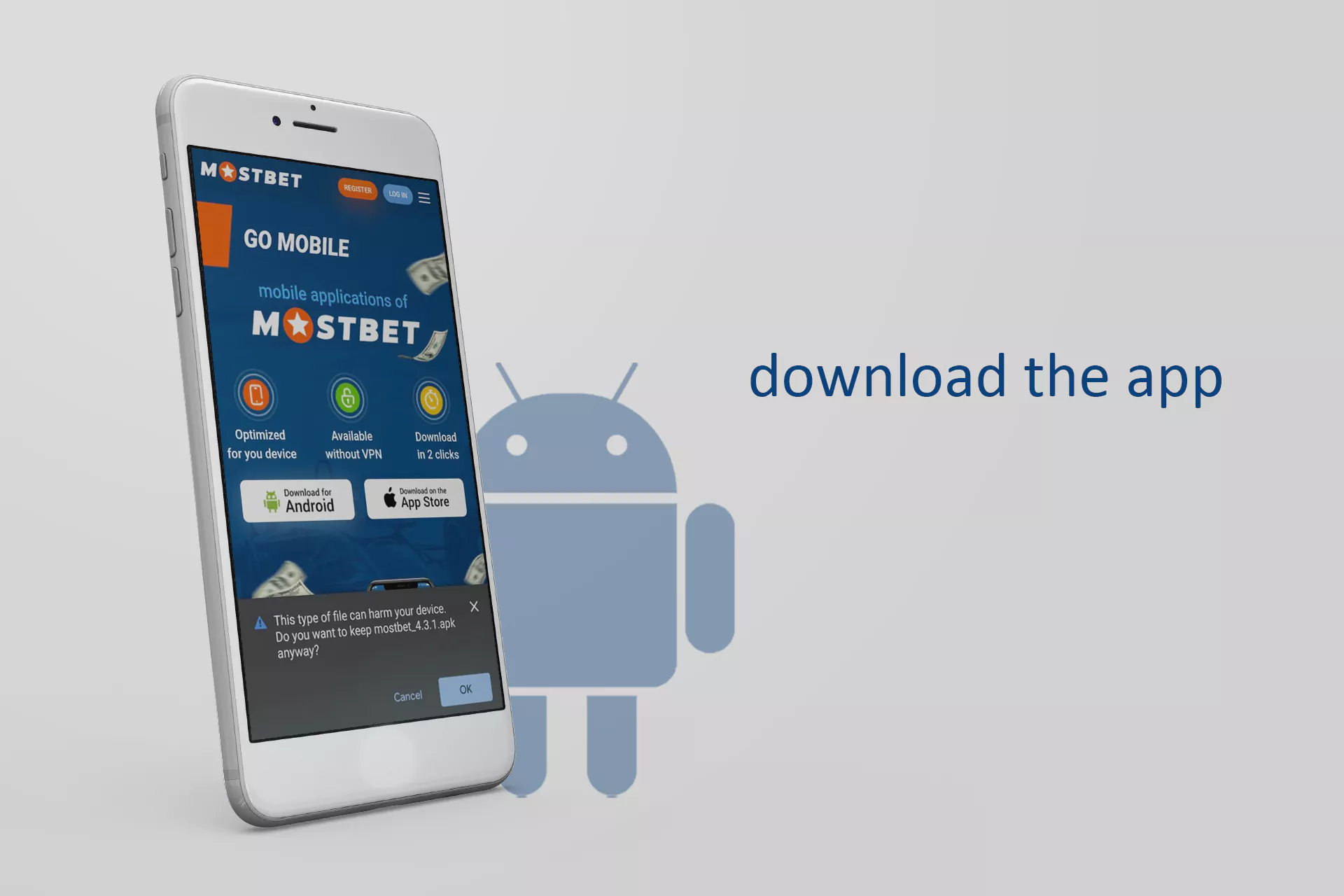 3

Change the Security Settings

Allow installing from the unknown resources. This will allow the apk to install to your smartphone.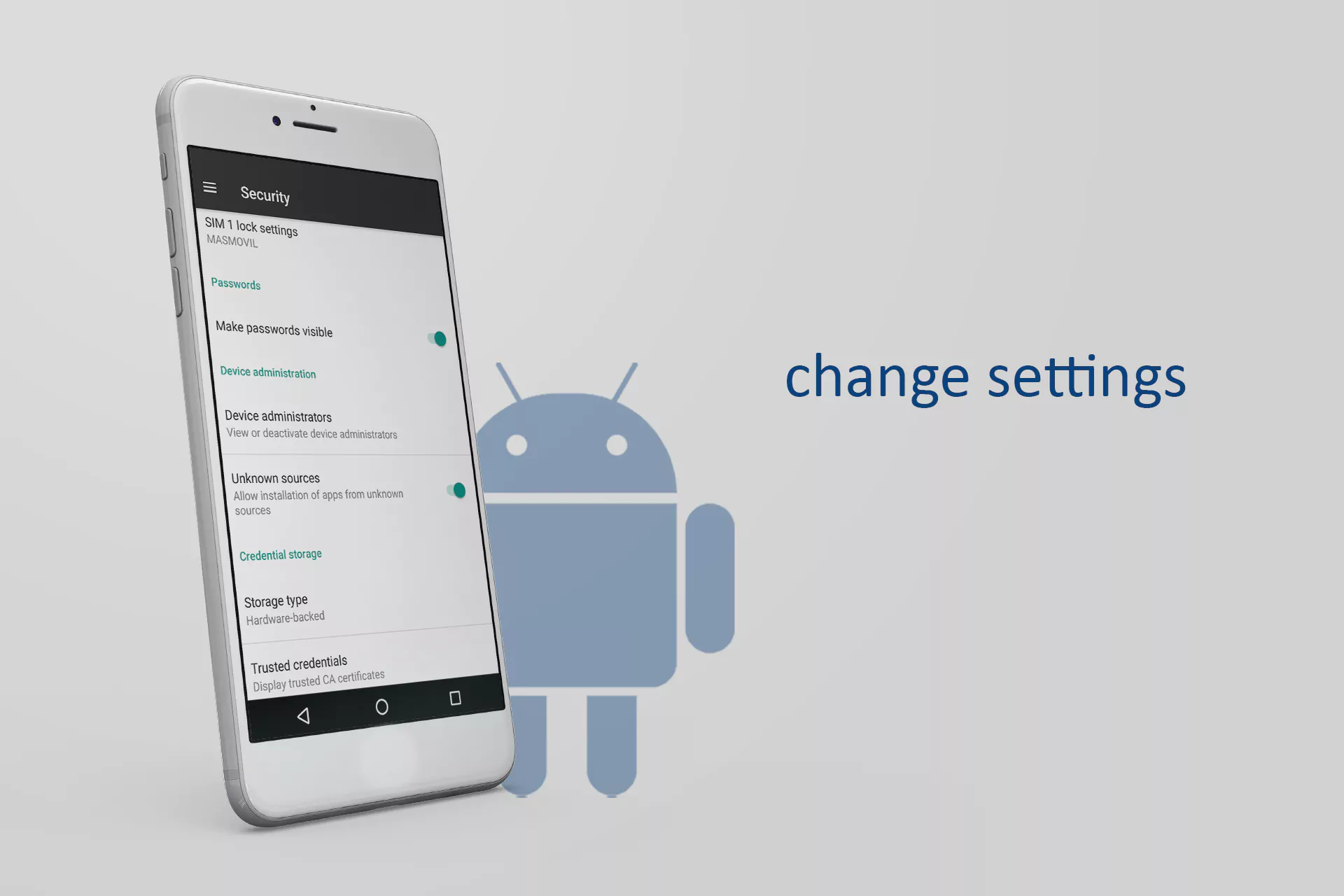 4

Register

Confirm your identity. Enter your name, email, age, and all required information.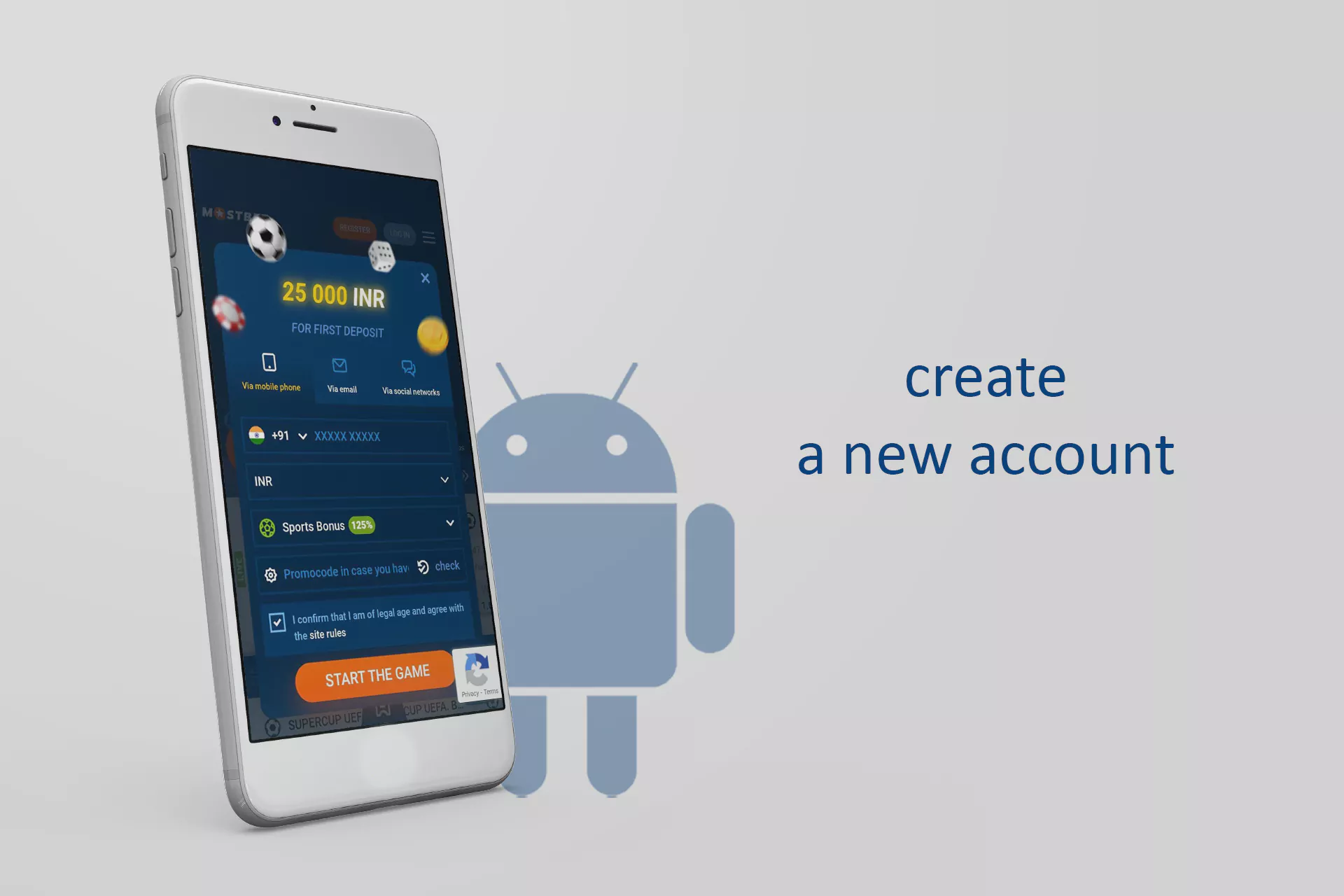 5

Make a Deposit

The minimum amount for deposit is specified by bookmakers.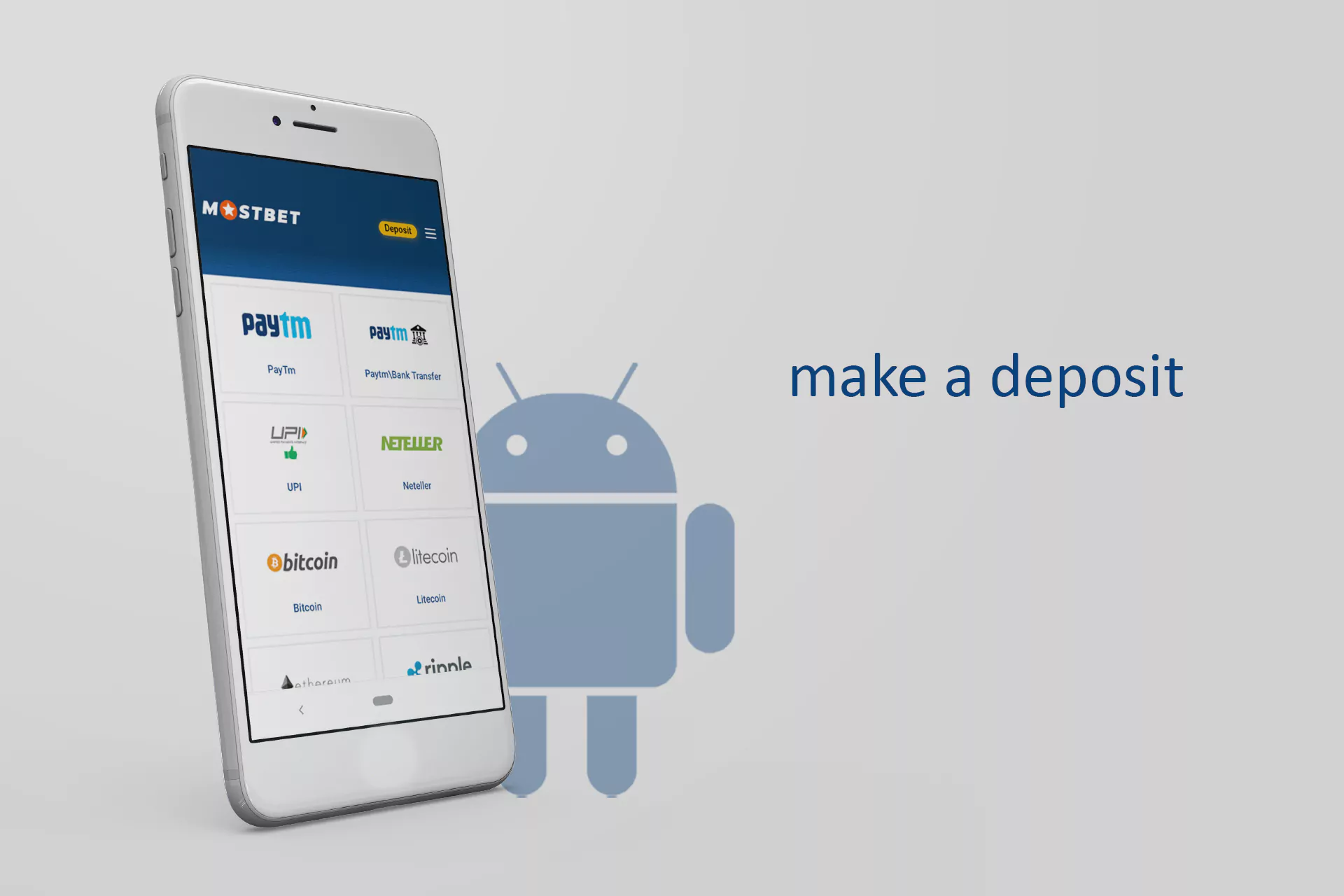 If you suddenly have a question about whether the MostBet App is legal in India to download, you don't have to worry about it for a second! After all, this app is absolutely licensed for its work, so it is definitely legal, reliable, and safe for you. So that you don't have any doubts, we have made detailed instructions on how to install the app. We have taken into account all the subtleties and points that may have caused you difficulty. Take advantage of our help and make the installation process easier for you.
System Requirements of the MostBet App for Android
To install MostBet we told you the whole process of installation on your smartphone. However, in order for the installation to be successful, you should know the minimum requirements for your mobile device.
| | |
| --- | --- |
| Android version | 5.1 and above |
| Storage space | 150 MB |
| Processor | The frequency must be at least 1.2 GHz |
| RAM | 1 GB |
These requirements are not excessive and will suit almost all users. But if suddenly your mobile device is inferior in some respects, and the application does not work without problems, you should not get upset, but just go to the official website. It is just as handy as the app and performs the same functions. Because MostBet is trying to keep all users comfortable, but especially for players from India.
Android Devices on Which the MostBet App is Available
The bookmaker company, before releasing their app on the market, took care to find out what models of phones from brands without problems support their creation. MostBet conducted a lot of tests and below you will see the brands of those smartphones on which the application was fully tested and works without slowdowns. If you are a lucky owner of one of the devices shown below, downloading the application to yourself will get only positive emotions.
HTC One X;
LG G2;
Samsung Galaxy S4;
Meizu m5c;
Xiaomi Redmi Note 3;
Huawei P8 Lite;
ASUS ZenFone 2;
Samsung Galaxy Note 2;
HTC One;
Samsung Galaxy S2;
Meizu E3;
Samsung J7;
Xiaomi Redmi Note 9;
Samsung Galaxy A12;
Huawei Nexus 6P.
It is worth clarifying that this is a small part of the smartphones that support MostBet in India. But these are the ones that have been tested more than successfully. If you don't see yours on the list, it doesn't mean that the app won't work for you. Check it yourself by installing it on your device.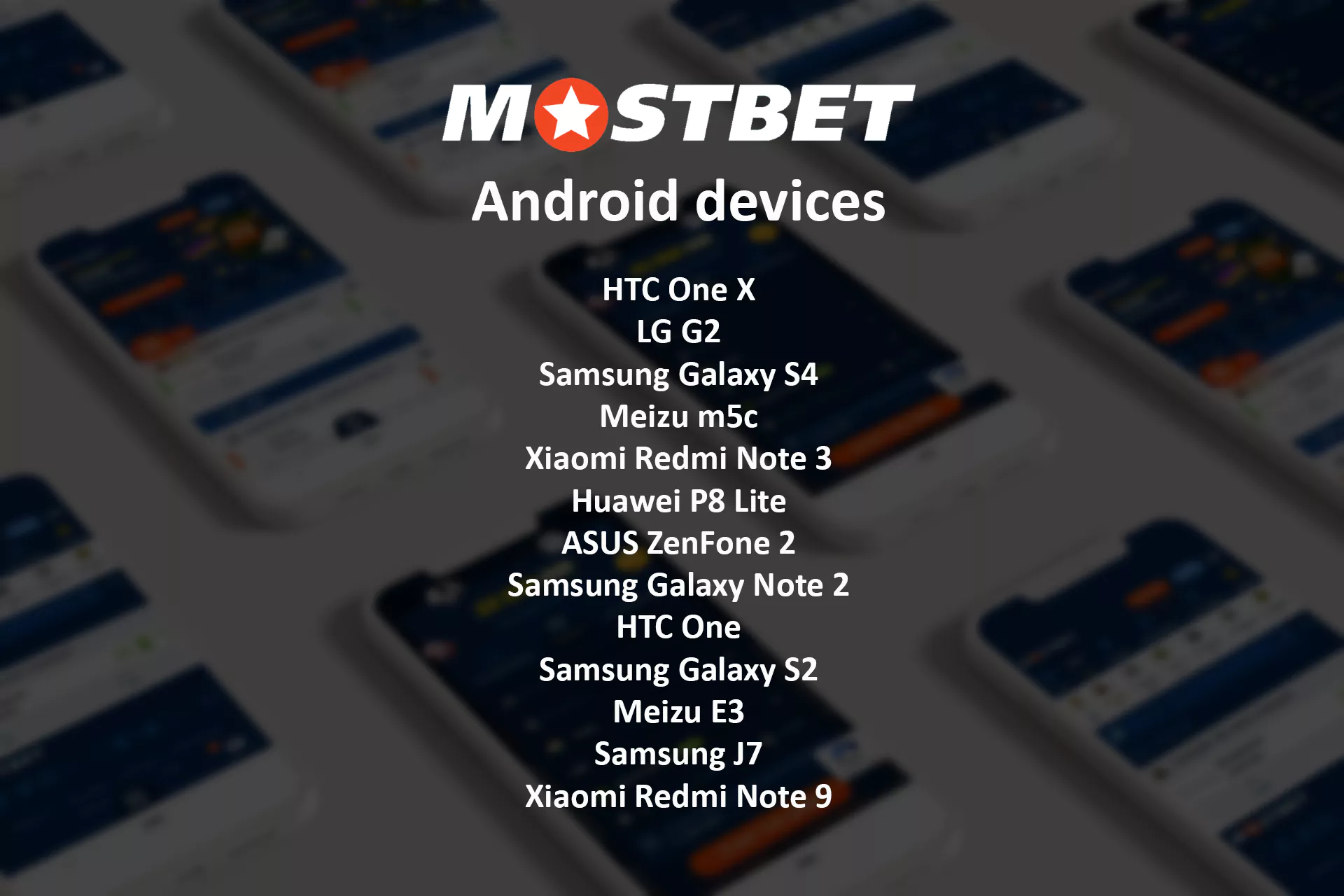 MostBet App for iOS (iPhones and iPads)
Since we previously covered the installation process for the Android operating system in detail, don't overlook the fact that many players are now using iOS. This system may have more requirements, but it shouldn't scare you. And for them, too, we have instructions on how to install the app on one of Apple's devices. If you're wondering whether the app for your smartphone is safe, you're worried in vain, because it is absolutely legal and reliable, and if you do everything following our advice, you will absolutely be satisfied and you can start your favorite games and bets now.
1

Open the Official Site

Go to the home page in any convenient mobile browser. Or if you are already on this page from your iOS device, just click on

this link

.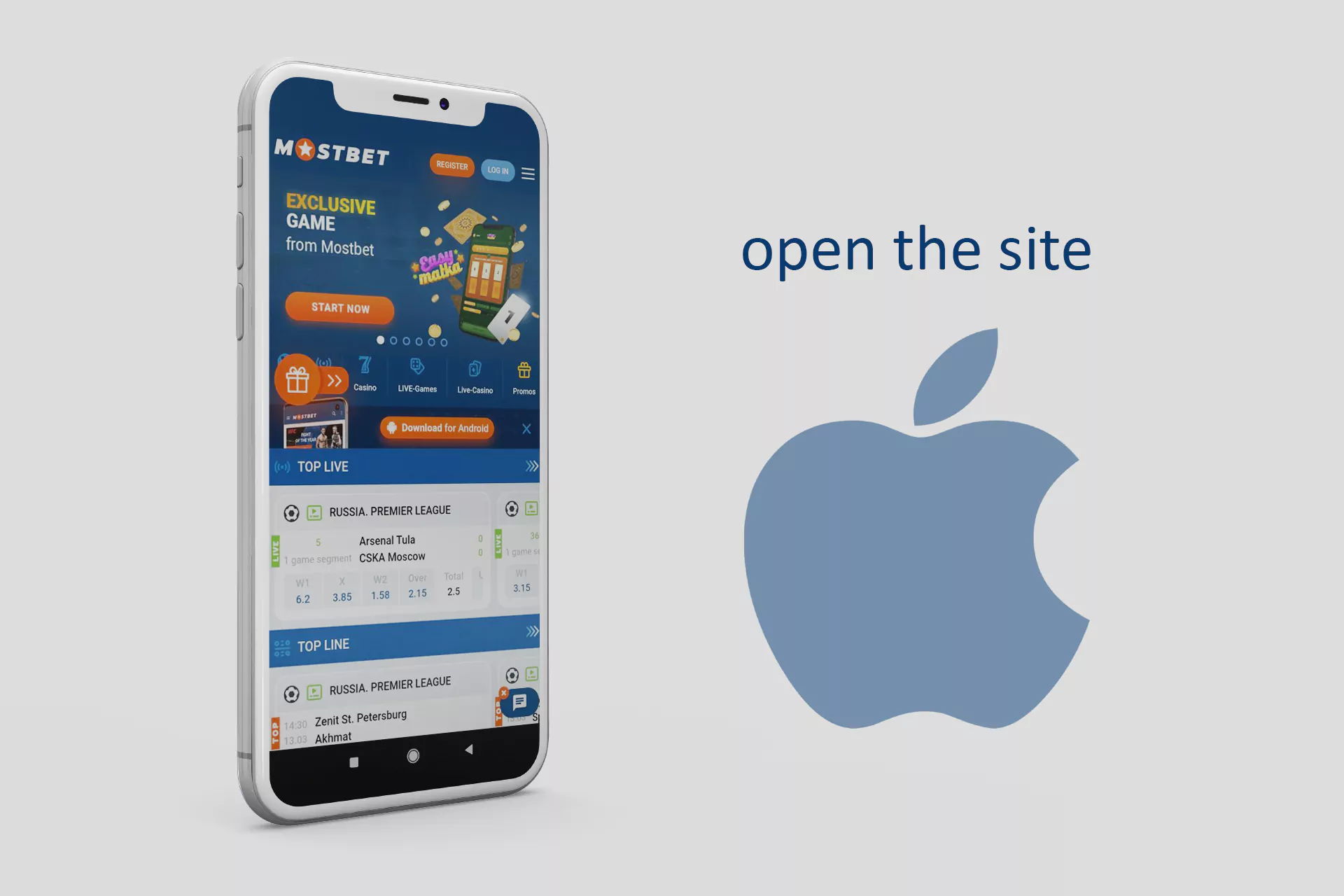 2

Open the Application Page

Find the download button for iOS, which is on the home page or in the menu. Or download stright by our link. Wait for the end of the download.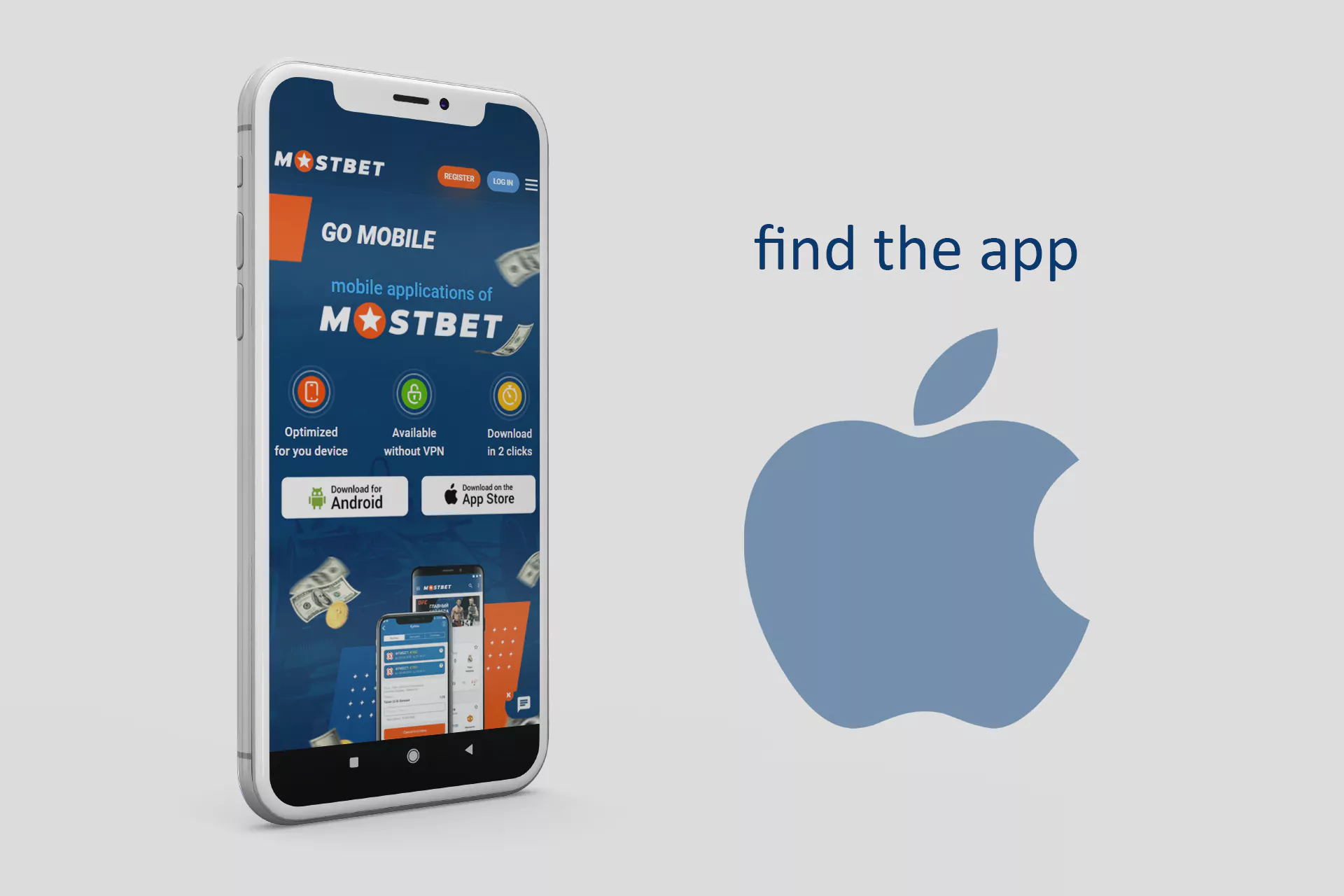 3

Change the Settings

Allow installation from the unknown sources in your mobile phone's settings.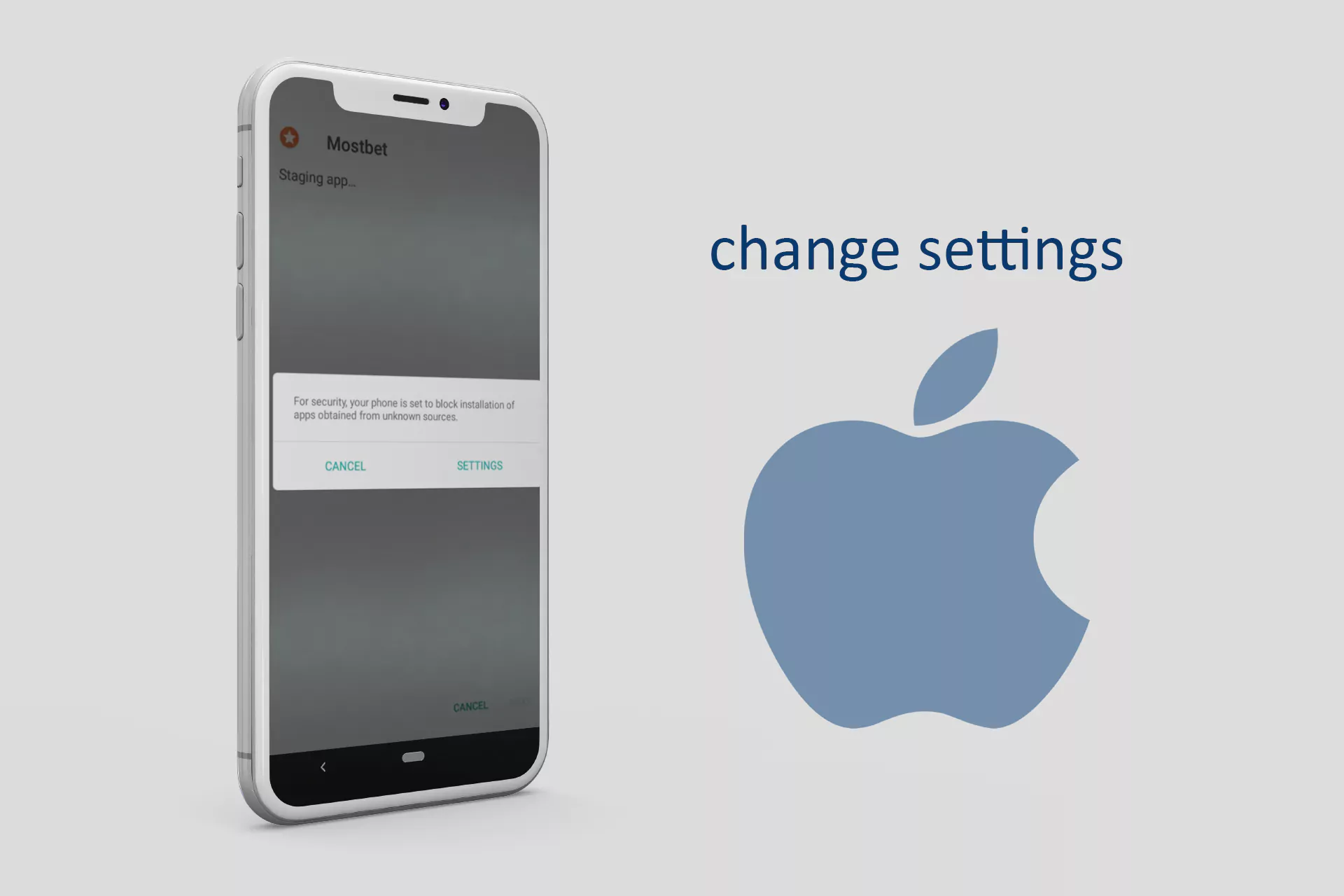 4

Register

Open the registration form and enter the required information in the fields.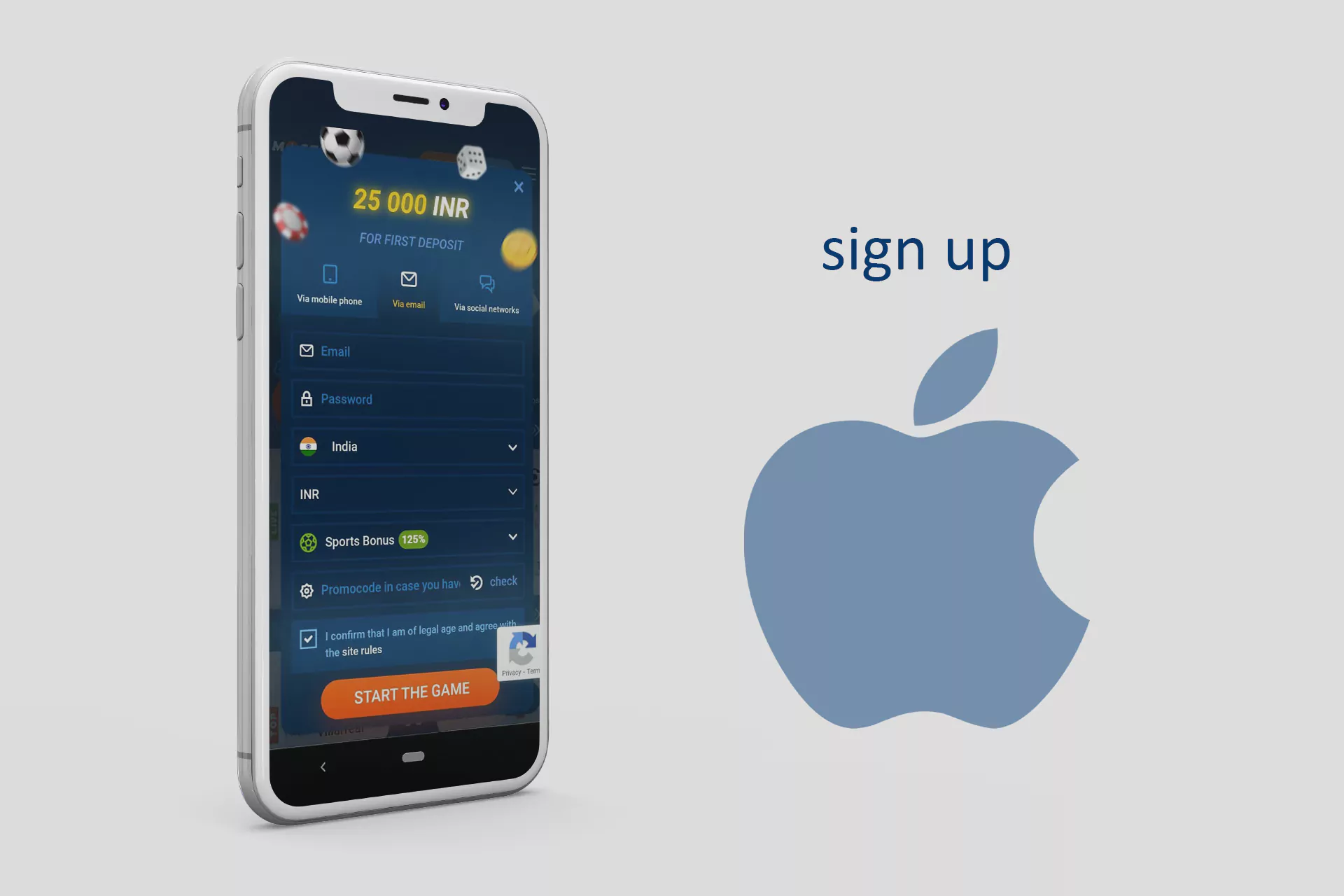 5

Make a Deposit

The minimum amount required of you.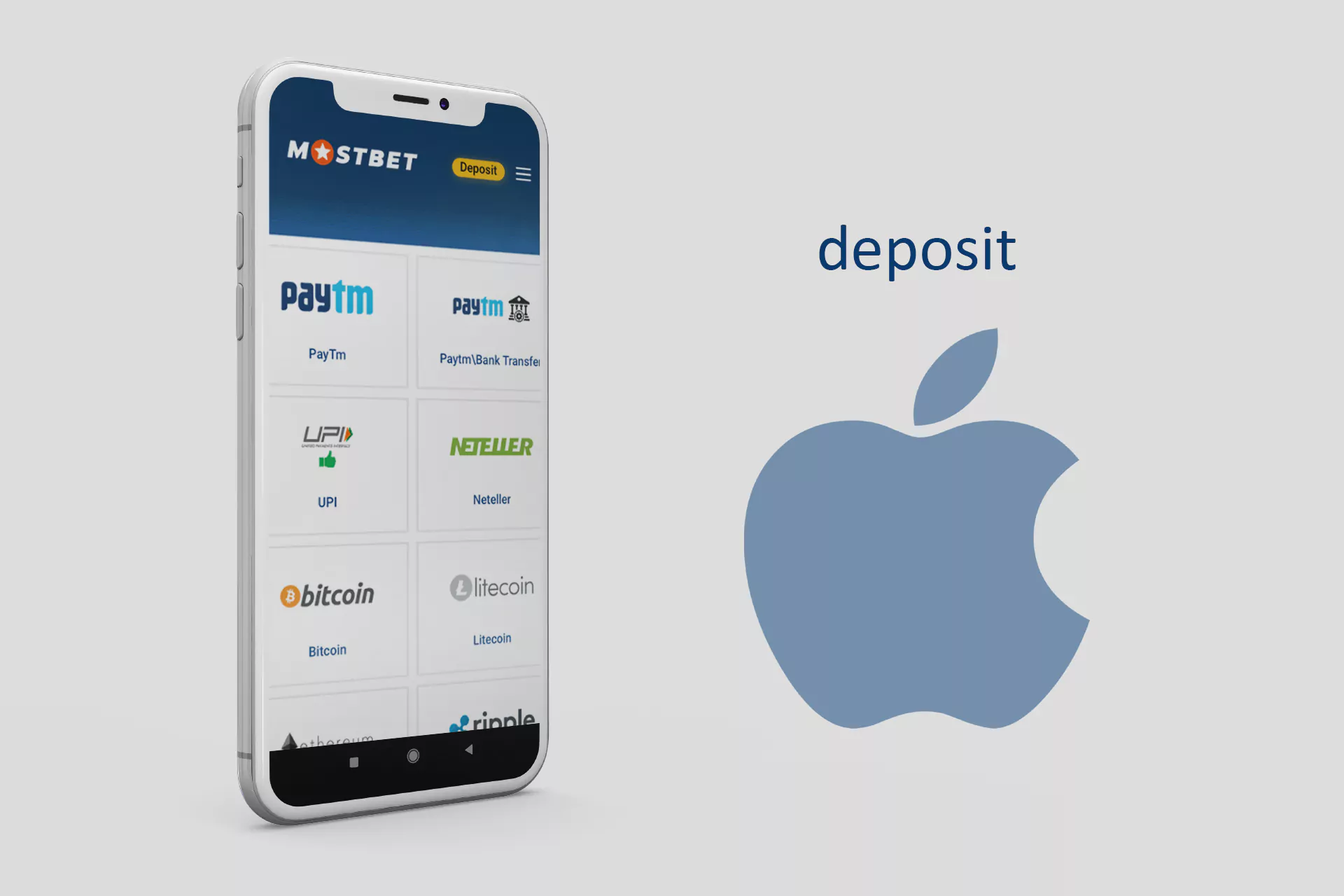 You won't be able to find this app in the App Store, so don't waste your time looking for it and follow the link you see in the first paragraph. This will make it easier and less time-consuming for you to install the app. The most important thing for you is that the link is completely safe and secure.
System Requirements of the MostBet App for iOS
To make the installation process even faster and without too many problems you should pay attention to the list of minimum requirements for your device:
| | |
| --- | --- |
| iOS version | 8.0 and higher |
| Storage space | 150 Мб |
| Processor | At least 1.2 GHz |
| RAM | 1 GB |
If suddenly your mobile device is inferior in some way, and the app does not work without problems, do not get upset, but just go to the official website. It is no less convenient than the app and performs the same functions. It is just more convenient to play and bet on your phone through the app.
iOS Devices on which the MostBet App is Available
Just as in the case of the Android operating system, MostBet conducted the same tests on Apple devices. Below you can see all the devices that have successfully passed this test and on them, you will be able to use the application without a single problem.
iPhone 4;
iPhone 4C;
iPhone 5;
iPhone 5c;
iPhone 6;
iPhone 6s;
iPhone 7;
iPhone 7 Plus;
iPhone 8;
iPhone 9;
iPhone 10;
iPhone 11;
iPhone 12;
iPhone 13;
iPad 2;
iPad 3;
iPad 4;
iPad 8;
iPad Air.
If you are the lucky owner of one of these smartphones, then you are definitely fortunate and you can easily use the MostBet app. So don't hesitate and go ahead and download!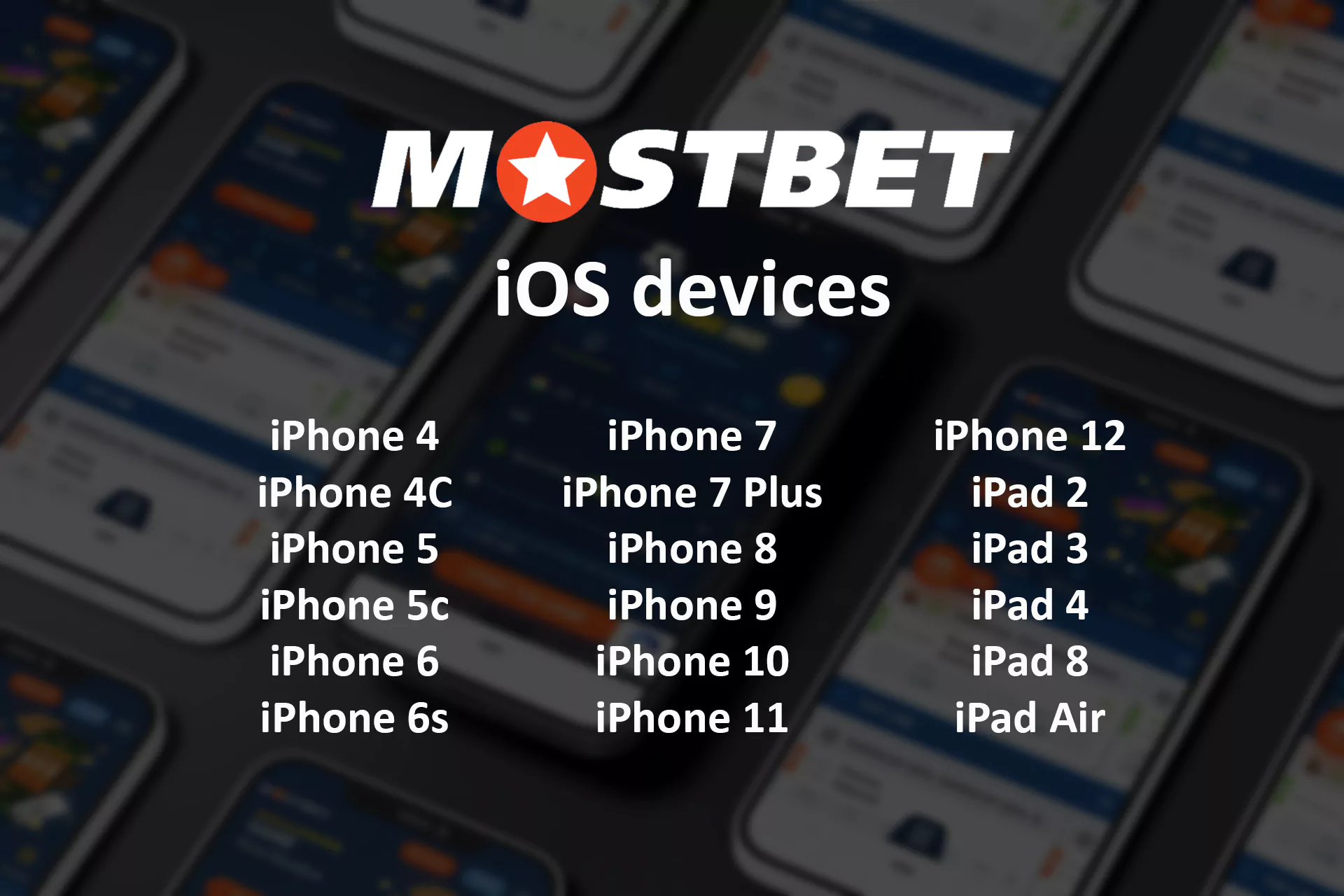 Update the MostBet App to the Latest Version
To manually update the app, here's what you need to do:
Connect to the Internet. Otherwise you won't be able to download anything, right?
Launch the MostBet app. Then, you need to go to the app settings;
Check for updates. To do this, click on the update button to check for updates for your version;
Click the update button. If the app has newer versions, once you click the download button, the download process will begin. When it finishes, your app will be updated.
You may be wondering, "But can I do something to make the app update itself?" The answer is yes, you can. You can do this by following these steps:
Go to your device settings;
Select auto-update apps. This will let you know if you are using the newest version of the app;
Select an update preference. This is self-explanatory, just choose the preference you like best;
Click the "Done" button.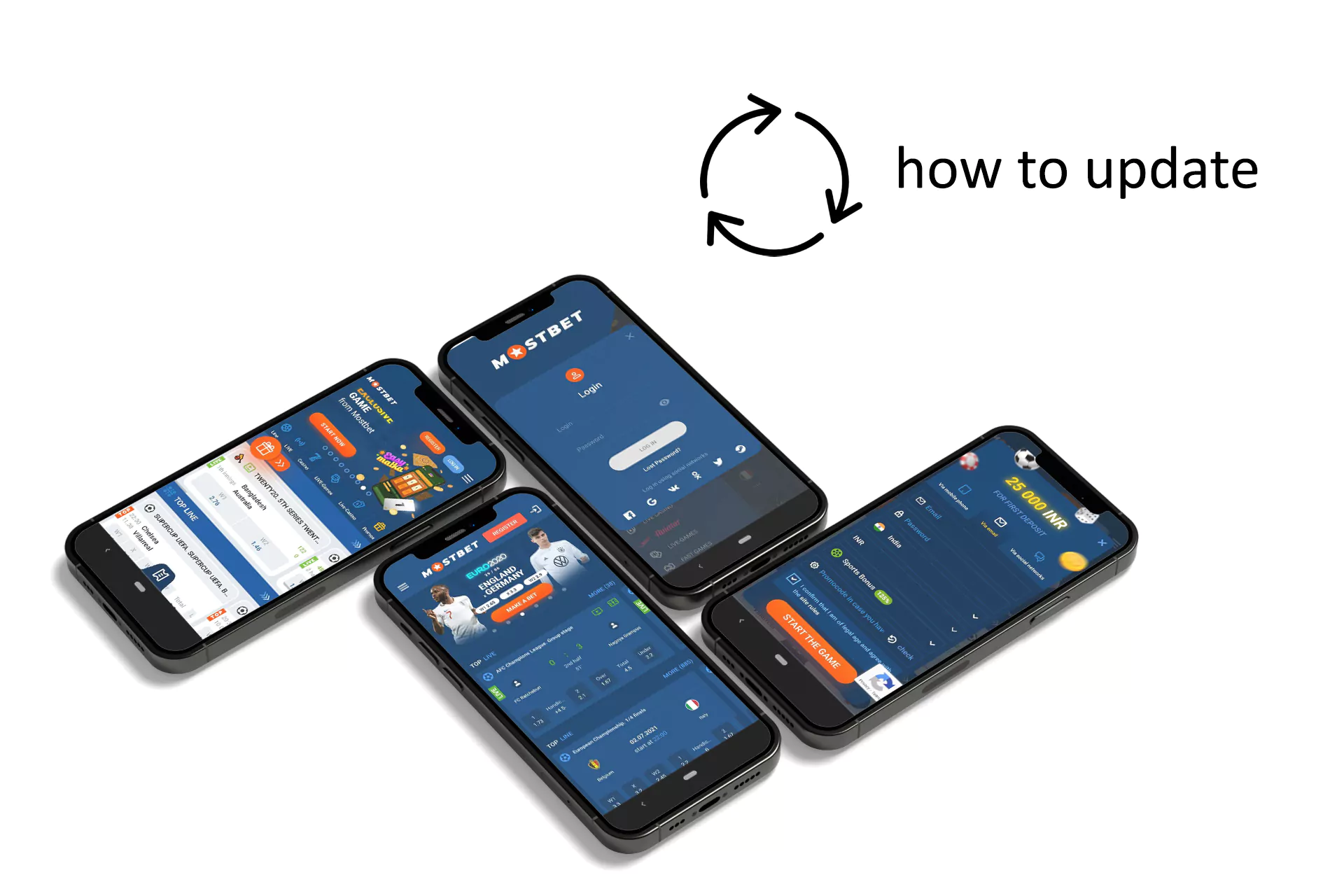 IPL 2023 at Mostbet App
MostBet is a popular bookmaker among bettors in India that provides bets on various sports, including the Indian Premier League 2023.
The IPL tournament is one of the most important cricket events, with ten teams competing, and after 74 matches, only one team becomes a champion. The IPL provides an excellent opportunity to not only enjoy the game but also earn real money by betting on matches. MostBet accomplishes this by offering a variety of bets and competitive odds. There are numerous types of bets available, including: IPL squad winner, toss winner, total runs, total wickets, match outcome, and many more.
Furthermore, to increase your chances of winning, we recommend that you familiarize yourself with the following information on IPL 2023, which is provided by MostBet:
Furthermore, MostBet offers the following advantages:
Different bonuses and promotions;
Promo codes;
Various payment methods for deposits and withdrawals: MasterCard, Visa, ecoPayz, Qiwi, Cryptocurrency (Bitcoin), PayTM, Bank Transfer, Skrill, Neteller, WebMoney, and others;
Different types of bets;
Lots of sports to bet on;
Online casino games;
MostBet apk for Android and iOS, and much more.
Download the free MostBet app for Android (APK) and iOS today to start earning real money from IPL betting!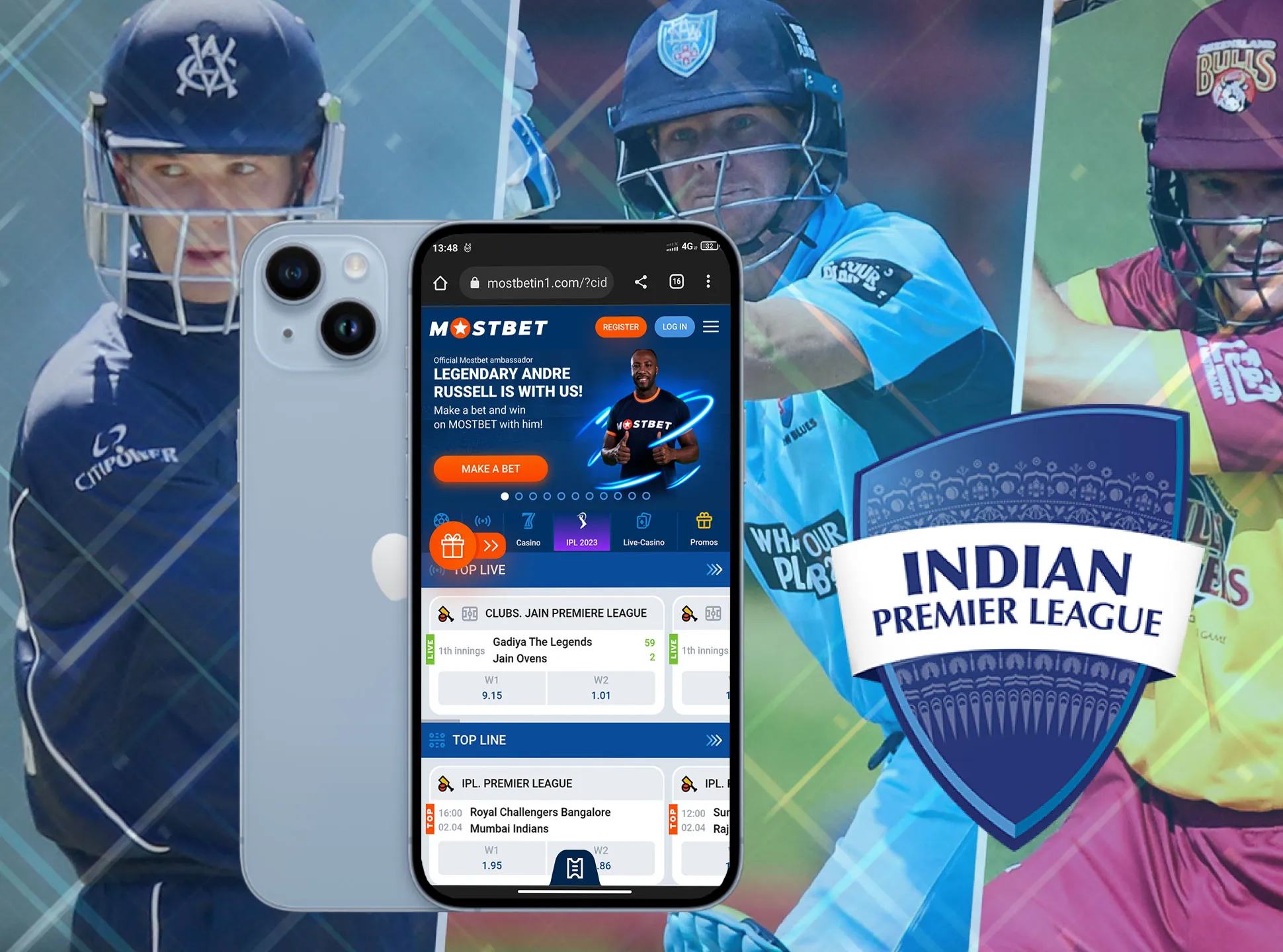 Mostbet App Bonuses
The MostBet app for earning and having a good time is a great way to make all kinds of bets from your cell phone and withdraw your winnings without any difficulties, problems, or risk.
In the app you will find all kinds of Mostbet bonuses and promotions that are also available for the web version. And, in addition, you can sometimes find special offers and bonuses for mobile players.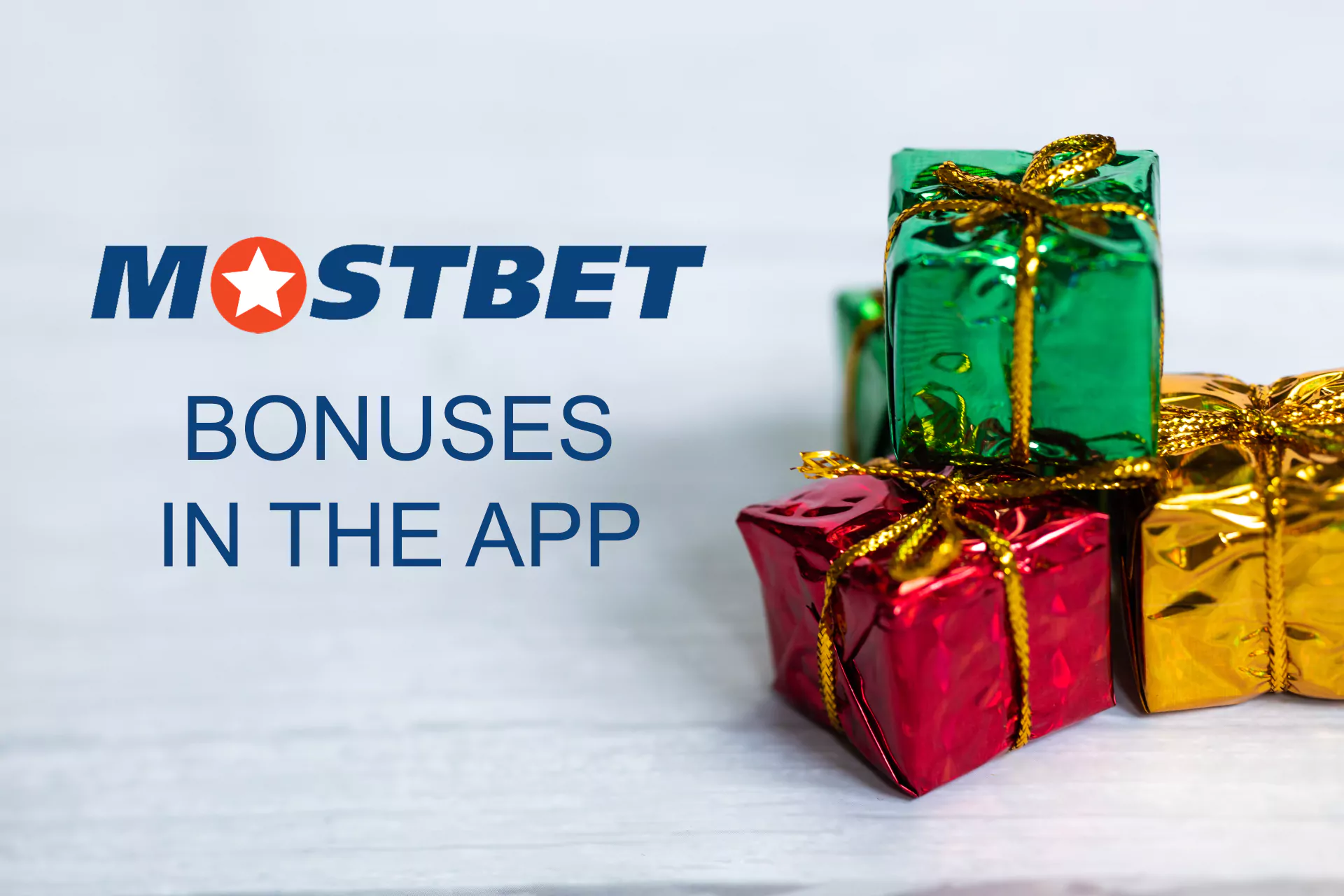 Bonuses For the First Deposit
Let's start with the most important thing. In order to perform any actions in the MostBet app, you need to top up your game balance. How to make the first deposit to your gaming account?
All you need to do in order to get this bonus is just go through the registration process, which was described above, and make your first deposit! Nothing complicated, and you won't find a better offer at the initial stage for betting and gaming.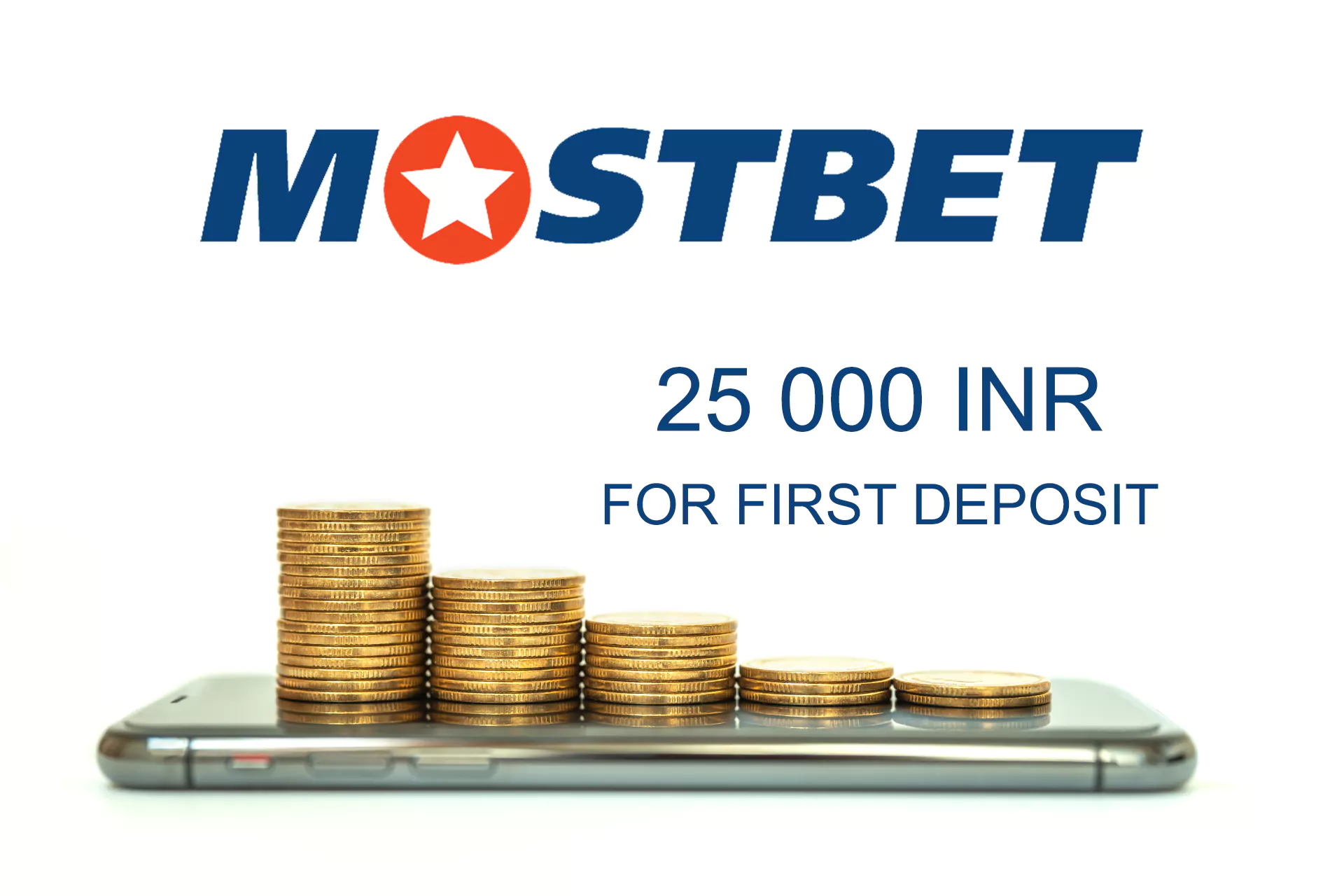 On Expresses
On expresses is one of the types of bonuses you can get at MostBet.
You can use the express bonus to bet on a number of sports events at the same time for a certain amount of money.
With this bonus, all odds from different sporting events that you have bet on are added up.
Let's say you bet on 3 of what or match odds:
You stake on 3 matches at once as an express, then the odds of these 3 matches are added up, and if all the bets made by you turn out to be winning you will return a good profit from the bets you have made.
If any of your bets are not played, you automatically lose.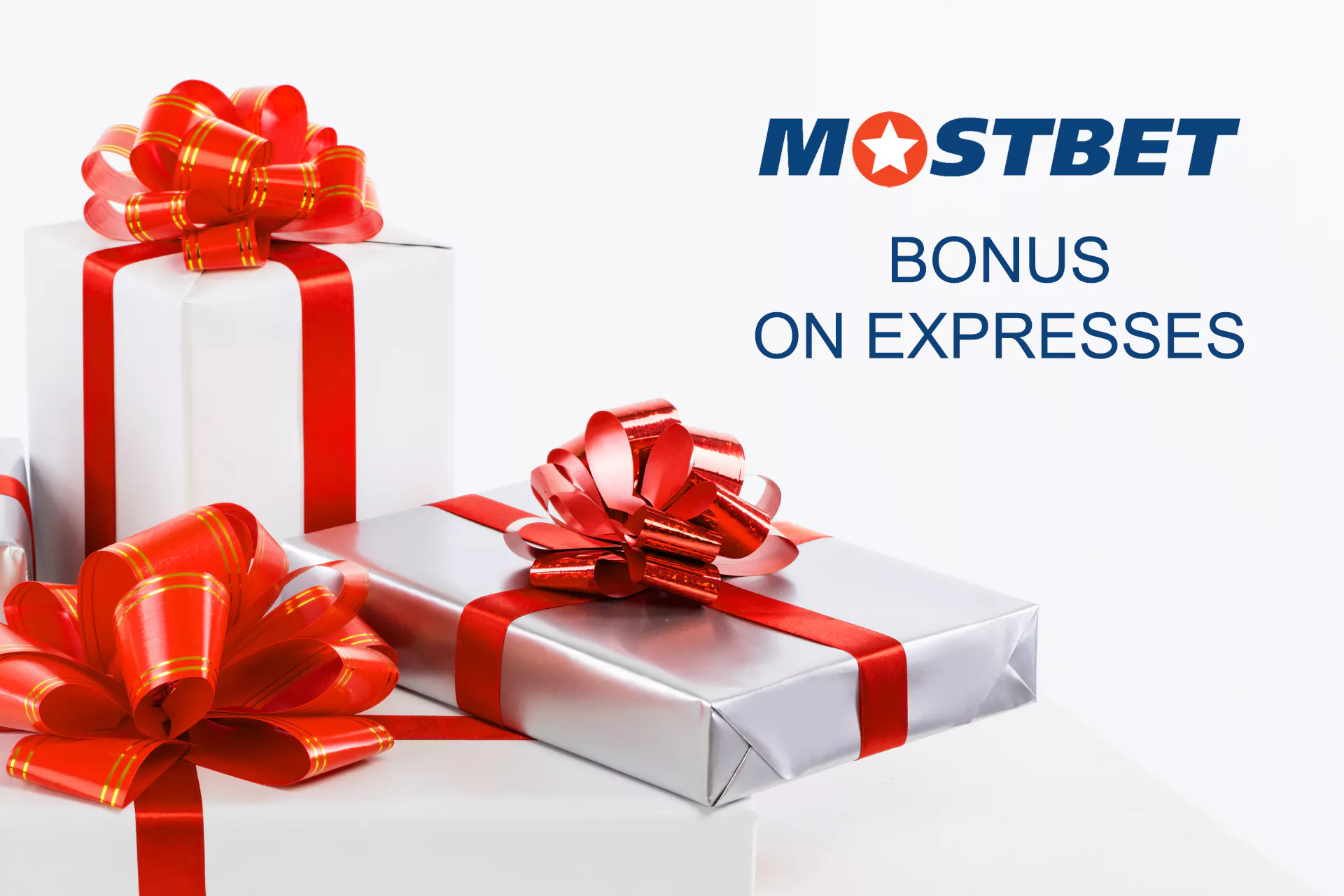 Cashback
One of the advantages of MostBet is cashback. Cashback allows you to get back a part of your lost money.
How do I get a percentage of my losses and how do I increase that same percentage at MostBet? Since MostBet promotes a huge number of products that include not only sports betting but also gambling, they have two main types of cashback, namely:
Cashback Percentage:
5% on the lost amount of $13;
7% on the lost amount of $67;
10% on the lost sum in the amount of 335 dollars.
Cashback is automatically credited to your bonus account. You can use it while betting and playing casino games on the website or in the MostBet app.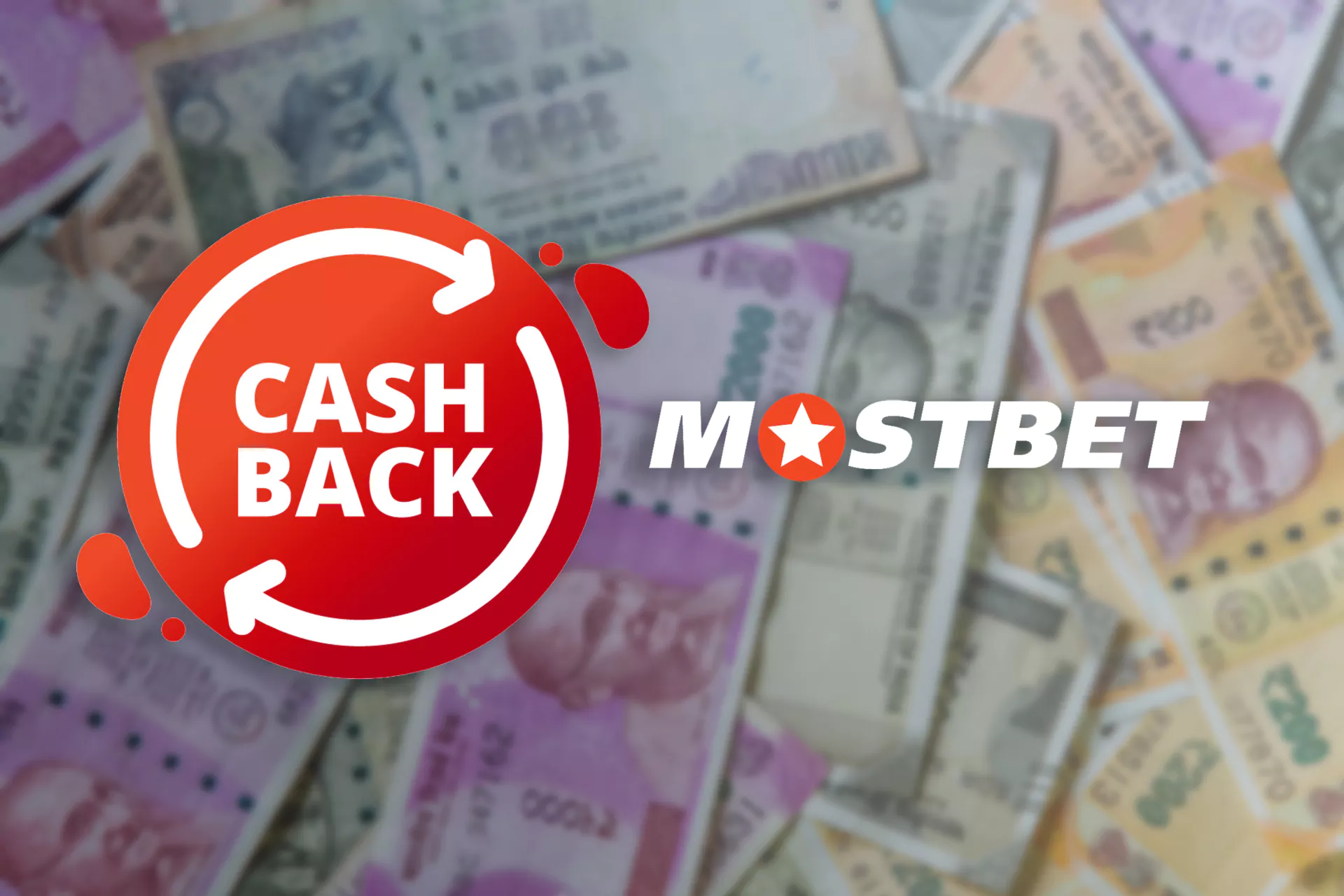 Promo Code for Mostbet App
At MostBet you can also use the promo code BESTBET21 once per activation.
For sports betting up to $200. Including championships, such as the Indian Premier League;
And for casino games, up to 25 freespins.
How and where can you activate a BESTBET21 promotional code?
Without your own account, you won't be able to use any promo code at MostBet betting shop, so you'll need to be a registered user on the website or in the app.
Using a promo code:
Enter your game account username and password;
Determine the odds and add the event to the coupon, select the bet amount;
In a separate field under the bet amount, enter the combination of letters and numbers to activate the bonus;
Check the correctness of the given data;
Click "Place Bet" and you will receive a notification that your bet was successfully placed.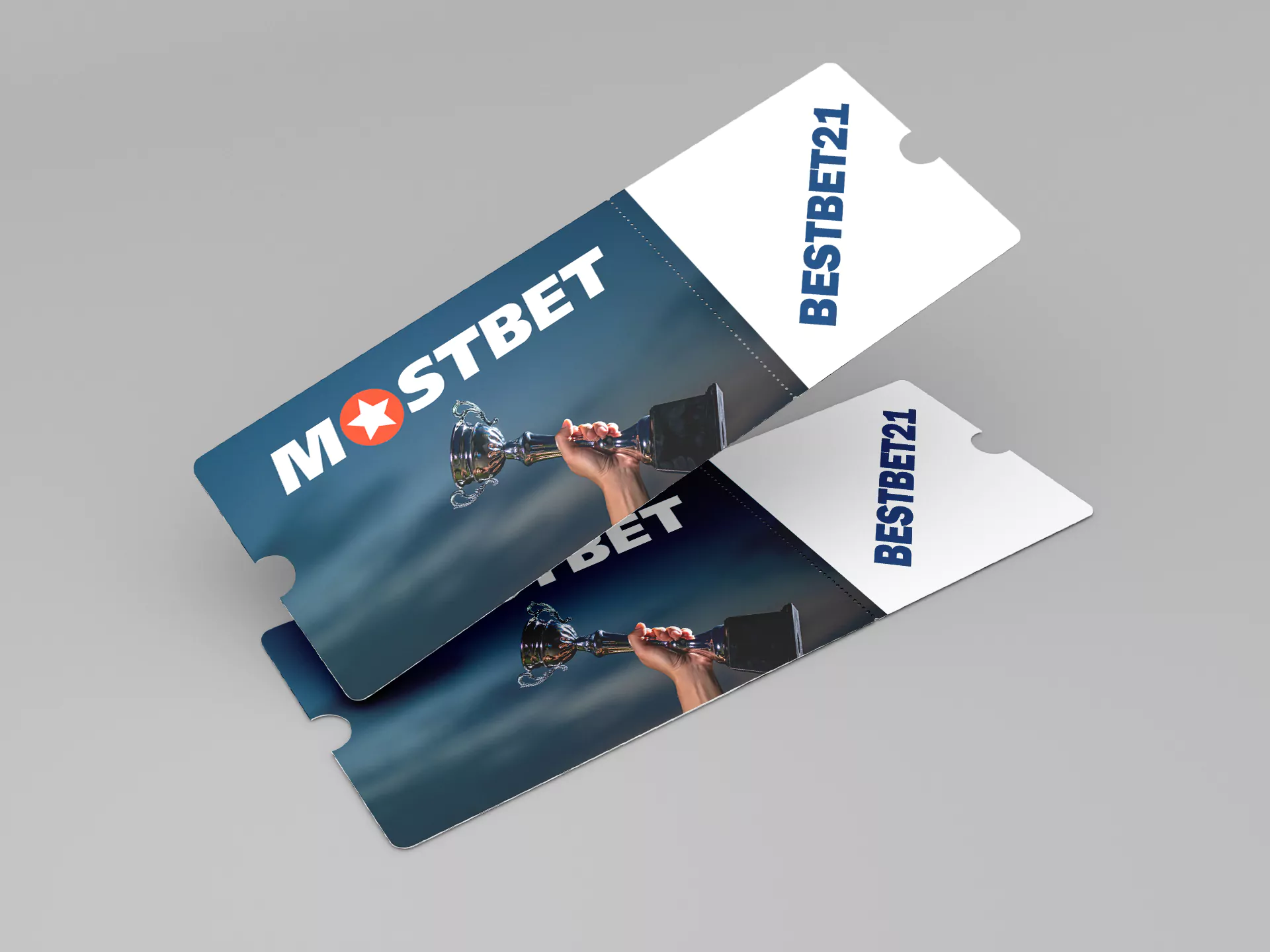 Payment Methods at Mostbet App
Mostbet is a service that tries to satisfy the needs of everyone. Of course, it also means giving players lots of opportunities in payment methods. You may not only deposit money, but also withdraw your winnings, and you can do that not only on the website but on the betting app as well. Here is the information related to depositing and withdrawing.
MasterCard;
Visa;
Maestro;
ecoPayz;
Qiwi;
Bank Transfer;
Wallet;
UMoney;
WebMoney.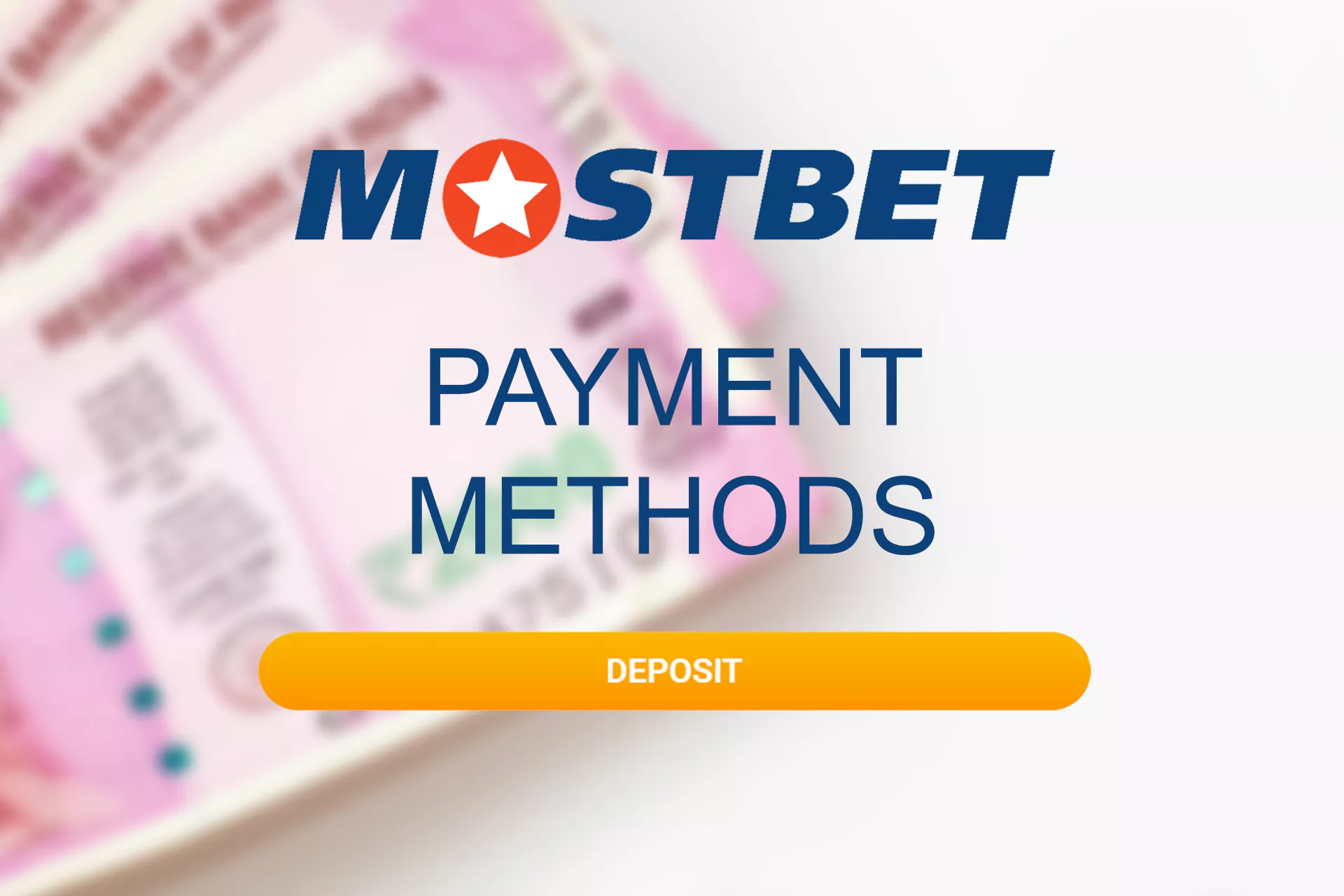 Differences Between MostBet Mobile App and Website
When talking about Mostbet, be sure that you won't get confused about how to find a sport or bet you're looking for. The website is made in a simple yet comfortable style for everyone to enjoy. But, there are some differences between the PC version and the mobile app version. Here are they:
| Mostbet App | Website |
| --- | --- |
| Needs to be downloaded and installed | Nothing has to be downloaded |
| Quicker odd updates | Odds update slower |
| Necessary to fingerprint login | Log in via username and password |
| Has minimal system requirements | Suitable for any phone |
Types of Bet at MostBet App
Types of bets depend on the sport you choose to bet on. Here are some of the most popular bet types.
Bets on tournaments. They are bets on the outcome of the tournament;
Popular bets. These are the bets on which the most people play;
Total score betting. This is the bet that you make on the odds of the team of your choice;
Handicap betting. These are bets where the team that has a disadvantage has points given to it. It's made so that the betting is more interesting;
Player betting. This is a bet where you bet on the performance of a player;
First half betting. As the name suggests, it's a bet on the result of the first half of the match. It also involves betting on the number of goals or points earned in the first half of the match;
Second half betting. These are the same as first half bets, except they're second half bets. These include outcome of the second half, or the performance of a specific player in the second half;
Live betting. Mostbet lets you make live bets. These are bets where you can check the flow of the match online and make a bet while the match is still running;
Casino bets. Mostbet allows you to choose from a wide range of casino bets.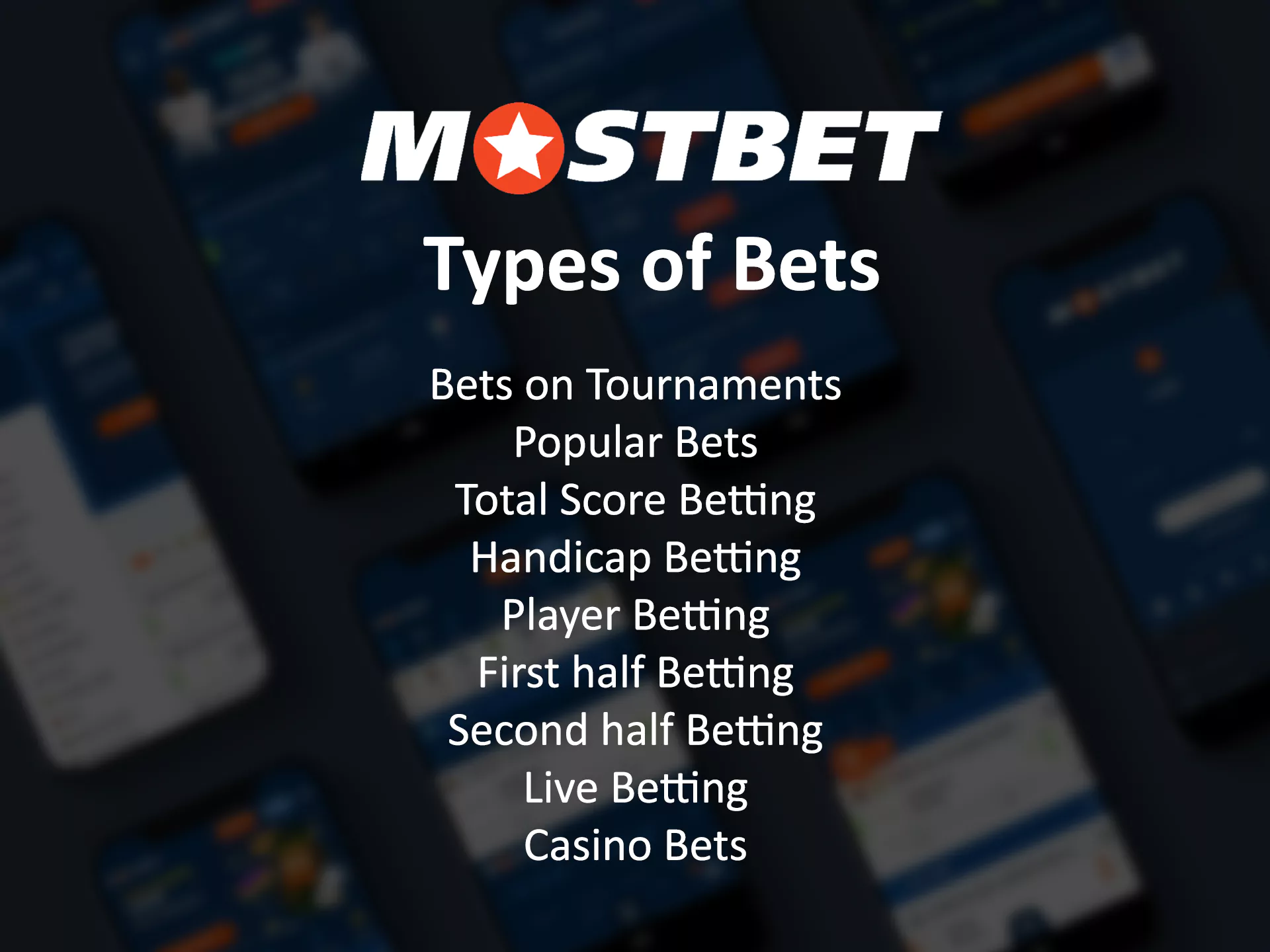 Online Casino
Mostbet is well known among players for its wide range of sports activities.
However, not all players enjoy betting on sports, since some players love the feeling of excitement they get when they bet at a casino. Luckily, Mostbet got you covered, since it provides you with all the popular titles of various casino games. If you're new to casino bets, you can choose something from the section "Popular games".
Mostbet lets you enjoy:
Slots;
Roulette;
Cards;
Lottery games;
Tournaments.
It's also worth mentioning that the bookmaker has live casino games for those who enjoy playing with other players in real-time.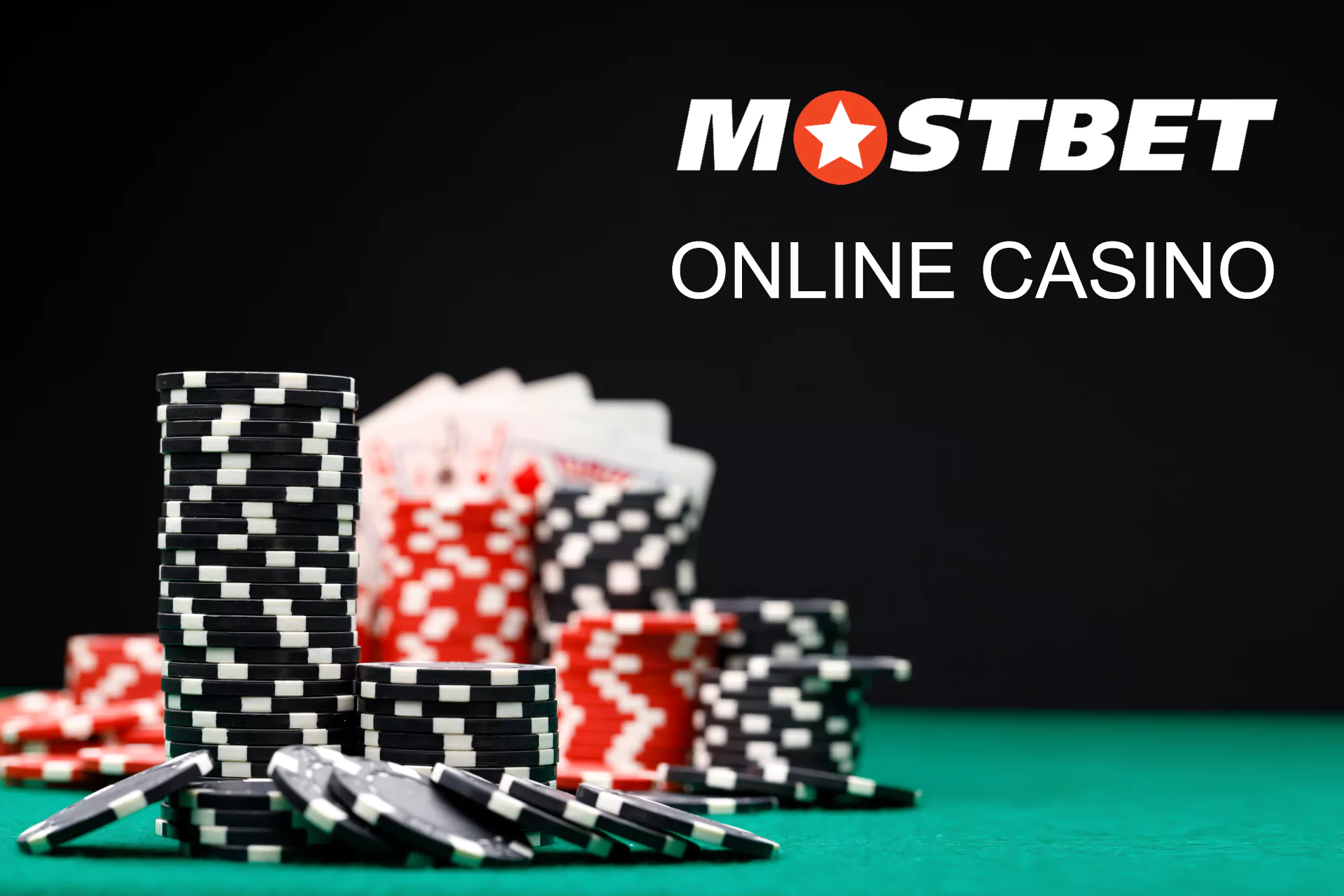 Conclusion
We just told you all about the best MostBet betting app. We gave you all the details on how to install this app on your smartphone and how to use it. If you have any questions, you can ask them in the comments and get an immediate answer. Good luck in sports betting and gaming with MostBet.
But if you're a stickler for stationary betting, check out our list of cricket betting sites.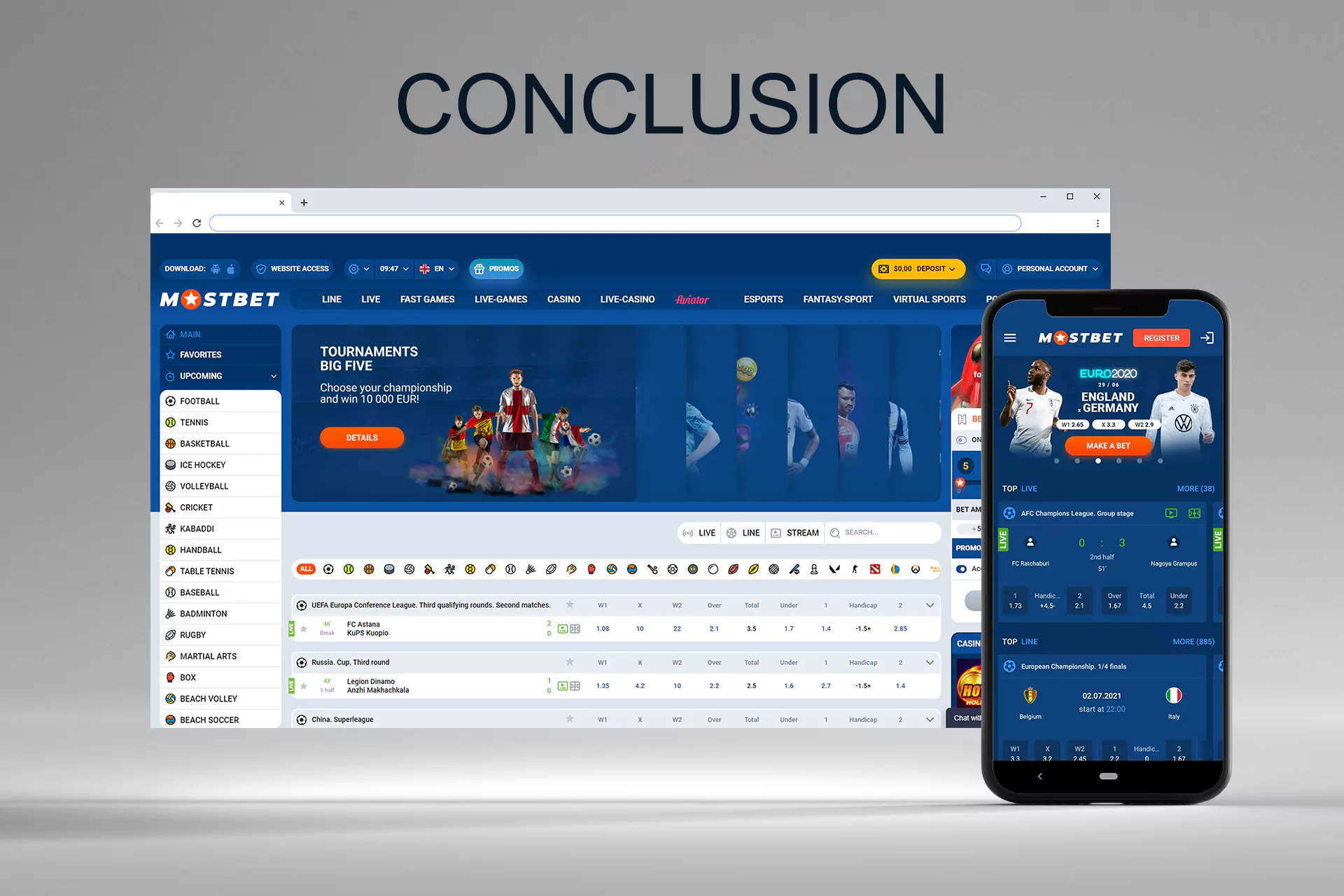 FAQ
Why Isn't the Mostbet App on Play Market?
Because Mostbet didn't try to upload their app to Play Market. That's why the only way you'll be able to get your hands on the app is through the official website.
Do I Need a Separate Registration For the Mostbet App?
No, you don't. You don't want to make your life harder, and Mostbet thinks the same, that's why you can use the account that you use on the website.
Can I Get a Second Account via Mostbet App?
Unfortunately, no. Mostbet wants their players to play fair, so it's against the rules of the website to create a second account. In any way, we think that having one account will be sufficient.
Can I Withdraw the Bonus Money From the Mostbet App?
Kind of. You can't withdraw the bonus money right after you've received it, since it's against the rules. But, you can withdraw your winnings right after a successful bonus wagering finish.
Can I Play From Two Devices Simultaneously at the Mostbet App?
Of course. Mostbet lets you use two devices simultaneously without any problems.
Is it Safe to Use This Promotional Code at the App?
Absolutely. Using a promo code is completely legal and safe, so it won't harm your account in any way. So feel free to receive your bonus without any fear!
What Should I Do if the Client Does not Start?
Maybe you have an old version of the app. Try updating the app, this may help. If that didn't help, check if your device meets the system requirements. Even though they're low, they still exist.
Are There Any Games in the PC Version That Aren't in the Mostbet App?
No. The PC version and the app are practically the same.
Why Won't the App of Mostbet Install on My Android?
It is likely that your gadget's settings have restrictions on downloading apps from third-party sources. You can override this restriction in the "Security" section.
Why Can't I Download the App to My Phone?
Check your internet connection, make sure you have allowed third-party sources and make sure you're trying to download the app from 4rabet's official website.
Updated: