What is Skrill?
Skrill is an international electronic payment system in existence since 2001. Until now, it is one of the fastest-growing ways of money transfer. Now it operates in more than 30 countries, including India, where it is fully legal. To carry out transactions using Skrill, all you need is the recipient's email account to which your account is registered. Transactions are free of charge. You can also transfer money to your bank account or your UPI account with minimal fees. Using and creating a Skrill wallet is absolutely free for Indian users. More and more bookmakers, understanding the convenience of Skrill, are adding this payment method to the website or app so that users can enjoy betting with comfortable and easy money transactions.
Skrill has its own website, mobile site and app. All platforms have a nice and user-friendly interface with quick access to the necessary functions. You can download the Skrill app to your gadget via Google Play or AppStore.
Skrill is also known for the highest level of security, which ensures that your money is safe.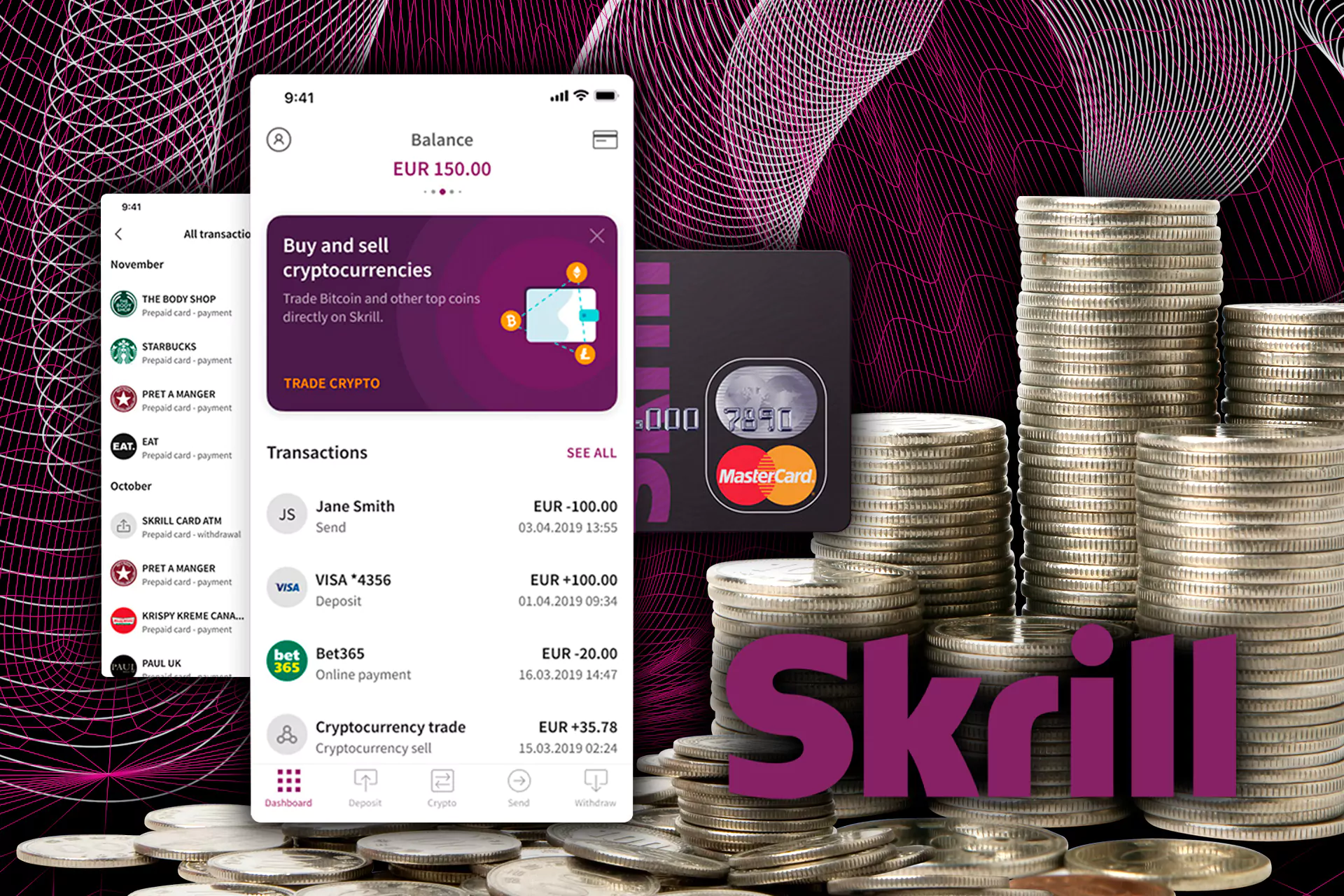 How to Open a Skrill Account?
It takes a few minutes to create a Skrill Wallet. We have prepared for you easy and clear instructions on how to do it easily in India.
So, all you need is:
Login to Skrill. Login to the Skrill platform using the website, mobile site or app, which you can download from the AppStore or Google Play;
Click on the sign up button. This will take you to a page with a form to fill out;
Enter your details. Fill in your details (first name, last name, email), you also need to choose your country and the currency you want (you can choose INR as the main currency of your account);
Confirm your registration. Click on the button to confirm your account creation. When you do this, you will receive an email to your email box about the successful registration.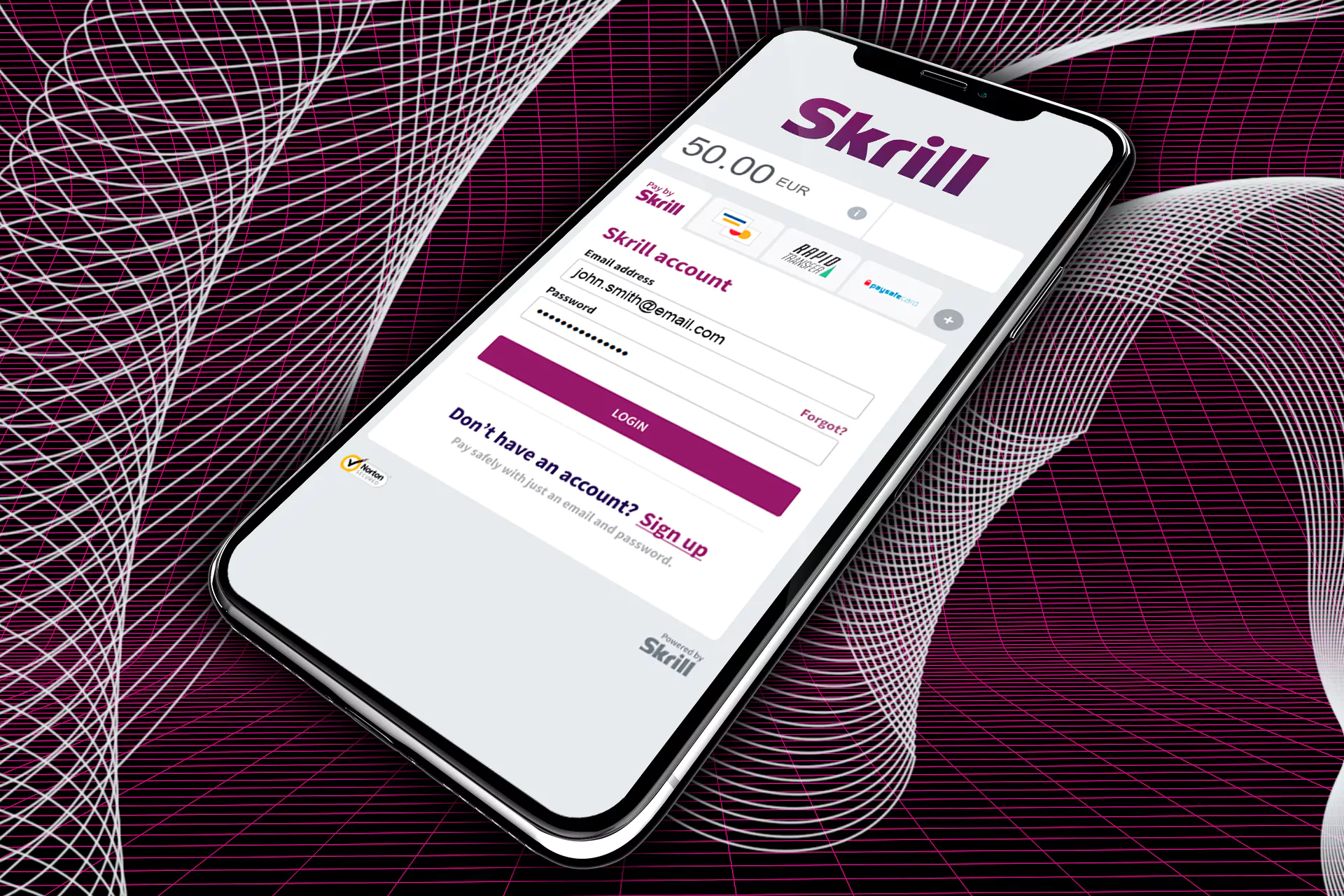 How Can I Verify My Skrill Account?
The verification process on Skrill is easy because the interface itself and the payment wallet pages will guide you and require you to perform certain actions. We have put together instructions for you to be prepared for this process:
Login to your account. Enter your username and password for your account;
Click "Verify". Go to your profile settings and click on the verification button;
Upload your documents. Upload photos of your government-issued identification documents. These must be valid documents. Don't use flash, and try to make the photo as good as possible so that you can examine your details.
All you have done is wait while Skrill will examine your documents and confirm your successful verification. You will receive a notification in your email box.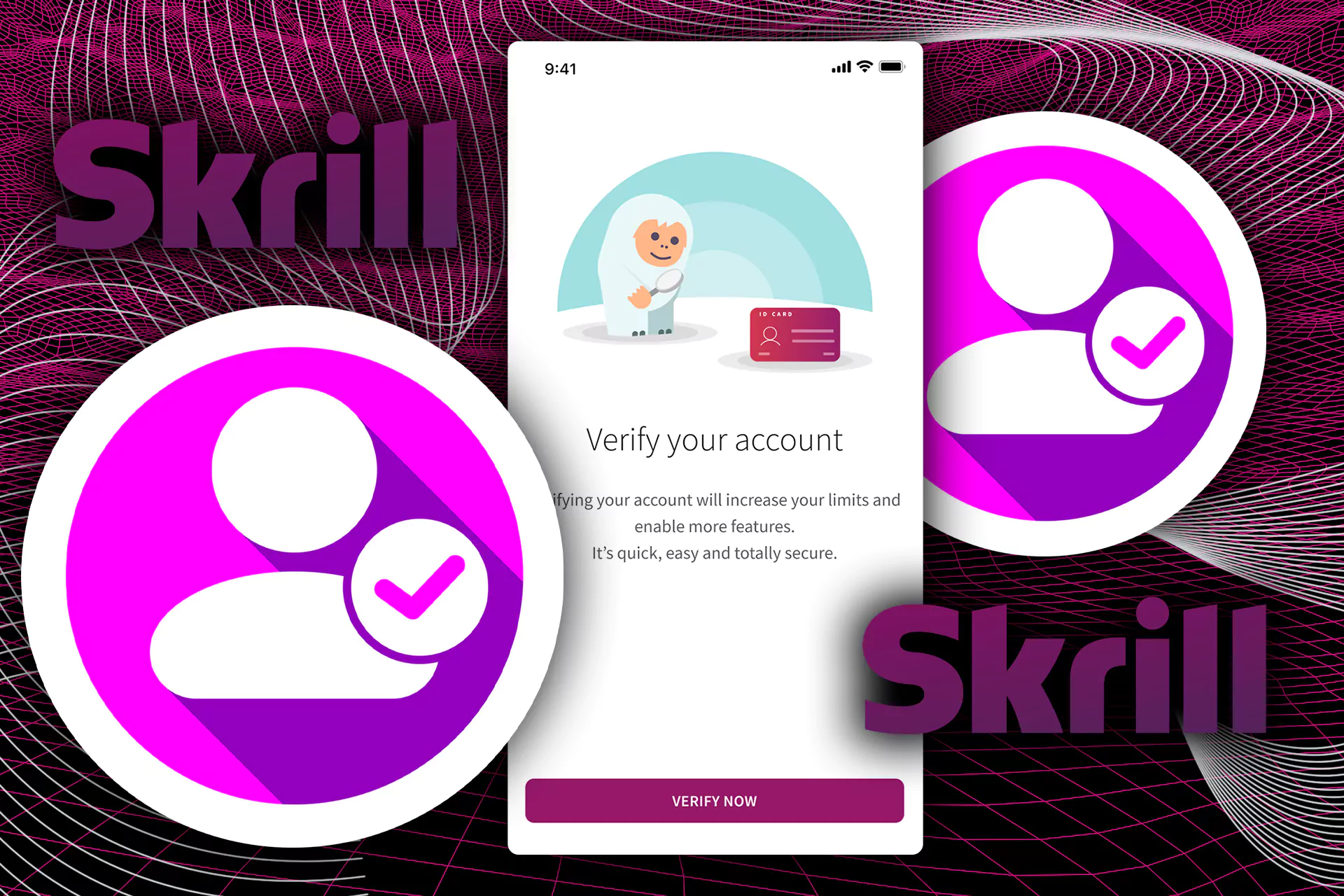 How to Make a Deposit to a Betting Account with Skrill?
You need to fund your gaming account to start betting for real money, and Skrill will always be on hand to help you. Deposits to betting sites and apps with Skrill are very easy and you need to do it:
Visit the bookmaker's platform. Choose a bookmaker from our list and go to their website, mobile site or app;
Login to your account. Click the login button and enter your username and password for your account;
Click "Deposit". Go to your game balance menu and click the deposit button;
Select "Skrill". Select Skrill from the available payment methods and click on it;
Confirm your deposit. Enter the amount and proceed to the confirmation page, enter your Skrill details and confirm the transaction. Then the money will instantly appear in your gaming account and will be available for betting.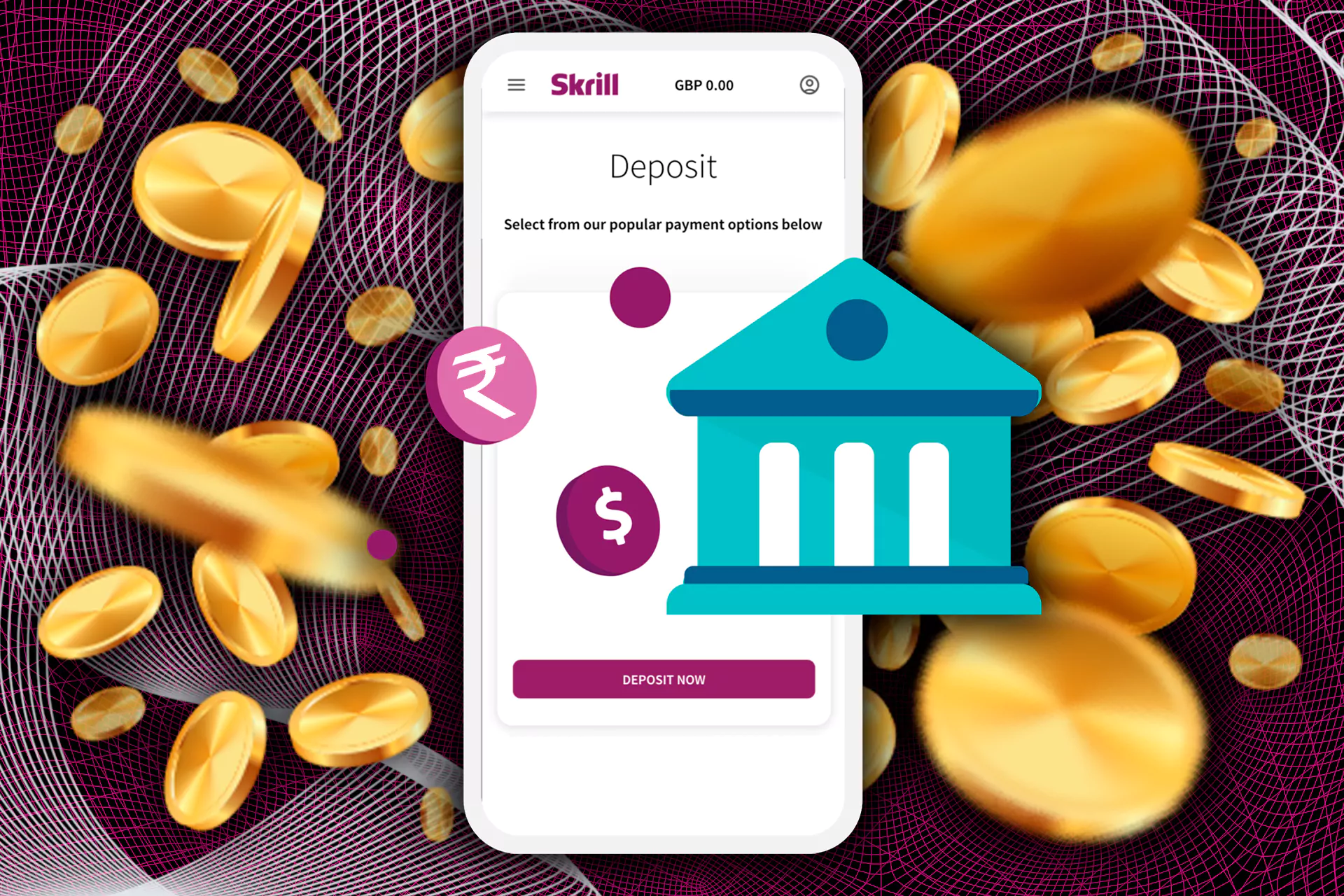 Conditions of Depositing and Withdrawing for Cricket Betting
As with any payment system, Skrill has its own terms of use. They are made as loyal to the user as possible and have almost no effect on his betting. The main provisions include:
Skrill does not charge any internal fees for Skrill-Skrill transfers;
You accept responsibility for the correctness of the details you input about the recipients of the funds;
Skrill has no limits on the maximum amount of transactions;
Once you are verified you have full access to all transactions on your payment wallet;
Skrill may ask for additional information in order to protect your account;
All details you provide during the signup process or any time thereafter must be accurate and truthful;
You must ensure that the information you have linked to your Skrill Account is always accurate and up to date.
These are all the most basic things you need to know. Experience shows that once verified, you will not have any problems using Skrill for transactions on betting platforms.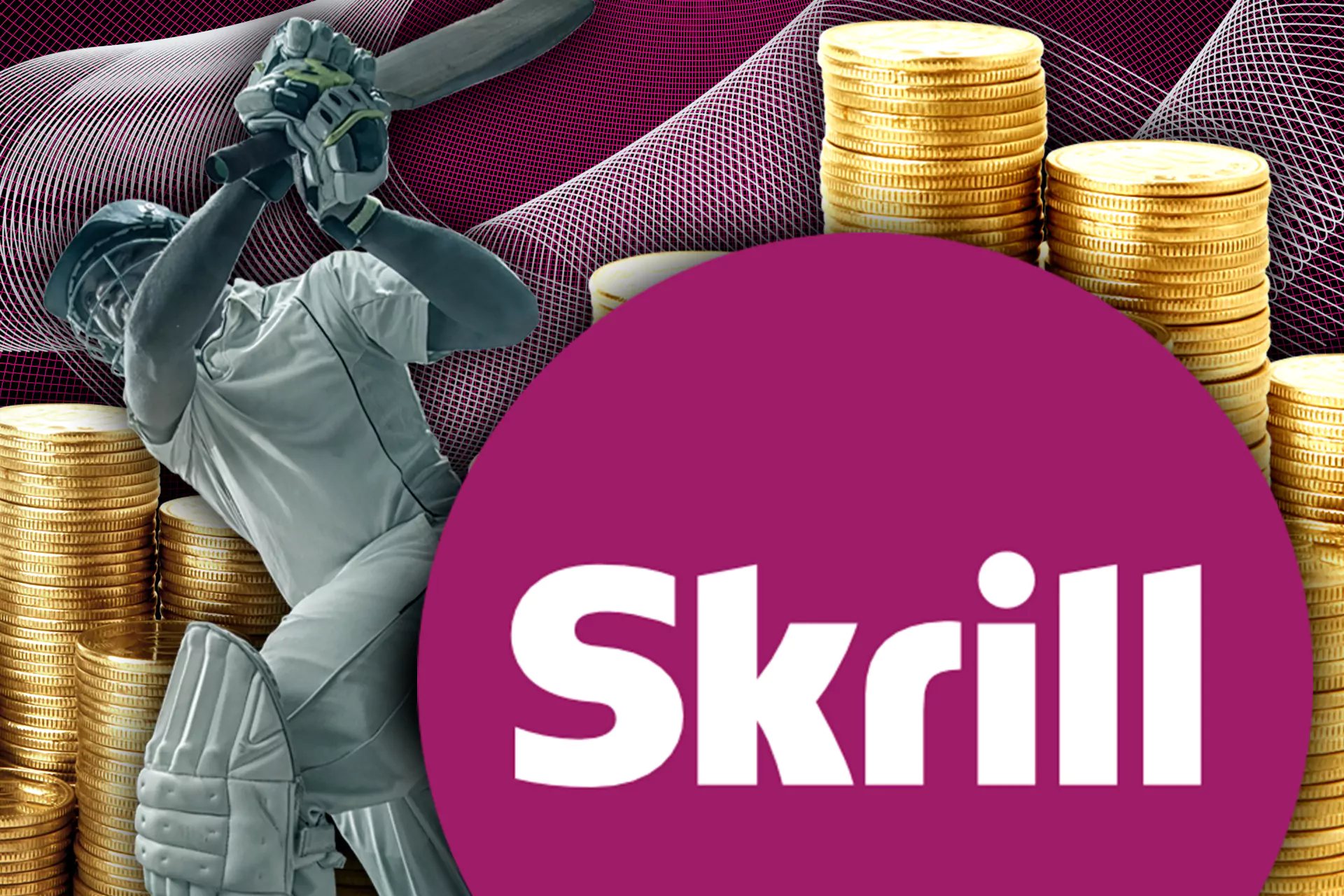 How to Link Your Skrill Account with Popular Cricket Bookmakers?
Linking your Skrill allows you to save time on your deposits and withdrawals from betting sites.
In order to link your account you need to:
Login to your account;
Login to the top-up menu;
Choose Skrill and make one transaction using this payment wallet, by clicking on "I already have a Skrill account".
Once you do this, your Skrill account will be linked and further data will be automatically pulled up so you can make the payment in a few simple clicks.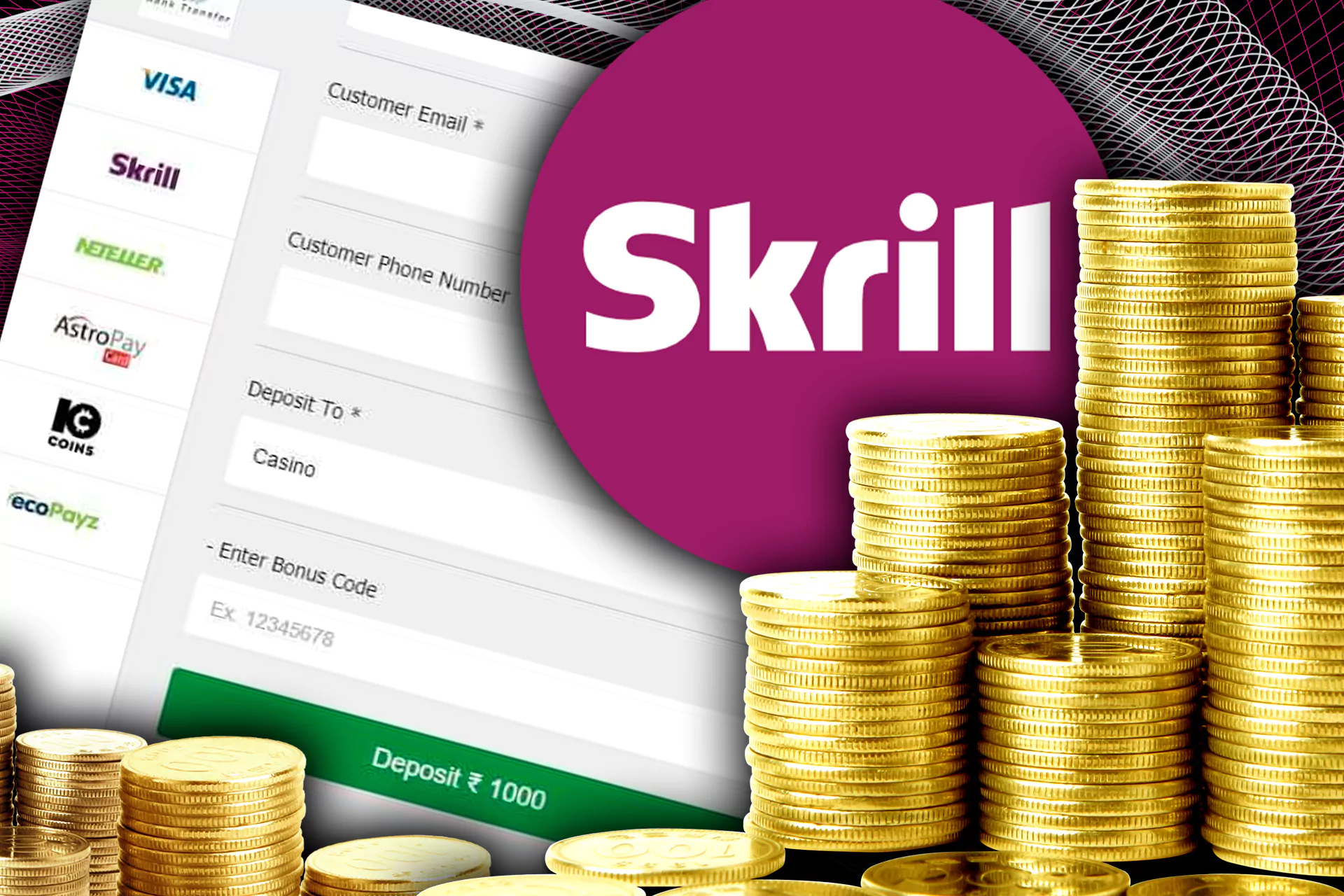 The Best Betting Apps that Accept Skrill
We studied the payment methods on the best betting apps in India. We present to you a table of those who use Skrill as one of the main methods of money transactions in India. Choose a bookmaker to your liking and get ready for big winnings. The same list will be for the best cricket betting sites:
Rank
Name
Rating
Benefits
Bonus
How to Cash Out Your Money from Skrill to an Indian Bank Account?
When you have earned some money from betting, you can easily withdraw it to your Skrill wallet. You can then send it to your Indian Bank account in a few clicks.
To do this, you need to:
Withdraw the money. On the bookmaker's website or app, go to the withdrawal menu and select Skrill as your withdrawal method. After that, withdraw your money.
Click on "Send" in Skrill. Go to the Skrill site or app and click on the send money button.
Enter your account details. Enter the details of your bank account you have with one of the Indian banks and send your money.
After that, you need to wait for them to arrive. You can follow the sending status in your personal Skrill account.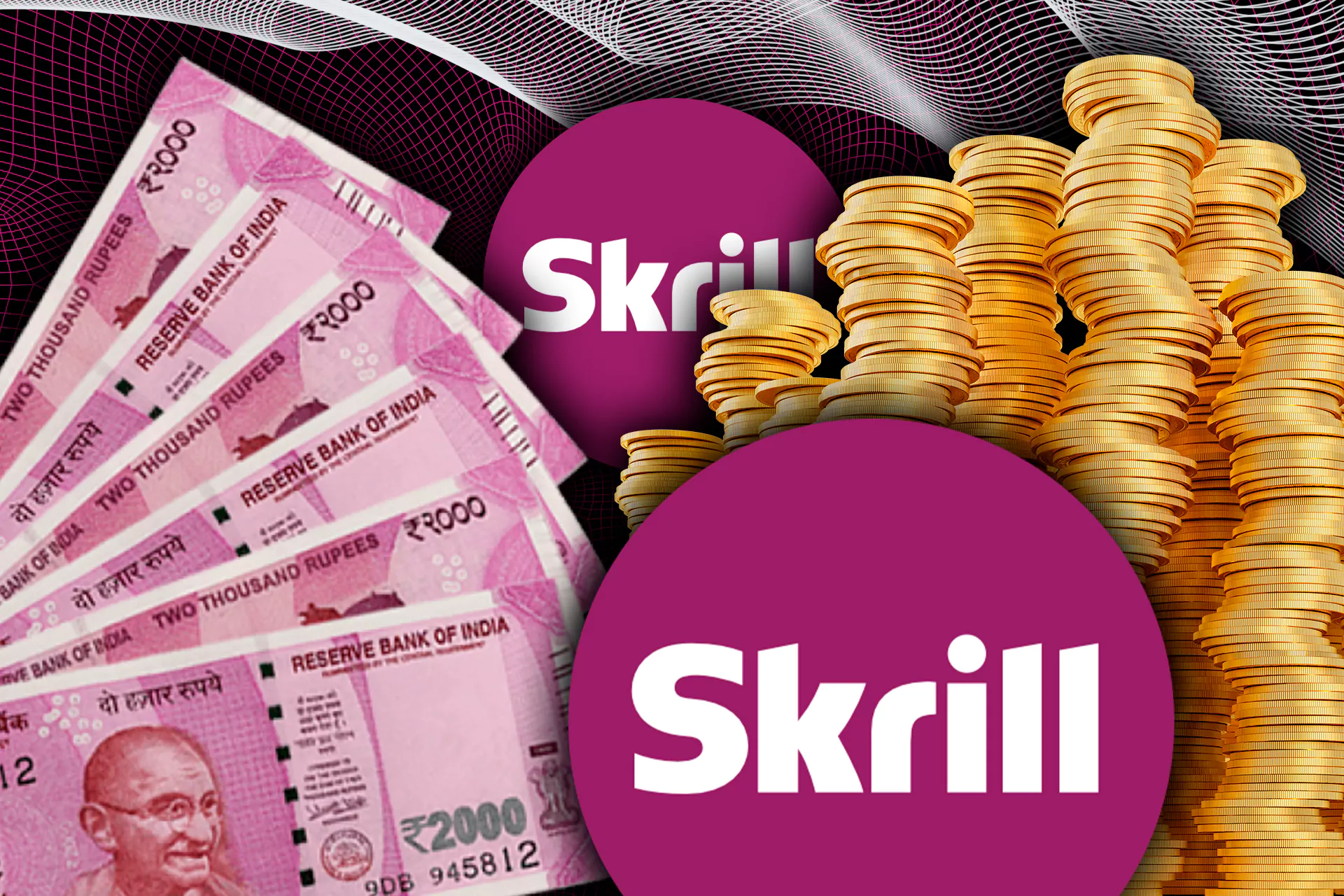 Is Skrill Safe, Secure and Legal to Use for Betting in India?
Of course, Skrill is a legal international online wallet where you can store your money and make transactions. Over the years, Skrill has been perfecting its security mechanisms to ensure that your money is as secure as possible. Here are some arguments why you can trust Skrill:
The payment system has been regulated by the Financial Conduct Authority since day one and meets all necessary local jurisdiction requirements in different countries;
Skrill is legal in India and you can withdraw money to Indian bank accounts;
Skrill has its own firewall, which secures servers from extraneous attacks;
Skrill has an established user verification system via KYC, which prevents third parties from using your money;
Transactions are done with the help of artificial intelligence;
All Skrill servers are SSL encrypted for maximum security.
These factors show that Skrill adheres to all e-wallet regulations as a legal way to transact money in India. By using Skrill you can rest assured that you are not violating local Jurisdictions and enjoy the comfort of betting with real money.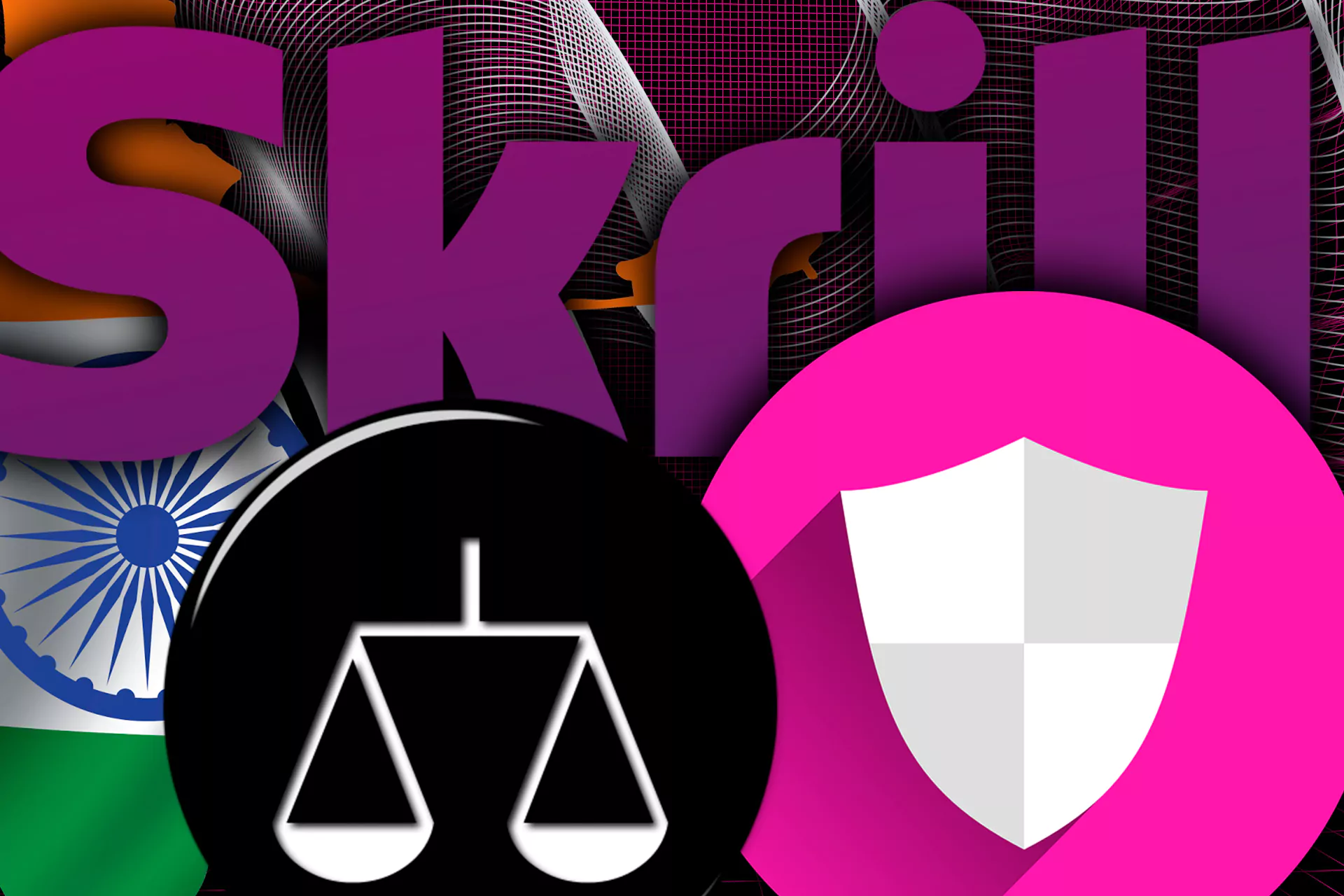 Alternatives Payment Methods for Cricket Betting
Skrill is undoubtedly a great choice for deposits and withdrawals from betting sites, offering an excellent level of comfort and convenience. That said, there are a large number of other convenient payment systems in India, which betting companies place on their sites and applications. Some of these include:
If for some reason Skrill does not suit you, you can check out these payment methods and find out which bookmakers offer to make transactions using them.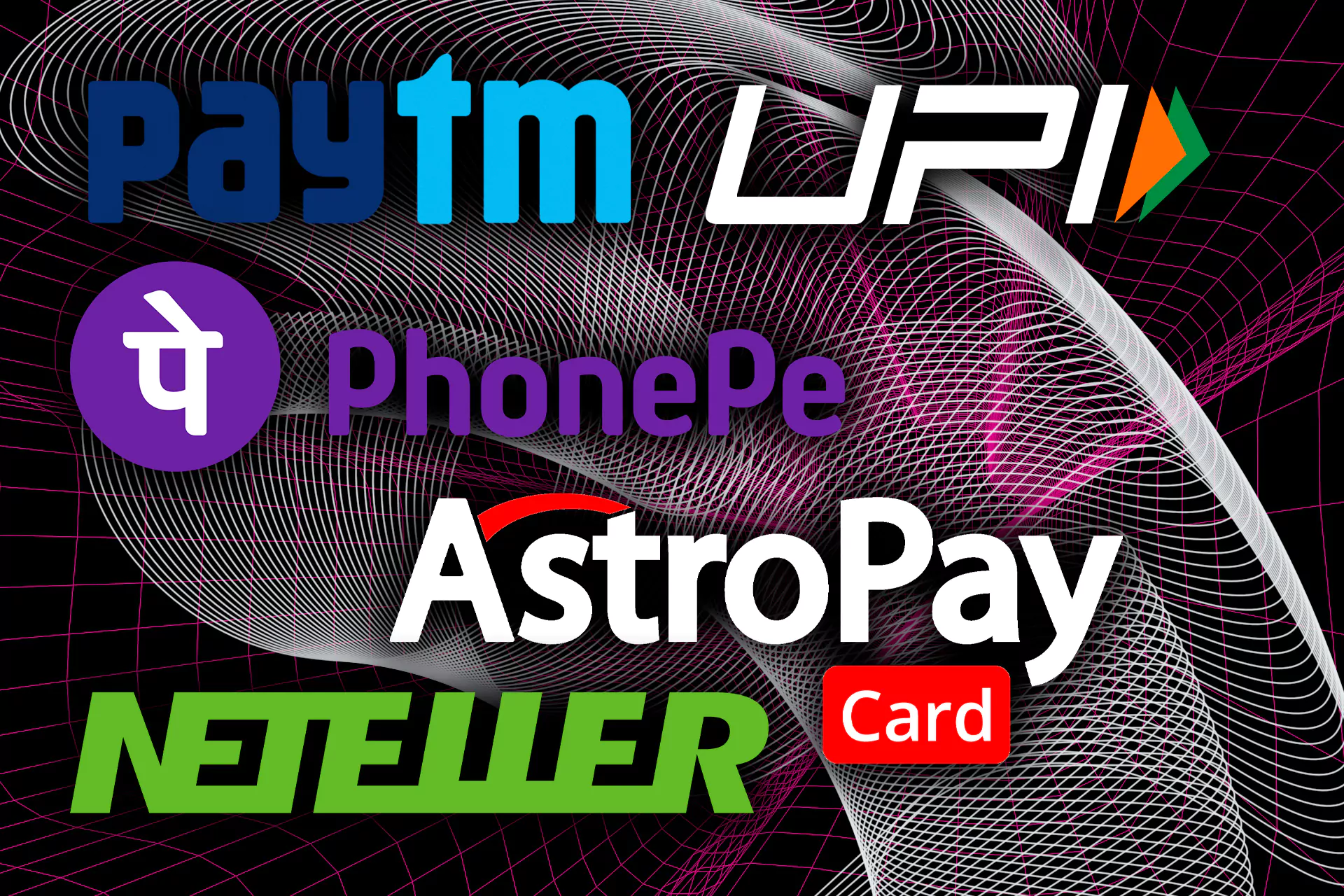 FAQ
We have carefully studied all the most common questions that new Skrill users face and answered them. You can read our answers below to learn more about this wallet. If you don't find the answer to your question here, post it on this page!
How Long Does it Take to Send Money from Skrill to my Bank Account?
How long does it take to send money from Skrill to my bank account?
Withdrawing money to a bank account from Skrill in India takes 2-5 working days according to the terms of use. In some cases it takes even longer. The transfers are made via the international transaction system SWIFT, for which Skrill charges a 467 rupees (5.5 EUR) fee.
How Fast are Deposits and Withdrawals if I Use Skrill for My Transactions to Betting Sites?
If you use Skrill for your deposits, the money will be credited to your account instantly after the transaction is confirmed. The waiting time for withdrawal depends directly on the bookmaker, as he himself sets the timing of processing the application. However, once the application is processed, you will receive the money on your Skrill balance.
Are There any Limits on Monetary Transactions to Bookmaker Sites using Skrill?
For its part, Skrill does not limit the amount of money transactions in any way, which is one of its main advantages. However, users may be confronted with minimum and maximum limits on the betting sites, which they set themselves. More often than not, the minimum limits allowed by the bookmaker apply to the Skrill e-wallet.
Can I top up my Skrill Wallet with rupees?
Yes, you can do that. Skrill is an international payment wallet that accepts many currencies. The main currencies of the wallet are currently over 20 different currencies. So, you can choose INR during registration and they will be the main currency of your personal account. This will allow you to quickly make deposits or withdraw rupees from your game account.
Updated: