Main Characteristics of the Melbet App
The app of Melbet gives you the opportunity to place bets anywhere you are, without needing to sit in front of your computer. The app is made really great so that literally any phone will be able to handle it. This table will give you all the necessary information that you may need to know about the app.
| | |
| --- | --- |
| Melbet App version | 2.6.3 |
| Melbet App and apk file weight | 22 Mb and 35 Mb respectively |
| Supported OS | Android 4.1 or higher, iOS 8 |
| Application languages | Hindi, English |
| Welcome bonus | +100% of your first deposit, up to 8000 INR |
| Deposit methods | Visa, MasterCard, Webmoney, Skrill, Neteller, EcoPayz, PayTM, PayPal, Paysafecard, Astropay, Sticpay |
| Available types of games | Sports bets, e-sports bets, live bets, tv games, casino bets |
| Possibility to download in India | Free, Possible to download in India |
| License | Curacao |
| Internet connection to use | 2G to 4G |
| Minimal deposit | Depends on the payment system you're using |
Melbet App Interface Screenshots
Melbet is an app that is made in such a style that any user will be able to understand. Everything is set in such a way that won't get you confused, and you will be able to make bets with no problem.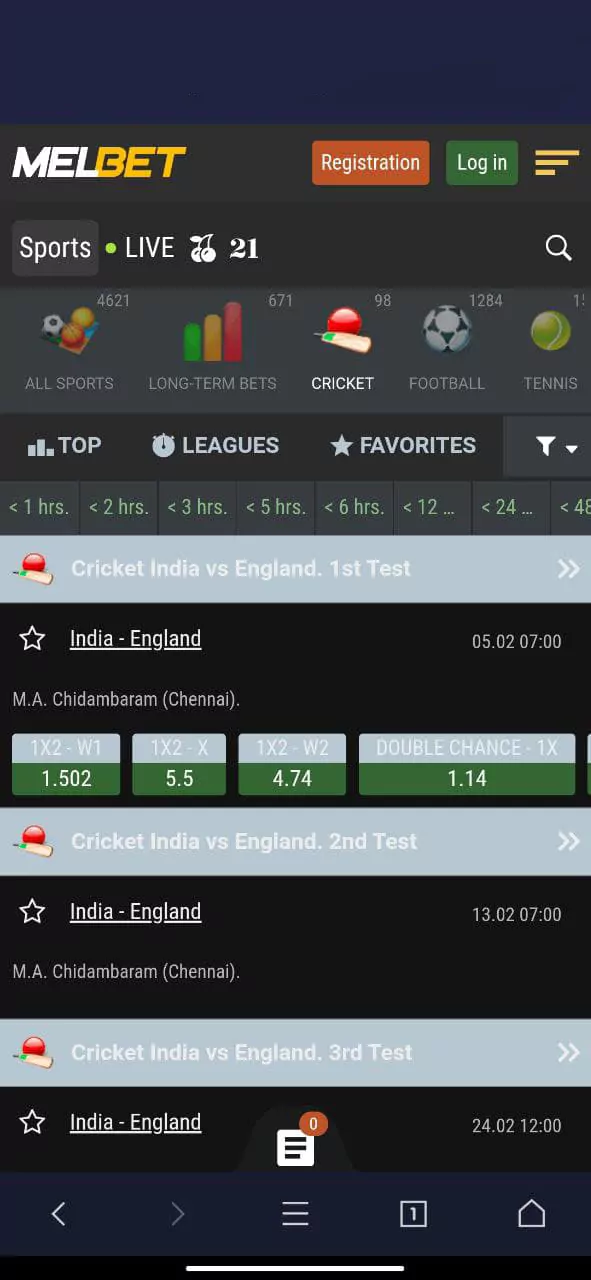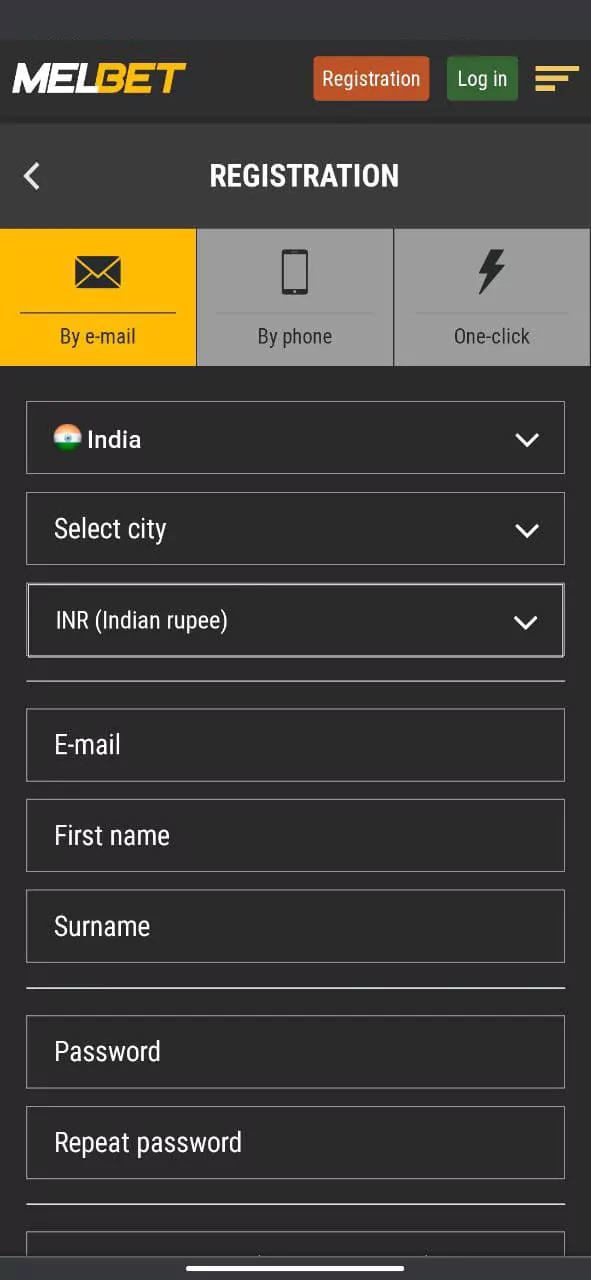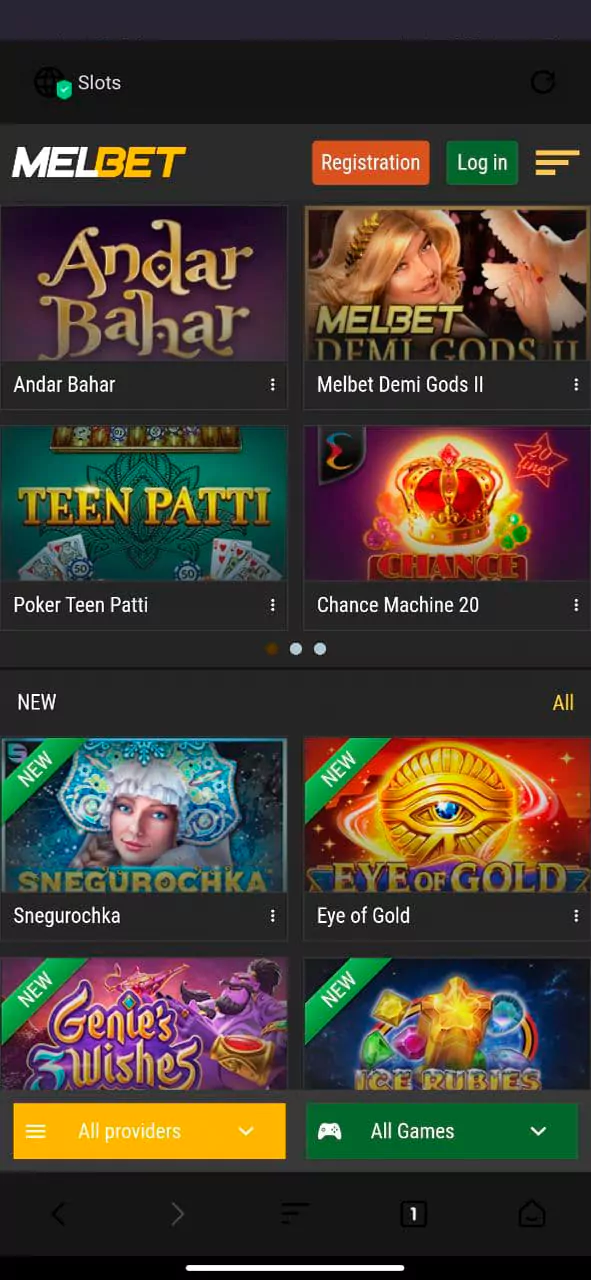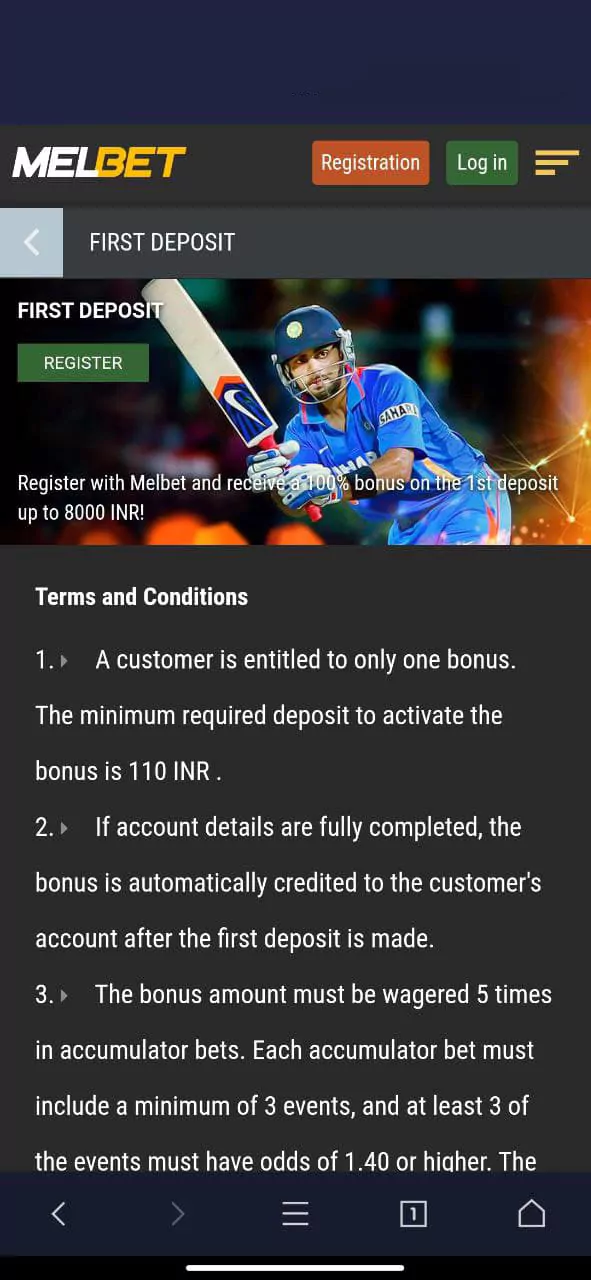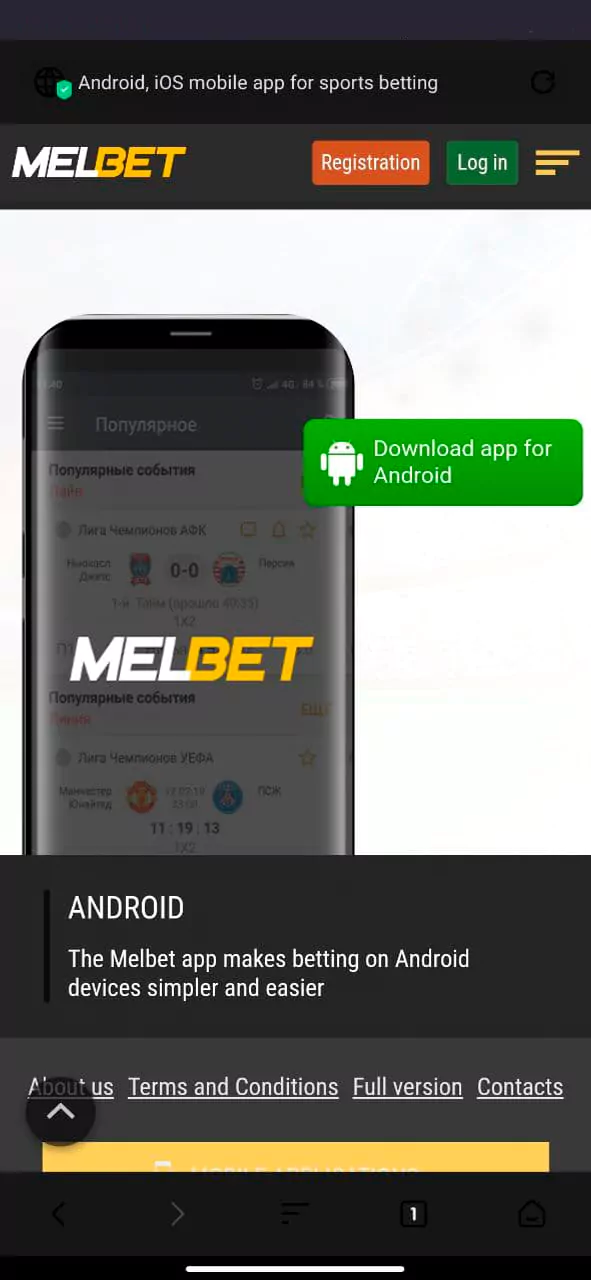 As you see, Melbet's team cared about its users when they created an app, which is clearly visible once you open the app. So feel free to get the app and start betting!
Pros and Cons of Melbet App
If you decide that you want to start using the app, then you will not get disappointed, as the app is made really well and has its benefits over other apps. What are they, you may ask? Let's look at them.
| Pros | Cons |
| --- | --- |
| Constantly updated | Not all the games on the website has been present in the app |
| Live betting works flawlessly | Sometimes the app may lag |
| Same deposit methods as the website has (AstroPay, Visa, Skrill, Neteller, etc) | |
| Low battery and mobile data consumption | |
| Huge variety of sports bets except for cricket (basketball, soccer, football, tennis, etc) | |
Download Melbet APK for Android
Nowadays there's a lot of people in India who prefer using mobile phones to using PC of cricket betting sites, as it is more practical and genuinely faster and better. For that,you need an app, to bet anywhere you are.The process of downloading the app is really fast and simple. And the app will work on any Android device, so that's great too. Now, to start using Melbet on your Android device, here's what you need to do:
1

Go to Melbet

Visiting Melbet's website is the first thing you need to do, which you can do by clicking on the link.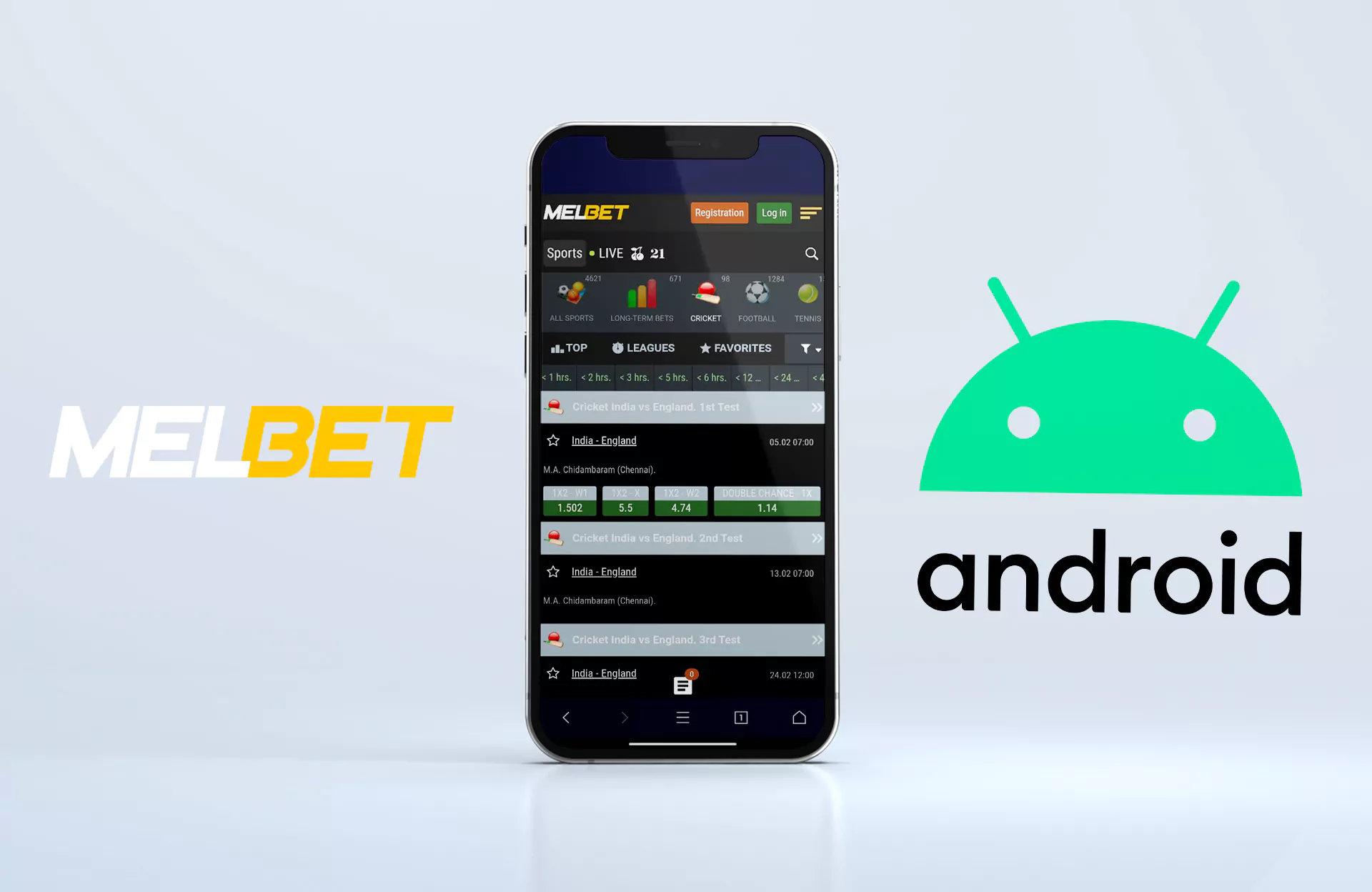 2

Go to the Melbet app's page

Now you need to visit the app's page at Melbet. This can be done by clicking on the icon resembling a phone on the top left corner of the page.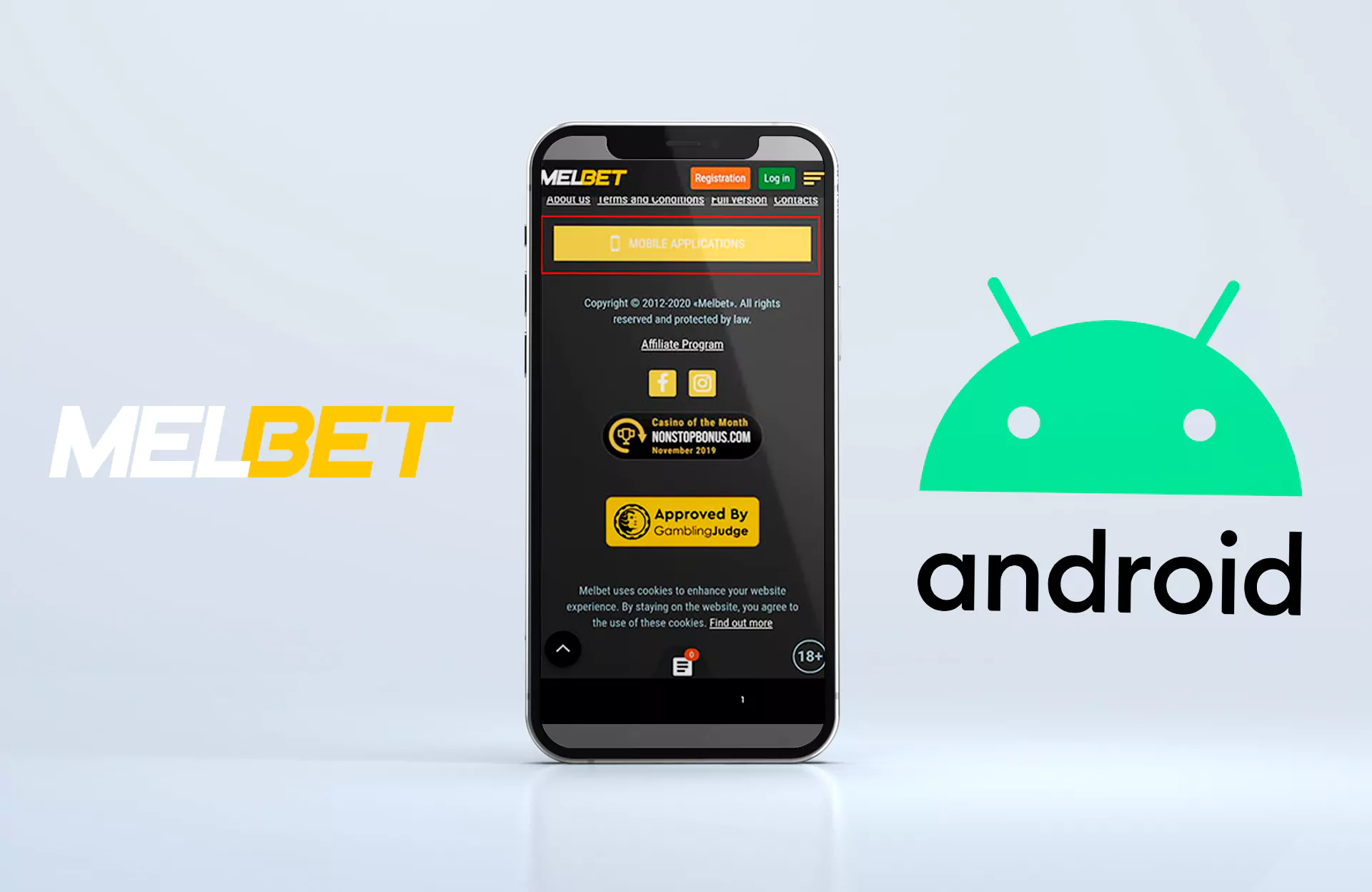 3

Download the Melbet app

Click on the Android icon to start downloading the Melbet .apk file. The file is 34 Mb, so it will download relatively fast.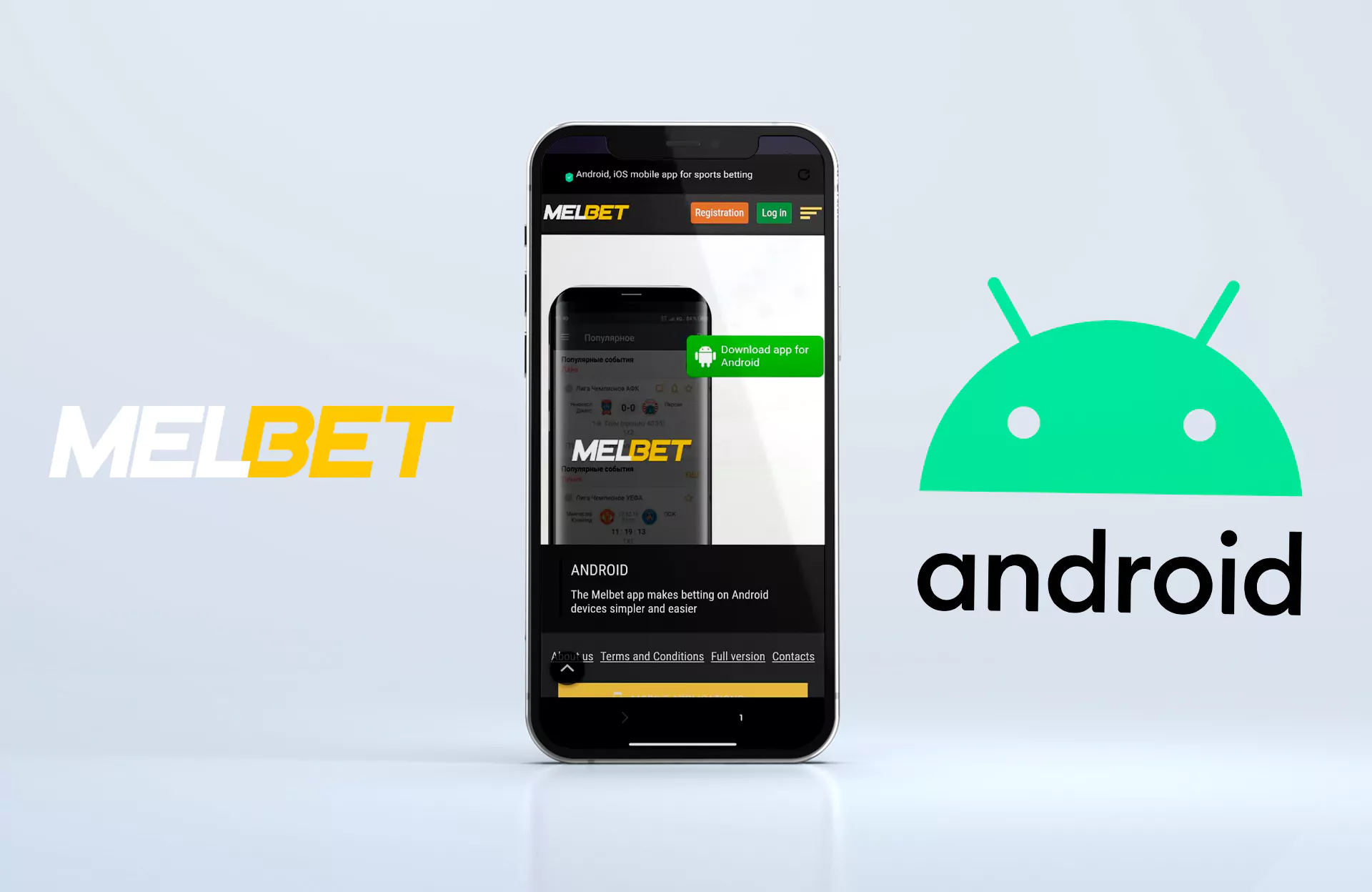 4

Install the Melbet app

The .apk file is downloaded, so it's time to install the app. It's done by clicking on the Melbet's apk file and pressing "Install".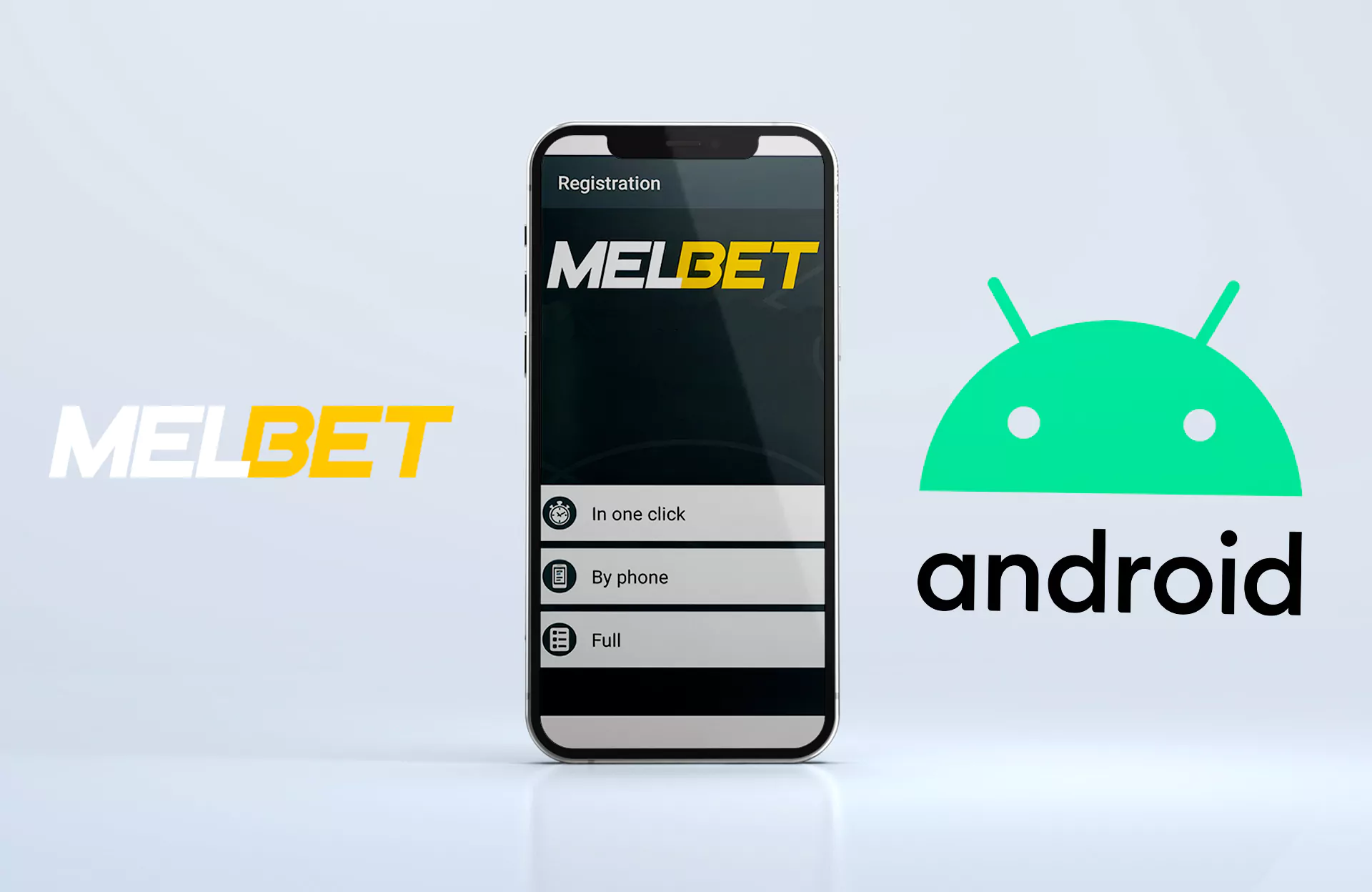 And that's it! After all these steps, you will get the app on your phone. However, we must mention that you need to allow third-party sources to be installed. You don't need to worry, as the app is completely safe and won't harm your phone in any way.
System Requirements
While the app is light and can't possibly overload your mobile device, it still has its system requirements that must be met to make the app work. They're really minimal, though, and your phone will definitely be able to handle it. They are:
| | |
| --- | --- |
| Android Available Versions | Android 4.0 to Android 11 |
| Apk file size | 34 Mb |
| RAM | 1 GB or higher |
| Processor | from 1.2 GHz |
The system requirements, as of nowadays, are minuscule, since all modern mobile devices have hardware that's way better than the requirements.
Supported Android Devices
These days, there are tons of Android devices on the market. And while literally, any device will handle the app, it will work best with:
Google Pixel 3, 4, 5;
Samsung Galaxy S9+, S10, S20;
Xiaomi Redmi 8, Redmi 5, Xiaomi Mi 11;
Oppo Reno;
Huawei Mate 20, P20 Lite;
Oneplus 7;
Redmi Note 7, 8, 9 etc.
These are the devices that feel most comfortable handling the app, but, as we previously mentioned, the app is so light in terms of system requirements that any phone will deal with it just fine.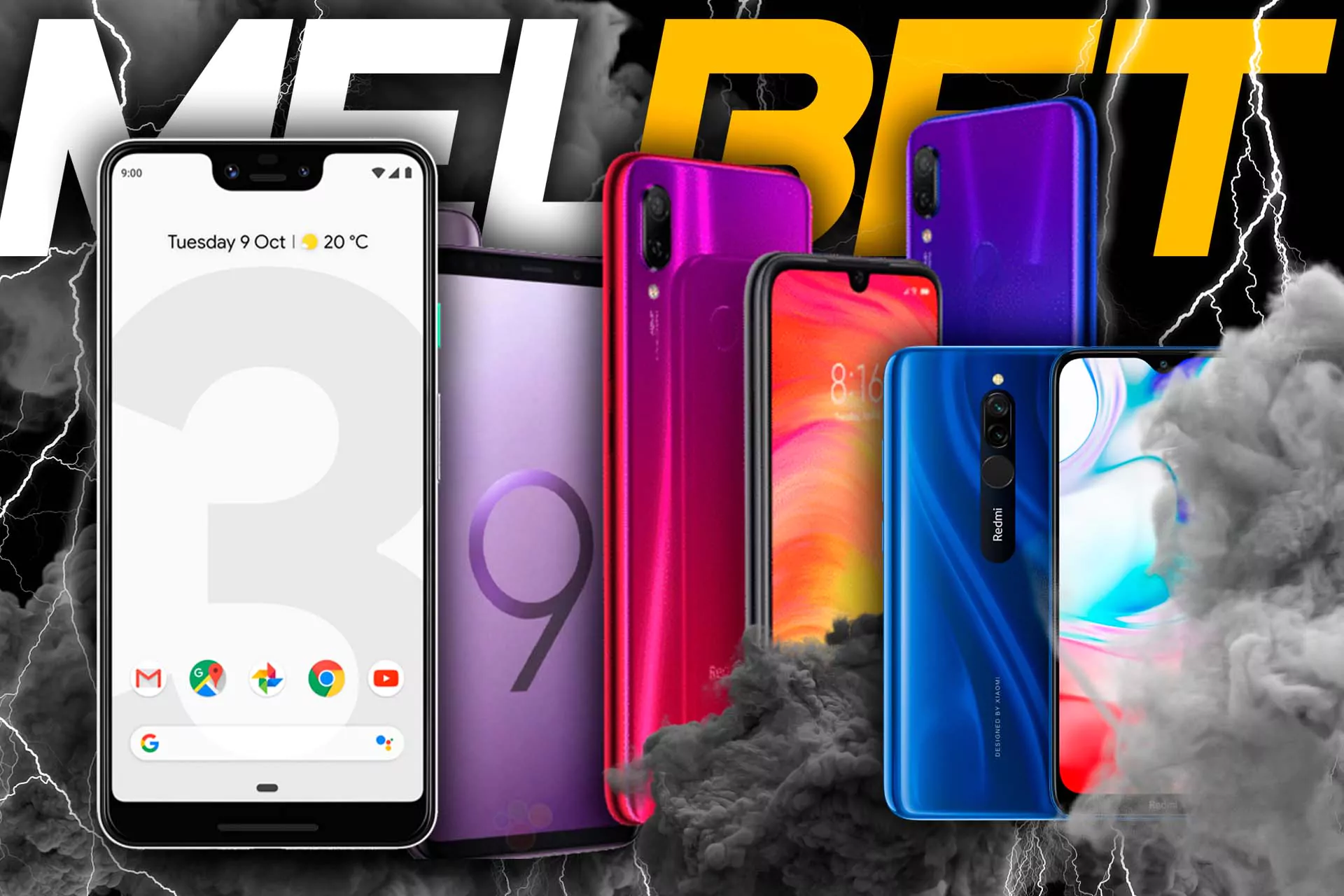 Download Melbet App for iOS
Melbet has created an app that is not only for Android but for iOS as well since iOS devices have always had huge popularity among users. And if you think it's harder to get the app for iOS, then you're mistaken, as the process is really simple as well. You need to:
Visit Melbet's website. First, go to the official Melbet website by following our link.
Click on the icon of a phone. To get to the page with apps, you need to click on the icon of a phone on the top left corner.
Choose iOS. There will be a choice between Android and iOS devices. Choose iOS.
Install. After these steps, the process of downloading the app will start, and once it's finished, you need to install the app.
Simple, right? After all these steps all you need to do is to log in or create an account and start making bets!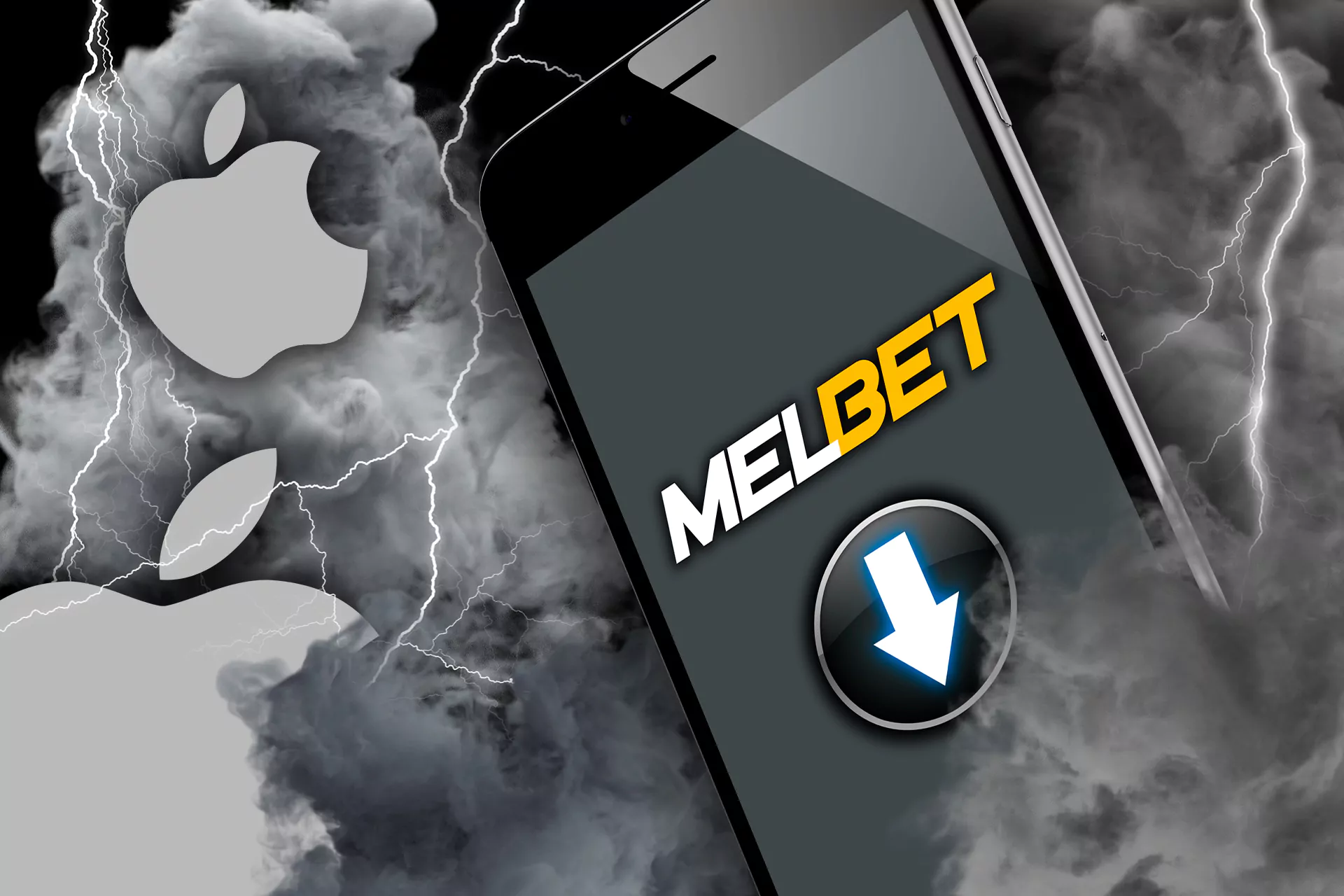 System Requirements
Right since the first iPhone was introduced, iOS devices and powerful hardware aren't separable. But, even though all iOS devices are really good, it doesn't mean that apps don't have system requirements. Don't worry, however, as they're really basic.
| | |
| --- | --- |
| iOS available versions | iOS 8 or higher |
| App file size | 143 Mb |
| RAM | from 1 GB |
| Processor | from 1.2 GHz |
As you can see, these are the requirements that any iOS device will be able to handle easily.
Supported iOS Devices
The Melbet app for iOS devices is definitely great. And since the requirements are simple, the amount of devices that will deal with the app is big.
| | |
| --- | --- |
| iPhone 3G | – |
| iPhone 4, 4s | + |
| iPhone 5, 5s, 5c | + |
| iPhone 6, 6s, 6 plus | + |
| iPhone SE | + |
| iPhone 7, 7 plus | + |
| iPhone 8, 8 plus | + |
| iPhone X, XR, XS, XS Max | + |
| iPhone 11, 11+, 11 Pro | + |
| iPhone 12 + | + |
| iPhone 13 | + |
| iPad 2, 3 | + |
| iPad Air 2 | + |
| iPad Pro, Pro 2 | + |
| iPad Mini 2, 3, 4 | + |
The only device that won't handle the app is the iPhone 3G. But, this device has long been discontinued and almost nobody in the world still uses it, so it shouldn't be a problem.
Registration process in the Melbet App
To register in the MelBet app, create a personal account and start betting real money, follow the steps below:
Open the MelBet app and click on the registration button.
Select the registration method: one-click registration, via email, by phone number, or via social networks and messengers. Depending on the method you choose, the information required for registration may differ.
Complete the registration form by entering the required information for your chosen registration method. This may include the following information: country, city, currencies, phone number, email, first and last name, and promo code (if you have one). Also, create a password.
Select the welcome bonus you would like to receive after making your first deposit: sports bonus or casino bonus.
Complete the registration.
Done! Your personal account is created and can be used for betting in the MelBet app. Before placing a bet and playing for real money, make sure to top up your balance first.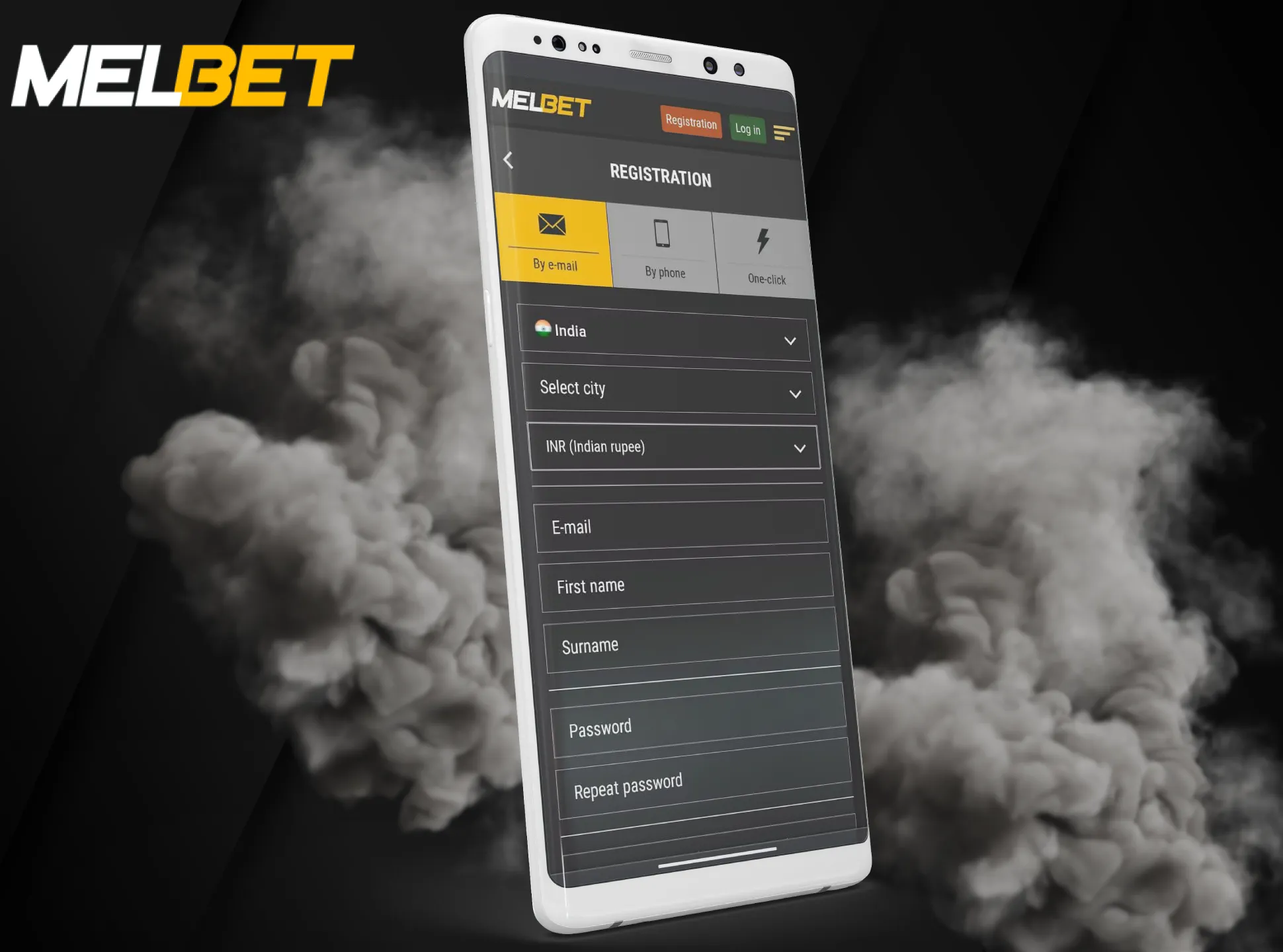 How to Login to the Melbet Mobile App?
In order to log in to your Melbet account, follow the simple steps below:
Click "Log in" button on the screen.
Enter your email, ID or phone number and password.
Click "Log in".
If you can not log in to your account, check if the data you have entered is correct. Also, in case you forgot your password, click on the "Forgot your password?" button, receive a confirmation code and set up a new password for your account.
If you have any questions, feel free to contact customer support.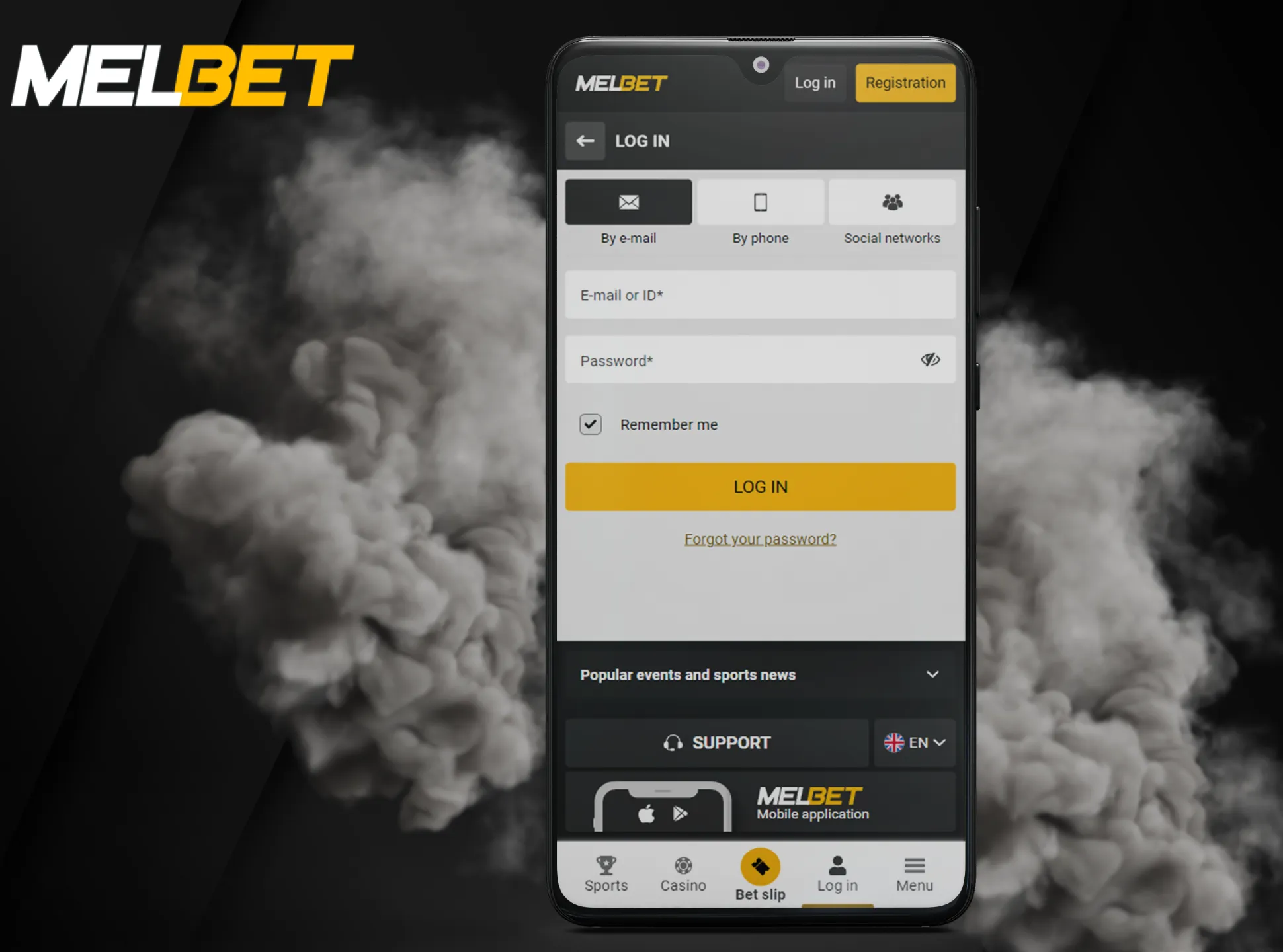 Available Sports Betting at the Melbet App
When it comes to betting, having as many sports disciplines as possible is crucial, since every person likes a certain sport and if the bookmaker won't have that sport, he will not be interested in the bookmaker at all.
Luckily, when it comes to Melbet, the amount of sports the app offers is very big and will satisfy everyone's needs. The sports available at Melbet are:
Cricket betting;
Football;
Tennis;
Basketball;
Ice Hockey;
Volleyball;
Table tennis;
Handball;
American Football;
Esports;
Badminton;
Baseball;
Horse racing;
Golf.
These are sports available at Melbet, and we are definitely sure that you will be pleasantly satisfied by the care Melbet takes when it comes to betting on sports.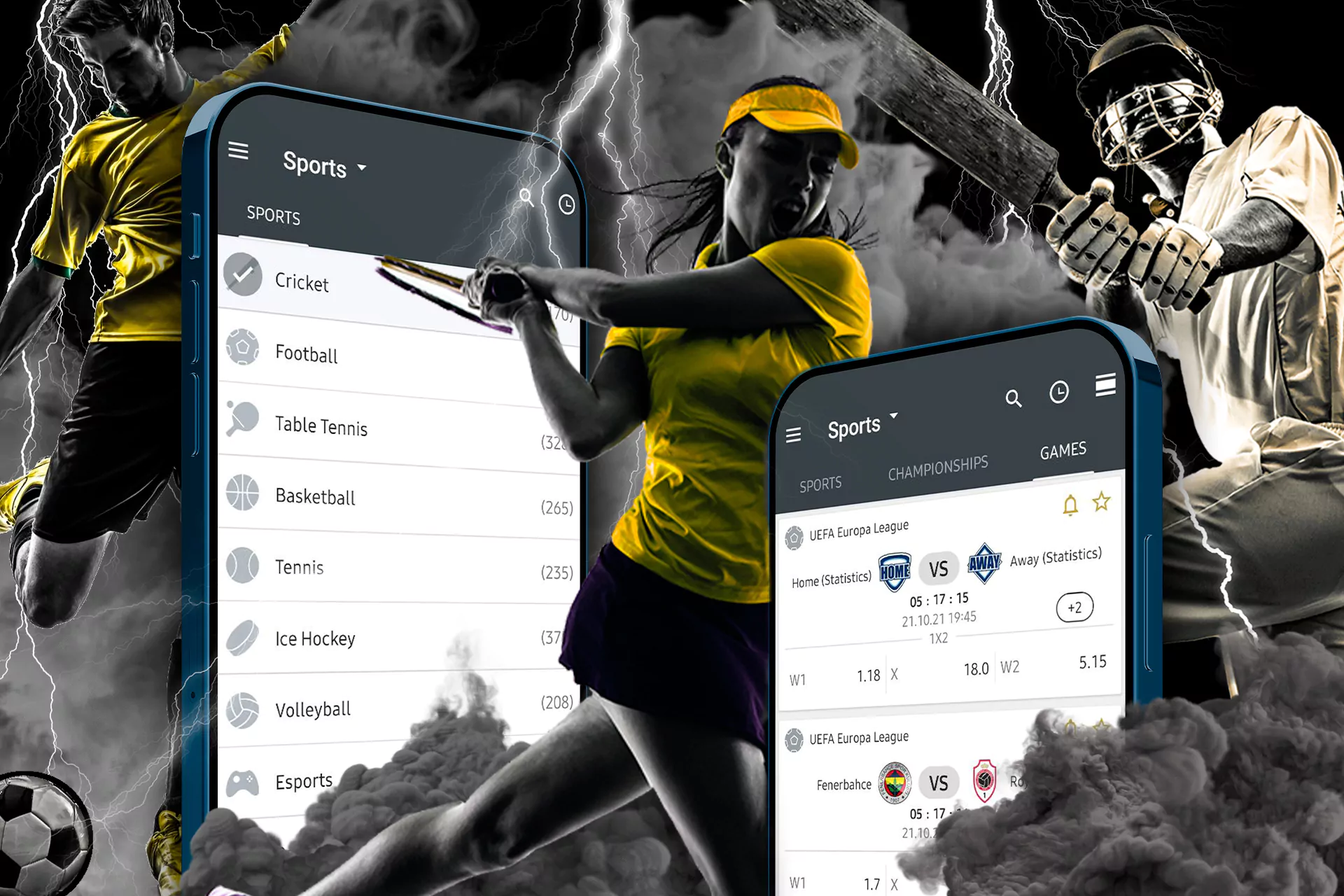 How to Bet on Cricket at Melbet App?
Now that you know a lot about Melbet App, you are probably interested in trying it out. But, how to do cricket betting? The process is really simple, and everyone will be able to do it. Here's what you need to do:
Download the app. You can download the app both for Android and iOS by visiting the official website of Melbet by following our link and clicking on the icon resembling a phone.
Create an account or log in. Now that you have the mobile app, next you need to get yourself an account. You can log in if you already have an account by clicking on the "Log in" button, but if you don't have account – create in by completing the registration process. This is done by clicking on the "Sign in" button and filling in all the necessary information.
Make a deposit. Next you need to deposit some money in order to make bets. This can be done by pressing the "Deposit" button. You will be redirected to the deposit page, where you will be presented with all the deposit methods. Choose the one you need among these methods, enter the amount you want to deposit, and confirm.
Choose a bet. All the preparations are done, so all that's left to do is to choose the sport you want to bet on, choose the outcome of the match and odds, enter the amount you want to bet, and confirm.
As you can see, there's nothing hard about betting at Melbet by using the app, so start making bets and big money with Melbet's India app!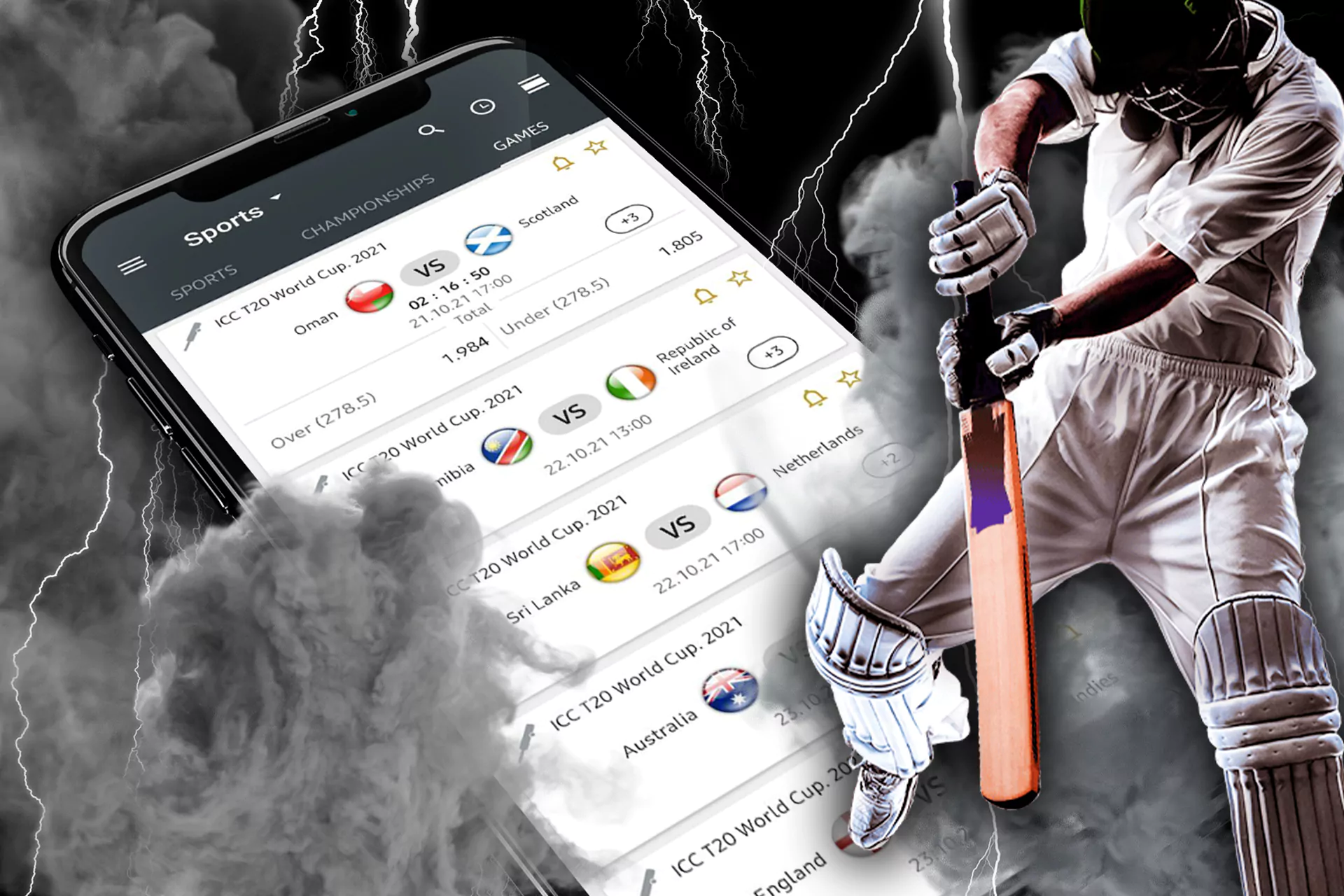 Types of Bets in the Melbet App
There are different types of bets that are available in Melbet app India, which you can use to try out new betting strategies and experiment with the odds. The most popular Melbet bets are:
Single bets. These are bets which are placed on a single outcome in an event.
System bets. These are bets which include several accumulator bets. In system bets one or more outcomes can be unsuccessful but you still can win a part of the bet.
Accumulator bets. This bet includes bets on several outcomes in several events. In order to calculate the winnings in the accumulator bet you have to multiply the bet by the odds for each of the outcomes in the accumulator.
Advance bets. These are bets which are made on the top live sports and matches that are expected to take place within 2 days.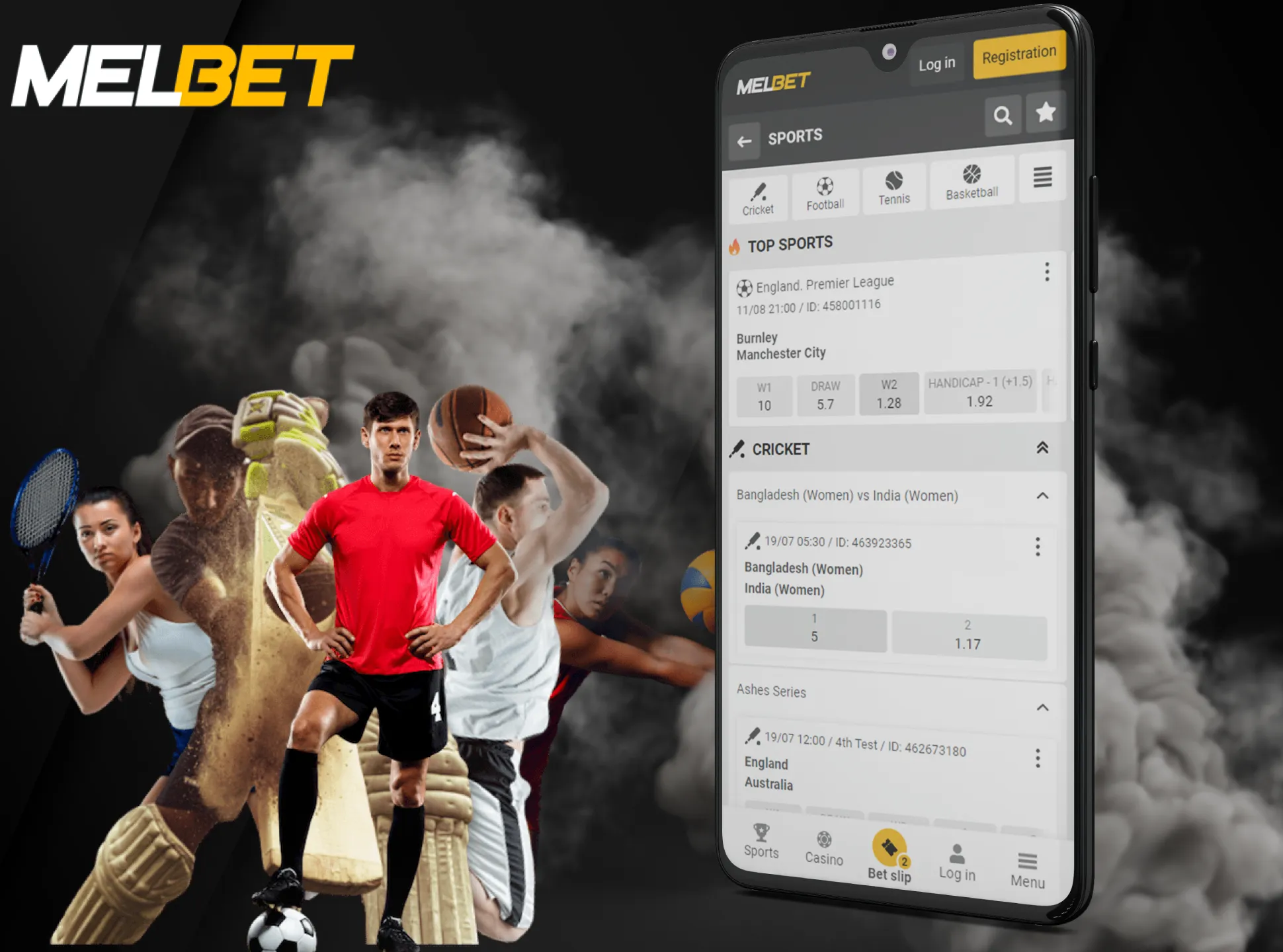 Betting Options via Melbet Mobile App
There are lots of betting options which are provided in the Melbet app and which helps to diversify your betting experience.
At Melbet you will have a great choice of sports to select from, such as cricket, football, tennis, horse racing, ice hockey, basketball, and many others. Besides that, you will have access to lots of sports events.
You can use different types of bets, choose from various betting markets, as well as make both pre-match and live bets. Also, live streams of events, as well as live match statistics are available in the app.
If you want to try something besides traditional sports, you can bet on virtual sports or eSports.
Wide range of casino games and popular slots are also available here.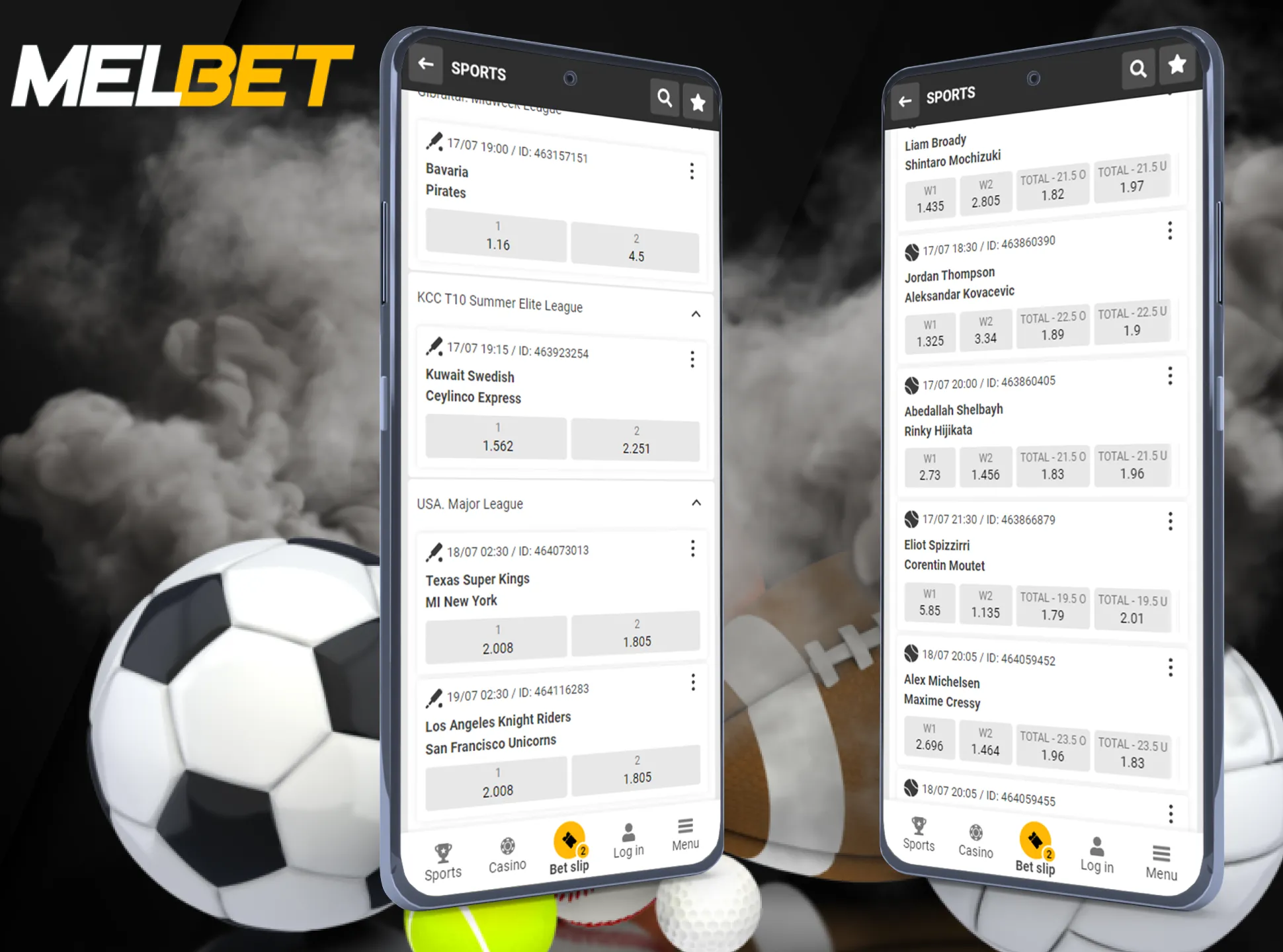 Welcome Bonus for Melbet App
When it comes to betting, attracting new users is important. This can be done in multiple ways, but the most popular is the welcome bonus. But, since there's a lot of bookmakers, it means that there's a lot of welcome bonuses on the market. However! Melbet's bonus is one of the best bonuses on the market, as you will get an additional 200% on your first deposit! Let's run through some examples.
| First deposit amount | Welcome bonus amount |
| --- | --- |
| 500 rupees | 1000 rupees |
| 1000 rupees | 2000 rupees |
| 2000 rupees | 4000 rupees |
| 2500 rupees | 5000 rupees |
| 3000 rupees | 6000 rupees |
| 3500 rupees | 7000 rupees |
| 3750 rupees | 7500 rupees |
| 4000 rupees | 8000 rupees |
As you can see, the welcome bonus is awesome and you should definitely claim it. Bear in mind that when you make a deposit, for example, 5000 rupees, then you will receive 15000 rupees in total, as the first deposit and welcome bonus amounts are added up.
Virtual Sports Betting at Melbet App
Virtual sports are gaining more popularity around the world among all bettors as it is not only relatively new and interesting, but also gives an opportunity to bet whenever you want as you don't have to wait for a match or event as in traditional sport. As virtual sports are a computer simulation and risks are lower, the odds here are a little bit lower as well. The results in virtual sports are predetermined by a random number generator so you can be sure of its fairness.
In Melbet betting app you will find such virtual sports as:
Virtual Football;
Virtual Horse racing;
Virtual Baseball;
Virtual Cricket;
Virtual Basketball;
Virtual Greyhound racing;
Others.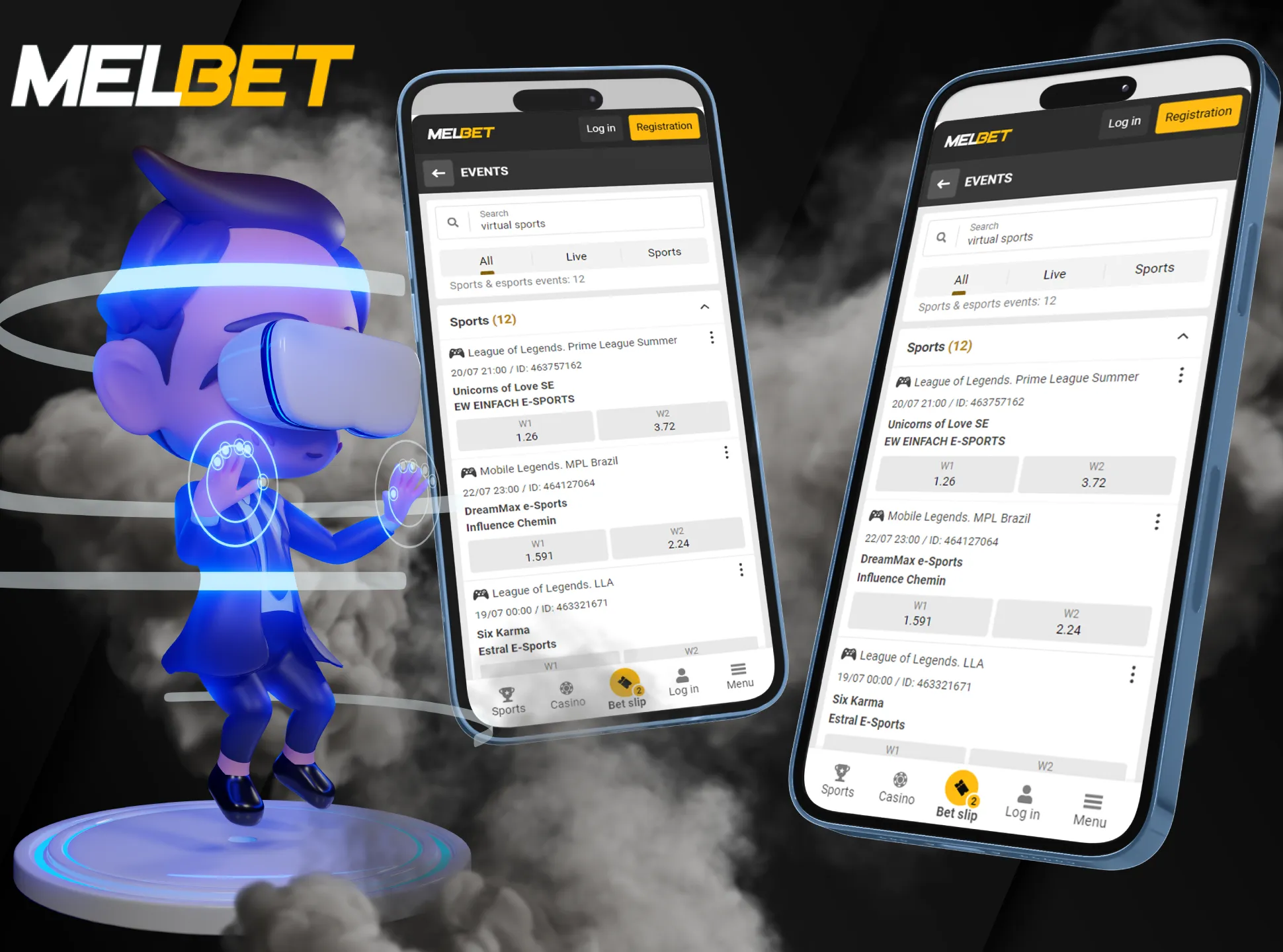 Differences Between the Melbet App and Website
Melbet is a cross-platform bookmaker, which means you can use it both via the mobile browser or via mobile devices. But, is there any difference between these two versions? Let's find out.
| Mobile app | Website |
| --- | --- |
| Works flawlessly | May lag because of your browser version |
| Constantly updated | May lag because your browser may be outdated |
| Works on any device | Will work as well, but not as smooth |
| Needs to be downloaded | Doesn't require the download |
| Requires space | Doesn't require space |
The differences definitely are there, but they're quite minuscule since you will be able to enjoy online cricket betting with either of the versions.
Payment Methods in the Melbet App
Betting is a fascinating process, but to be able to be involved in it, you need to deposit some money. And since betting is popular all over the world, the need for a lot of payment methods appears. And while some bookmakers are bound by just a few payment methods, Melbet is not. Melbet offers its users a lot of payment methods, such as:
| Service | Minimal deposit amount | Maximum deposit amount | Withdrawal time | Commission fees |
| --- | --- | --- | --- | --- |
| Astropay | 75 rupees | – | Up to 24 hours | Free |
| ecoPayz | 75 rupees | – | Up to 24 hours | Free |
| Neteller | 75 rupees | – | Up to 24 hours | Free |
| UPI | 75 rupees | – | Up to 24 hours | Free |
| Skrill | 75 rupees | – | Up to 24 hours | Free |
| Litecoin | 75 rupees | – | Up to 24 hours | Free |
| Dogecoin | 75 rupees | – | Up to 24 hours | Free |
| Paygiga | 75 rupees | – | Up to 24 hours | Free |
| Ethereum Classic | 75 rupees | – | Up to 24 hours | Free |
Melbet Mobile Version Overview
Melbet mobile version of the site distinguishes the ability to bet directly from your mobile device without downloading an app. Some users may have different reasons for not installing an app, so you can always use the mobile version of the site, which works on any operating system and from any browser. Moreover, the mobile version is not only easy and convenient to use, but it also adjusts to the mobile screen.
In the mobile version, you have access to all the features and advantages of the platform, from a wide selection of sporting events, to bonuses and popular payment methods.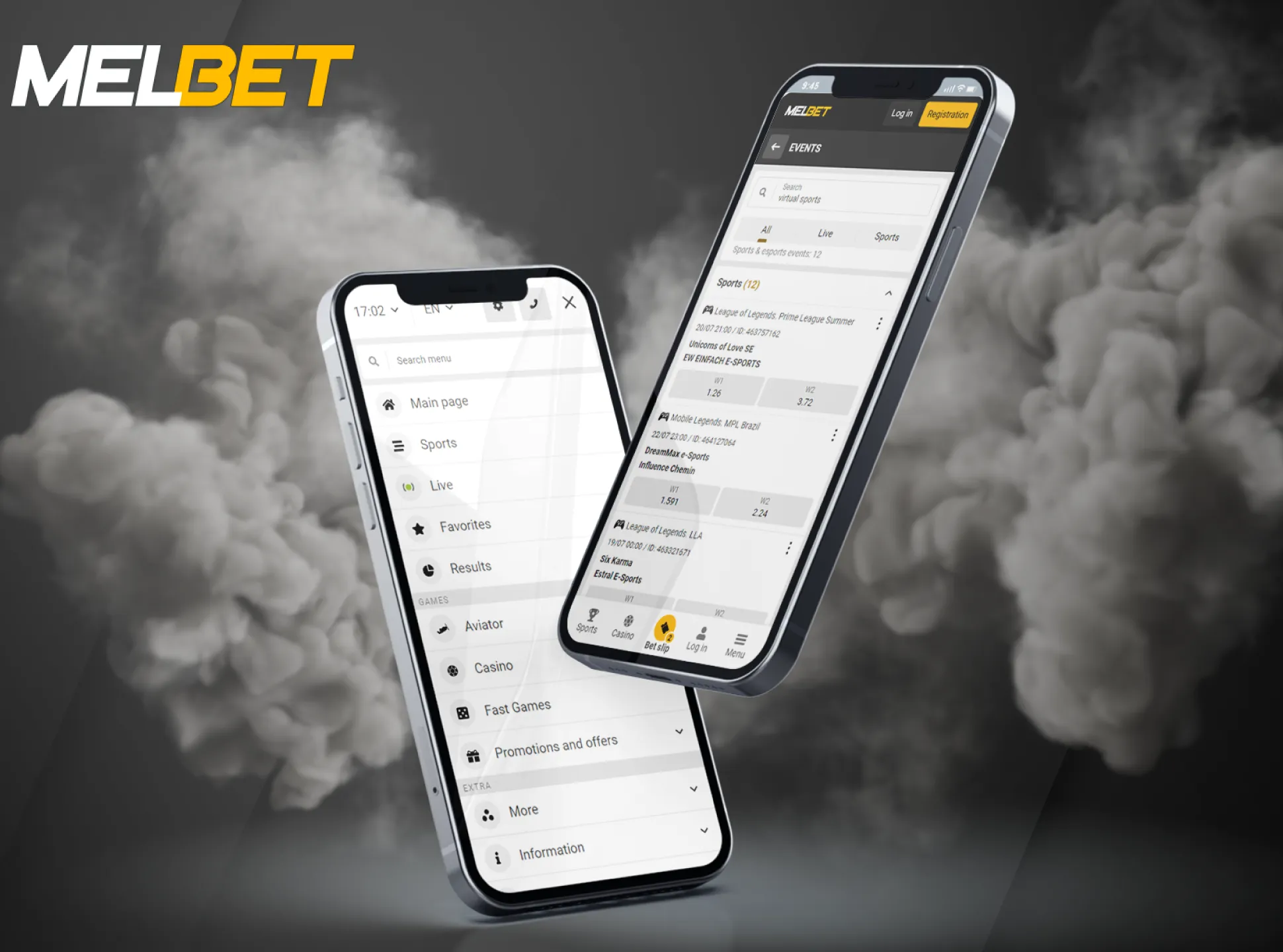 Contact With Support via Melbet App
Let's imagine this: you started betting at Melbet by using the app, and have already had a lot of great bets. But, what do you do if you have some problems understanding something? That's where the support team comes in. Melbet's app allows you to contact the support team, which works 24/7, which means they will answer you any time you contact them. There are multiple ways you can contact a support team, and they are: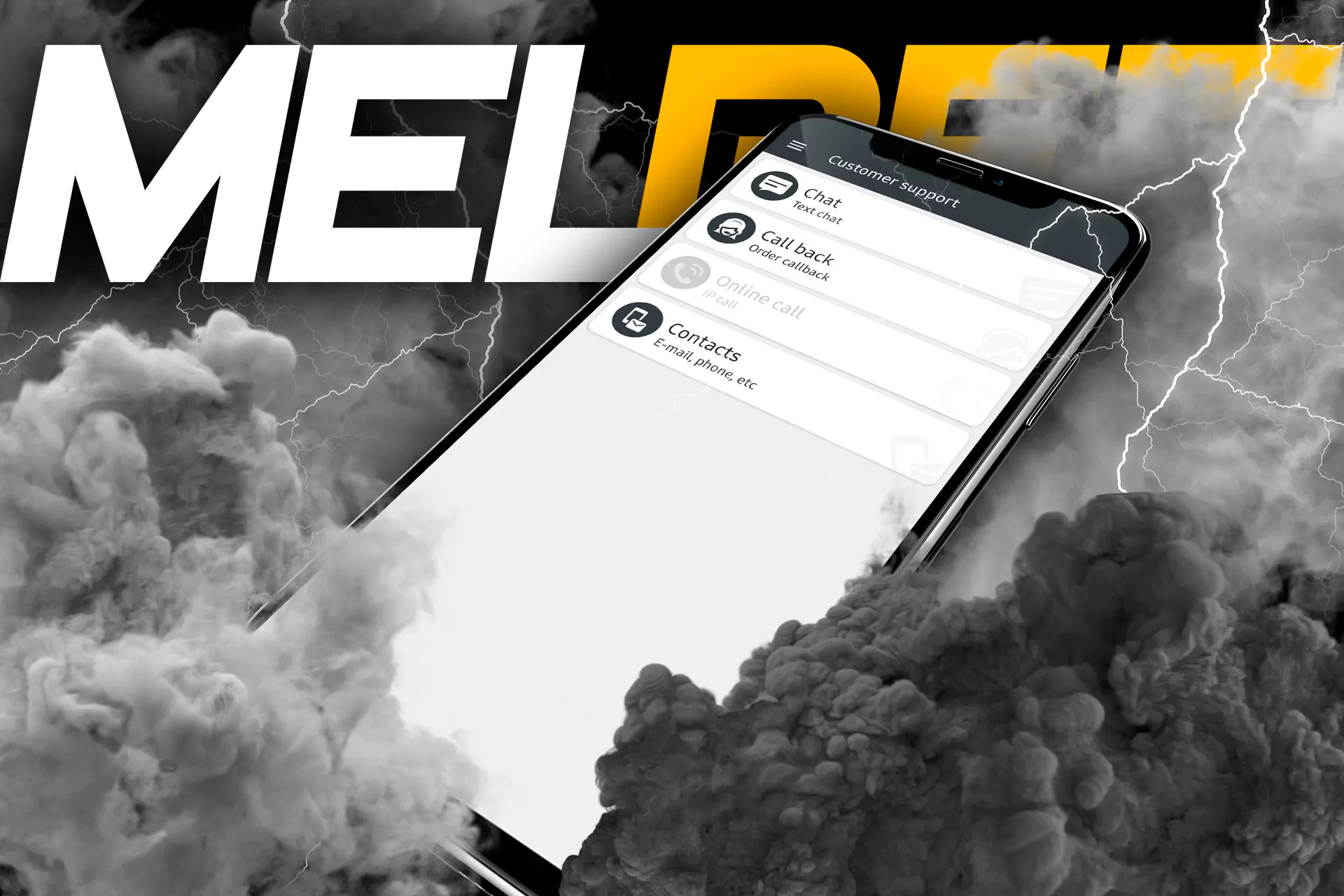 Conclusion about Melbet Mobile App
Melbet app is a great choice for all bettors who prefer to make bets on the go right from their mobile devices. Melbet app provides all conditions that you need for fast, reliable and convenient betting: wide range of sports and sports events, different casino games and slots, popular and fast payment methods, high security of personal data, bonuses and promotion, various betting markets and types of bets, and much more.
Download Melbet app for free and start betting from your mobile device with a 100% welcome bonus up to 8,000 INR!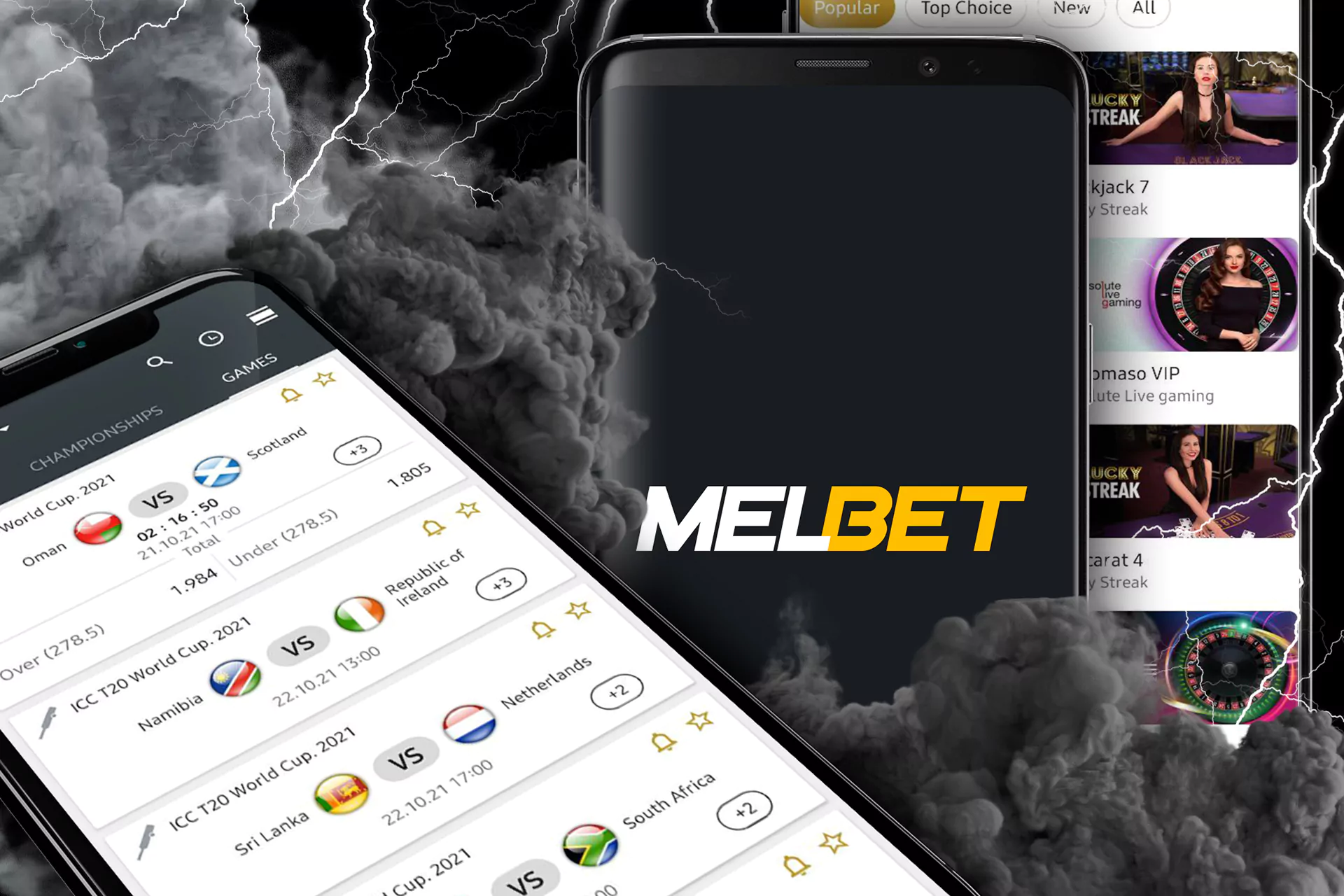 FAQ
While we have covered all the information about the app, it's certainly possible that you may still have your own questions to ask. Let's answer them!
Is Melbet's app safe?
Yes. Melbet is a bookmaker that is licensed by Curacao, which means the app can't be illegal and unsafe. Feel free to use the app, as none of your data will be stolen.
What is the minimum withdrawal amount at Melbet's app?
The minimal amount you will be able to withdraw depends on the deposit method you chose when you made a deposit via the app. But, overall, the minimum withdrawal amount is 75 rupees.
Why doesn't the Melbet app work?
There may be multiple reasons for that. It may be the system requirements since your phone may be outdated and doesn't meet the requirements. Check the hardware of your device to find out for sure. There is also a possibility that you downloaded the app from the wrong website. You can download the latest version of the app by using our review.
Updated: