Registering an Account at Betway: Step-By-Step Instructions
Below a step-by-step instructions on how to pass through the Betway registration process and create a personal account. Use it to simplify this process and make it as fast as possible:
Open the official Betway betting site and click on the registration button which is on the top bar.
Fill out the registration form by entering the required data. In the first registration window enter your email and create a username and a password. In the second window choose gender, enter first and last names, date of birth, and county. In the last registration window enter your address, city, postcode, region, mobile phone, and choose language, currency, and welcome bonus. Here you can also set your daily/weekly/monthly deposit limits, which can be changed later.
Accept the terms and conditions and privacy policy of Betway and choose methods of communication from Betway (SMS, email, both).
Click "Register" and complete the registration.
That's it! Your account was successfully created. To start betting on real money and activate your welcome bonus, you need to navigate to the Deposit section and top up your balance.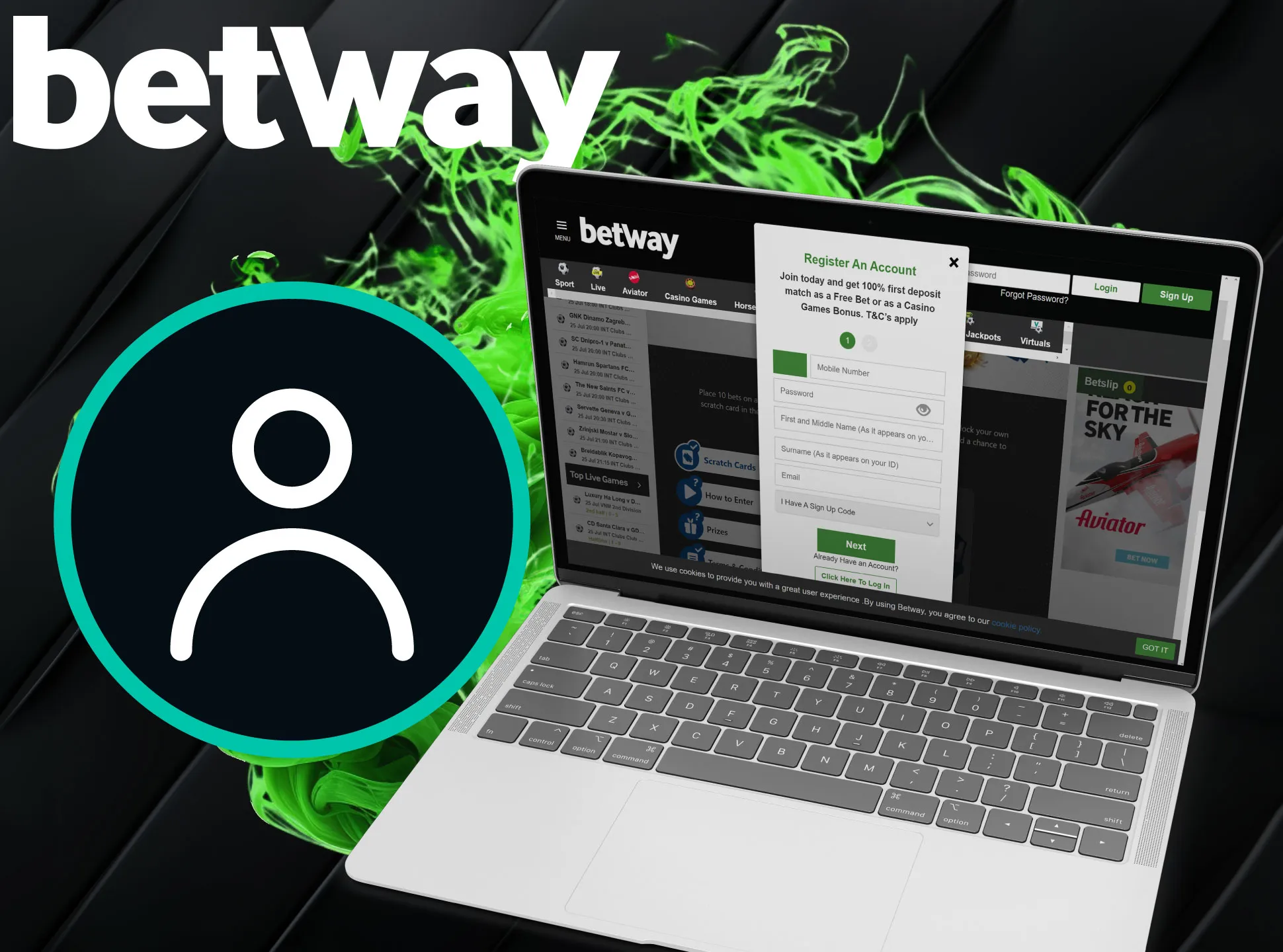 Betway Account Registration Requirements
Betway has some account registration requirements and terms that must be met by all users. These requirements are necessary in order to provide fair betting conditions to all bettors and to comply with laws. These terms and requirements are as follows:
Each user who is going to register, create an account, and bet at Betway must be 18+ years old.
Each user can have only one betting account. If any bettor uses multiple accounts, then all accounts will be blocked and all winning bets made from them will be recalculated or claimed back;
All users must comply with all terms and conditions, as well as with the privacy policy of Betway;
Each account must be verified and all necessary documents (ID/driver's license/passport) must be provided to Betway.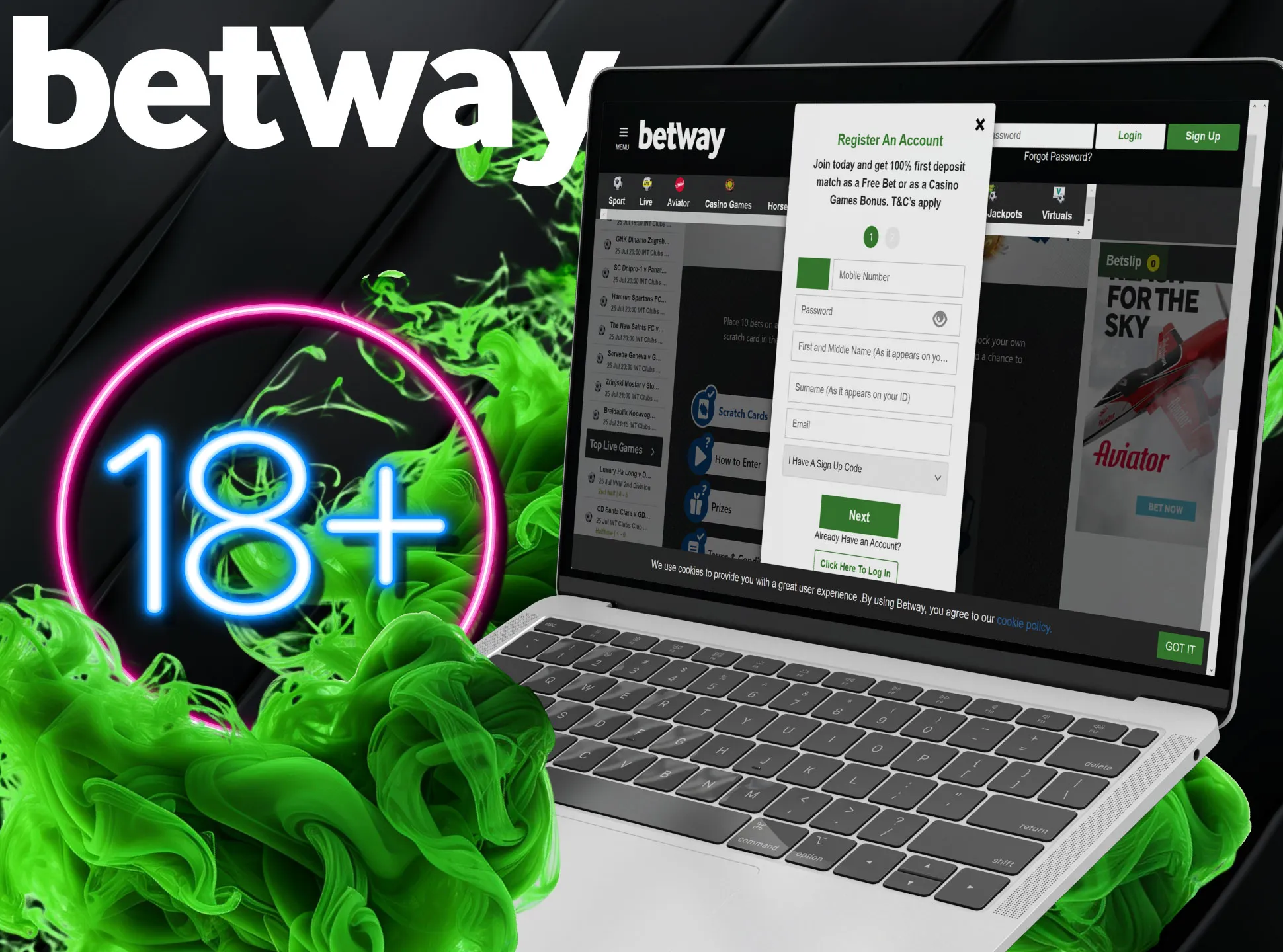 Registration via Betway App
For all users who prefer betting on the go right from their mobile devices Betway bookmaker provides high-tech mobile apps for sports and casino betting, which can be downloaded and installed for free. The mobile apps have user-friendly interfaces, are easy to use, operate really fast even with a low Internet connection, provide lots of useful functions and features, and have all the benefits of the Betway platform.
The registration process in the Betway app is almost the same as on the website:
Download and install the Betway app for sports or casino.
Open the app and click on the register button.
Fill out the registration form which consists of 3 windows. You will have to enter the following data: email, username, password, gender, first and last names, date of birth, county, address, city, postcode, region, mobile phone, language, and currency. Also, choose a welcome bonus.
Accept the terms and conditions and the privacy policy of Betway.
Choose a method of communication from Betway (SMS, email, both).
Click "Register" and complete the registration.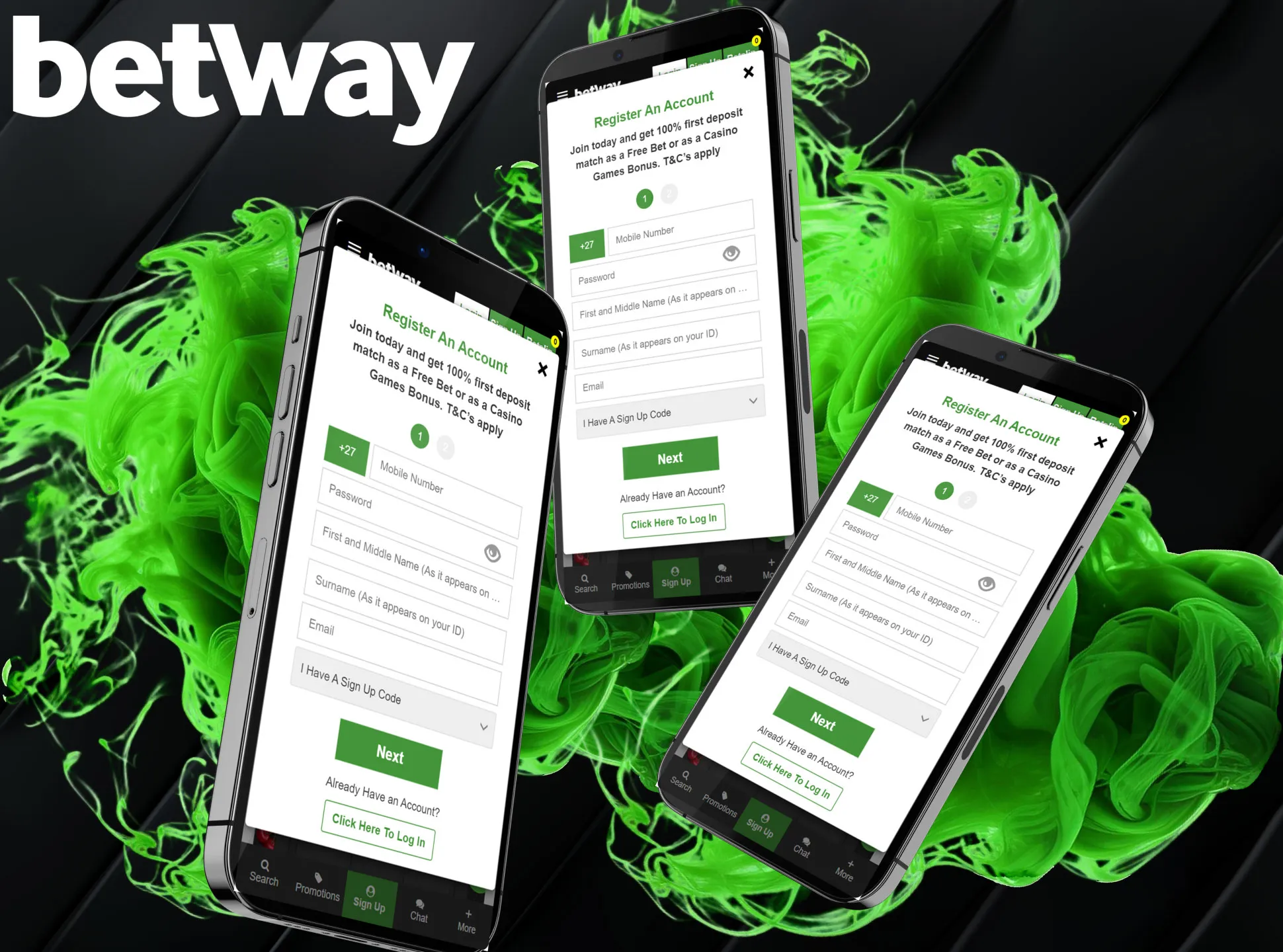 Betway Account Verification Process
After you have created your personal account you have to verify it and pass the KYC process. The verification is necessary in order to be able to withdraw money from the platform, take part in the loyalty and affiliate programs, protect your account from unauthorized parties, and confirm that you are 18 years old or older. The process of verification includes the following steps:
Open Betway betting site or mobile app.
Log in to your account.
Click the verification button in your account settings.
Check your registration data and upload photos of any of the documents that confirm your identity and address (ID, passport, driver's license, PAN card, utility bill, bank statement, etc.).
Wait for Betway's confirmation. Your data and documents will be checked and approved within a few hours. If all information is correct, you won't face any issues.
Once the verification has been successfully completed, your Betway account is fully secure, and active and you can make withdrawals and join different Betway programs.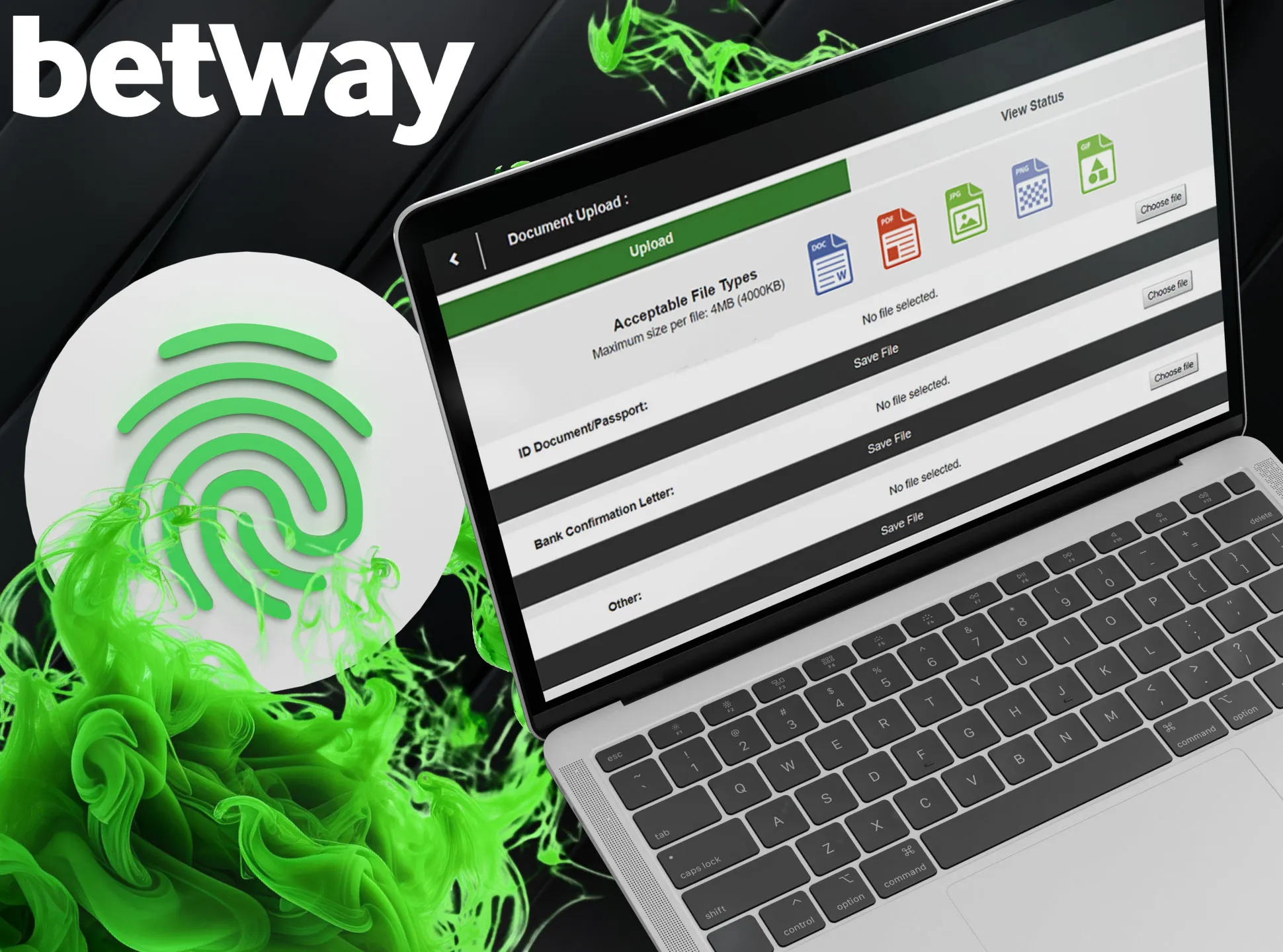 Betway Login in India
Follow the steps below to go through the Betway login process to start betting on real money as soon as possible:
Open the Betway site or mobile app.
Click on the "Log in" button which is next to the registration button.
Enter your username and password.
Confirm by clicking "Log in".
If you can not log in to your account, please check the data you have entered. If you forgot your password, use the "Forgot login?" function to require a confirmation code to create a new one. The confirmation code will be sent to your email or via SMS.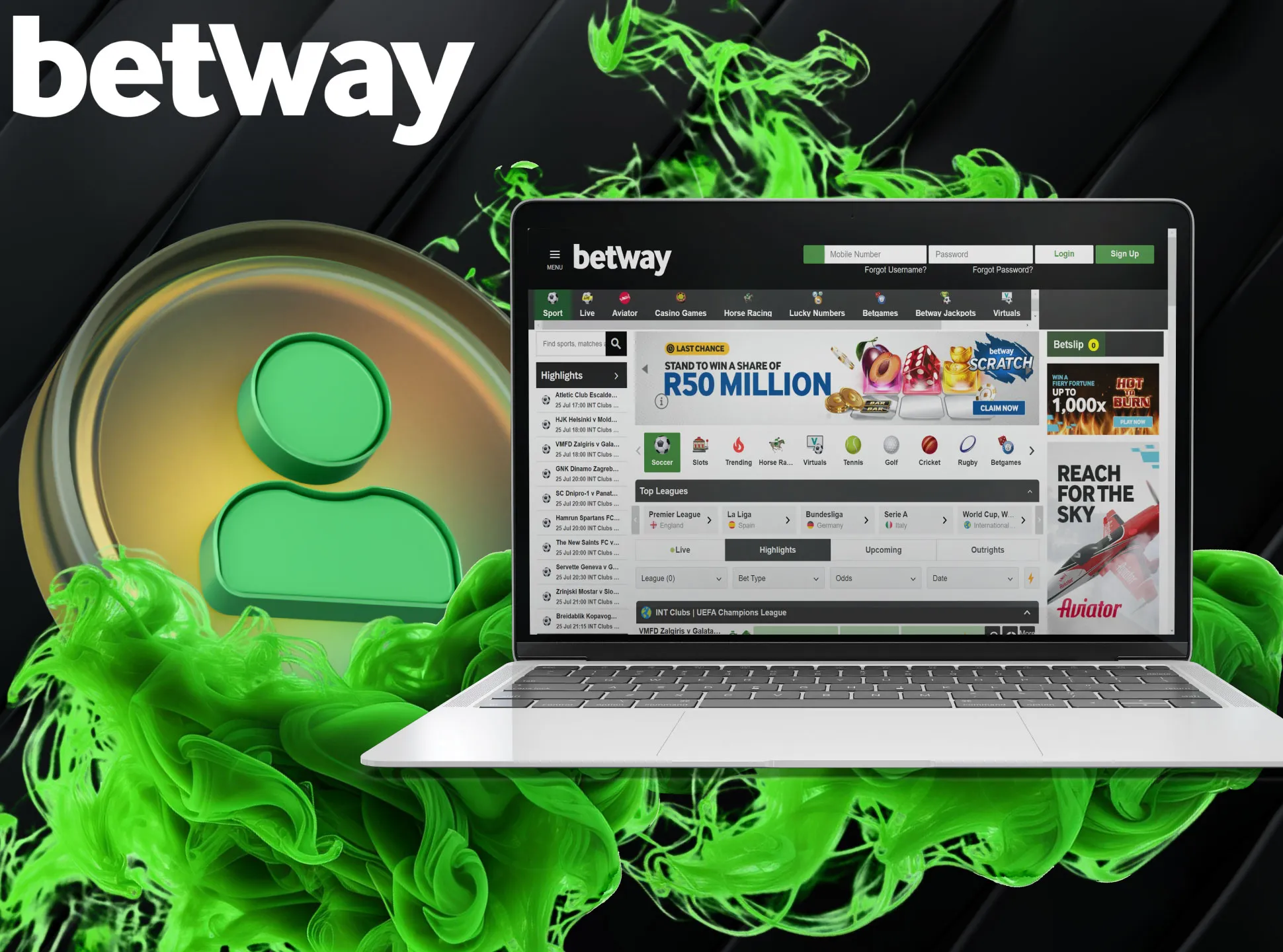 How to bet on Cricket in India via Betway
In order to make a bet on real money on cricket via Betway, use the following instructions:
Open the Betway betting site or app.
Login to your account.
Make a deposit. Go to the Deposit section, among all payment methods choose the most convenient for you, enter the deposit amount, and make a transaction.
Go to the sports section and find cricket.
Select any cricket event and a match.
Choose betting markets and odds. Click on the match to open the list of available betting markets and odds.
Place a bet. Choose a type of bet, enter a bet amount, and confirm a transaction.
Done! Now you know how to bet on cricket in India. All you have to do is to wait for the result of the match. In case of a successful outcome, you will be able to withdraw your winnings.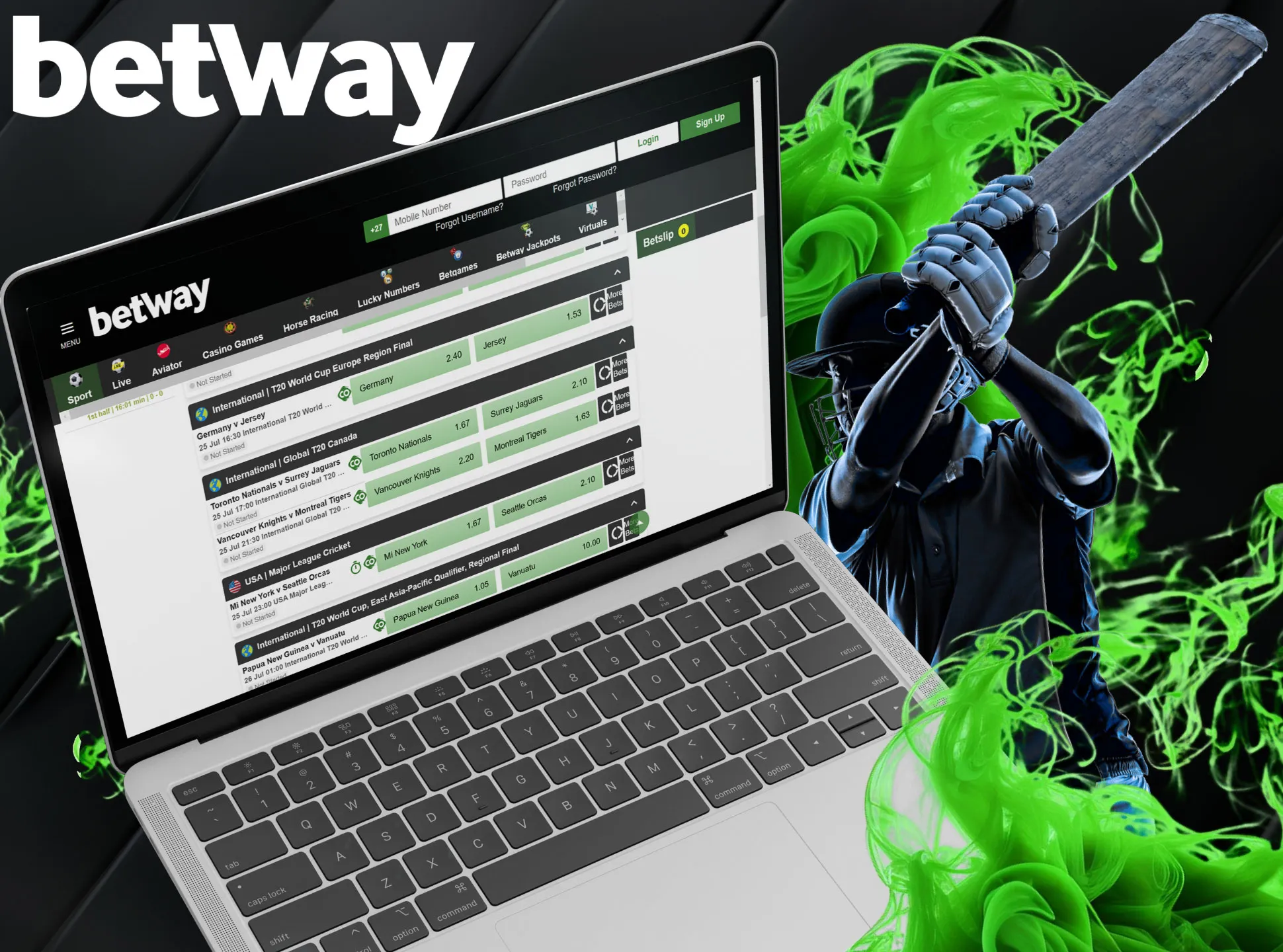 Betway Welcome Bonus and Promotions after Registration
To all new users, Betway provides bonuses and 100% welcome bonus of up to 2,500 INR in the form of Free bets, which can be used for betting on cricket or any other Betway sports. 
The amount of Free Bets is a 100% match of your first deposit up to 2,500 INR. There are no wagering requirements on your Free bets and winnings will be paid to your cash account minus the initial free bet amount. 
More details about this bonus can be found in the Promotions section.
There are other bonuses at Betway, which include:
Weekly casino rewards up to 4,000 INR;
Weekly live casino rewards up to 4,000 INR;
Weekly eSports free bet up to 800 INR;
Weekly Vegas rewards up to 4,000 INR.
All information about these bonuses is in the Promotions section.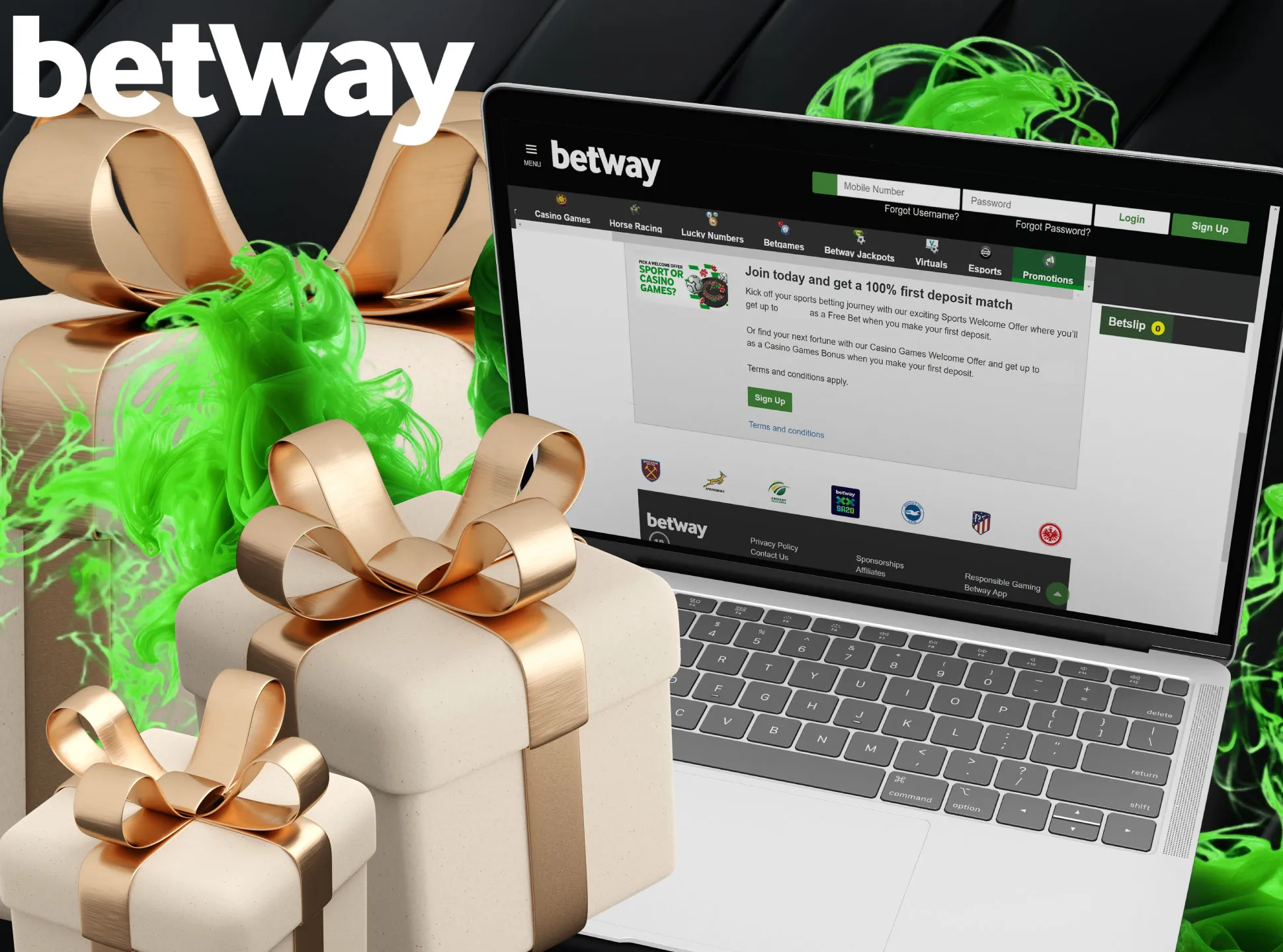 FAQ
Is it Legal to Become a Player on the Betway Platform in India?
Yes, you can legally become a player on the Betway platform if you are 18+ years old and can take responsibility for all your actions.
Can I Delete My Account on Betway?
Yes, the account can be deleted. For this you have to contact customer support and ask them to delete your account.
What Should I do if I Need Help Creating a Game Account?
If you want to create an account on Betway betting site or in the mobile app, you can use our instructions, which are presented in this article, or contact customer support for help.
Is it Possible to Have More than One Account on Betway?
No, it is prohibited to have more than one account per user on Betway. If any user has multiple accounts, then all accounts will be blocked and all winnings can be claimed back.
Updated: