LeoVegas App Overview
LeoVegas has been a major sports betting and casino representative for ten years. In India, it has gained popularity as a reliable bookmaker with a wide range of sports disciplines and a user-friendly app. The LeoVegas app for Android and iOS is available for Indian players absolutely free of charge. That being said, it has all the functionality you might need for your betting needs.
In the table, we have presented the most basic information on the latest version of the LeoVegas app.
| | |
| --- | --- |
| App version | 1.6.2 |
| APK File size, memory space | 15,3 MB |
| iOS app size | 23,5 MB |
| Supported operating systems | Android 4.0+, iOS 8.0 or later |
| Application language | English, Danish, Finnish, German, Italian, Norwegian Bokmål, Swedish |
| Welcome bonus | 100% up to INR 10 000 |
| Minimum deposit | Rs 800 |
| Deposit methods | Skrill, Neteller, PaySafe, Visa Card, Mastercard, UPI, ecoPayz, MuchBetter, NetBanking |
| Available types of entertainment | Sport, eSport, Slots, Live Casino |
| Availability for download in India | + |
| License | Swedish iGaming license |
| Internet connection to use | 3G, 4G, 5G |
Leovegas App Screenshots of Interface
The interface is fairly minimalistic. However, all the important buttons for your navigation are always on the screen. The predominant colors of the app are white and orange. This choice of colours has a very pleasant effect on the human nervous system, allowing you to relax and get good vibes from big winnings.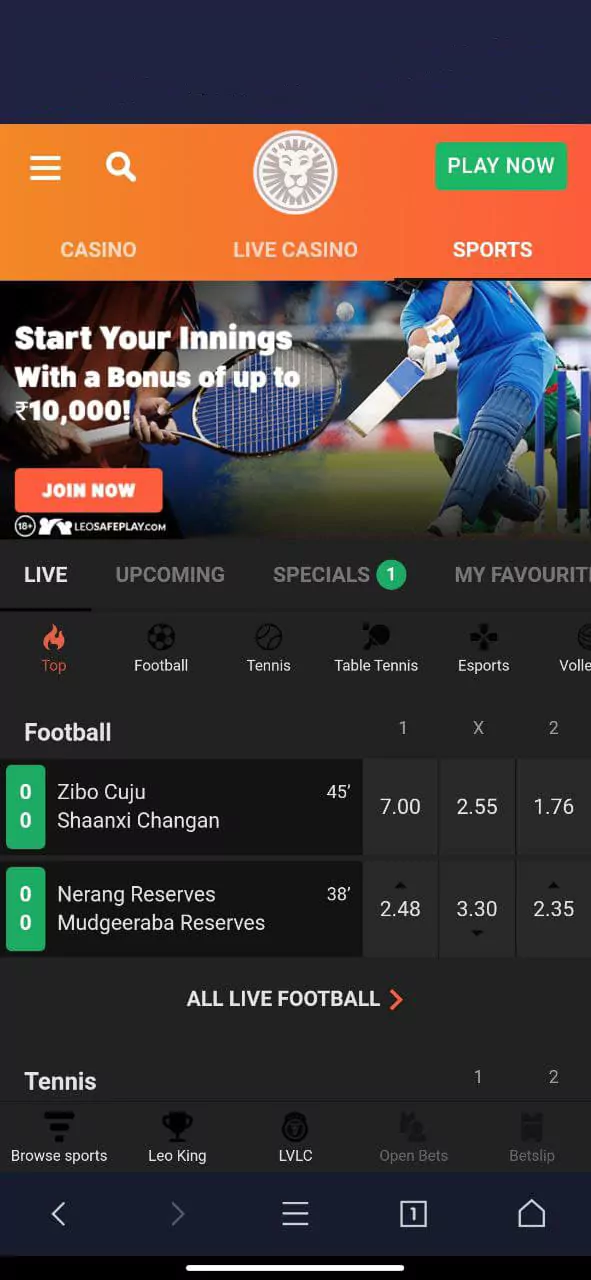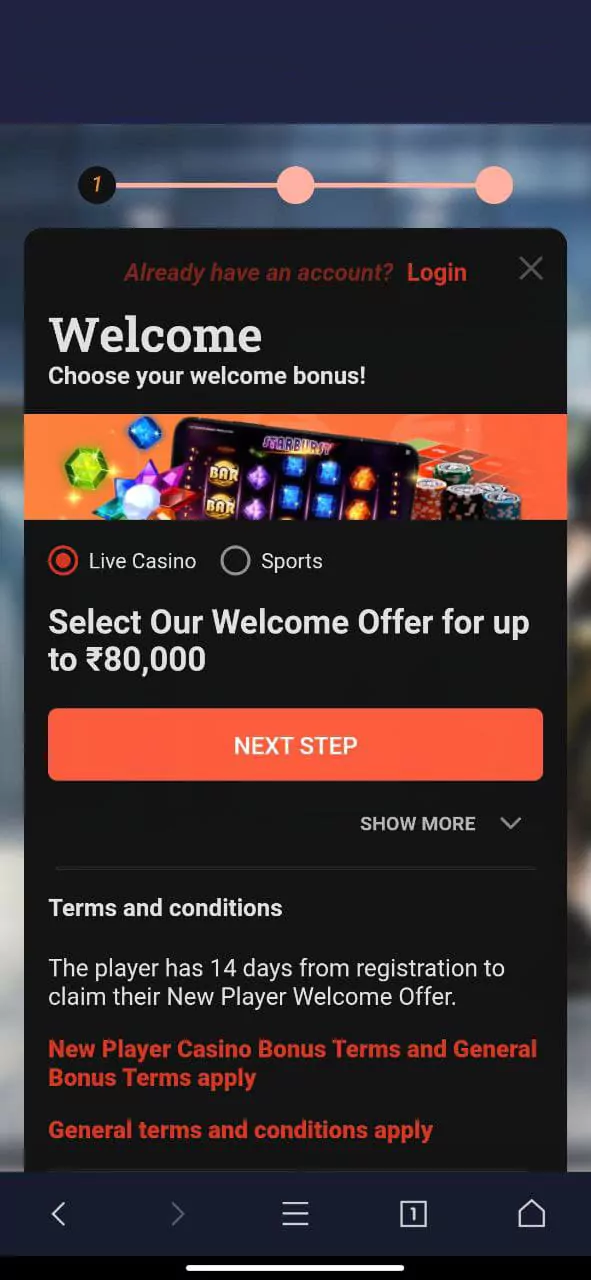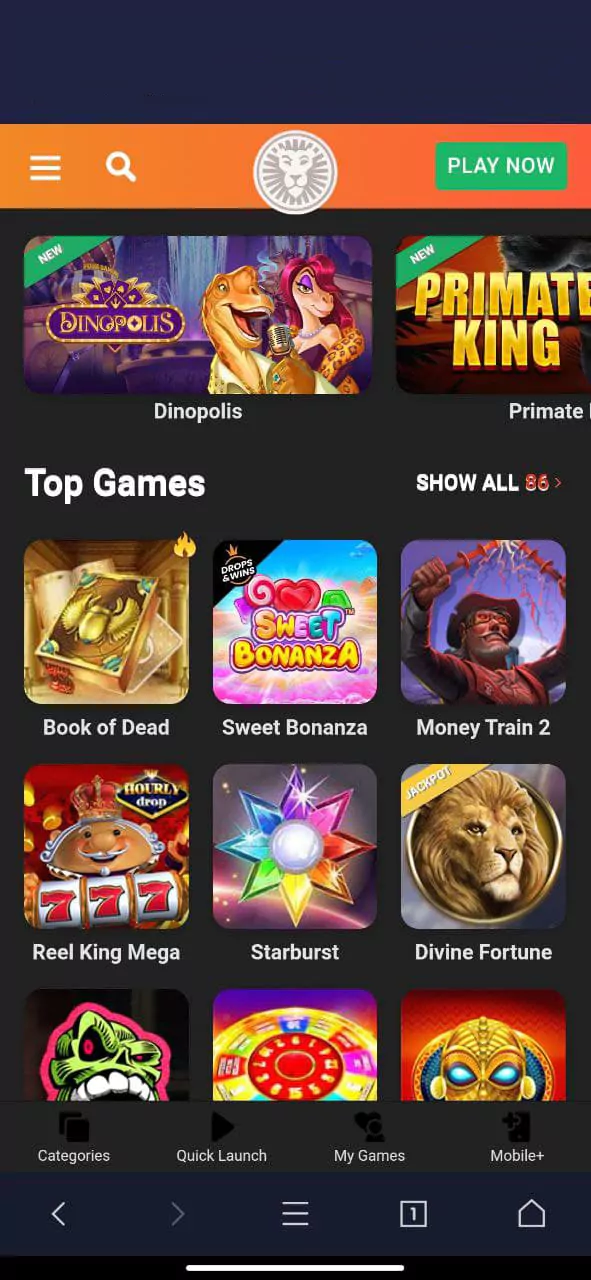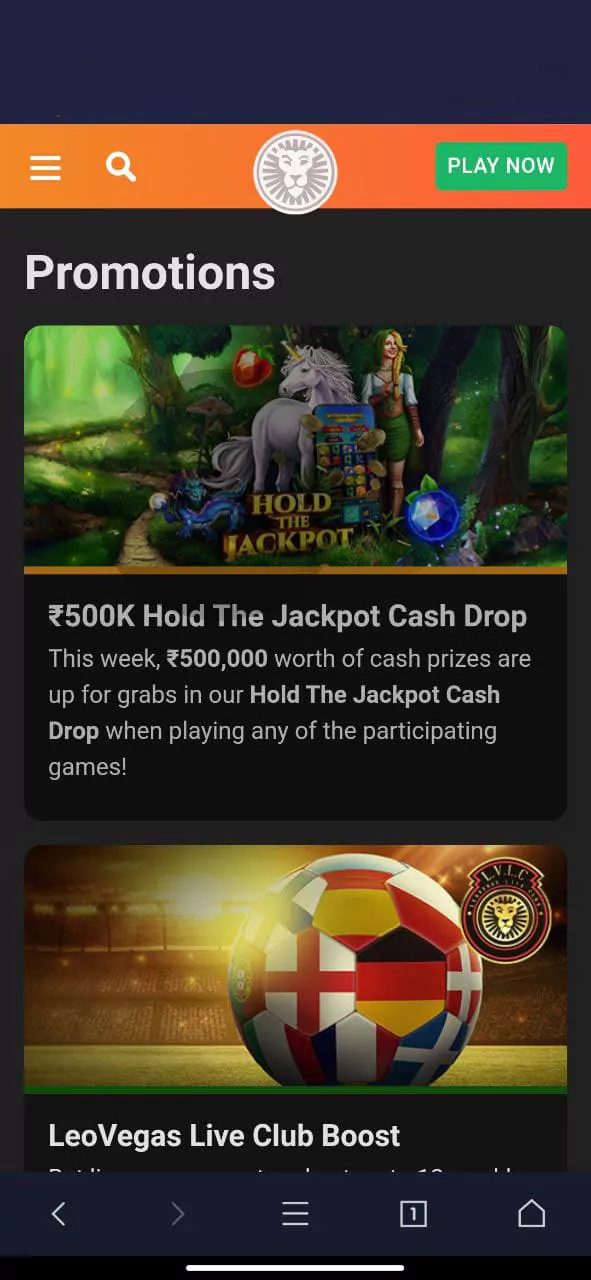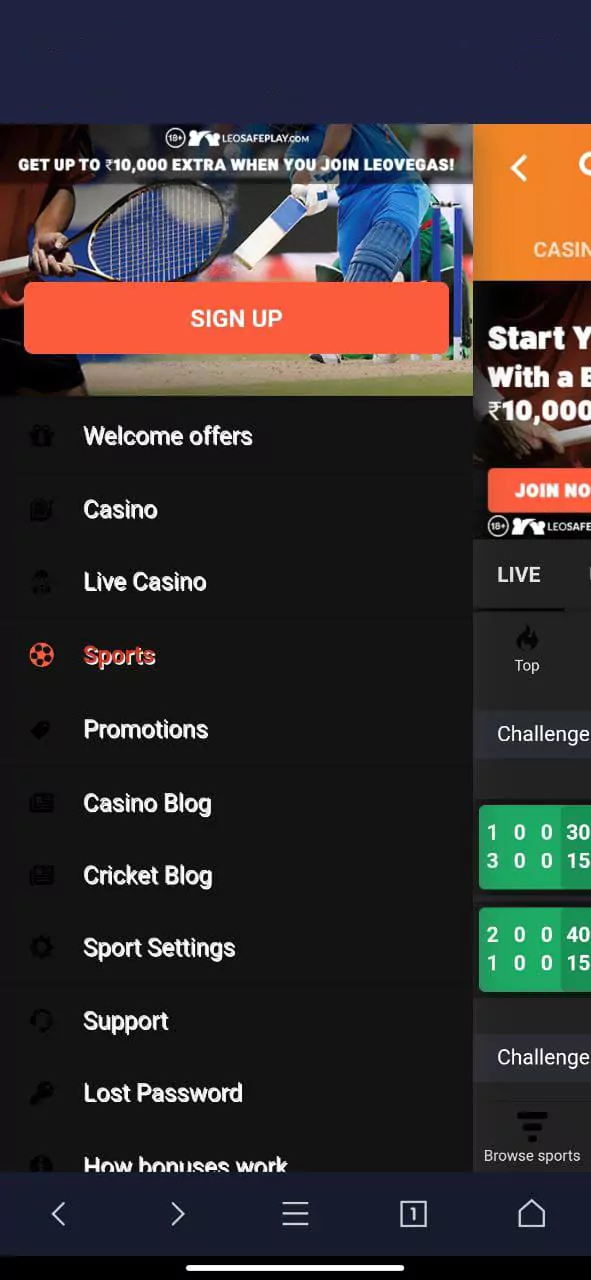 Pros and Cons of Leovegas App
We have analyzed all the strengths and weaknesses of the LeoVegas real money betting app. The app has obvious merits, which is why it ranks 16th in the ranking of the best betting apps in India. That said, there are also a number of drawbacks that have a negative impact on the betting experience. See our opinion in the table for more details.
| Pros | Cons |
| --- | --- |
| Low system requirements and application size | Does not support Hindi |
| A great environment for using rupees, as many payment systems popular in India are available (Skrill, UPI, Neteller, Visa) | Large minimum deposit (Rs 800) |
| The large welcome bonus (up to Rs 10,000) | Lack of live match broadcasts |
| Ability to cash out | The interface may seem old-fashioned |
| Legal and licensed by Swedish iGaming license | |
| Small application size | |
| Good notification system for interesting matches and bonuses | |
| Fast betting without any delays, as the minimalist interface does not require high internet speeds | |
| 24-hour customer service | |
| A great app for casino lovers with over 1,500 different attractions | |
For a large number of pros, the LeoVegas app for Android and iOS definitely deserves a place in the top list. Overall, after our research, we can say that the cons are not critical. All the more, the LeoVegas team is constantly improving the betting mechanisms to keep up with betting trends. Despite the ease and speed of LIVE betting, the lack of broadcasting is a serious disadvantage. On the other hand, you still get all the information you need about the match through a handy live betting scheme.
The LeoVegas app is great for those who like minimalism, simplicity, and ease of betting!
Download LeoVegas Apk for Android
We'll show you how to install the LeoVegas app on your Android device so you don't have any problems. The installation process itself will take you a few minutes, after which the application icon will appear in the menu of your device. In order to successfully install LeoVegas Android APK users from India need to:
1

Check the security of your gadget

Enter the security settings of your gadget and allow it to install apps from third-party sources. This will not harm your device in any way as LeoVegas app is completely safe.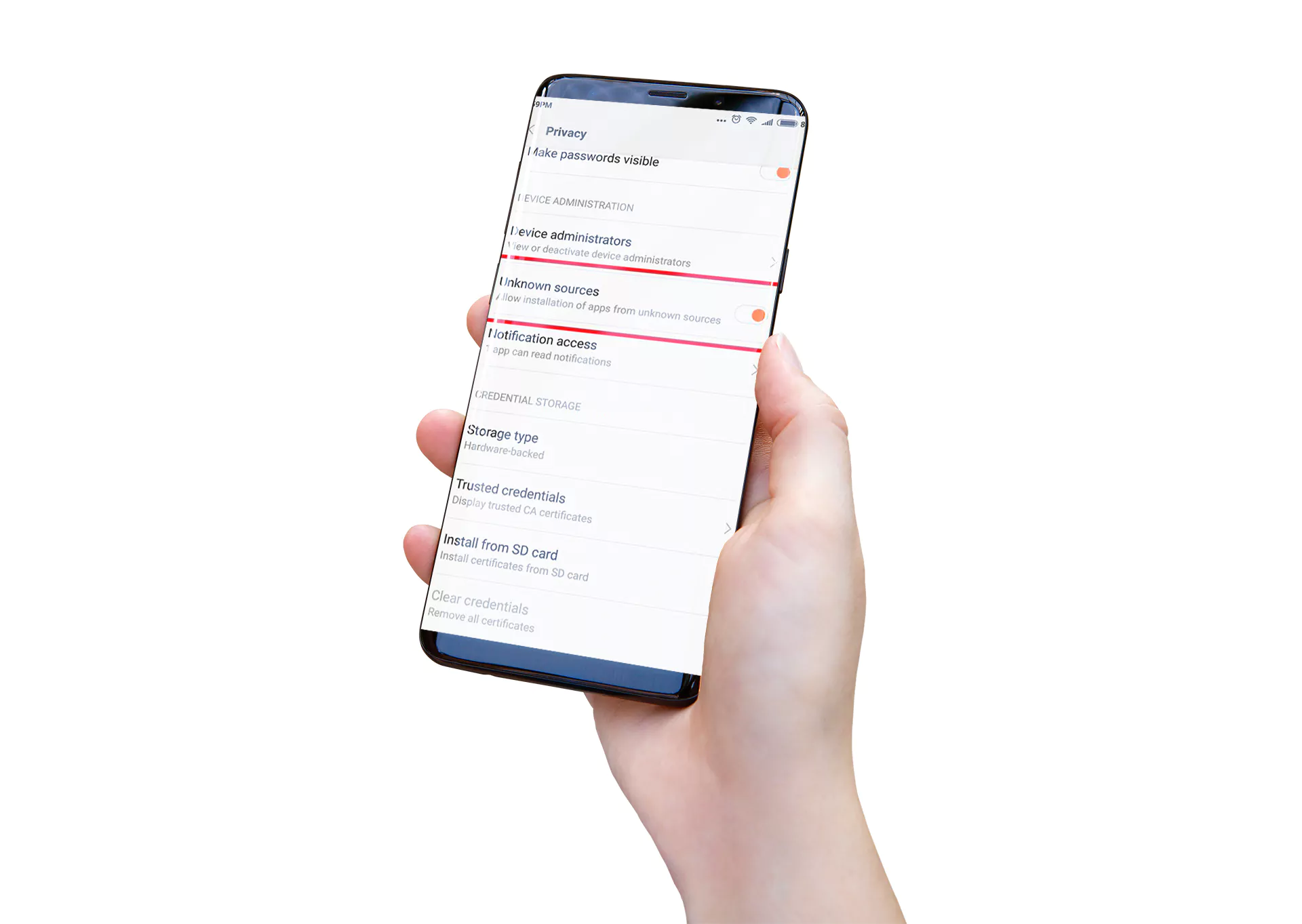 2

Sign in to LeoVegas

Use any browser on your Android device to go to LeoVegas official mobile website. You can do it from our link for convenience.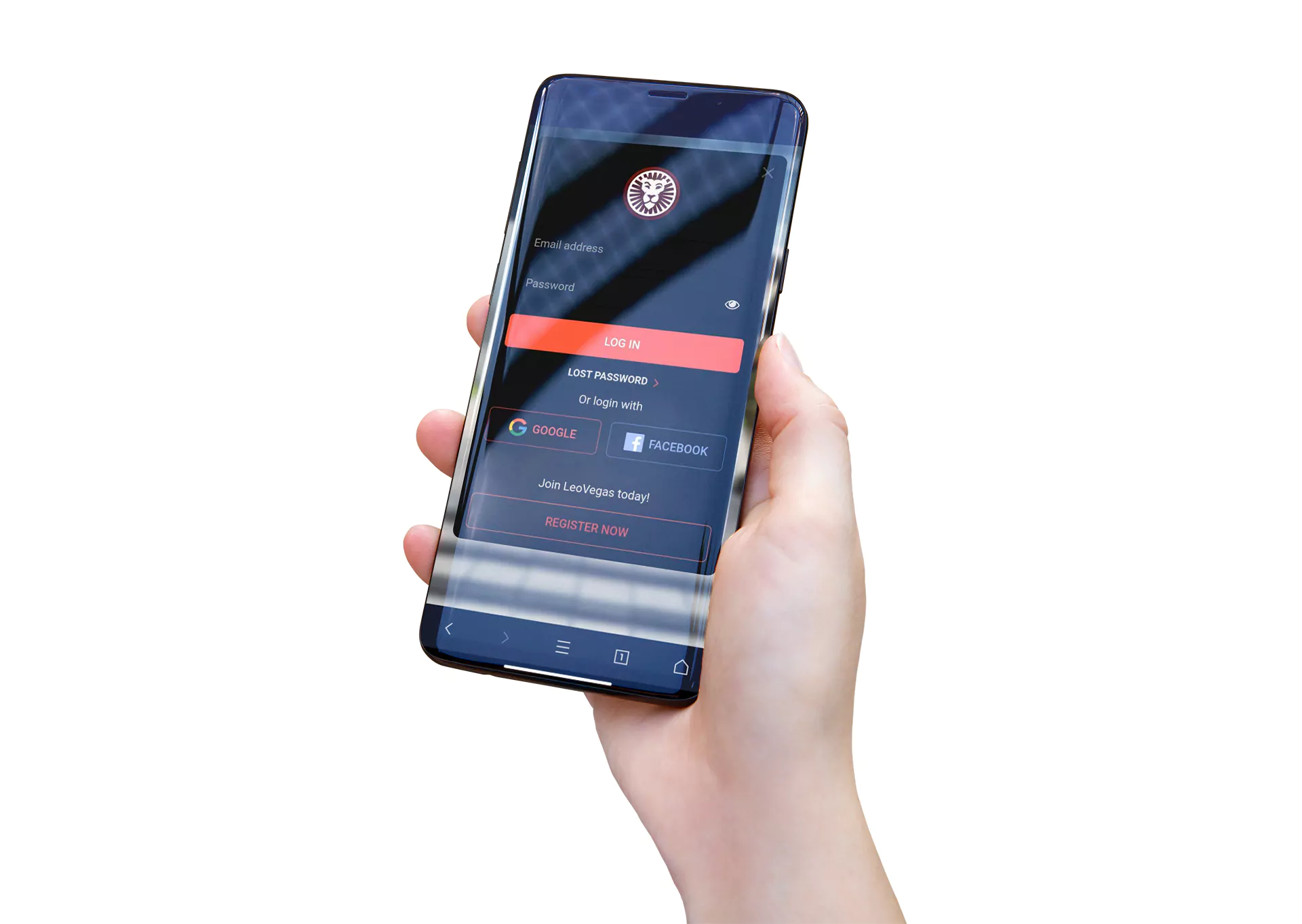 3

Enter 'Apps'

In the main menu on the official LeoVegas mobile site, go to the section with the bookmaker applications.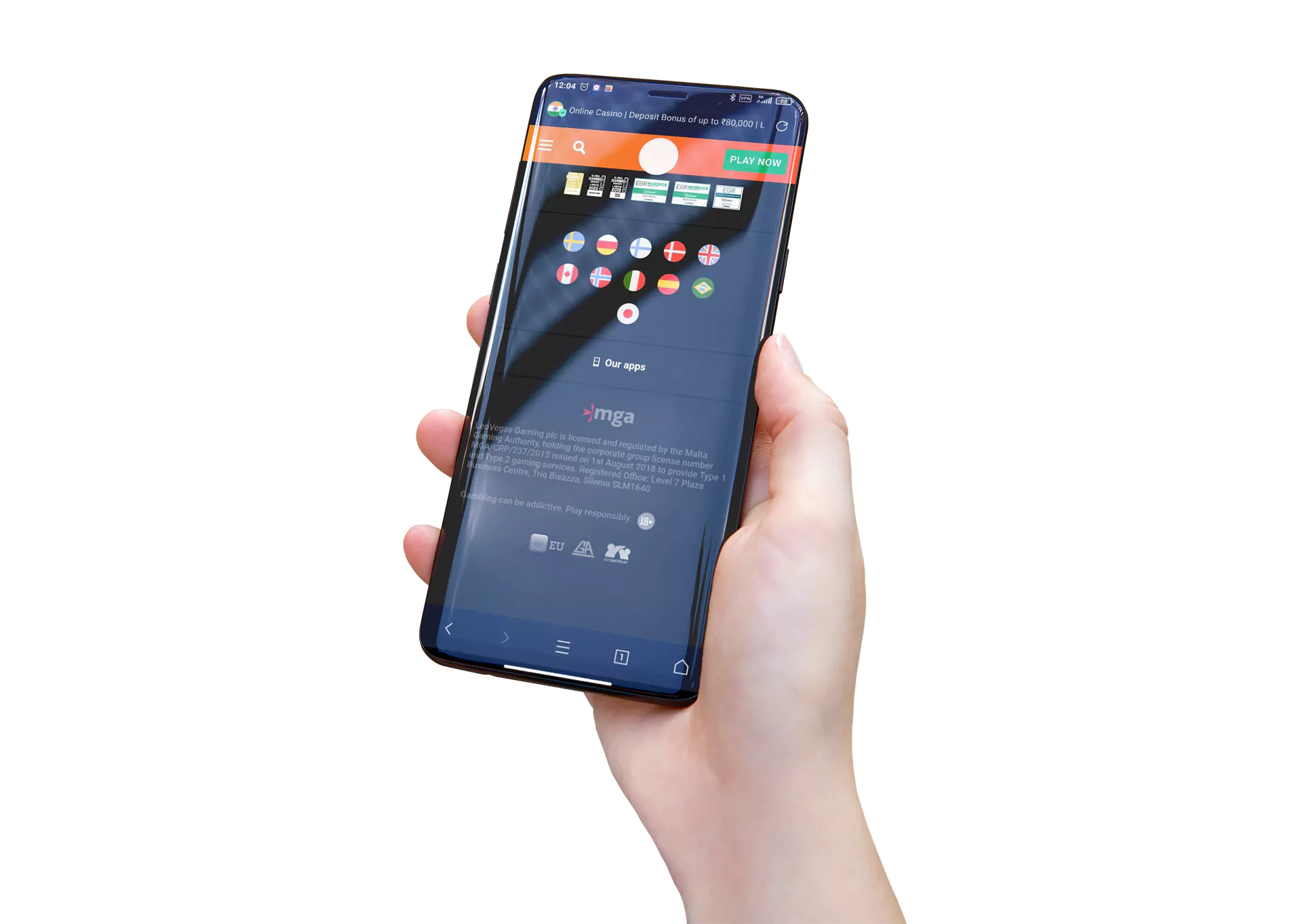 4

Download LeoVegas APK

From available applications, choose Android by clicking on the Android icon. This will start downloading the LeoVegas APK file to your device.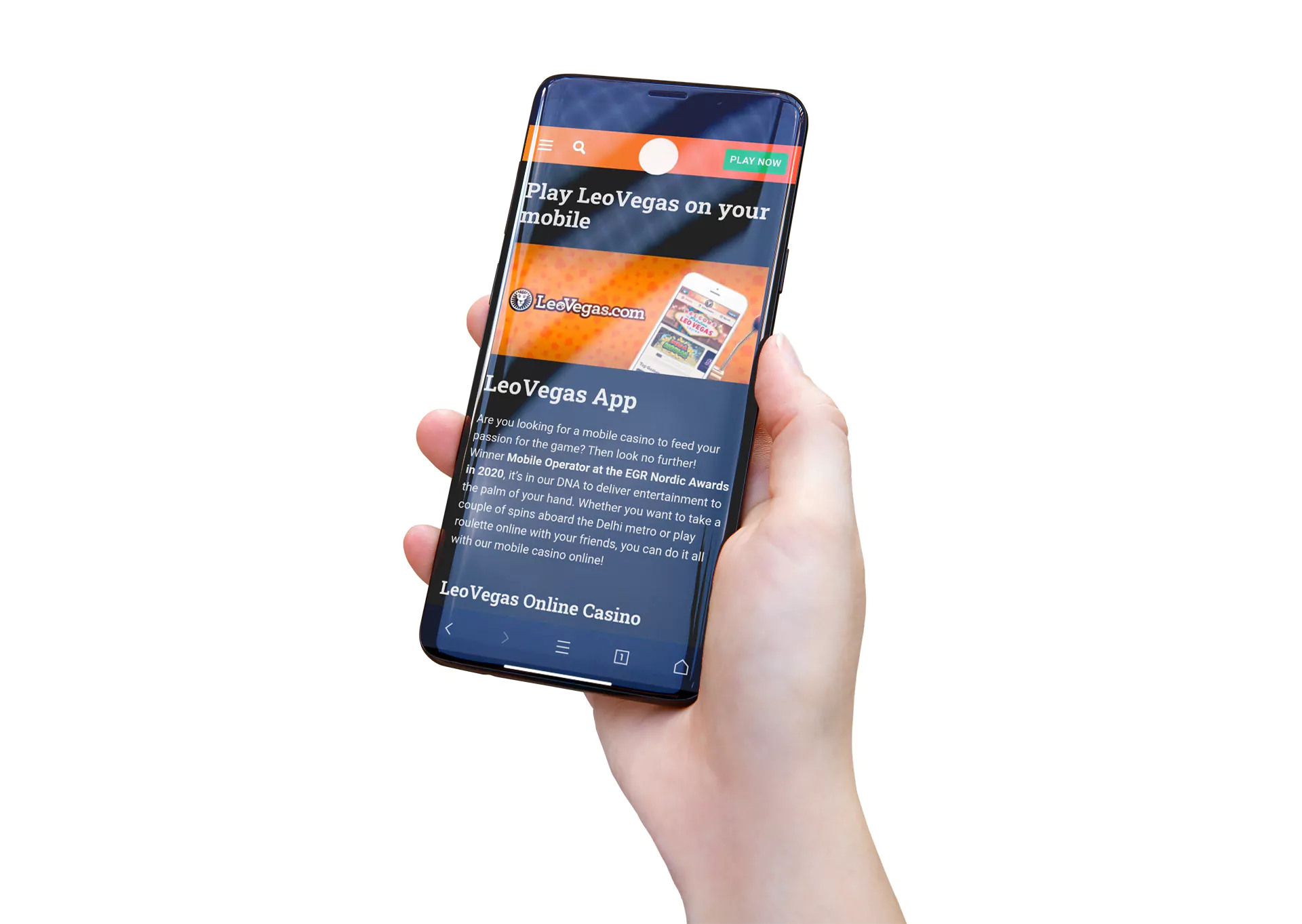 5

Install LeoVegas

When you have finished downloading the file, click on it to start the installation. You'll have to wait a while for the application to install, after which you'll get a notification about successful installation. Now you can login to LeoVegas App anytime using your device and place a quick bet on the sporting event you are interested in!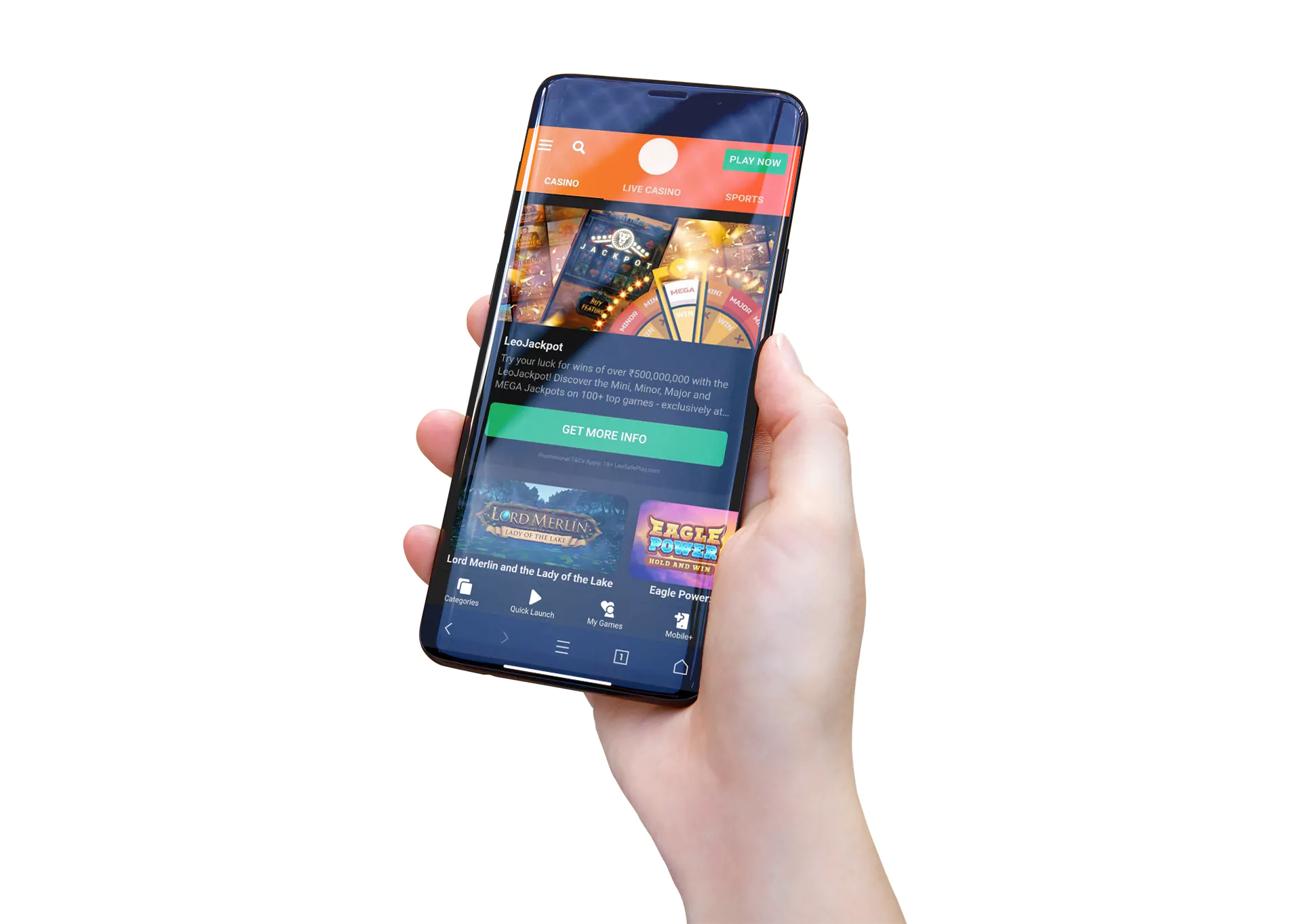 LeoVegas Android App Review
The LeoVegas android app gives access to unlimited fun that you wouldn't want t leave playing for a moment. From exclusive slots, timely promotional offers, free spins, enthralling games, dealer games, the LeoVegas app has something for everyone.
Multi-Language Platform. English is the default language of the platform you can switch to many other International languages. So, nobody misses a chance to play on the LeoVegas app.
Quick Betting Options. You can make bets faster without fearing delays. There is a rich variety of games on LeoVegas.
Quick Navigation. Navigating the app is a quick and simple process. You can easily choose from a number of options, there won't be any confusion as the interface is user-friendly.
Interesting versions of Age-Old Games. The application is constantly updated and upgraded, so you will be surprised by the massive collection of age-old games. The games are attractive, brightly colored, and easy to control.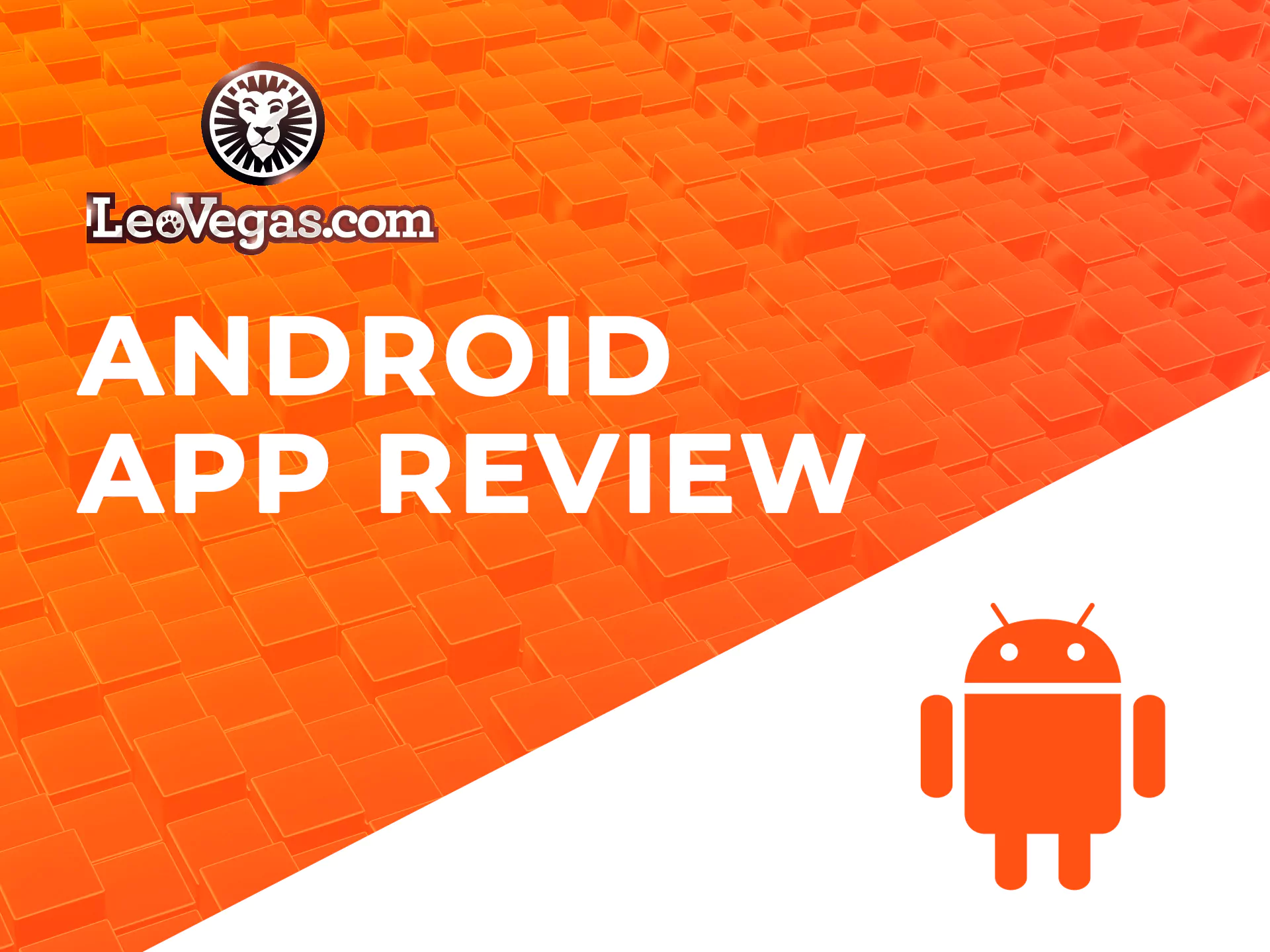 System Requirements
We have listed the minimum system requirements for the LeoVegas app on Android in our table. Check it out, and if your mobile device is suitable, you'll be able to enjoy a comfortable game without delays.
| | |
| --- | --- |
| Android Available Versions | Android 4.0 or later |
| APK File Size, memory space | 22,4 MB |
| RAM | 1 GB + |
| Processor | 1,4 GHz |
Supported Android Devices
Most modern devices will be suitable for the comfortable use of the LeoVegas app. The bookmaker's technical experts have done their best to make it easy for as many Indian users as possible to join easy betting and earn rupees in sports betting.
We have prepared a small sample list of Android devices for which the app will work well:
Samsung Galaxy S 6 or Later;
Samsung M50, A52, A40, etc.;
Huawei P8, P10, P20 and their lite versions, etc.;
Google Pixel 2,3,4;
Xiaomi Redmi Note 6,7,8,9,etc;
Prestigio Muse,Grace,Smart,etc.;
If your gadget is about the same year of manufacture as the gadgets in our list, then you can easily join mobile betting with LeoVegas.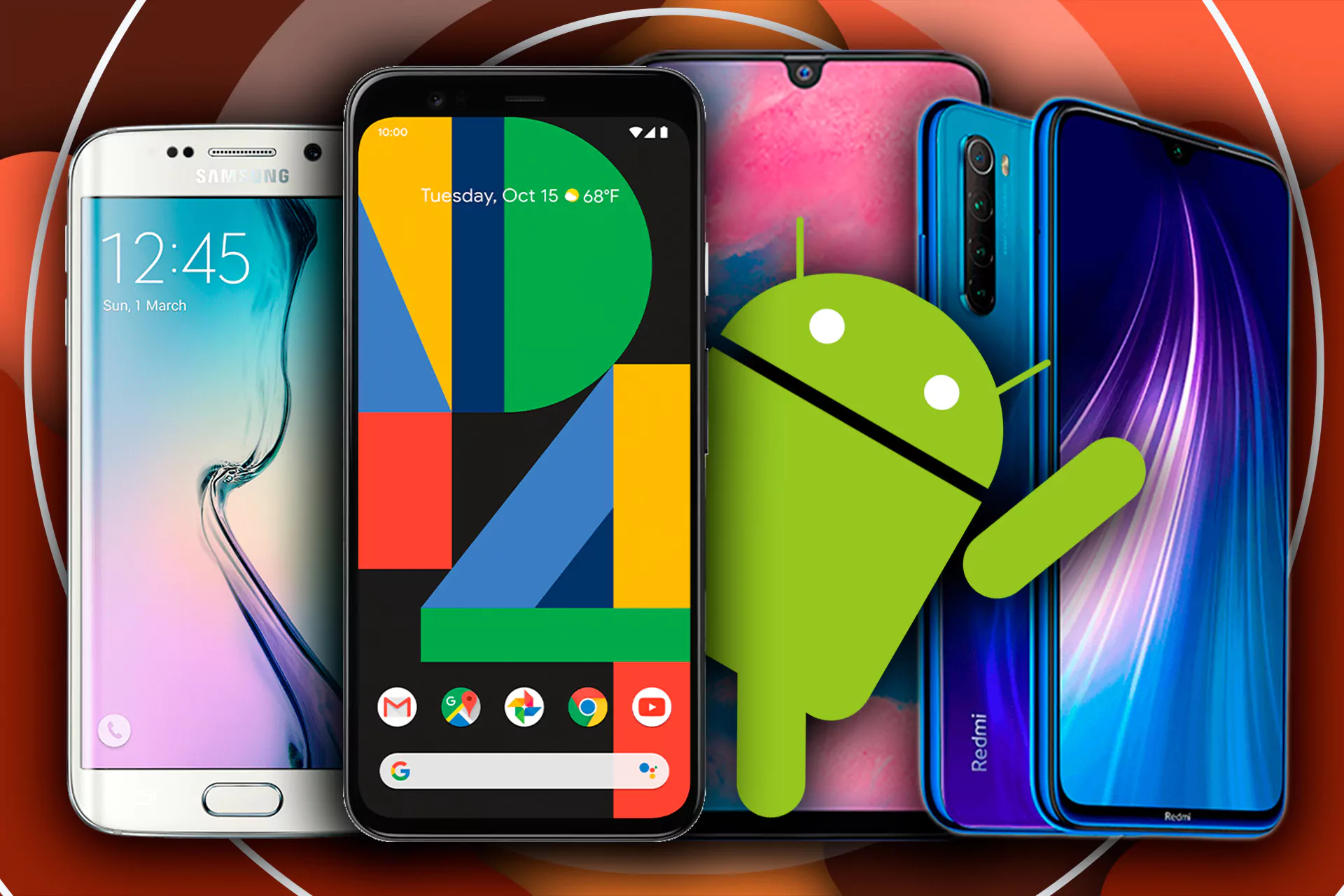 Download LeoVegas App for iOS
The LeoVegas app is also available to all Indian bettors using iPhones and iPads. The LeoVegas iOS installation process is also very simple. Here is a little step-by-step guide for you:
Go to LeoVegas. Through the browser of your iOS device, go to the official mobile website of LeoVegas. Do it through our link.
Go to "Apps". Visit the section with official LeoVegas apps in the main menu of the bookmaker's mobile site.
Download LeoVegas iOS. Click on the Apple icon to start downloading LeoVegas application to your iOS device. Once downloaded, it will install automatically within seconds and appear on your device's home screen. You will be able to join betting and winnings in the LeoVegas app at any time if you would like to win some real money.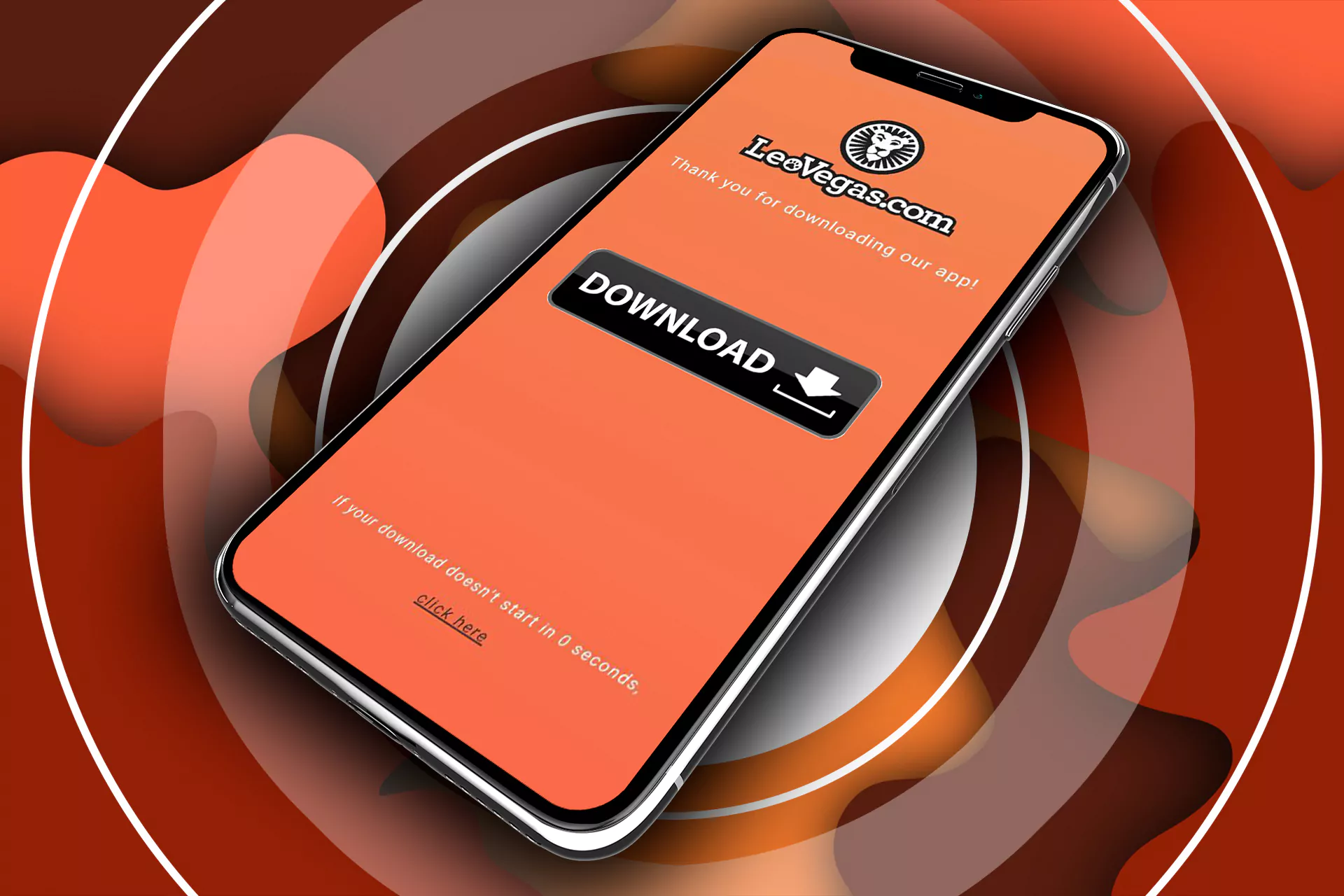 LeoVegas iOS App Review
The LeoVegas iOS app is timeless as it comes with all the features which make it user-intuitive and user-friendly. The app supports easy and quick payments, gives access to round-the-clock customer support, and has a great VIP program. You can play the games in the landscape as well as the portrait mode, either ways the apps function extremely well.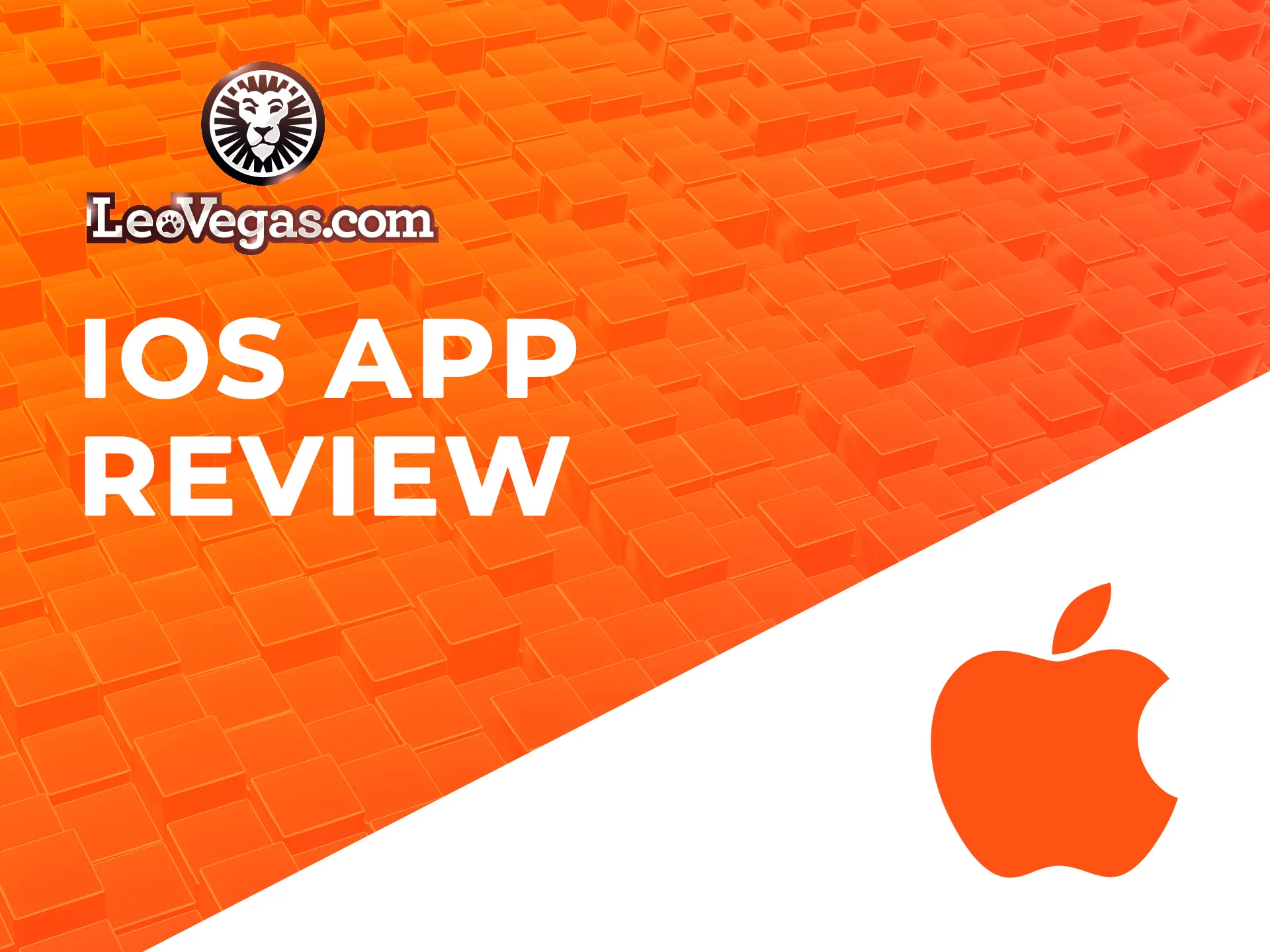 System Requirements
The LeoVegas app on iOS has the lowest system requirements when compared with other apps on the list of best cricket betting apps in India. Check them out in the table and if your iOS device is suitable, you will have a great betting experience.
| | |
| --- | --- |
| iOS Available Versions | iOS 8.0 or later |
| APP File Size, memory space | 23,5 MB |
| RAM | 1 GB + |
| Processor | 800 GHz |
Supported iOS Devices
In the table below you can see a list of iOS devices on which the app will work perfectly. Due to the fact that iOS version 8.0 and higher is required to install and use the application, you can use LeoVegas on any device of a generation higher than iPhone 4s.
| | |
| --- | --- |
| iPhone 4s | + |
| iPhone 5/5C/5S | + |
| iPhone 6 (6 Plus, 6s, 6s Plus) | + |
| iPhone SE (1st gen.) | + |
| iPhone 7, 7 Plus | + |
| iPhone 8, 8 Plus | + |
| iPhone X, XS, Xs Max, XR | + |
| iPod Touch, Air, Mini (1,2,3,4) | + |
| iPad Pro | + |
| iPad Mini 2/3/4 | + |
| iPad Pro 2018/2019/2020/etc. | + |
| iPhone 11, 11 Pro | + |
| iPhone 12 / 12 Pro | + |
Thus, if your iPhone or iPad is not very old, you can easily download, install the Leovegas app and use it whenever you need to satisfy your gambling needs.
Registration process via Leovegas App
To start betting on real money via the Leovegas app you have to register and create a personal account. For this, use the guide below, which will help you to do it as fast and simple as possible:
Open the Leovegas apk or app.
Click on the "Open account" button.
In the first registration window enter your email and create a password.
In the second registration window enter the following data: first and last names, date of birth, phone number, address, postcode, city and choose your weekly deposit limit.
In the last registration window choose a bonus you want to receive and accept terms and conditions of Leovegas and confirm that you are over 18 years old.
Complete the registration.
That's it! Your account has been created and can be used for betting via the mobile app right from your mobile device. To start betting on real money, you only have to top up your balance in the Deposit section.
How to Login to Leovegas Mobile App?
If you want to start using your account right away and making bets on cricket or other sports, you have to login first. To do this use a guide below:
Open the Leovegas betting app.
Click on the "Login" button.
Enter your email address and password.
Confirm.
If you failed to login, check if the data you have entered is correct.
If you forgot your password, then click on the "Lost password?" button, then enter your email, click on "get new password" and follow the instructions in the email.
You can also contact customer support, which is available 24/7, if you have any questions or issues.
Welcome Bonus for LeoVegas App
An exclusive welcome bonus has been prepared for LeoVegas players from India and is available in the LeoVegas app. It is available to all new players who have created an account for the first time and have been verified on LeoVegas. You can get 100% up to Rs 10,000 on your first deposit! For a better understanding of the bonus you get, we have reflected the information about it in the table.
| First deposit amount | The final amount on the account |
| --- | --- |
| Rs 800 | Rs 1600 |
| Rs 3000 | Rs 6000 |
| Rs 7000 | Rs 14 000 |
| Rs 10000 | Rs 20 000 |
The bonus only works once on your first deposit. The bonus rupees are automatically credited to your gaming account after you make a deposit in one of the ways in the LeoVegas app. You can use it for your bets on any match to win even more money with less risk!
Payment Methods via Leovegas App
LeoVegas for Indian players has many convenient payment systems that accept rupees, as it is one of the main currencies of the app. You can use them for your betting, deposits, and withdrawals. In the table below we have provided information about the main payment systems available in the LeoVegas app on Android and iOS.
| Payment system | Minimal deposit amount | Maximum deposit amount | Withdrawal time | Commission Fee |
| --- | --- | --- | --- | --- |
| Skrill | Rs 800 | No limit | up to 5 working days | Free |
| Neteller | Rs 800 | No limit | up to 5 working days | Free |
| PaySafe | Rs 800 | No limit | up to 5 working days | Free |
| Visa Card | Rs 800 | No limit | up to 5 working days | Free |
| Mastercard | Rs 800 | No limit | up to 5 working days | Free |
| UPI | Rs 800 | No limit | up to 5 working days | Free |
| ecoPayz | Rs 800 | No limit | up to 5 working days | Free |
| MuchBetter | Rs 800 | No limit | up to 5 working days | Free |
| NetBanking | Rs 800 | No limit | up to 5 working days | Free |
As you can see, the minimum deposit amount is Rs 800, which is not small when compared to other cricket betting sites in our ranking. The money, meanwhile, is deposited into the gaming account instantly after the deposit is made into the gaming account. When it comes to the withdrawal timeframe, according to LeoVegas app rules, it can take up to five days. However, it's usually much quicker as applications are processed around the clock. The processing status of your withdrawal request is displayed in your personal cabinet.
The LeoVegas app has a great environment for using INRs, which is definitely a strong competitive advantage in real money betting in India.
Types of Bets in the Leovegas App
There are different types of bets in the Leovegas app India which you can use in order to try different betting strategies and odds. Below are listed the most popular bets at Leovegas:
Single bets. These are the most common and simple bets which are made on a single outcome in one event.
Parlay bets or accumulator bets. These are bets on several outcomes in different events, where all outcomes must be successful in order to get winnings. If at least one outcome loses, then the whole bet loses.
Proposition bets or prop bets. These are bets on outcomes which are not tied to the final result of the match, game or racing, for example: a toss winner, best player, and others.
Betting Options via Leovegas Mobile App
Leovegas app provides different betting options for its users which will help them to diversify their betting experience and win even more by trying new strategies.
Leovegas provides a wide range of sports to bet on, such as cricket, football, horse racing, basketball, tennis, eSports, baseball, and others, as well as various sports events, among which are such famous as IPL, ICC World Cup, ICC T20 World Cup, T10 Cricket League, T20 Big Bash League, Wimbledon, etc.
Besides betting on sports you can bet on different online and live casino games, popular slots, such as Aviator, and others.
The Leovegas app also provides various betting markets, different types of bets, live betting, match statistics, bet builder, bonuses and promotions, and many other advantages.
Available Sports Betting at the LeoVegas App
There are many tools in the LeoVegas app for your sports betting. Many sports disciplines are available to you. Each of them has its own section where you can find upcoming matches as well as matches available for live betting. The list of sports disciplines includes:
Cricket betting;
Football;
Tennis;
Table Tennis;
Basketball;
American Football;
Bandy;
Baseball;
Boxing;
Cheese;
Cycling;
Horse Racing;
UFC/MMA;
Esports and more!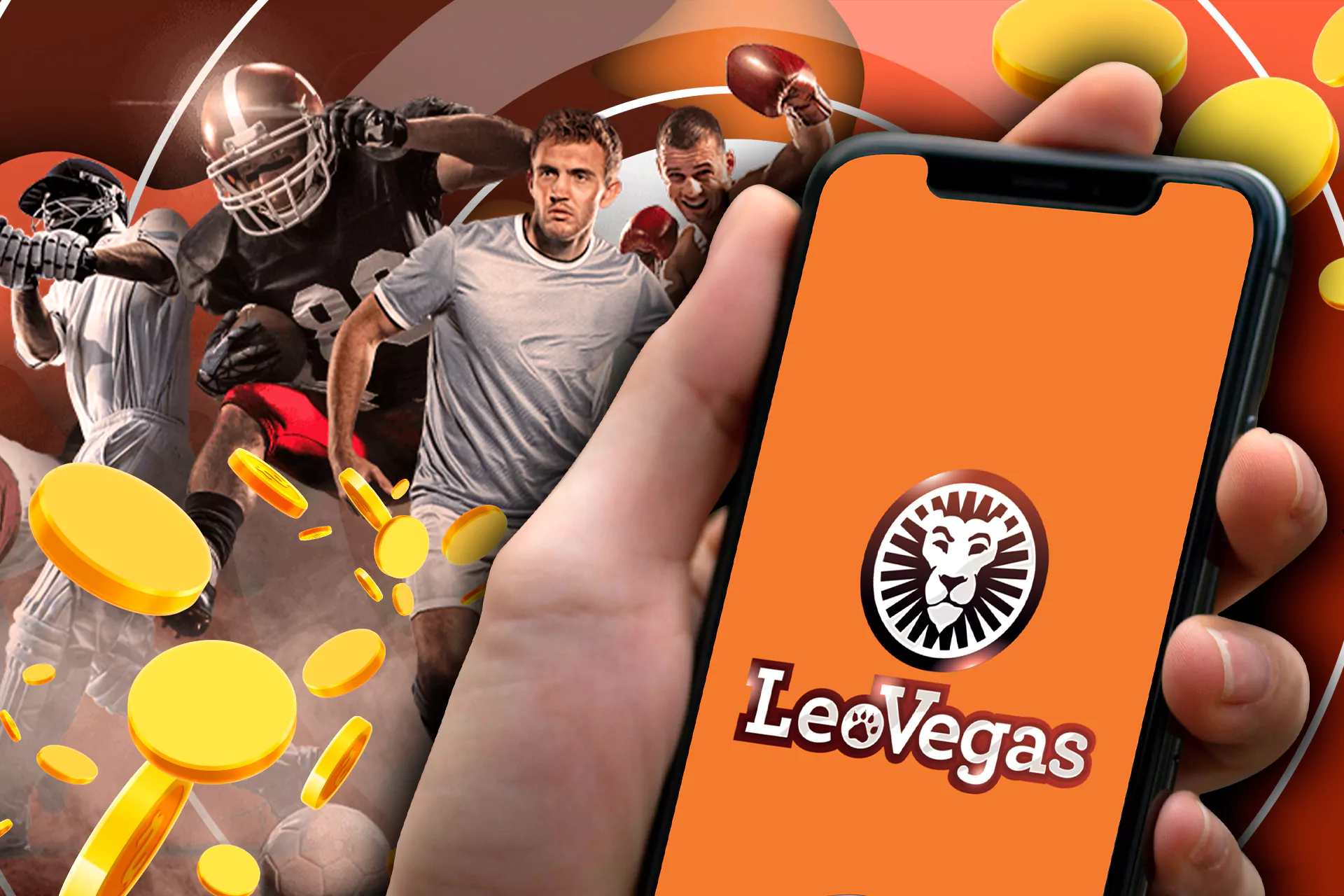 Each match involves many markets, some of which are available for betting before the match starts. Others may only be available in the LIVE format, as every moment is important and affects the outcome of a sporting event.
You can bet in real-time without any problems, but unfortunately, you cannot watch the match broadcast on LeoVegas. However, you will still be able to follow the progress of the match, as the key moments of the game are displayed on the match page in the form of a diagrammatic broadcast.
Using the app, you can quickly jump to the match page of your favorite team, place a bet and earn real money in sports betting!
How to Bet on Cricket at LeoVegas App?
The LeoVegas app has a user-friendly interface when it comes to placing real money bets on cricket or any other sport. The high-tech navigation system between sections allows you to log into the app at any time and place a bet as quickly as possible. So that you don't have any difficulties and questions about how to do it, we have prepared a step-by-step cricket betting guide for you.
So, a new LeoVegas bettor from India needs to:
Login to LeoVegas. Login to the app through the icon on your device. Create an account using the "Sign up" button. If you already have one, enter your username and password to access your personal account.
Deposit rupees. Choose one of the available payment system methods and deposit the game account. You can do this in the game account menu by clicking on the "Deposit" button.
Select a cricket match. You will find a variety of sports disciplines on the main screen of the app. Select cricket among them to go to this sport's page and select the match you want to bet on. All official matches and tournaments, including the IPL, will be available to you.
Select the outcome. On the match page, you will find many outcomes that you can bet on. Choose one of them, the odds of which you are happy with and click on it.
Confirm the bet. Now you just have to decide on your stake and confirm it. You will immediately be able to see how much you will get.
Now your cricket bet has been placed, and if you select the correct betting market, your winnings will be credited to your betting account automatically upon the conclusion of the sporting event. You will be able to request a withdrawal immediately in the LeoVegas app. This is how real money is made in cricket betting in LeoVegas App for Android and iOS!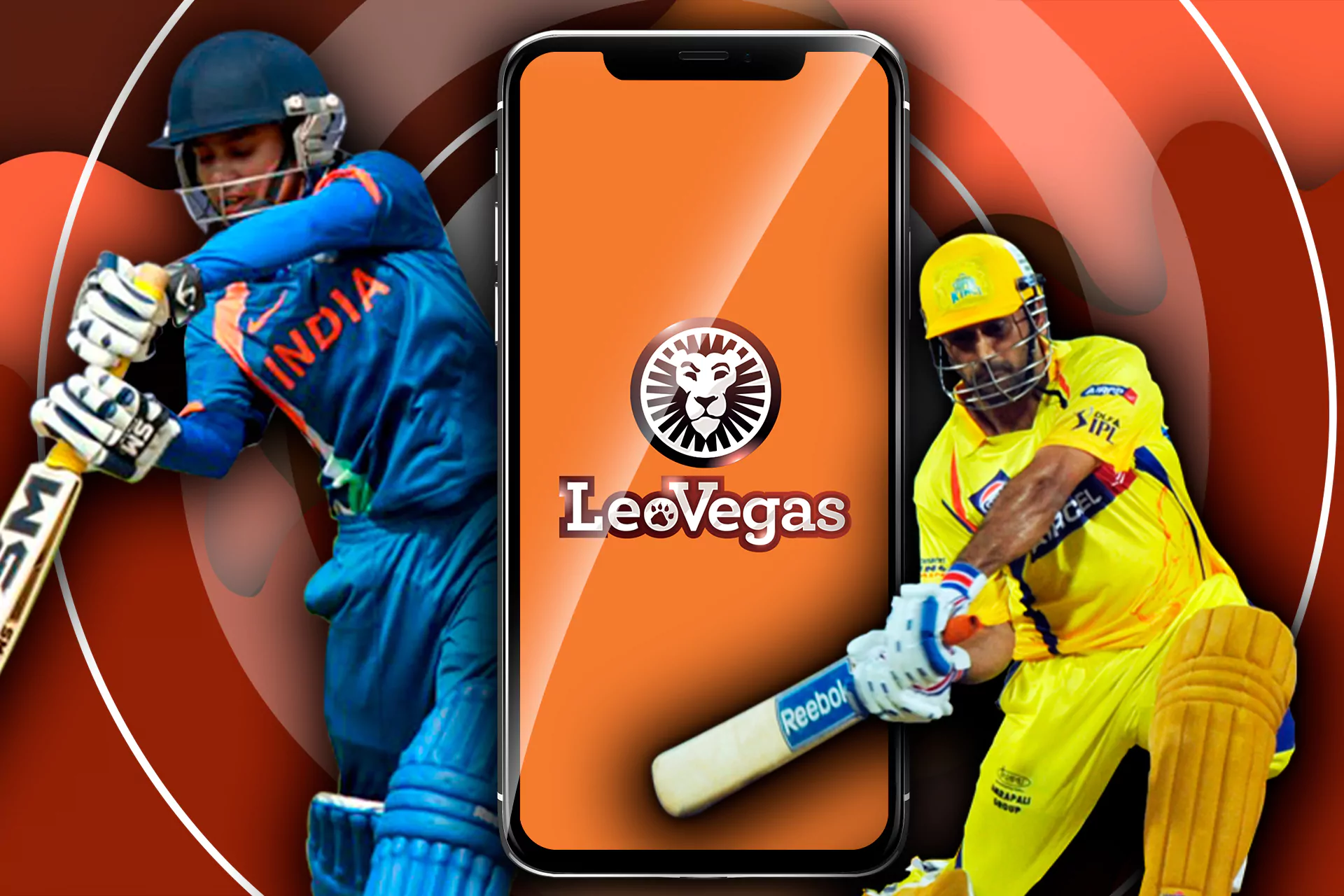 Differences Between the LeoVegas App and Website
The number of downloads of the LeoVegas app for Android and iOS is growing steadily. At the same time, the bookmaker has its own rather handy mobile website. We decided to look into it and highlighted the main differences between the app and the mobile site. You can see them in the table.
| LeoVegas India mobile App | LeoVegas mobile site |
| --- | --- |
| The need to install the app on the gadget | Any browser will work for a mobile site |
| Instant access to your LeoVegas account | You need to enter your details on the mobile site at all times to access |
| Images are integrated into the app, ensuring that pages and sections load as quickly as possible | Each graphic element takes time to load |
| Convenient notification system | Browser does not send you LeoVegas notifications |
| All real-time betting information is uploaded quickly | You need to refresh the LIVE match page for up-to-date information on markets and odds |
After an in-depth comparison between the app and the website, we were unable to find any very sweeping differences. But the app feels better and runs much faster. Pages with information load almost instantly. So for those who are very fond of their comfort, especially in LIVE betting – the LeoVegas app is recommended to install.
Leovegas Mobile Version Overview
For all users who want to bet right from their mobile devices without downloading and installing the app, Leovegas provides a convenient mobile version of the site which works on any operating system and from any browser without specific system requirements and allows placing bets on cricket or any other sports.
The Leovegas mobile version adjusts to the screen size of any mobile device, has user-friendly interface and clear navigation, and provides all the features and benefits of the platform.
All sports and sports events, casino games, bonuses and promotions, betting markets, types of bets, payment methods, fast withdrawals, and other benefits are available in the mobile version of the site.
Features of Leovegas App
Leovegas app has the following main features:
Low system requirements;
Fast operation speed without lagging even with unstable Internet connection;
Provides customer support which is available 24/7;
Provides high level of personal data security;
Updates odds automatically;
Has a bet builder;
Offers popular payment methods;
Offers bonuses and promotions;
Provides various betting markets and types of bets;
Provides live betting.
Contact With Support Through The Leovegas App
The LeoVegas app has a support team available for you. They are available 24 hours a day, 7 days a week, and will answer all your questions as soon as possible. Unfortunately, the LeoVegas team does not use Hindi, so you will get an understandable answer in English.
Here are a few ways to contact the LeoVegas support team:
If you happen to have any difficulties, you can send your query in any convenient way and receive highly qualified assistance.
With the LeoVegas app, help is always close by and available in a single click!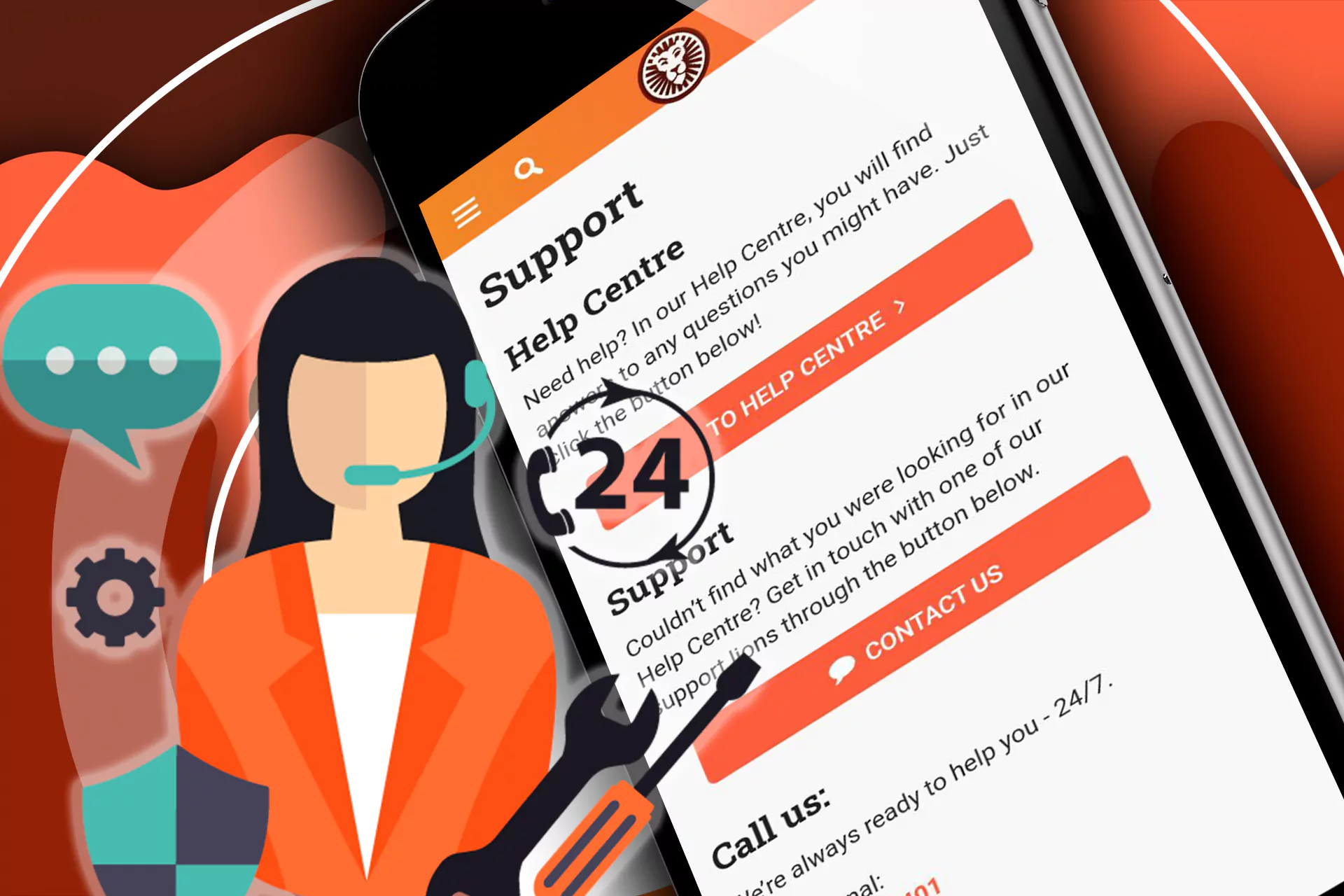 Conclusion about Leovegas Betting App
Based on all the aspects we have analysed, we have come to the unanimous conclusion that LeoVegas deserves a place in the ranking of the best cricket betting apps. The bookmaker has been successfully operating since 2011. During this time, it has been getting better and better every year and has offered bettors a comfortable environment to make real money.
The app's obvious strengths are an excellent rupee ecosystem, a user-friendly and clear interface, and a good selection of sports disciplines. The LeoVegas casino app also deserves attention. Few can boast of so much entertainment for all tastes.
In the Leovegas app you will find all benefits of the platform, such as: wide range of sports and sports events, various betting markets, different types of bets, competitive odds, bonuses and promotions, popular payment methods, 24/7 customer support, and others.
All new users of leovegas app will receive a 100% welcome bonus up to 10,000 INR on the first deposit!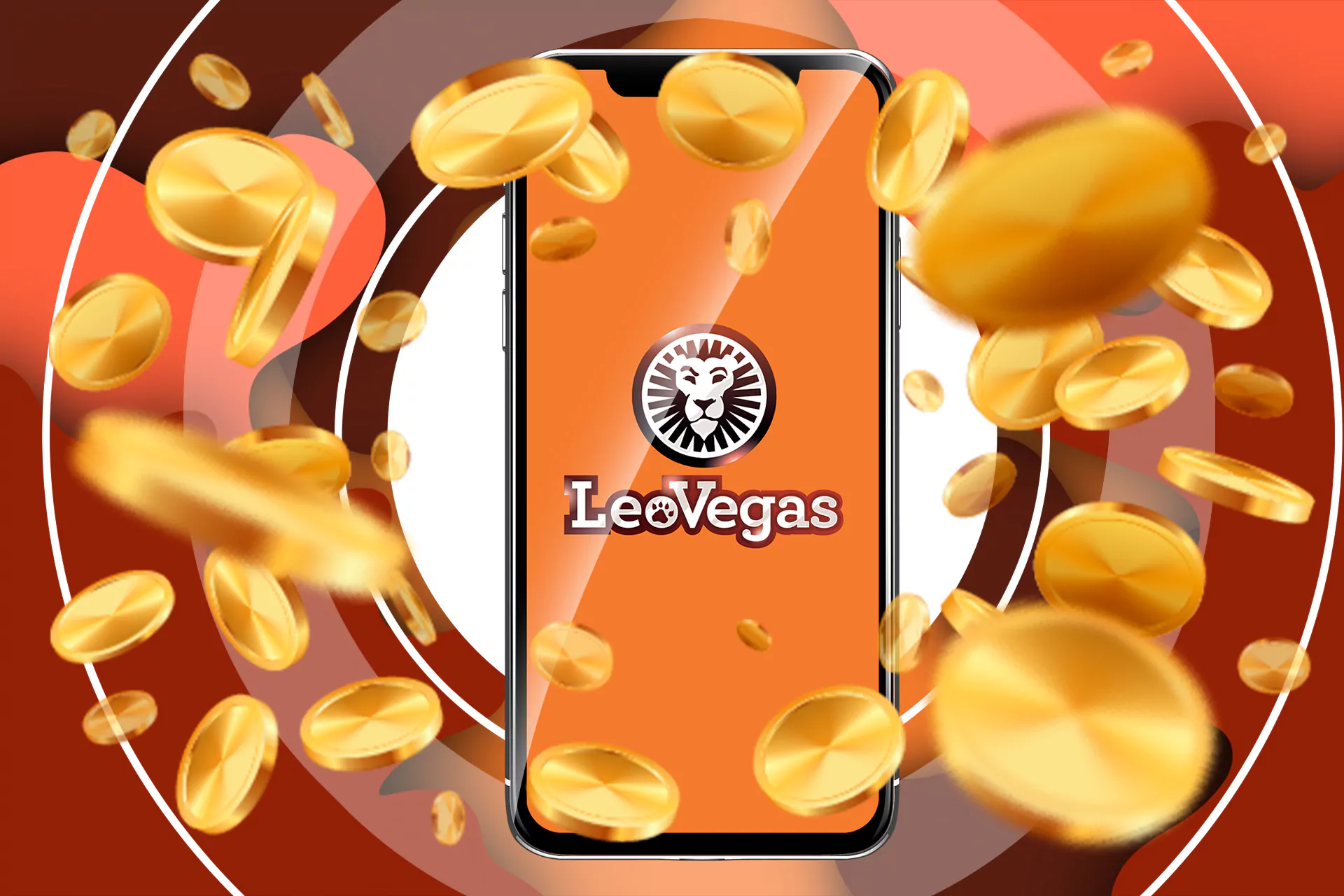 FAQ
Check out our answers to frequently asked questions by new LeoVegas users. This will help you learn more about the bookmaker.
Is the LeoVegas app legal in India?
Yes, as online betting is not illegal in India. When it comes to the credibility of the bookmaker, LeoVegas has a Swedish iGaming license. This reputable license confirms the bookmaker's honesty and shows that it can be trusted with money, which millions of LeoVegas players around the world do.
Can I win rupees in cricket betting on the LeoVegas app?
Yes, you can fund your gaming account with rupees and bet on them. Any official sports match is available for your bets. There is also a good selection of markets in LeoVegas app. So you have all the tools to make easy money in a few clicks.
Can I place LIVE bets in the LeoVegas app?
Yes, all official matches are available for LINE and LIVE betting. The odds and outcomes are loaded quickly but you cannot access LIVE match broadcasts in the app. You can, however, follow the course of the match on a schematic graphical broadcast.
Do I have to create a LeoVegas Casino account if I have a sports betting account?
No, you do not have to. One account is enough to play on all LeoVegas platforms. You can create an account in LeoVegas sports betting app and use it to play in LeoVegas Casino app.
How to download LeoVegas for Android?
To download LeoVegas app or a LeoVegas mobile app visit the official website for LeoVegas and from the about us section download the LeoVegas app. Make sure to stay away from Leovegas app fake results. Now, visit the settings section on your phone and give permission to allow downloads from unknown sources. Now with this, the LeoVegas app download for android will start. You will be able to find the downloaded version of the app in the download section of the phone.
How to download LeoVegas app for iOS?
LeoVegas app for iOS download can be done quickly as for this there is no requirement to download an .apk file from the web browser. LeoVegas app is available on the app store.
Visit the LeoVegas app store on the web browser, you will be directed to the app available in the app store. Or you can directly go inside the app store and search for 'LeoVegas: Real Money Casino'. Now, click on the LeoVegas download option to proceed.
How can I receive a mobile bonus?
There is no dedicated mobile bonus on LeoVegas casino app. Whether you have a LeoVegas app apk, LeoVegas app android, or LeoVegas app iOS, the bonus amount will be the same everywhere. The only difference is between the gadget and not the LeoVegas betting app.
Nevertheless, to receive a bonus, you have to make a LeoVegas app download, to make your first deposit and start playing.
Is LeoVegas app safe?
Yes, the application is safe. The app has been regulated and licensed in Denmark, Ireland, and Malta. LeoVegas follows the strictest regulations and licenses and has been linked to NetEnt.
Is LeoVegas safe? Is LeoVegas legal in India? Is LeoVegas legit? Are some of the common questions asked by people! LeoVegas app is safe and you can find some genuine LeoVegas casino app review which approves its legitimacy.
LeoVegas.com app has 2048-bit SSL encryption that ensures safeguarding financial and personal data, so you can rely on the casino with your personal information.
Updated: