CampoBet App Review
CampoBet India app, as well as the apps of other cricket betting sites from the ranking is a great way to bet anytime and anywhere for all mobile betting fans. The bookmaker's app is high-tech, so it shows excellent performance on most modern devices. It is secure and meets all the needs of the modern player. You will be able to bet instantly, win real money, and withdraw it to your card.
We have carefully studied the technical aspects at this stage, and below you can find introductory information about the Сampobet app.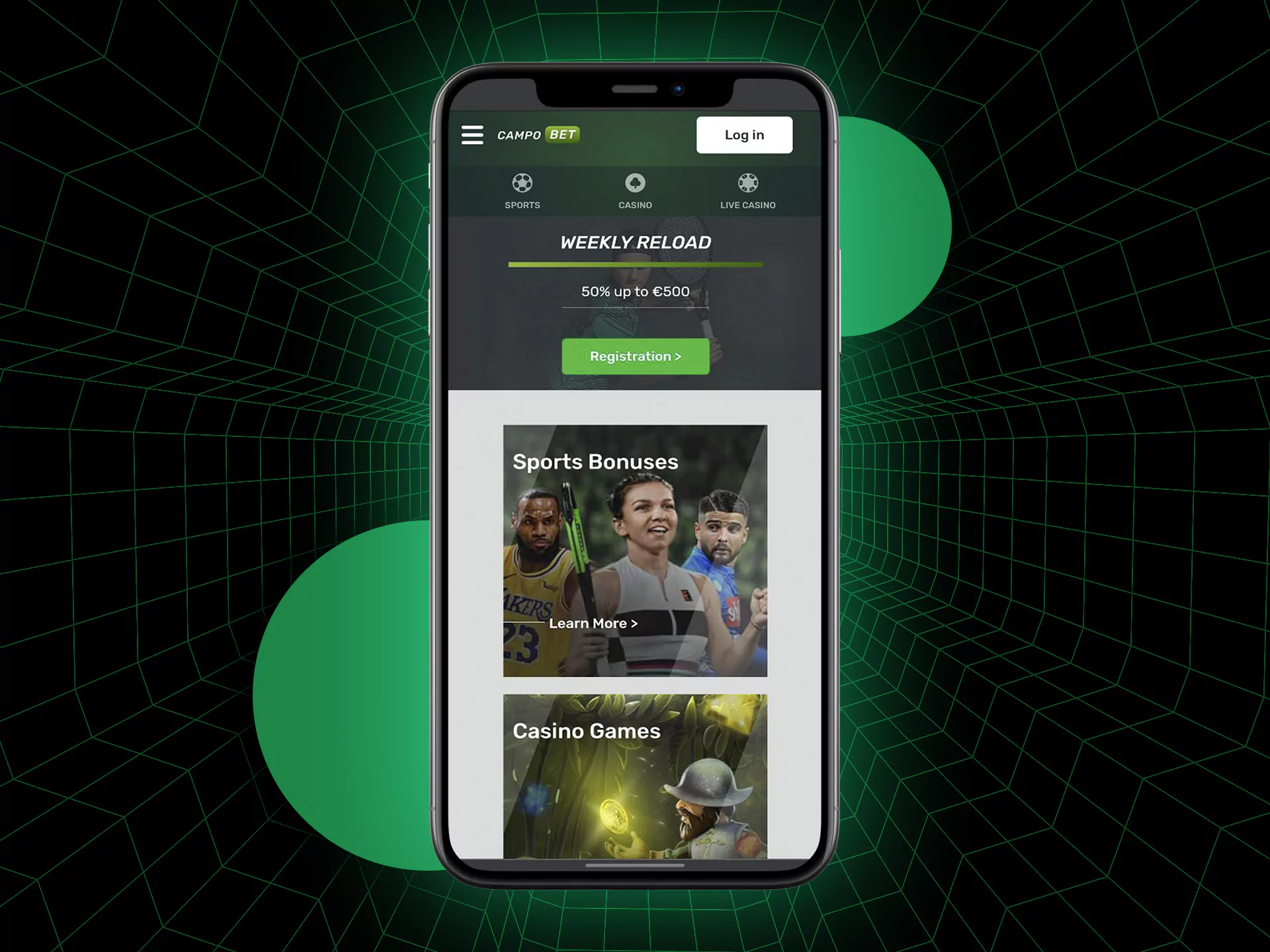 | | |
| --- | --- |
| Application version | Version 1.3.0 |
| Apk file weight | 20 MB |
| App weight | 65 MB |
| Supported operating systems | Android, iOS |
| Download conditions | Free |
| Access to broadcasts | Not available |
| Access to sports betting | Accessed |
| Availability of support in the application | Yes |
| Support speaks Hindi | Yes |
| INR Support | Indian rupees are available |
The CampoBet app allows users from India to register and bet in rupees, so it's perfect for you!
CampoBet App Screenshots
As you can see, the app has a nice design in a green color scheme. This is the color of the CampoBet brand. The interface is very pleasant, user-friendly, and intuitive, which makes it easy to use for new users.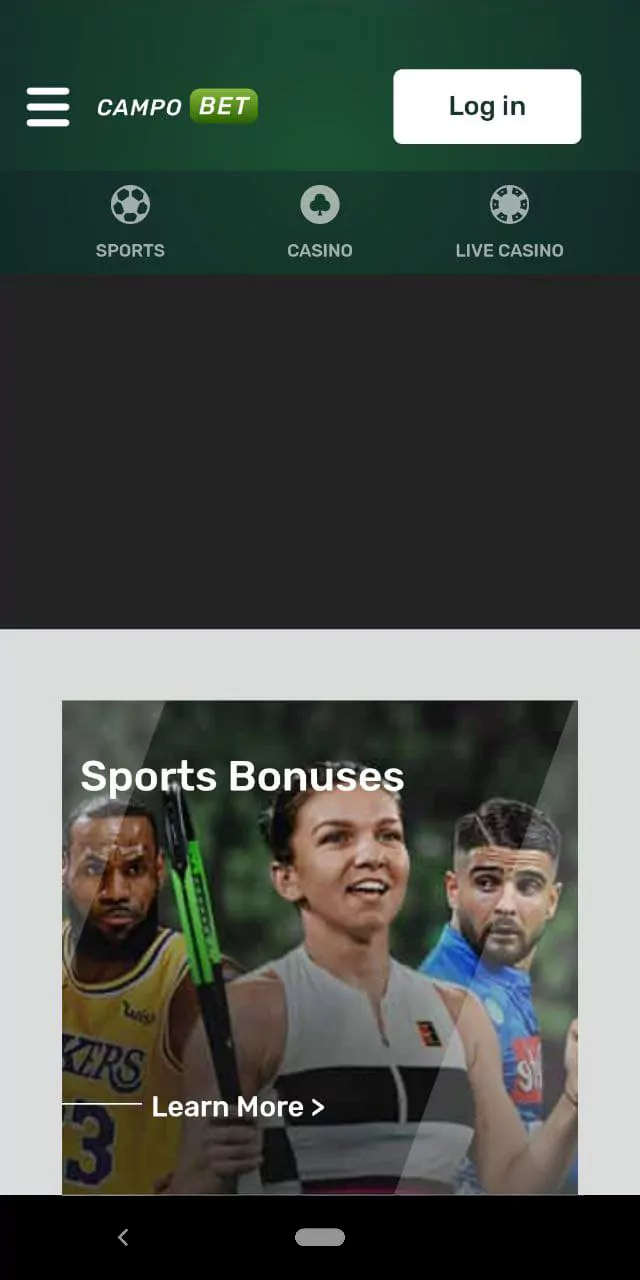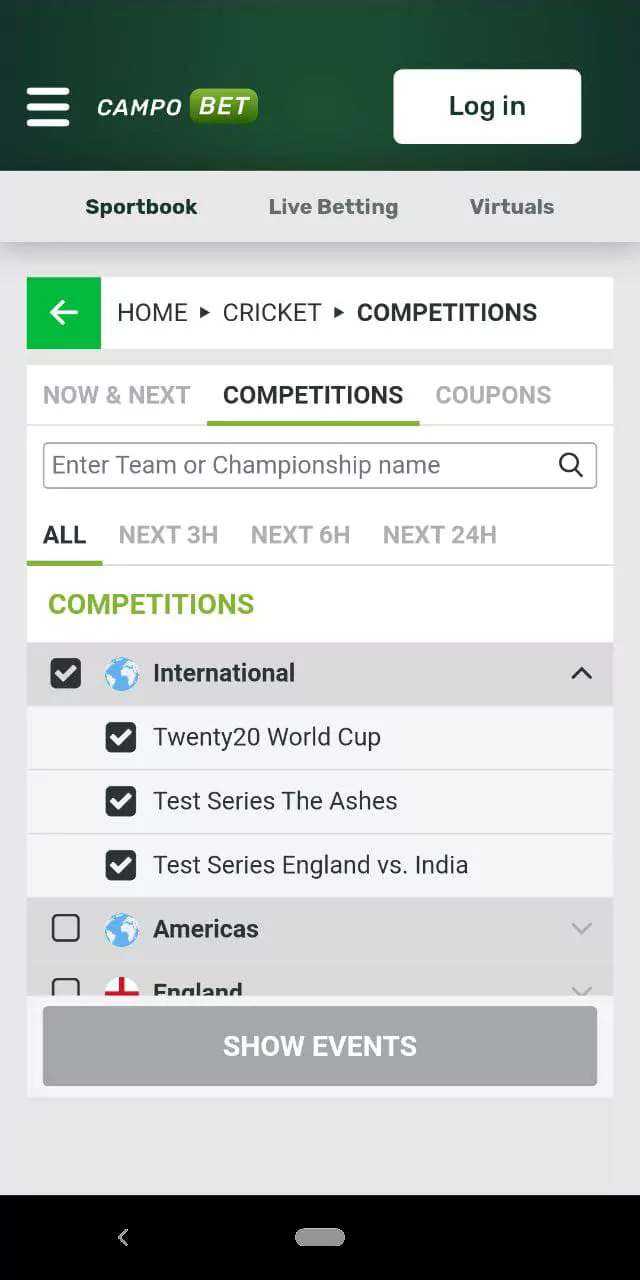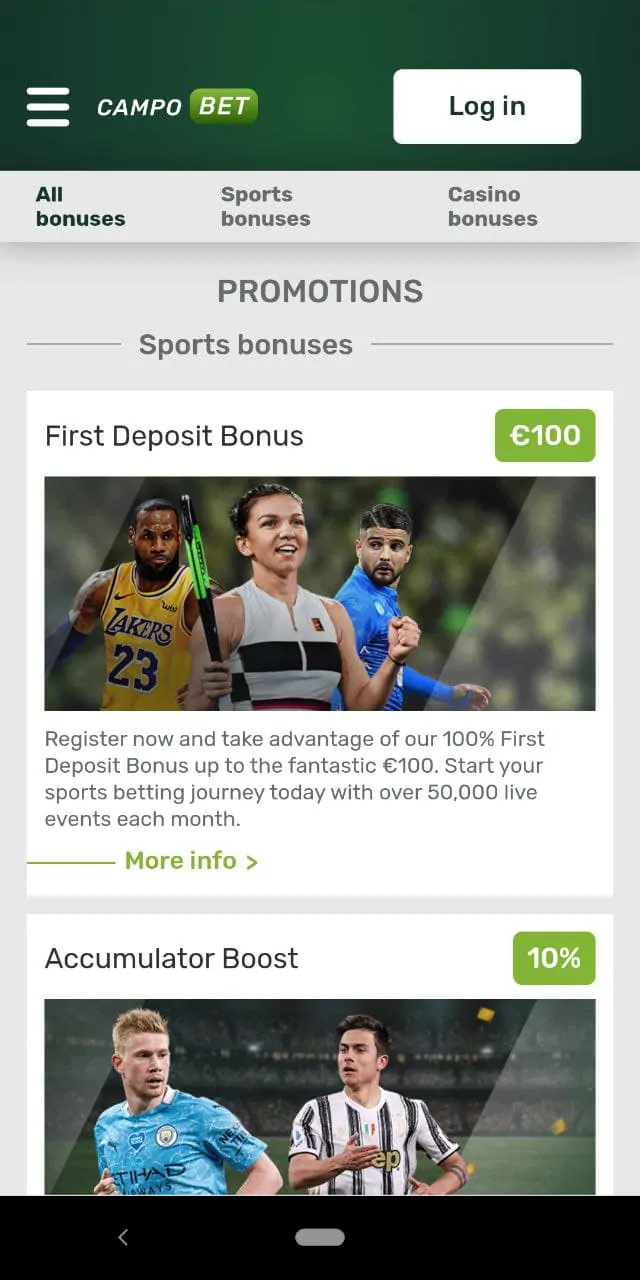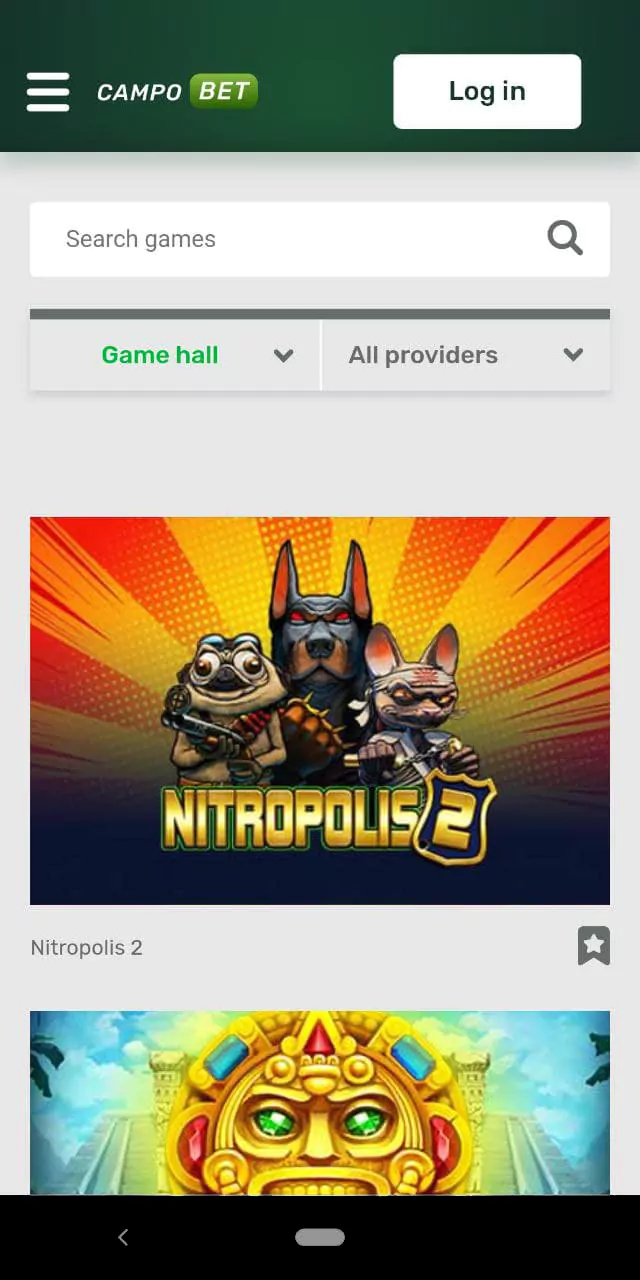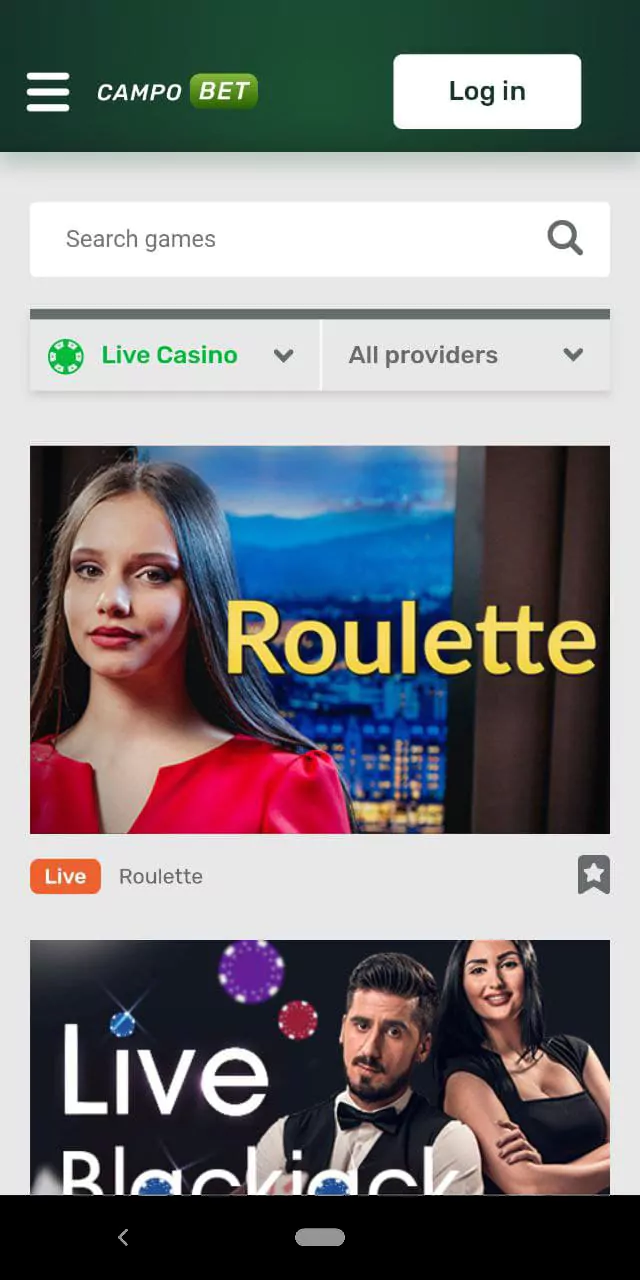 CampoBet App Pros and Cons
No application is perfect, but CampoBet is actively seeking to occupy this niche. CampoBet team studies all modern trends and wants to be the best in the Indian market, attracting players by convenience, comfort, and ease of betting. In the table below you can see the main pros and cons of the CampoBet app for Android and iOS at this stage:
| Pros | Cons |
| --- | --- |
| Low application size | Lack of live broadcasts |
| Great design and graphics | It is necessary to take the time to download |
| Intuitive interface | It takes a little time to get used to the interface |
| Quick performance without delays | |
| Loading only basic information about odds and matches | |
| Notifications about sports events and promotions | |
| There is a support service | |
| Accepts rupees | |
| Hindi Support | |
As you can see from the table, there are indeed many advantages. Considering the fact that the application is being finalized, the final version will be even better and faster!
Download CampoBet for Android (.apk)
At the moment, the application is not in PlayMarket, as it is in the last stages of completion. Very soon the CampoBet team will release the app to the public and you will be able to download it using our guide. The app is developed by professionals, so it is absolutely safe and will not harm your device.
For your convenience, you have compiled the steps to install the app from the official site. Check them out, and as soon as it's available, you'll be able to quickly download and install it on your Android device.
So, you will need to:
Visit the CampoBet website. Log in to the official mobile version of the CampoBet website using your Android device.
Go to the CampoBet applications section. It is located in the site menu. You can also request a link from the support.
Download the CampoBet app. Download the CampoBet APK file on your Android device.
Check the security settings. In order to install an application from a third-party source, you must allow the device to do so. To do this, go to "Security" in the settings of your Android gadget.
Install the app. Click on the downloaded APK file and install it on your device.
Register and log in to your account. Create an account for yourself and login into your CampoBet account.
Everything is ready for your mobile game on CampoBet!
Now you can easily choose a sport discipline, match, outcome, and bet in one tap!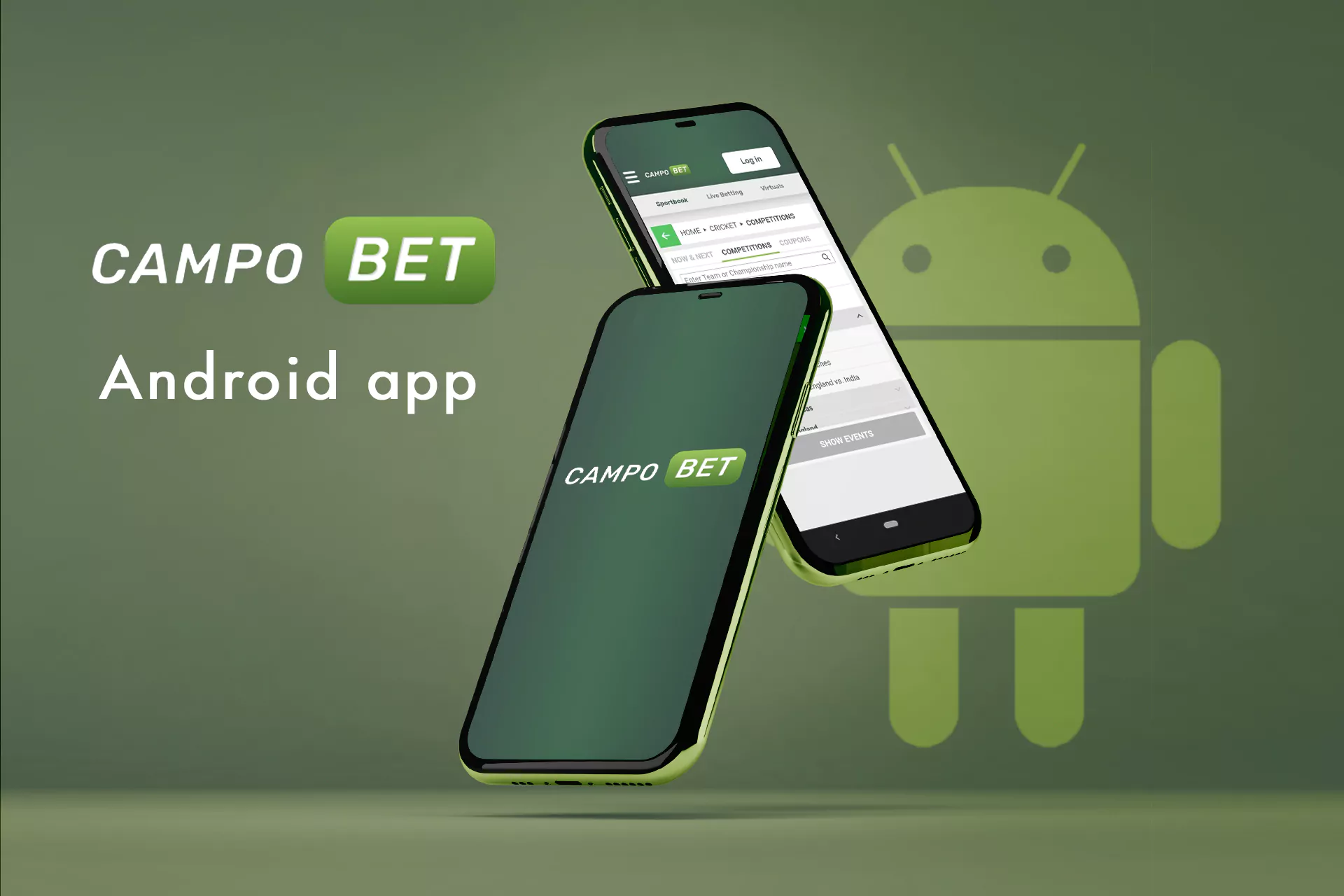 System Requirements of the CampoBet App for Android
The CampoBet app will work great on most modern devices because it is perfectly optimized. The entire interface automatically adjusts to the display settings of your Android device. In our table, you can see the minimum system requirements for the most comfortable betting process!
| | |
| --- | --- |
| Android | 5.0 or higher |
| RAM | 512 MB |
| Processor power | 1 GHz |
| Memory space | 65 MB |
Remember that a stable Internet connection is also necessary for stable performance. If you have small lags, errors, backlogs, then most likely your Android device does not meet the minimum requirements. In that case, it would be better to use the mobile version of CampoBet.
Android Devices on which the CampoBet App is Available
CampoBet is doing everything possible to make their betting experience more convenient for as many players around the world as possible. For this reason, the system requirements are really low.
To give you a better idea of whether you can use the CampoBet app, we have provided a list of popular Android devices below:
Xiaomi Mi 9 SE;
Moto G7;
Sony Xperia XZ3;
HUAWEI Mate 20 Pro;
Honor View 20;
Samsung Galaxy S9 Plus;
Xiaomi Mi Mix 3;
OnePlus 7 Pro;
Google Pixel 3;
Samsung Galaxy S10 Plus;
Asus ZenFone 5 Lite.
These are just a few examples that will have excellent performance. If your phone is no older than 5 years, you can be sure to get good vibes!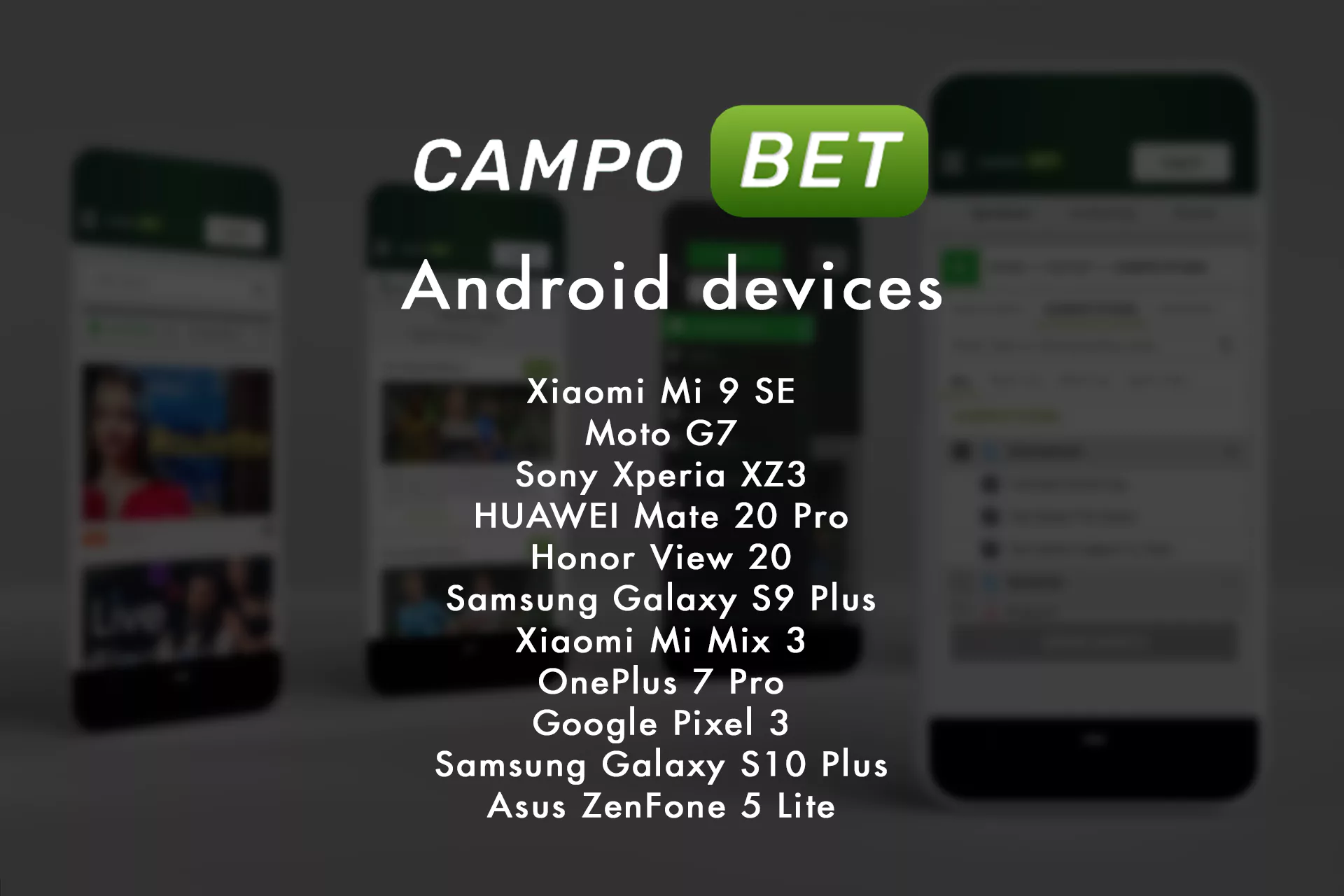 CampoBet App for iOS
Thanks to our manual, it won't take you more than ten minutes to install the app on your iOS device. The CampoBet app is also still under development, and in the final stage will provide all betting options and then you can safely download and install it using our mini-tutorial.
So, in order to play CampoBet with your iPhone, you need:
Go to CampoBet. Go to the official CampoBet page.
Download the App. Click "Download App" and start downloading it to your iOS device.
Install the app. Wait for the end of the download and see the CampoBet icon on your home screen.
Login to the CampoBet app. Login to your game account, or create one if you haven't already.
Top up your game account. Choose from a list of methods the most convenient for you.
The app is currently not in the AppStore and is under development, so you shouldn't waste your time looking for it.
As soon as the app appears, we'll attach a link for you to safely download it!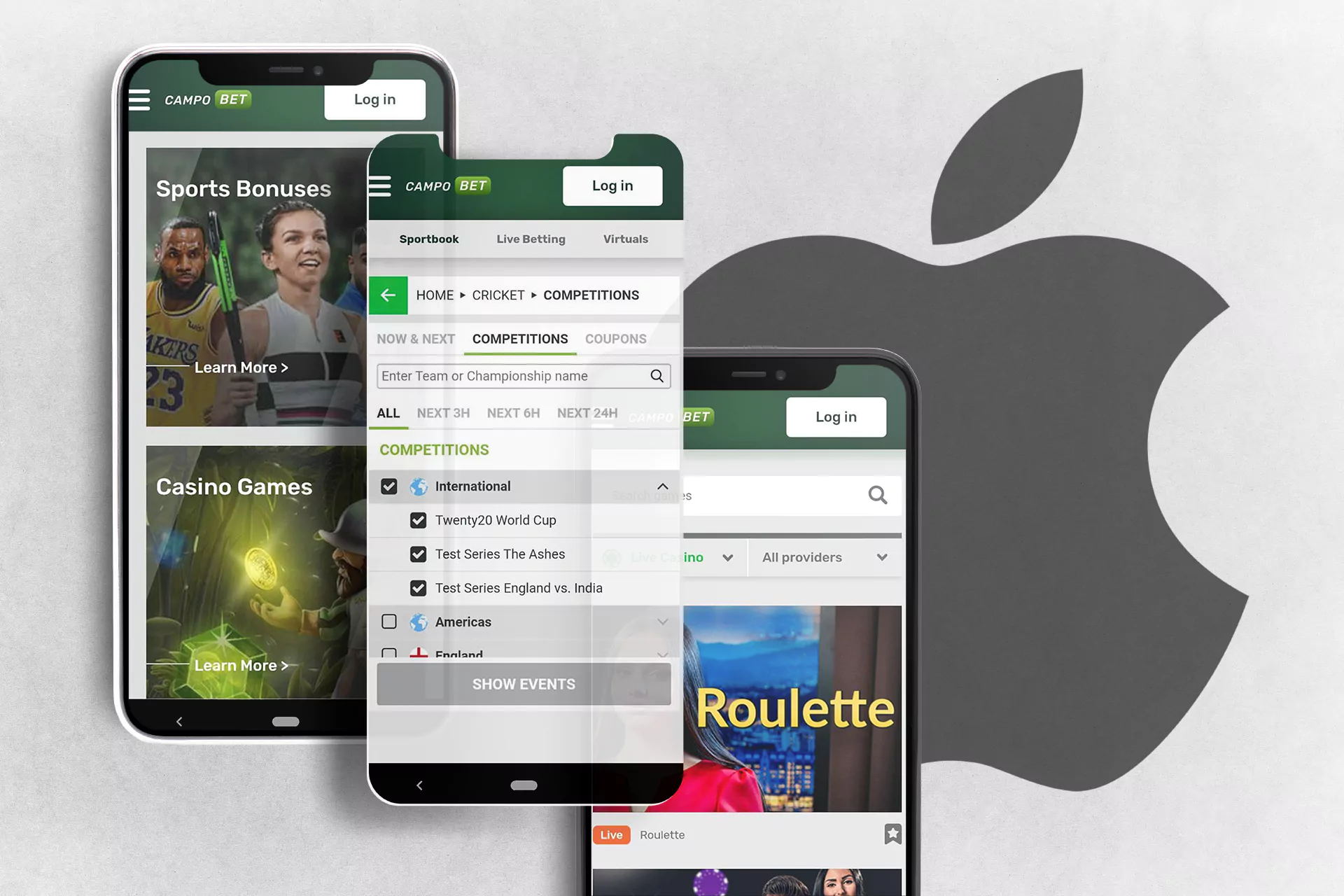 System Requirements CampoBet App for iOS
Most Apple devices are great for using the CampoBet iOS App. Below you can see a table with the minimum system requirements for your gadget.
| | |
| --- | --- |
| iOS | 11.0 |
| Memory space | 87 MB |
| Processor | 1.2 GHz |
| RAM | 1 GB |
If the app on your device lags, runs with delays or graphical lags, then most likely your gadget does not meet the minimum requirements. If this is the case, we recommend using the mobile version of the CampoBet website.
iOS Devices on Which the CampoBet App is Available
Below is a list of iOS devices on which you will have a great experience using the CampoBet app.
iPhone 6;
iPhone 6s;
iPhone 7;
iPhone 7 Plus;
iPhone 8;
iPhone 9;
iPhone X;
iPhone XS;
iPhone XR;
iPhone 11;
iPhone 11 Pro;
iPhone 11 Pro Max;
iPhone 12 Mini;
iPad 2.0;
iPad Pro;
iPad 4;
iPad 8;
iPad Air.
If you own one of these gadgets, install the app and win real money!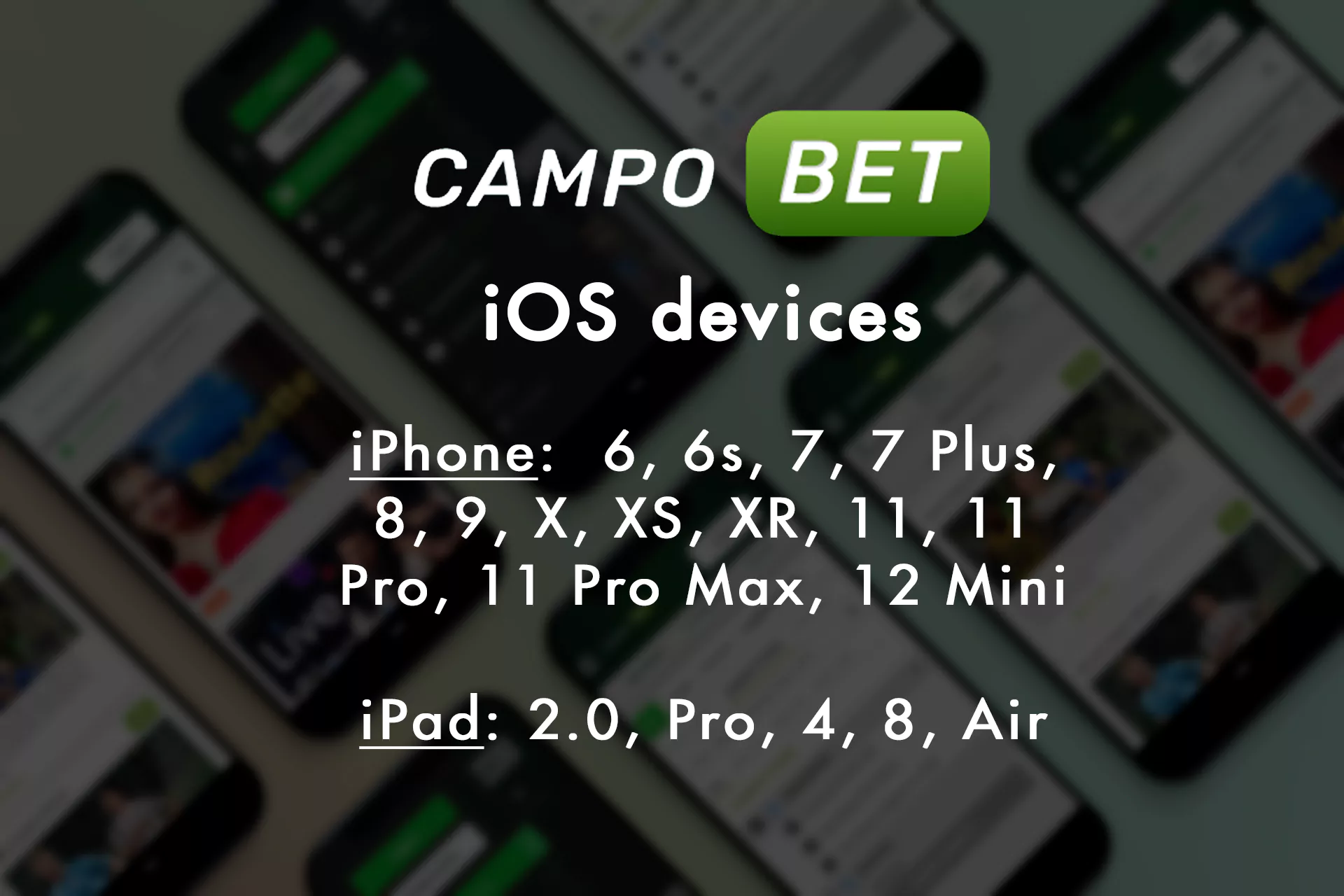 Update the CampoBet App to the Latest Version
Updating the CampoBet India app for Android and iOS is easy. If any new update or add-on is released, you will be prompted to update to the latest version when you log in to the app.
You can also do this yourself through the official CampoBet website. To do this, go to the applications section, then download and install the latest version on your device.
But if you have downloaded this application or any other cricket betting applications from our website, you can be sure that you have installed the latest version.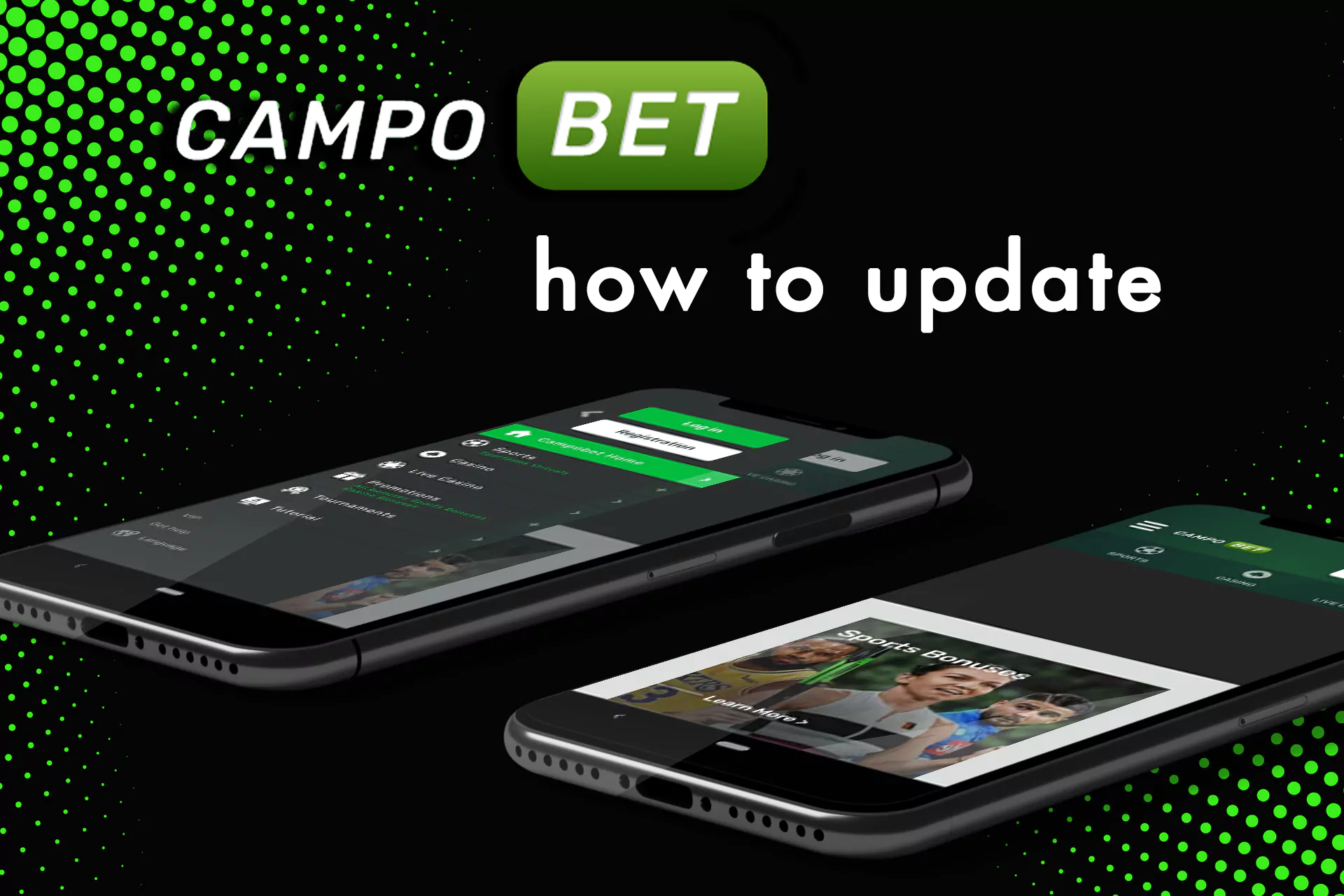 CampoBet Bonuses in the Mobile App
With the mobile app, users have access to all of CampoBet's functionality, including nice bonuses. CampoBet actively attracts new players and allows new players from India to get cool welcome bonuses that will help them have a great experience and win lots of real money!
Bonus For the First Deposit
CampoBet has bonuses for several types of players. You can get a bonus on both sports betting and CampoBet Casino. The following bonuses are available for players from India:
If you are a sports betting enthusiast, you can get a welcome bonus of 100% on your first deposit of up to 8000 rupees!
So, if you replenish your gaming account with 8,000 rupees, you will get 16,000 and you can win even more!
If you prefer an online casino, CampoBet gives you the opportunity to get a 100% bonus of up to 30,000 rupees to play in the casino, as well as 200 Free Spins.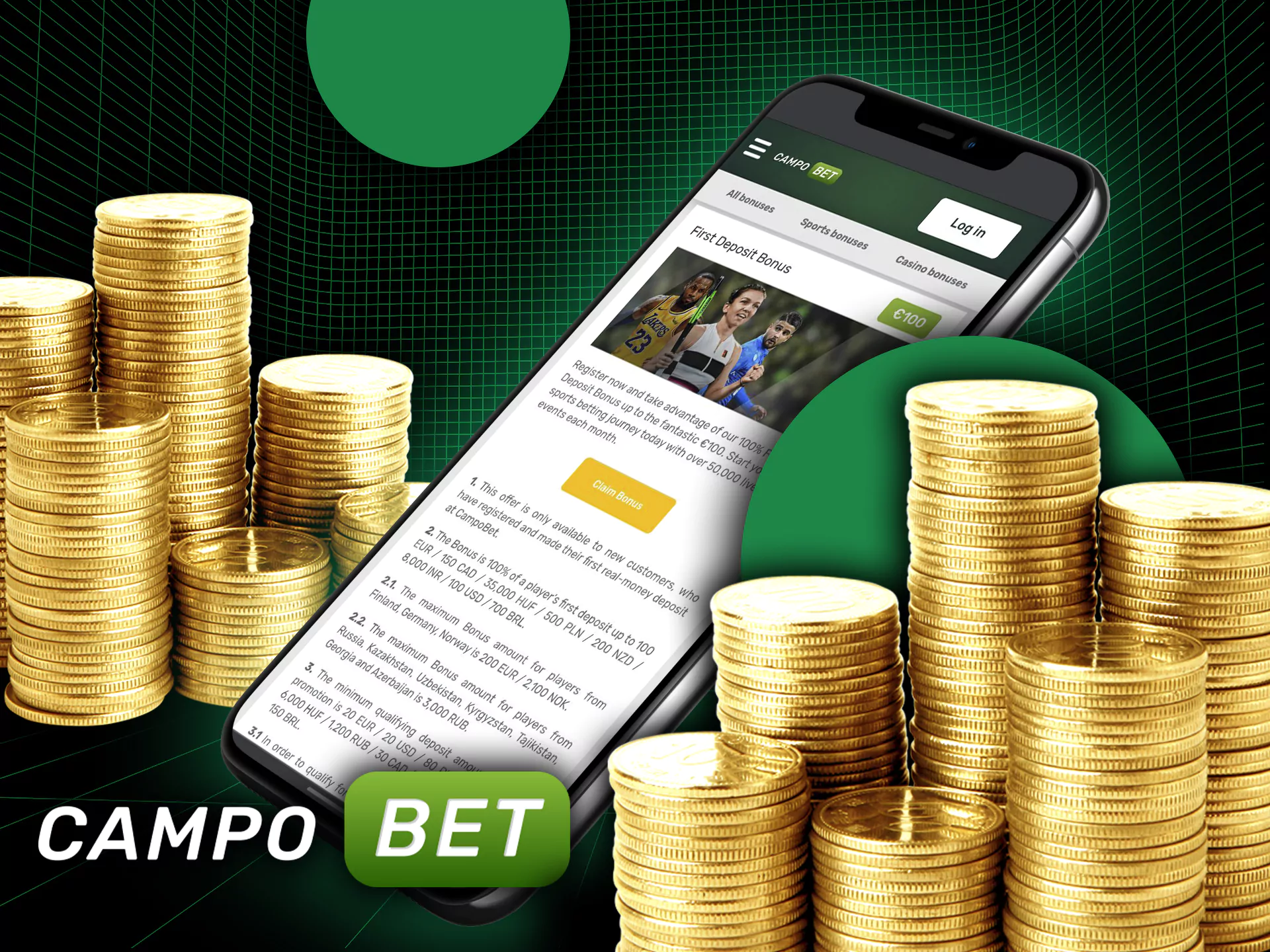 Bonus On Expresses
Expresses are a special type of betting. The player bets simultaneously on several sports confrontations, at different odds. However, the sum is the same.
It is a combination of several outcomes into one.
How does it work?
Let's say there are 3 matches with different odds on the winner of the match.
You make an express bet of 1000 rupees on the winner of each of the matches. The odds are multiplied by each other. So, if you guess in all three cases, you win the bet at odds of 5.1 and get 5,100 rupees to your betting account!
Cool, isn't it? So hurry up to predict and bet on expresses in the handy CampoBet app!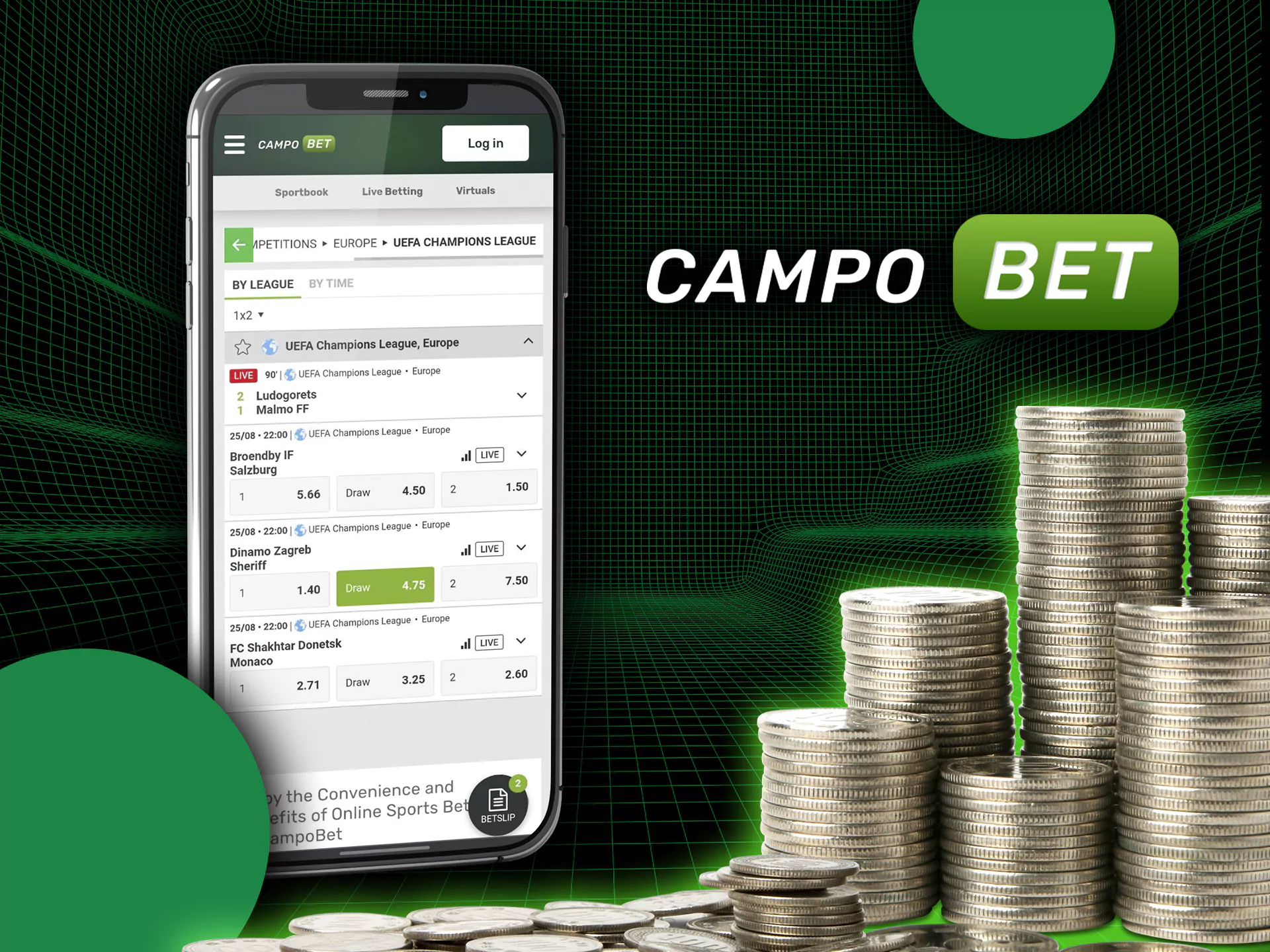 Cashback
In the app, you will also have access to CampoBet Cashback. The cashback system allows you to get up to 16,000 rupees a week, which is a bit of insurance for your failures if there are any.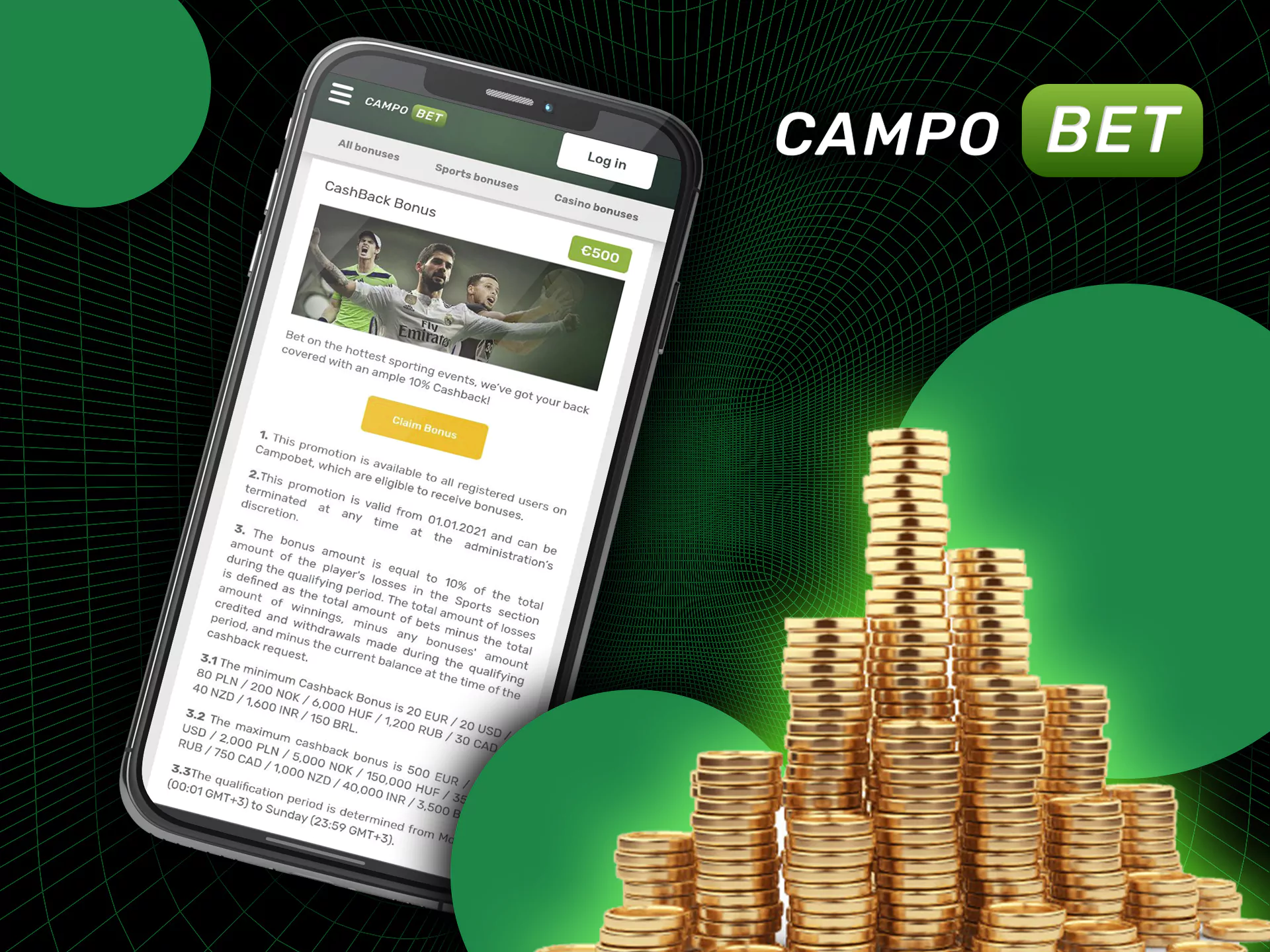 And that's not all! CampoBet also often pleases active players with Free Spins, Free Bets, and promo codes as part of promotional campaigns. They allow you to receive bonuses to your game account.
You can follow them on CampoBet's social networks:
Facebook: CampoBet;
Instagram: CampoBet_com.
Subscribe and stay up to date with the latest bookmaker news!
Payment Methods
CampoBet operates in many countries around the world and tries to make sure that any user from any region can quickly recharge his account. For this reason, in the app, there will be a large number of deposit methods available to you, from which you can choose the one that suits you best.
The deposit process in the app is very fast, you can do it in a few clicks in your personal cabinet. Among the main deposit methods available in the CampoBet app are:
UPI;
Visa;
Master Card;
Ether;
Bank Transfer;
EcoPayz;
Paysafe and other.
Players from India can replenish the game account and make bets in rupees.
With the help of applications and mobile sites, you can not only deposit the game account but also withdraw your money in a few clicks.
All money transactions on CampoBet are secured so you have nothing to worry about.
The minimum deposit amount is ₹800, and the minimum withdrawal limit is ₹1600.
Don't forget that your first deposit determines how much bonus money you get in your gaming account, so it might be worth making as big a deposit as possible up to ₹8000!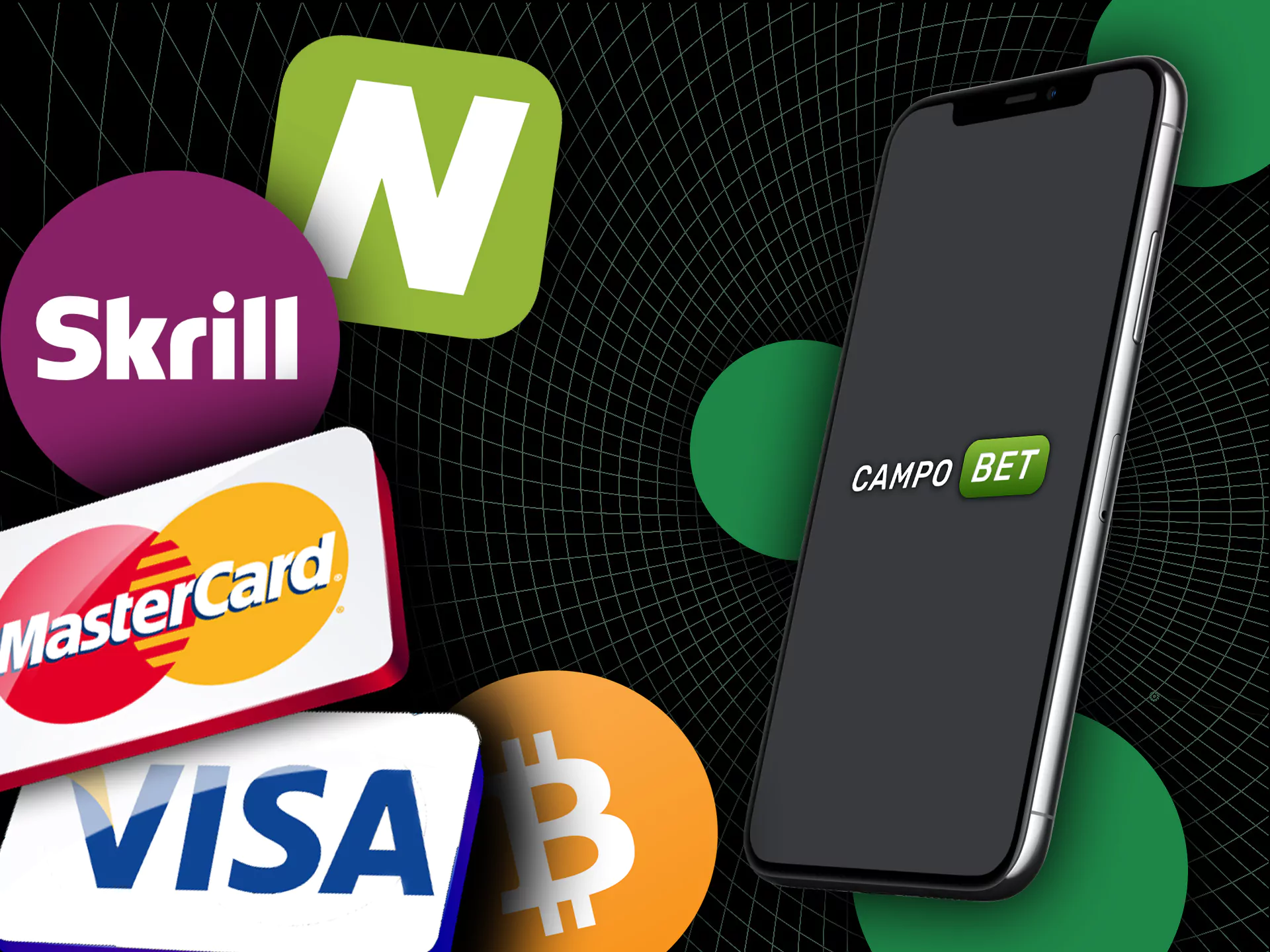 Differences Between CampoBet Mobile App and Website
The app has the full functionality of CampoBet, but the mobile site is also very easy to use. Then the question may arise whether it is worth downloading and installing the bookmaker's app. In order for you to answer this question for yourself, below you can see the key differences between the website and the app.
| App | Website |
| --- | --- |
| Excellent graphics are included in the functionality | Graphic elements require additional downloads |
| Only the basic and necessary information is loaded | All information from the page is loaded, including banners and images |
| Maximum quick access | You need to go to the browser, then go to the site and to the account |
| Quick monitoring of coefficient changes | The odds don't change that fast |
| Minimum requirements must be met | Works on any device |
| Ability to receive notifications | No ability to receive notifications |
As you can see from the table, although the CampoBet website is quite good, the app has a number of advantages, which is why it is so popular among Indian players.
Bet Types in the CampoBet App
The CampoBet app is a compact and high-tech version of the site. It conveys absolutely all functions, so all sports disciplines will be available to you. You will also be able to quickly navigate between them in a single click, see the schedule of upcoming events and quickly place bets.
The app is available to you:
Cricket;
Basketball;
Tennis;
Table Tennis;
Boxing;
Rugby;
Cybersports;
Cycling;
Darts;
Volleyball;
Football and much more.
Each of these sporting disciplines is constantly filled with well-known and obscure opponents. You can also always bet on different championships in teeming sports. For example, bet on the Indian Premier League, T20, The Ashes and other tournaments if you are fan of online cricket betting.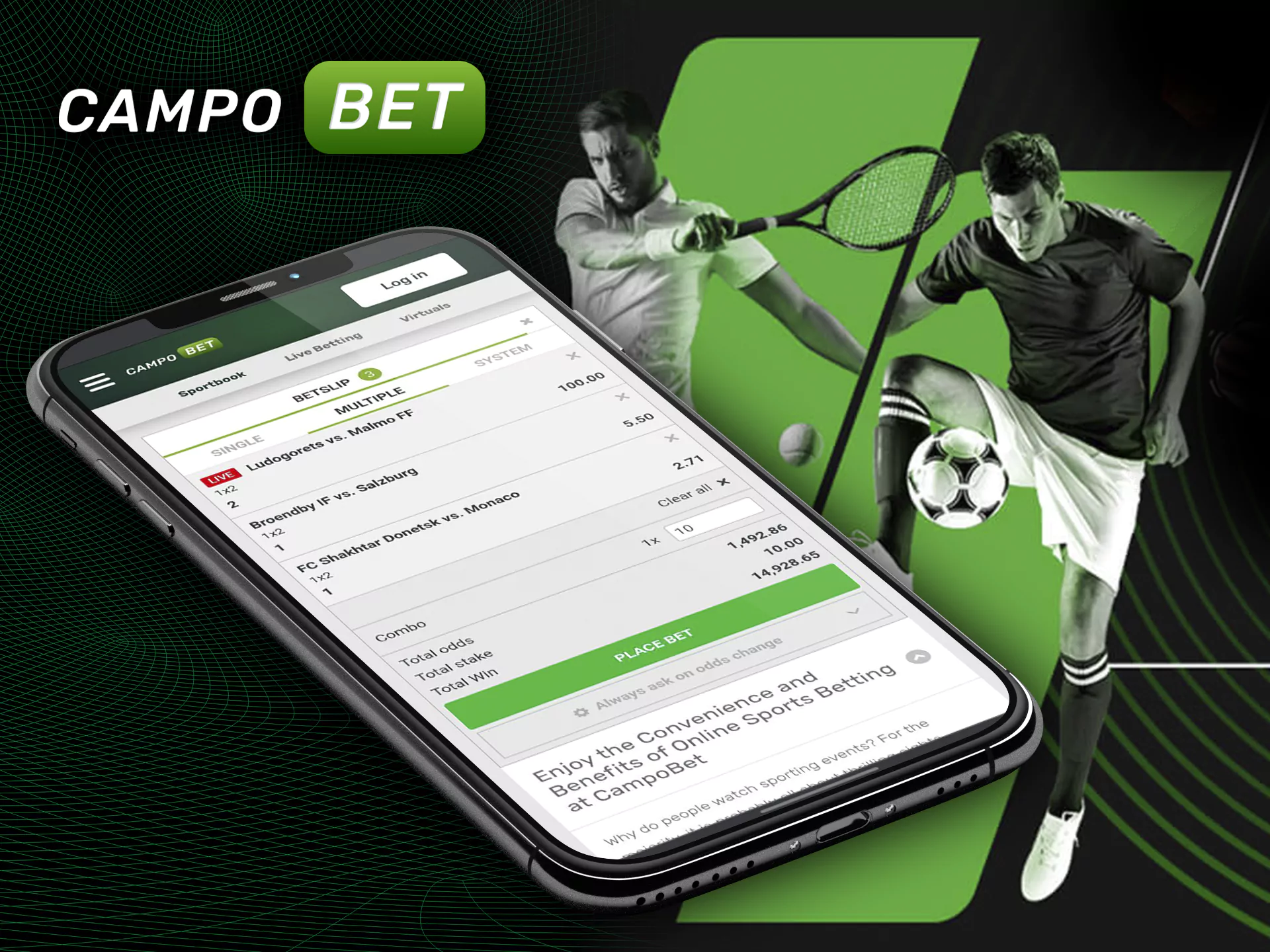 Conclusion
The app is currently in development. The CampoBet team analyzes all trends of modern mobile gambling and strives to create the best app. Very soon CampoBet will introduce its free, secure, and feature-rich app for Android and iOS, which will make life much easier for betting fans all over the world and in India. All we have to do is wait a little while, but in the meantime, you can take advantage of the cool mobile version of the site!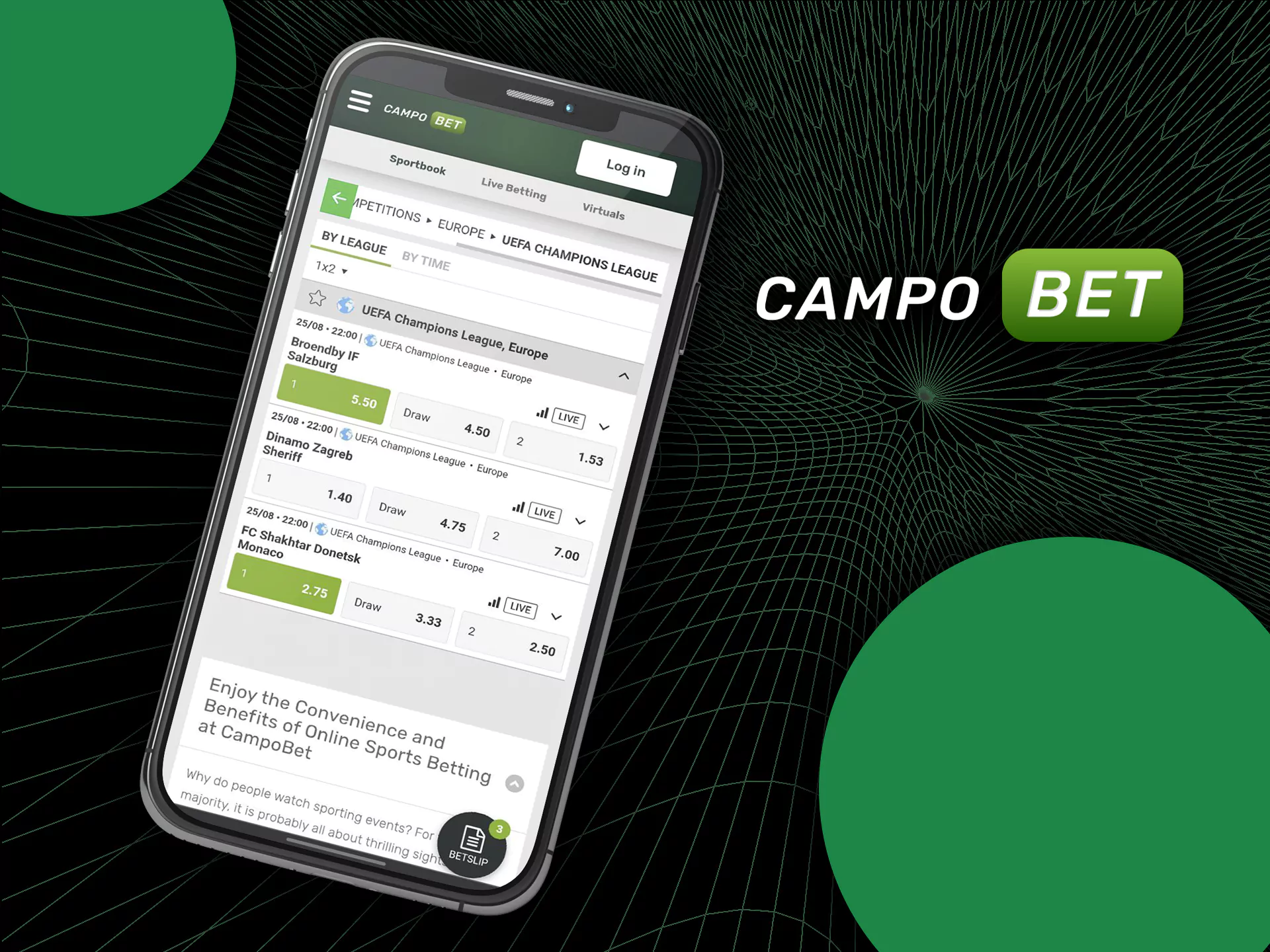 FAQ
We've gathered for you some basic questions about how the CampoBet app works in India. By reading through them, you'll have a good understanding of how to interact with the app and be able to win as quickly and easily as possible!
Is it possible to download the CampoBet app file on Google Play?
This is not possible at the moment. The application is under active development. Soon the CampoBet team will present it to the players. You will be able to download and install it from the official website.
Can I find a CampoBet app for iOS featured on the App Store?
No. The iOS app is also under active development. But very soon you will be able to download it from the CampoBet mobile site.
Is the CampoBet app free?
Yes, the app will be completely free and legal for all players from India.
Why isn't the app on Play Market?
Because the application is under active development. Right now you can use the mobile version of the CampoBet website.
How to log in to the CampoBet app?
In order to enter the application CampoBet you need to download and install it from the official website.
Do I need a separate registration for the mobile app?
No. One CampoBet account will work for the web version, the mobile version of the site, and Android and iOS apps.
Can I get a second account?
No. One account is provided for one player, as CampoBet adheres to the principles of fair play.
Can I withdraw the bonus money from the app?
Yes, you can receive and withdraw money after certain conditions are met.
Can I play from two devices simultaneously?
Yes, you can play on one account using several different devices.
Is it safe to use this promotional code?
Yes, it's perfectly safe. Promo codes are given to players in honor of any popular and hot sporting events. You can use them to get a nice bonus on your gaming account. It will not harm your account.
Can I change my contact information?
Yes, you can change the information in your personal cabinet at any time. However, the new information will need to be verified.
What will happen if I get a phone call during a casino game?
If you made a bet before the call and you have a good internet connection, the bet will be successfully accepted and you will receive the winnings in your gaming account.
Why can't I download the app to my phone?
Because it is currently under development. However, you can use the quick and easy version of the mobile site.
What should I do if the client does not start?
If the app does not start, try uninstalling it and installing it again on your device.
Are there any games in the PC version that aren't in the app?
No. The entire feature set will be available to you in the app and in the mobile version of the site.
Updated: