Sunrisers Hyderabad – Team Profile
| | |
| --- | --- |
| Team name | Sunrisers Hyderabad |
| Nickname | Sunrisers, SRH, The Orange Army, Eagles |
| Founded in Year | 2012 |
| Home Ground | Rajiv Gandhi International Cricket Stadium |
| Team Owners | Sun TV Network |
| Captain | Aiden Markram |
| Vice-captain | NA |
| Head Coach | Brian Lara |
| Rent Players | NA |
| Brand Ambassador | VVS Laxman |
| Jersey | Orange and Black |
| Theme Song | The Sunrisers Anthem |
| Fan-made Song | Go, Go Orange Army! |
| Major Rivals | Chennai Super Kings, Mumbai Indians |
| Logo | An orange eagle in the spread-eagle posture with the sun behind its head, face turned sideways, and the name of the team present in big, bold font across its body |
Sunrisers Hyderabad History
Since their IPL debut in 2013, the Sunrisers Hyderabad have built an efficient image of themselves. The side is seen as a disciplined outfit well aware of its strengths and weakness that has the ability to exploit all available resources to their maximum potential. This potent approach has helped them garner several significant results over the years, including a historic run to the title in 2018.
2013. The franchise's story began in 2013 albeit not from scratch. The team already had 20 players available in their squad that were retained from the erstwhile Deccan Chargers, meaning there were only limited slots to fill. As a result, Sunrisers Hyderabad cricket ended up acquiring the services of the likes of Quinton de Kock, Thisara Perera, and Darren Sammy to form a strong and stable core that also included Kumar Sangakkara, Cameron White, Shikhar Dhawan and Dale Steyn. The captaincy was handed to Sri Lankan legend Sanga but was soon stripped away due to poor performances, making Cameron White the second-ever captain of the franchise. The combined efforts helped the team finish fourth in the maiden season after losing in the eliminator to Rajasthan Royals.
2014. The next two seasons were lukewarm and disappointing, with Sunrisers Hyderabad cricket ending up in sixth place on both occasions. First, 2014 saw another inexplicable captaincy switch take place from Shikhar Dhawan to Darren Sammy, their efforts garnering only six wins in 14 games.
2015. The following season was played under the leadership of David Warner with similar results, again leading to a less than 50% win ratio. However, the Australian opener rediscovered his personal form in the season and emerged as the orange cap winner.
2016. Thus, an in-form Warner propelled the team forward in 2016 alongside Dhawan. The duo found effective support from the pace pairing of Bhuvneshwar Kumar and Mustafizur Rahman to finish third in the group stages with eight wins and qualify for the playoffs for the second time in their history. The Orange Army went on to defeat Kolkata Knight Riders, Gujarat Lions and the Royal Challengers Bangalore in an unprecedented knockout-stage run to deliver a historic first IPL title to the owner of Sunrisers Hyderabad, which remains their only triumph to date.
2017. Thereon, the team finished in the top for each of the next four seasons, their efforts largely headlined by Warner, Bhuvi, Dhawan and Rashid Khan. The team claimed third spot in 2017 but were ejected in the eliminator.
2018. Sunrisers Hyderabad topped the group in 2018 en route to the final, despite missing out on the services of David Warner due to the ball tampering scandal. However, a Shane Watson masterclass worth 117 runs off just 57 balls ensured the title was kept out of Hyderabad's hands.
2019. With new skipper Kane Williamson also having followed in Warner's footsteps to claim the orange cap the previous season, Sunrisers Hyderabad cricket entered 2019 as a confident bunch but failed to replicate the same level of success. Nevertheless, another prolific Warner campaign ensured the team at least made it to the playoffs in fourth place only to be knocked out at the first step by the Delhi Capitals.
2020. The Australian opener reclaimed captaincy for the 2020 season and again led the side to the playoffs with seven wins in the group stage. In fact, the Sunrisers Hyderabad players even managed to eke their way into qualifier two but were knocked out by Delhi for the second year running, thereby cutting short their dreams of making a third IPL final.
2021. The 2021 season was simply disastrous for the owner of Sunrisers Hyderabad as both former skippers Warner and Williamson failed to produce anything significant with their willows. As a result, the Sunrisers Hyderabad players ended up dead last on the points table.
2022. The side mirrored their position from the previous season, thus resulting in just seven wins in 28 games across their last two campaigns. Exasperated, the franchise decided to move on from their acclaimed duo ahead of the 2023 season and have appointed Aiden Markram as their new skipper.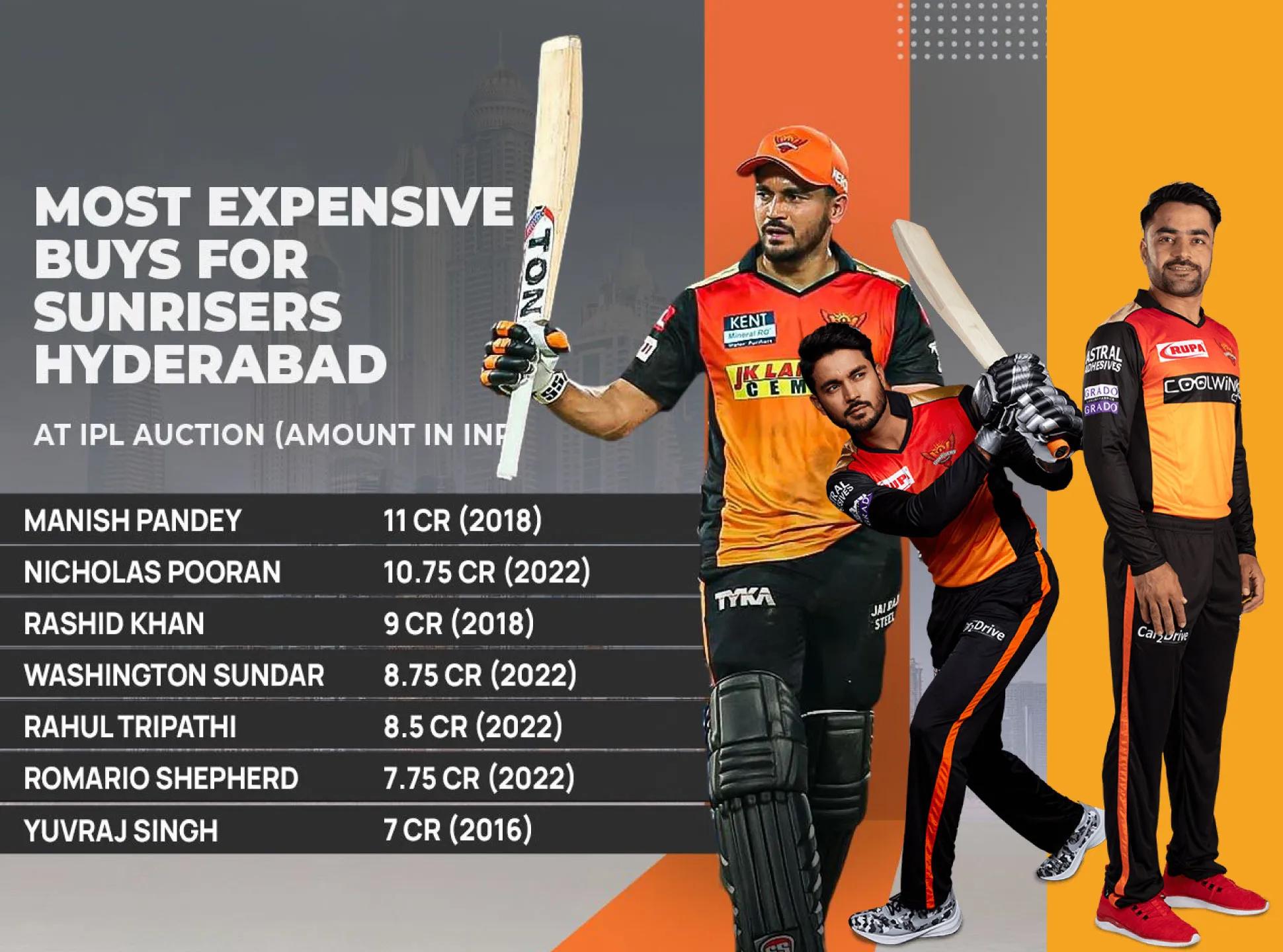 Sunrisers Hyderabad Players List 2023
| Player | Age | Nationality | Role |
| --- | --- | --- | --- |
| Aiden Markram (C) | 28 | South Africa | Batsman |
| Abdul Samad | 21 | India | Batsman |
| Umran Malik | 22 | India | Bowler |
| Washington Sundar | 23 | India | All-Rounder |
| Rahul Tripathi | 31 | India | Batsman |
| Abhishek Sharma | 22 | India | All-Rounder |
| Kartik Tyagi | 22 | India | Bowler |
| T Natarajan | 31 | India | Bowler |
| Bhuvneshwar Kumar | 32 | India | Bowler |
| Marco Jansen | 22 | South Africa | Bowler |
| Glenn Phillips | 25 | New Zealand | Wicket-keeper |
| Fazalhaq Farooqi | 22 | Afghanistan | Bowler |
| Harry Brook | 23 | England | Batsman |
| Mayank Agarwal | 31 | India | Batsman |
| Heinrich Klaasen | 31 | South Africa | Wicket-keeper |
| Adil Rashid | 34 | England | Bowler |
| Mayank Markande | 25 | India | Bowler |
| Vivrant Sharma | 23 | India | All-Rounder |
| Samarth Vyas | 26 | India | All-Rounder |
| Sanvir Singh | 26 | India | All-Rounder |
| Upendra Singh Yadav | 26 | India | Wicket-keeper |
| Mayank Dagar | 26 | India | Bowler |
| Nitish Kumar Reddy | 19 | India | All-Rounder |
| Akeal Hosein | 29 | West Indies | Bowler |
| Anmolpreet Singh | 24 | India | Batsman |
Administration and Support Staff
CEO: Kaviya Maran
Head Coach: Brain Lara
Assistant Coach: Simon Helmot
Director of Cricket: Tom Moody
Bowling Coach: Dale Steyn
Batting Mentor: Brian Lara
Fielding Coach: Hemang Badani
Physiotherapist: Theo Kapakoulakis
Performance Analyst: Gaurav Sundararaman
Physical Trainer: Mario Villavarayan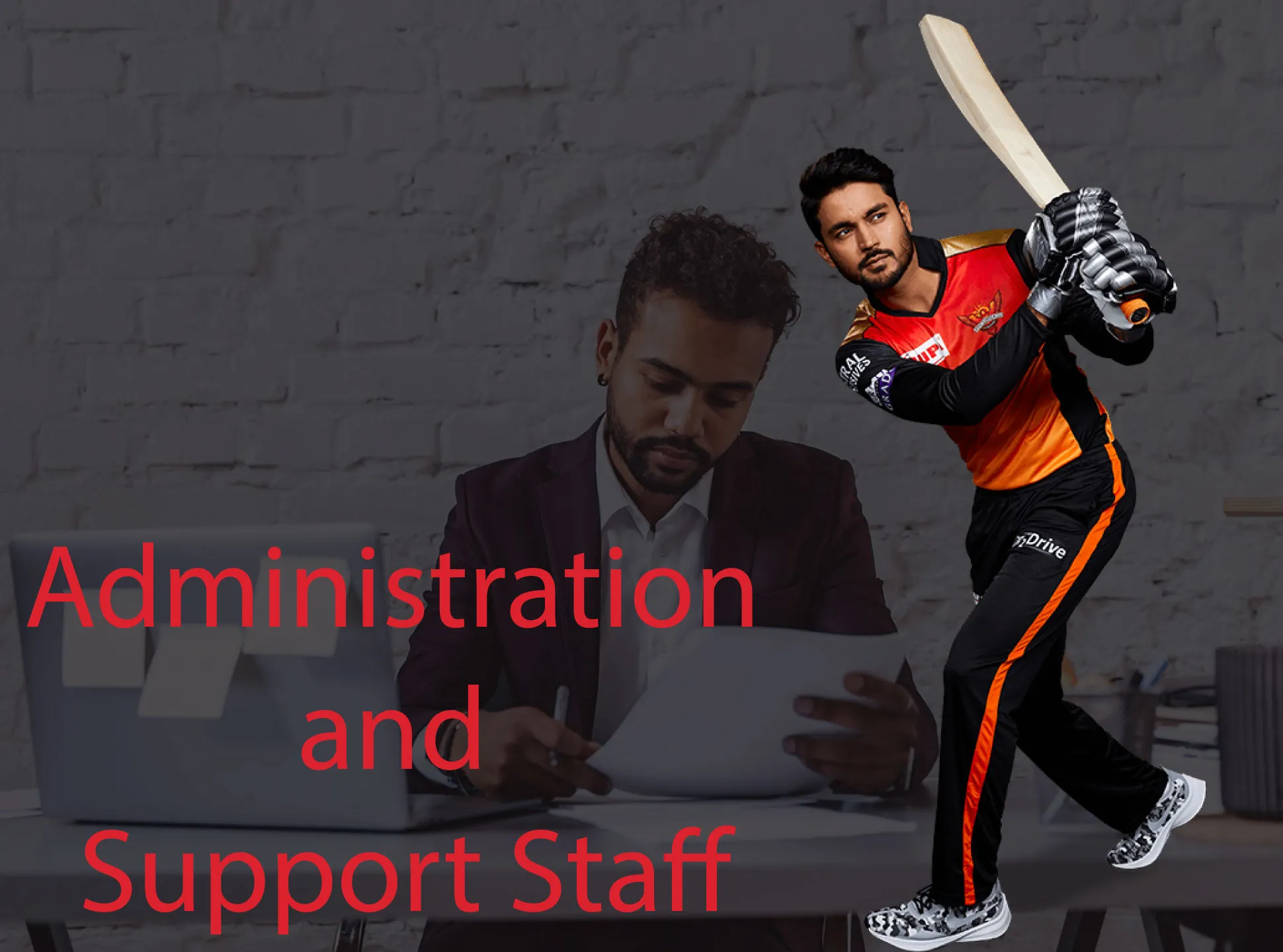 SRH Fan Base
When a side has Tiktok superstar David Warner, the so-labelled nicest cricketer on the planet Kane Williamson, and Caribbean Calypso King Darren Sammy, it is harder to not build a fanbase than have a loyal contingent of hardcore supporters. Over the years, the SRH fanbase has evolved to be one of the most passionate across all IPL teams with their popularity further propelled by Indian heroes Shikhar Dhawan and Bhuvneshwar Kumar as well as the heroic title triumph in 2016.
At present, SRH Twitter has 3.1 million followers, more than some teams that were established in 2008, as well as 2.9 million followers on Instagram and over 6 million followers on Facebook.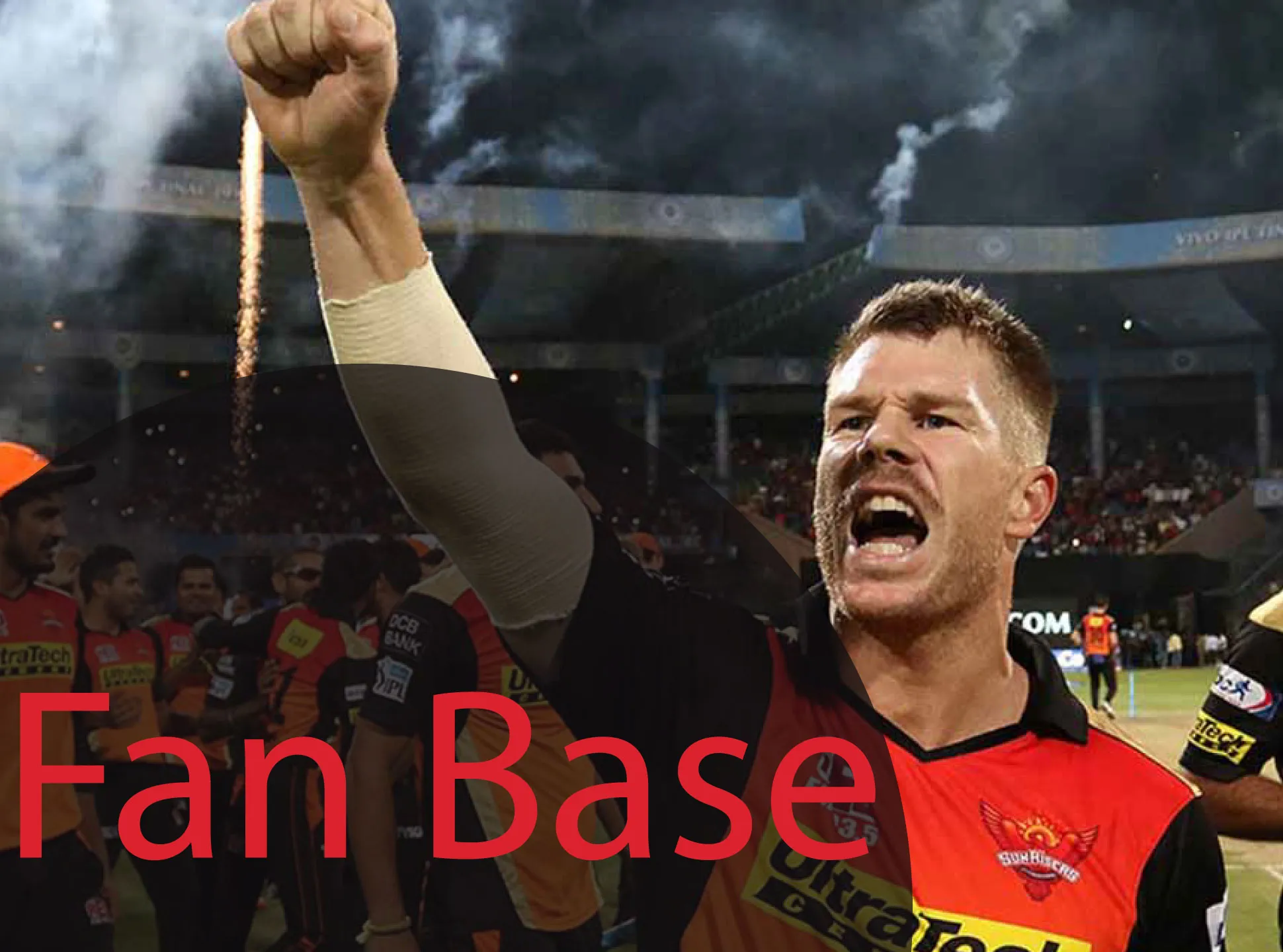 SRH Sponsors
Having boasted Coolwinks and JK Lakshmi Cement as their title shirt sponsors in the past, it remains to be seen who features big and bold on the jersey come 2023. For the meantime, the side has Dream 11, Cars24, asko, BKT, Jio, Kotak, and Thums Up as their confirmed associate sponsors.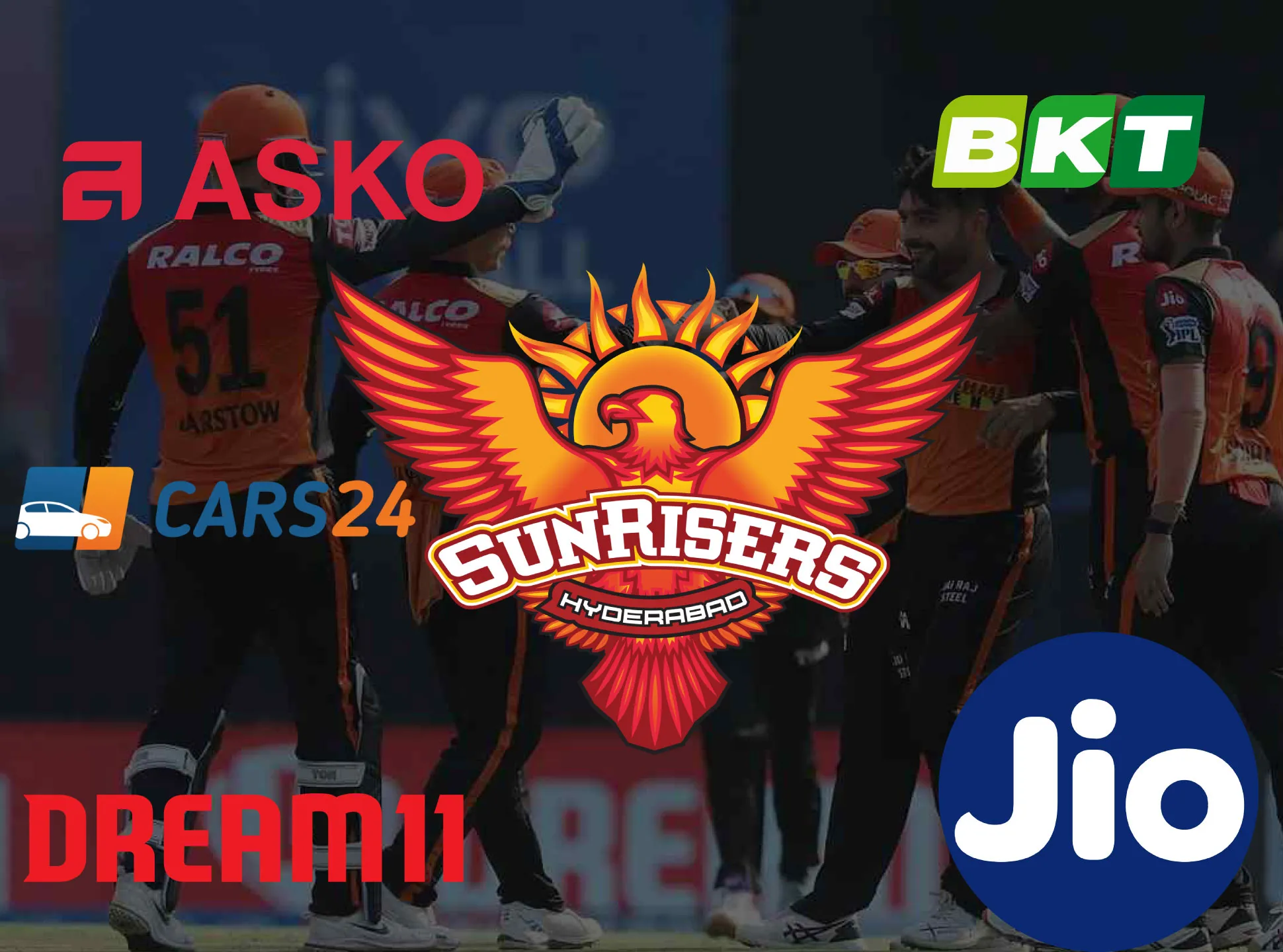 SRH Team Performance
| Year | Captain | Rank | Best Batter | Runs | Best Bowler | Wickets | Win % |
| --- | --- | --- | --- | --- | --- | --- | --- |
| 2013 | Kumar Sangakkara | 4th | Shikhar Dhawan | 311 | Amit Mishra | 21 | 58.82 |
| 2014 | Shikhar Dhawan | 6th | David Warner | 528 | Bhuvneshwar Kumar | 20 | 42.86 |
| 2015 | David Warner | 6th | David Warner | 562 | Bhuvneshwar Kumar | 18 | 50.00 |
| 2016 | David Warner | 1st | David Warner | 848 | Bhuvneshwar Kumar | 23 | 64.70 |
| 2017 | David Warner | 3rd | David Warner | 641 | Bhuvneshwar Kumar | 23 | 53.30 |
| 2018 | Kane Williamson | 2nd | Kane Williamson | 735 | Rashid Khan | 21 | 64.28 |
| 2019 | Kane Williamson | 4th | David Warner | 692 | Khaleel Ahmed | 19 | 40.00 |
| 2020 | David Warner | 3rd | David Warner | 548 | Rashid Khan | 20 | 50.00 |
| 2021 | David Warner, and Kane Williamson | 8th | Manish Pandey | 292 | Rashid Khan | 18 | 21.42 |
| 2022 | Kane Williamson | 8th | Abhishek Sharma | 426 | Umran Malik | 22 | 48.48 |
Sunrisers Hyderabad Best Players
Aiden Markram: The new skipper of the Hyderabad franchise, the Proteas would have high expectations placed on him given his recent form across formats. Markran recently led the Sunrisers team in the SA20 to the title in the tournament's debut season and has been sensational for the national team as well, making a return to the Test squad with a century against the West Indies followed by a 96 in the second Test. Having made his IPL debut for Punjab Kings in 2021, Markram burst to the limelight in the league last year following splendid returns of 381 runs in 14 games while averagign 40-plus.
Bhuvneshwar Kumar: Considered to be one of the best in the world when it comes to swing bowling, Bhuvi has been a key player for Sunrisers Hyderabad since he joined the team in 2014 after stints with Royal Challengers Bangalore and Pune Warriors India. The speedster has taken 154 wickets in 146 matches at an impressive economy rate of 7.30, placing him seventh in the list for most wickets in IPL history. The 32-year-old was the leading wicket taker for the franchise four years ina row and would be keen to prove he still belongs come the 2023 season.
Umran Malik: The young pacer first grabbed eyeballs by clocking 150-plus and once placed under the tutelage of Dale Steyn in the 2022 season burst to life. He scalped 22 wickets at a phenomenal average of 20.18, striking every 13 balls. The 23-year-old even scalped a five-wicket haul in the season as he well and truly announced himself as a bowler of the future.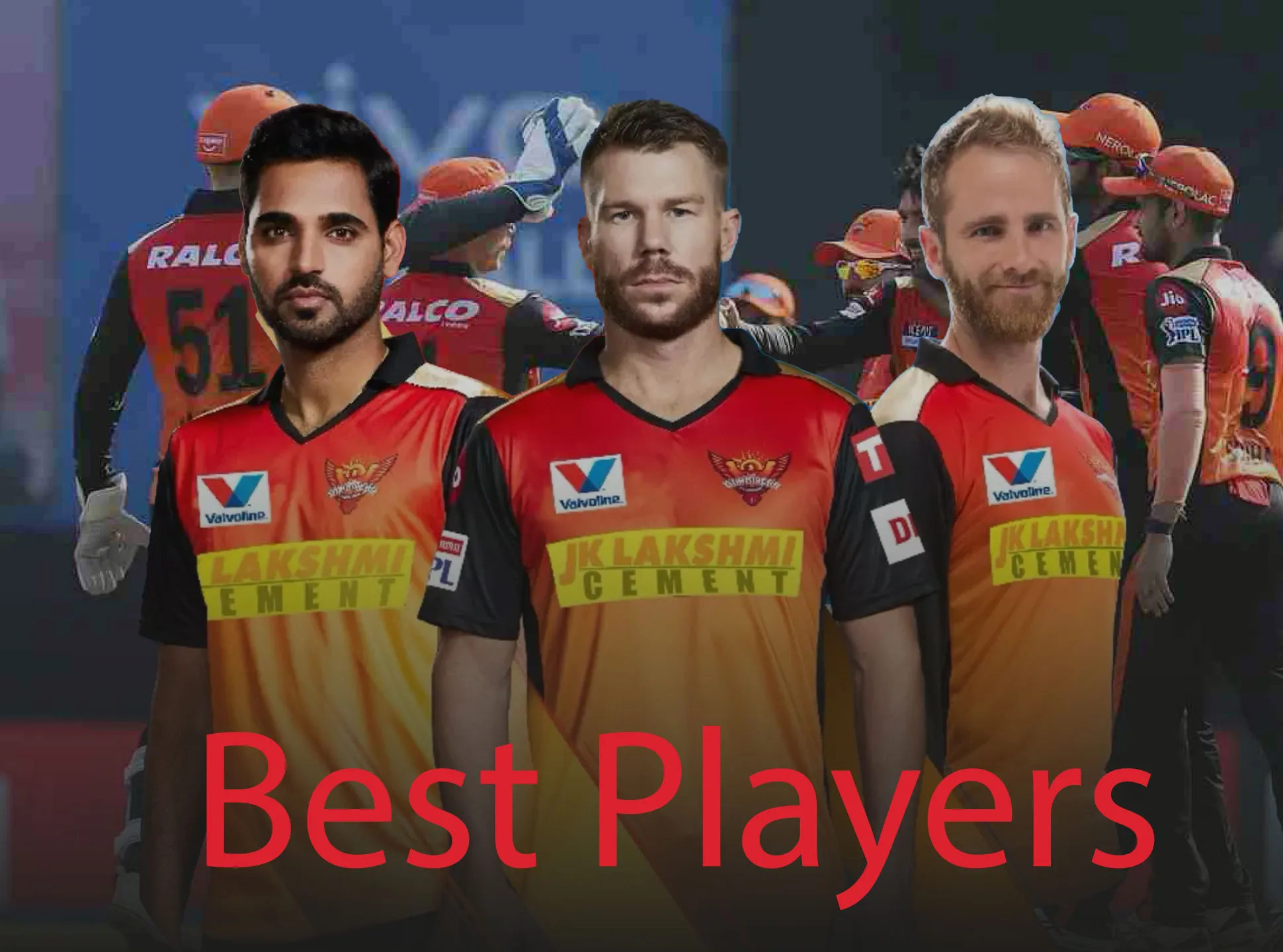 Sunrisers Hyderabad SRH FAQs
Who is the owner of Sunrisers Hyderabad?
The Sunrisers Hyderabad are owned by Sun TV Network, an Indian media company founded in 1992 and based in Chennai with 33 registered television channels to its name across several Indian languages.
How many times have Sunrisers Hyderabad won the IPL?
The Sunrisers Hyderabad have only triumphed in the tournament once in 2016, even though they did manage to make the final again two years after their maiden win but had to return home empty-handed.
Which players will SRH retain in 2023?
After two shambolic seasons, the Sunrisers Hyderabad switched things up in 2023 by letting go of as many as 12 players from the 2022 campaign. Nevertheless, the team still retained core key players such as Rahul Tripathi, Washington Sundar, Aiden Markram, Bhuvneshwar Kumar and T Natarajan.
How many times has SRH qualified for playoffs?
Sunrisers Hyderabad have made it to the playoffs on five occasions, all of which came on the trot between 2016 and 2020. While the first qualification ended up in ultimate triumph, the next four playoff stages led to losses in the eliminator, final, eliminator and the second qualifier respectively.
Who is the captain of Sunrisers Hyderabad?
The Sunrisers Hyderabad cricket ltd would be led by Aiden Markram for the 2023 edition after the side let go of Kane Williamson and David Warner, making the Proteas the sixth player to be named captain of the Orange Army.
Updated: